A restaurant for every craving
The chance to go out to dinner presents itself, and this is how the conversation starts: "What do you feel like?" Choosing a restaurant involves tapping into the moods of your taste buds, whether they desire something new and different or comforting and familiar. To make the process simpler the next time this promising question arises, we've gathered our favorite restaurant picks in key craving categories. So let your taste buds be your guide, and then let these top eateries do the rest.
STEAKHOUSE:
WHERE MEAT LOVERS UNITE
Del Frisco's Double Eagle Steak House
Sleek and visually stunning, Del Frisco's Double Eagle Steak House on Liberty Wharf in Boston's Seaport District has long been a regular haunt for power players, world-class Boston athletes and in-the-know foodies looking for a great piece of perfectly cooked steak. In warmer weather, stake out your spot on the expansive waterfront patio or grab a post-work seat at the circular bar inside the sprawling restaurant. Sip on one of 1,200-plus wine choices while noshing on appetizers like seared Wagyu beef carpaccio or the thick-cut bacon au poivre with bourbon molasses glaze. Then, get right to the dishes that really lured you in, like the 24-ounce prime porterhouse or the spectacular Wagyu tomahawk chop.—Jessica Bowne
250 Northern Ave., Boston, MA
617-951-1368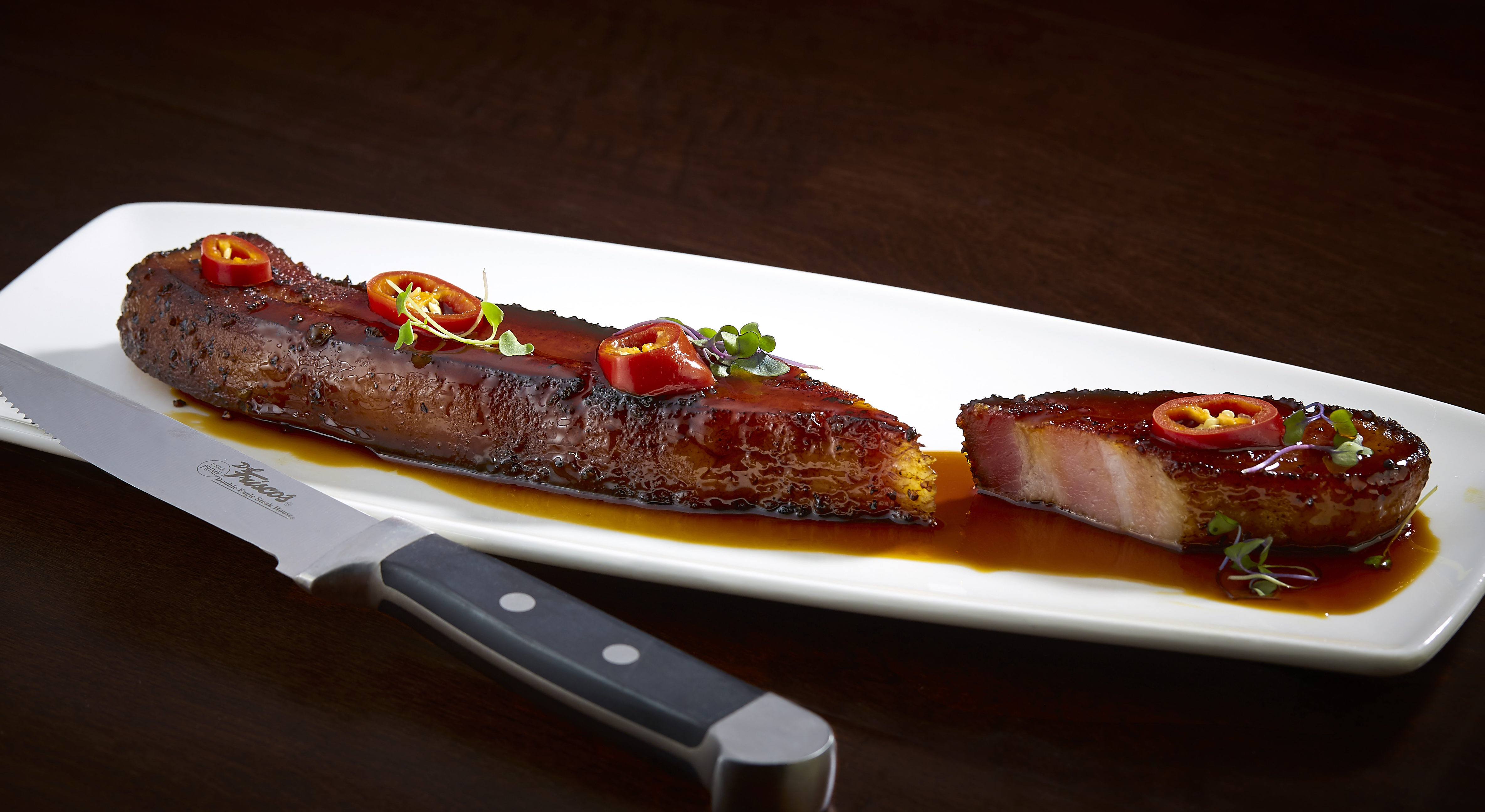 ---
Mention a high-class steakhouse to any southern New Englander, and The Capital Grille immediately comes to mind. The steak options speak for themselves: seared tenderloin with butter poached lobster tails, bone-in Kona coffee-crusted New York strip with shallot butter and gorgonzola- and truffle-crusted dry-aged New York strip. You can also keep it simple and order a delectable 10-ounce filet mignon or 24-ounce dry-aged porterhouse. However, no steak at The Capital Grille is complete without some sharable à la carte sides, like soy-glazed Brussels sprouts with bacon and lobster mac 'n' cheese. Don't leave without trying the Stoli Doli, the grille's signature martini with Stoli vodka infused with fresh pineapple, chilled and served straight. With three locations in Mass. (Boston, Burlington and Chestnut Hill), one in Providence and two in Conn. (Hartford and Stamford), it's easy to find a location to your liking.—Jennifer Sperry
---
If a nice juicy steak is your pleasure, Pate's in Chatham is where you'll want to be. Pate's opened in 1957 and has been serving classically prepared food and hand-cut steaks ever since. The steaks and seafood are cooked over an open-hearth grill that is visible from the dining room, which adds a bit of show to your meal. The rustic dining room, with beamed ceilings and maroon over white tablecloths, is retro in a fun way. Customer favorites include prime rib, filet mignon and the fabulous house-made baked stuffed potato. Start your meal with shrimp scampi or oysters Rockefeller and then follow up with a meaty rump steak or grilled swordfish. If you still have room for dessert, the house specialty is the snowball, a scoop of vanilla ice cream rolled in coconut and served with hot fudge.
—Laurie Higgins
1260 Main St., Chatham, MA
508-945-9777
---
The best of sea and land meet on the plate at the Seaport District's newest haute spot: Ocean Prime. Start your meal with the white truffle caviar deviled eggs before digging into a lobster roll with pickled serrano pepper and kiwi from the sushi menu. Eventually the big decision hits: surf or turf? It's hard to decide between the sea scallops with Parmesan risotto, the Chilean sea bass with champagne truffle sauce or a prime steak, perhaps an 8-ounce filet mignon or a 16-ounce ribeye. The sides are a menu unto themselves with favorites like jalapeño au gratin, creamy lobster mashed potatoes and asparagus with hollandaise.—Jessica Bowne
140 Seaport Blvd., Boston, MA
617-670-1345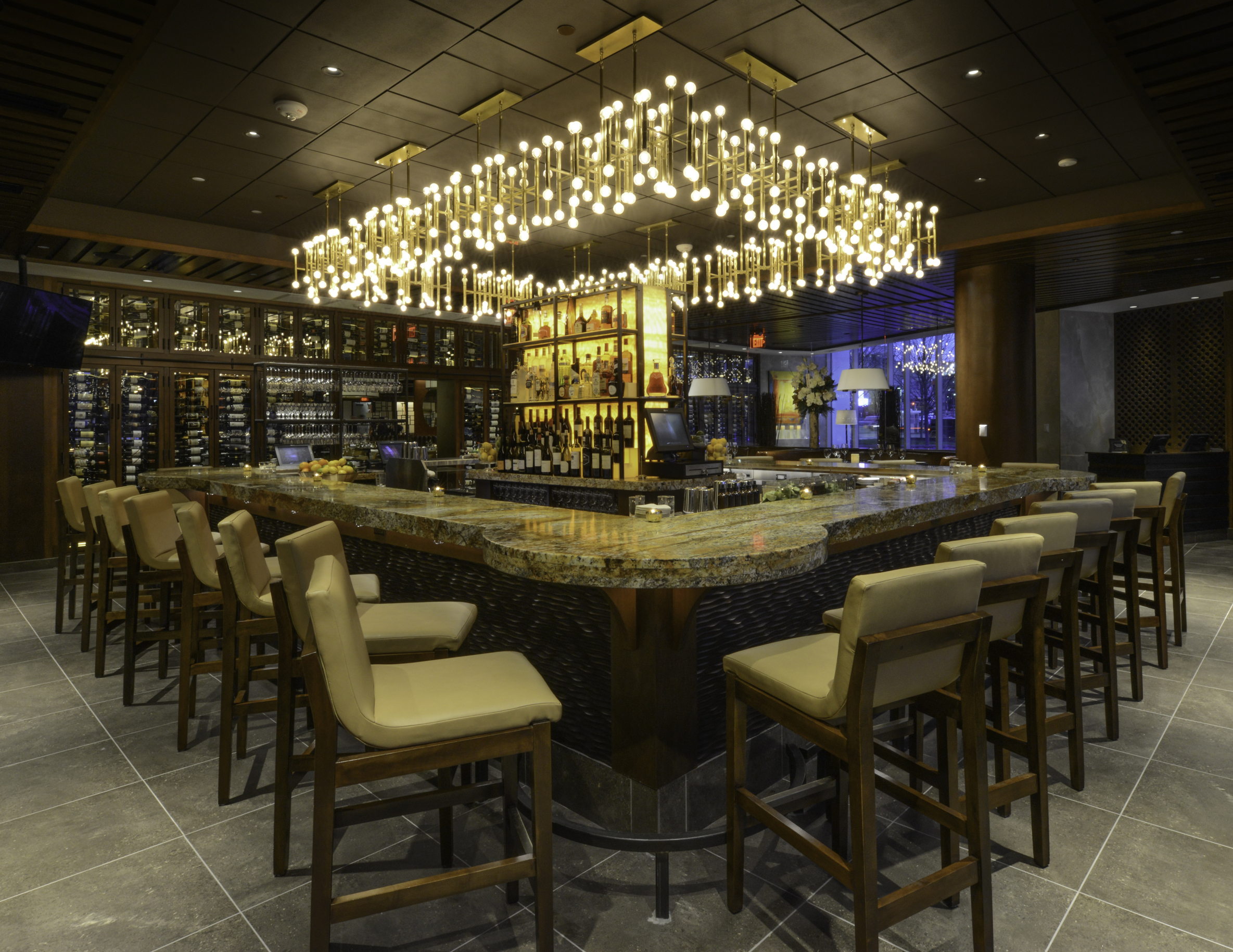 ---
The atmosphere is playful and designed to stimulate the senses with a bright cobalt blue liquor display behind the bar and a variety of funky lighting and art installations. But there's more to 10 Prime Steak & Sushi in Providence than just its intriguing interior. As one of the city's leading steakhouses, it sources corn-fed Angus beef from the Midwest, hand cuts the steaks and ages them for four weeks for optimum flavor and tenderness. Once your steak is selected, you can then "top it off" with additional indulgences such as bacon-wrapped scallops or pair it with crispy onion strings, truffle Parmesan fries, asparagus, edamame or any number of vegetable and potato sides. But keep in mind that 10 Prime is just as well known for its sushi menu featuring nigiri, sashimi and designer rolls. The menu, dense with the best of east and west, demands more than one visit.—Jennifer Sperry
55 Pine St., Providence, RI
401-453-2333
---
Start by soaking in the sleek environment first. Smith & Wollensky, on Atlantic Wharf in the Seaport District (there's a second location in Back Bay), has an intimate patio overlooking the harbor and the Boston Tea Party Ships and Museum. Grab a seat at the spacious bar inside for a glass of wine and one of the signature crab cakes with cognac mustard or snag a table to dine on coffee- and cocoa-rubbed filet or tender filet mignon with gorgonzola crust. Hungry? Try a seafood tower with chilled lobster, oysters, littleneck clams and Alaskan king crab. Don't miss a thick slice of the restaurant's chocolate cake, easily one of the best desserts in the city.—Jessica Bowne
294 Congress St., Boston, MA
617-778-2200
SEAFOOD:
THE OCEAN'S FINEST OFFERINGS
The exterior, a shingled cottage, is unassuming, blending in with its surroundings on Route 6A, but the cuisine served inside is anything but ordinary. The Brewster Fish House, once a retail fish market, is now an award-winning restaurant led by executive chef Jeremiah Reardon, whose carefully curated menus showcase seafood at every turn. But ultra fresh fish and shellfish are just the beginning: Reardon's sophisticated sides, creative presentations and thoughtfully conceived wine list elevate the entire dining experience, bringing customers back again and again. Both the lobster bisque and Fish House chowder are equally popular, and it's hard to resist starters like calamari made with Point Judith squid or Stoney Island mussels served in a tomato, leek and saffron cream bath. But leave room for memorable entrées such as the white sage-roasted cod with onion tart or the true North Atlantic salmon with crème fraîche potato purée. Stay for dessert—the vanilla bean crème brûlée and artisanal cheese plate are smart choices—and you won't be disappointed.—Jennifer Sperry
2208 Main St., Brewster, MA
508-896-7867
---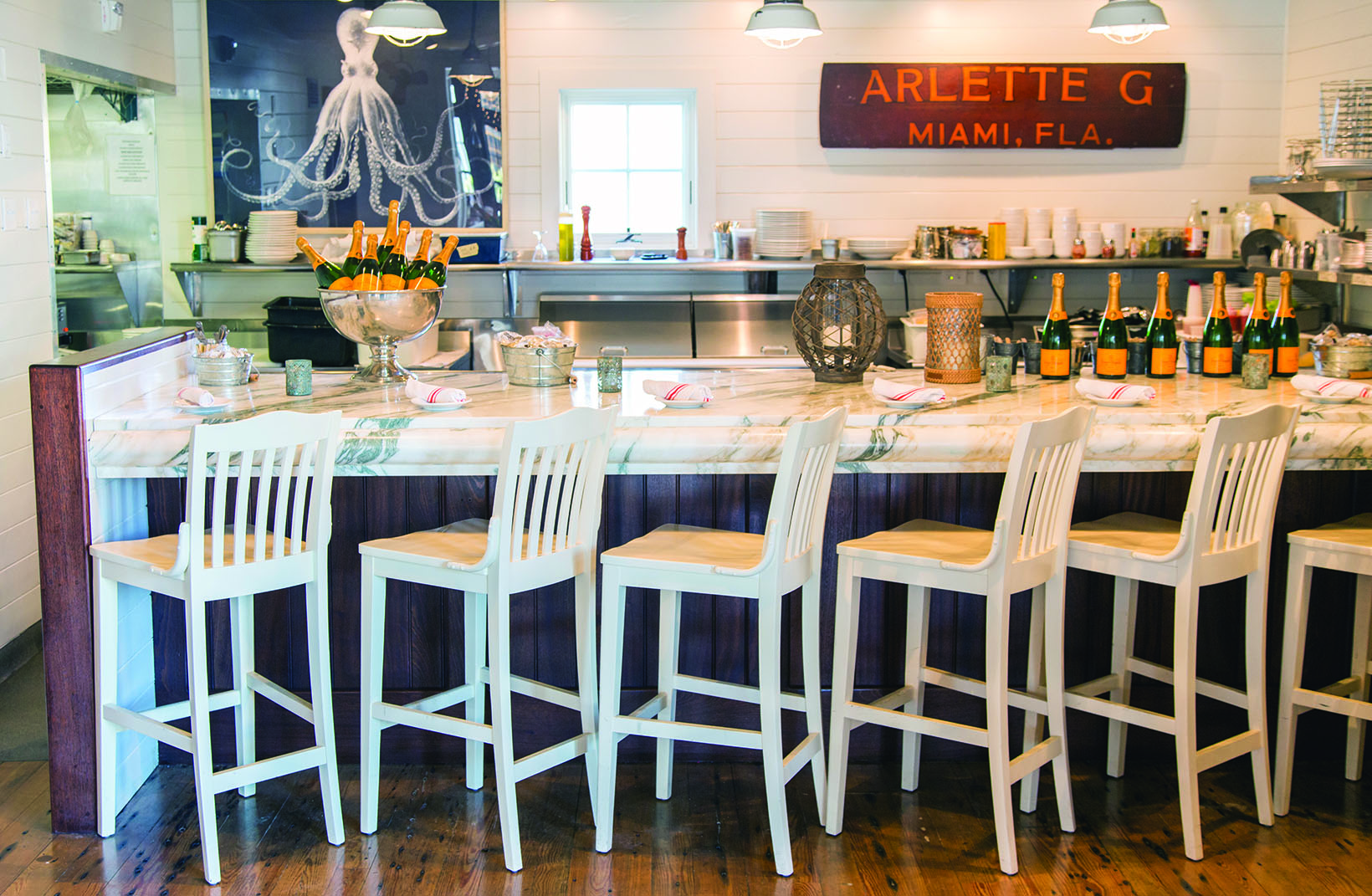 Sited right at the start of Thames Street, in the heart of downtown Newport and overlooking the city's harbor, Midtown Oyster Bar is a seafood lover's oasis. Its raw bar is one of the region's largest and produces perfectly chilled on-the-half-shell beauties that won't last long on your plate. The two-story restaurant houses a variety of eating and drinking "destinations," including three dining rooms, two outdoor decks and two trendy bar areas. On the first floor, there's even a cozy, wood-paneled tavern, where sampling the Midtown Oyster Stout (an exclusive brew made for the restaurant by Harpoon) is par for the course.
Stroll past other diners and you'll notice the consumption of almost every seafood dish imaginable. You'll see oyster shooters, tuna tartare tacos, crab cakes and various ceviches and chowders. And these are just starters: entrées run the gamut from grilled Norwegian salmon to pan-roasted Atlantic swordfish, not to mention tempting steaks and burgers. Perhaps the best thing about Midtown Oyster Bar, besides the view and the atmosphere, is that a big meal is not required. Simply sit at one of the bars, enjoy a glass of champagne or even a specialty cocktail like the pomegranate margarita and a couple oysters and some shrimp, and life will be instantly good.—Jennifer Sperry
345 Thames St., Newport, RI
401-619-4100
---
The Naked Oyster Bistro & Raw Bar
A festive sliver of a restaurant on Main Street in Hyannis, The Naked Oyster Bistro & Raw Bar is the go-to spot for anyone craving superlative seafood in a contemporary yet comfortable setting. A long bar runs between the brick-walled, street-front dining area and a quieter back room with plush booths, both decorated with one-of-a-kind pieces from local artists. French-born owner and executive chef Florence Lowell puts forth classically prepared dishes using fresh and local products. The oysters arrive daily straight from the restaurant's own oyster farm in Barnstable Harbor, and all shellfish—including local lobster, little necks, quahogs and mussels—is opened on the spot and prepared to order. A house favorite, sea scallops aurora, features seared scallops in a light tomato garlic cream sauce, and regulars often call ahead to see if the coveted swordfish chop is on the specials menu. For meat-lovers, the seared Pinehill Farm bone-in sirloin never disappoints. Coming for lunch? Try the Thai shrimp or Nantucket fish taco. Some two dozen wines, including four bubblies, are offered by the glass, and a bottle of Sancerre or Pouilly Fuissé is a good choice for a one-wine-fits-all, seafood-centric meal.—Janice Randall Rohlf
410 Main St., Hyannis, MA
508-778-6500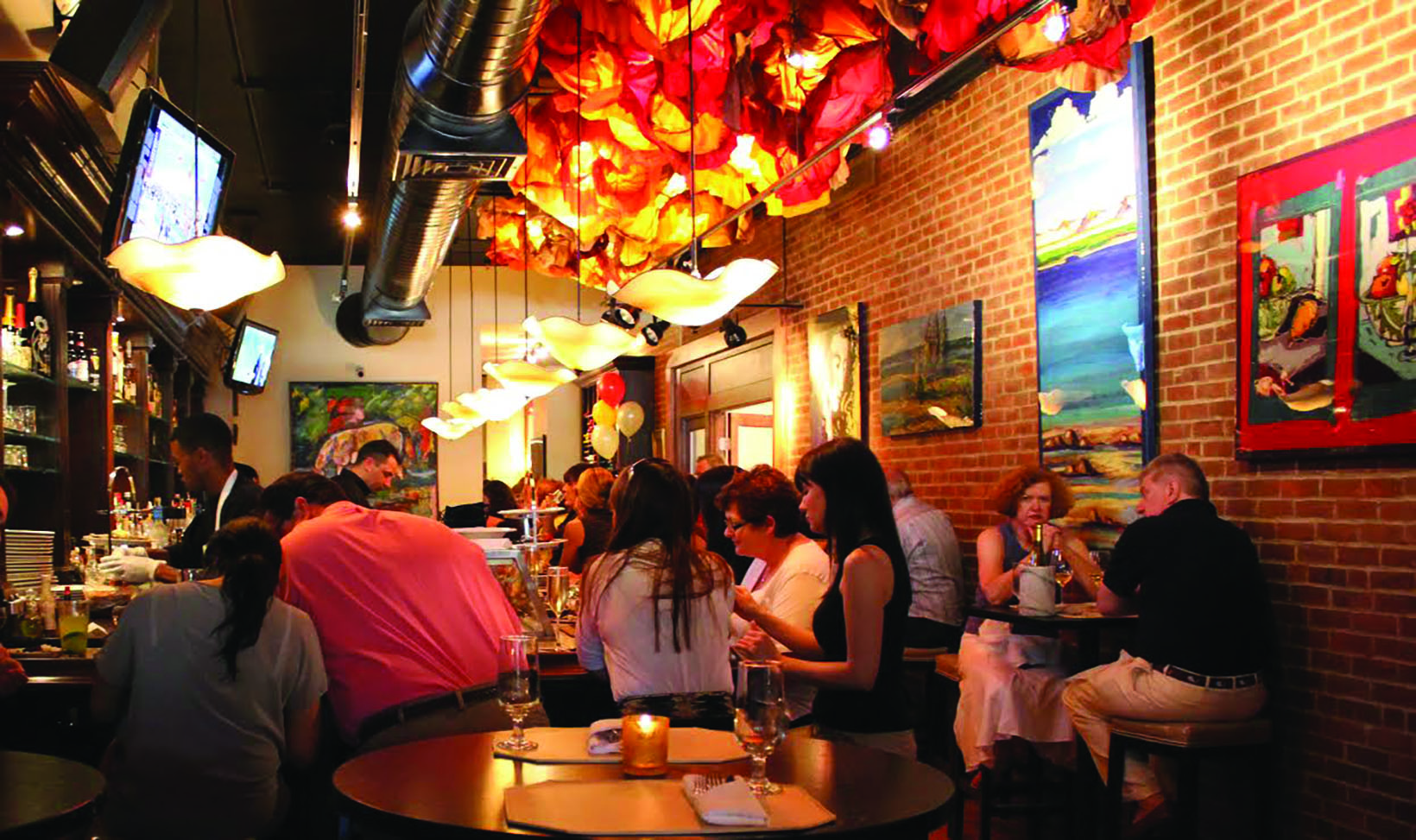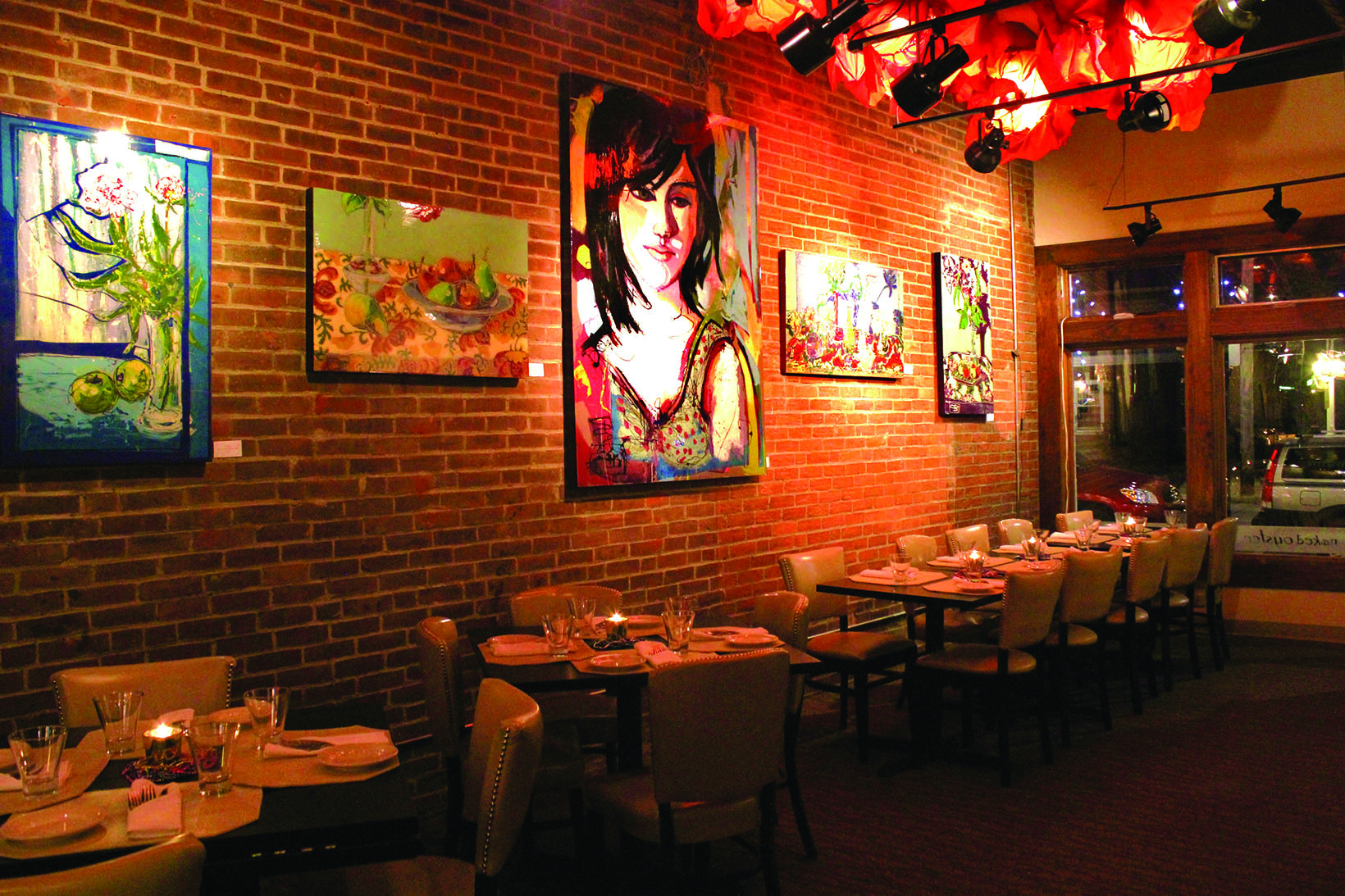 ---
Locals and tourists alike flock to Scales & Shells on Thames Street in downtown Newport for seafood done right. It's hard to find fresher fare: the restaurant has its own fish truck whose sole purpose is to track down the highest quality catch. The open kitchen showcases the chefs at work—it's not unusual for patrons to chat with them and choose their meals right then and there. The no-frills menu fits on a chalkboard on the back wall, and the implication of its simplicity is that each dish lets the protein shine. Customer favorites include mussels marinara, clam linguine with red or white sauce and the mesquite-grilled tuna or swordfish. Prepare yourself for a bit of a wait on weekend nights as diners are served on a first-come, first-served basis, but sipping on a chilled martini from the bar will make the time fly.—Jennifer Sperry
527 Thames St., Newport, RI
401-846-3474
---
Longtime Neptune Oyster chef Michael Serpa opened Select Oyster Bar, his own place, a year and a half ago to fill a need he saw in Back Bay for "a quality place you can pop in any night of the week on your way home from work, just to have a bite and a glass of wine." Oh, and you'd better be passionate about seafood. Located in a brownstone a stone's throw from the Hynes Convention Center, Serpa's cozy spot typically has only one meat dish on the dinner menu and there is no dessert. A casual bistro with a convivial pewter-topped bar up front and a modest-sized dining room farther back, it puts piscatorial fare on a pedestal—sometimes literally, as in a towering plateau laden with briny treats from the sea. Oysters are always available, in six varieties each night. Or you might like to start with a crudo (black bass, salmon, Hamachi), followed by Icelandic Arctic char topped with roasted leeks, frisée aux lardons and pistachio dressing, or Gloucester swordfish with rose harissa rub. Another good choice is P.E.I. mussels with roasted carrot and almond romesco.—Janice Randall Rohlf
50 Gloucester St., Boston, MA
857-239-8064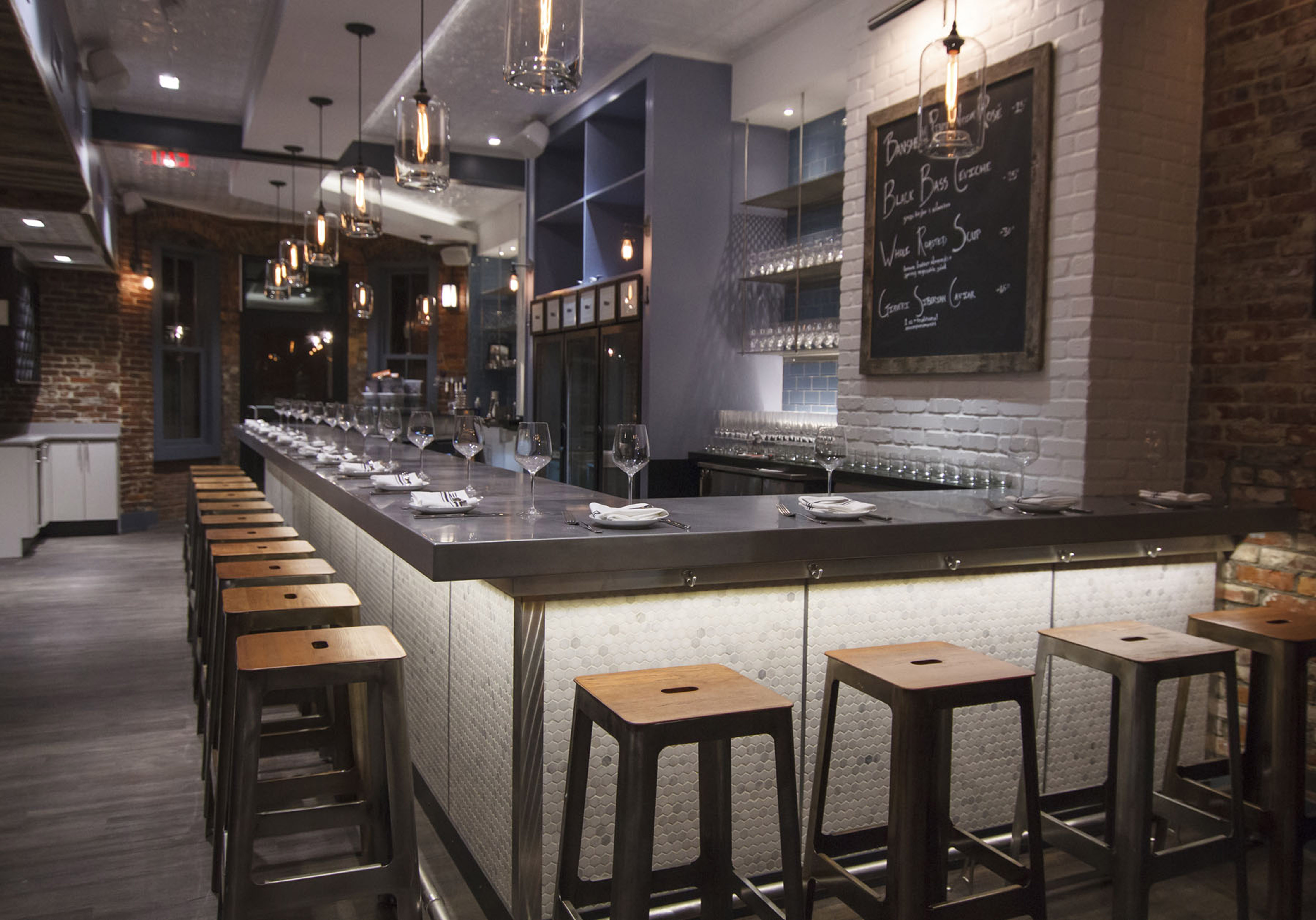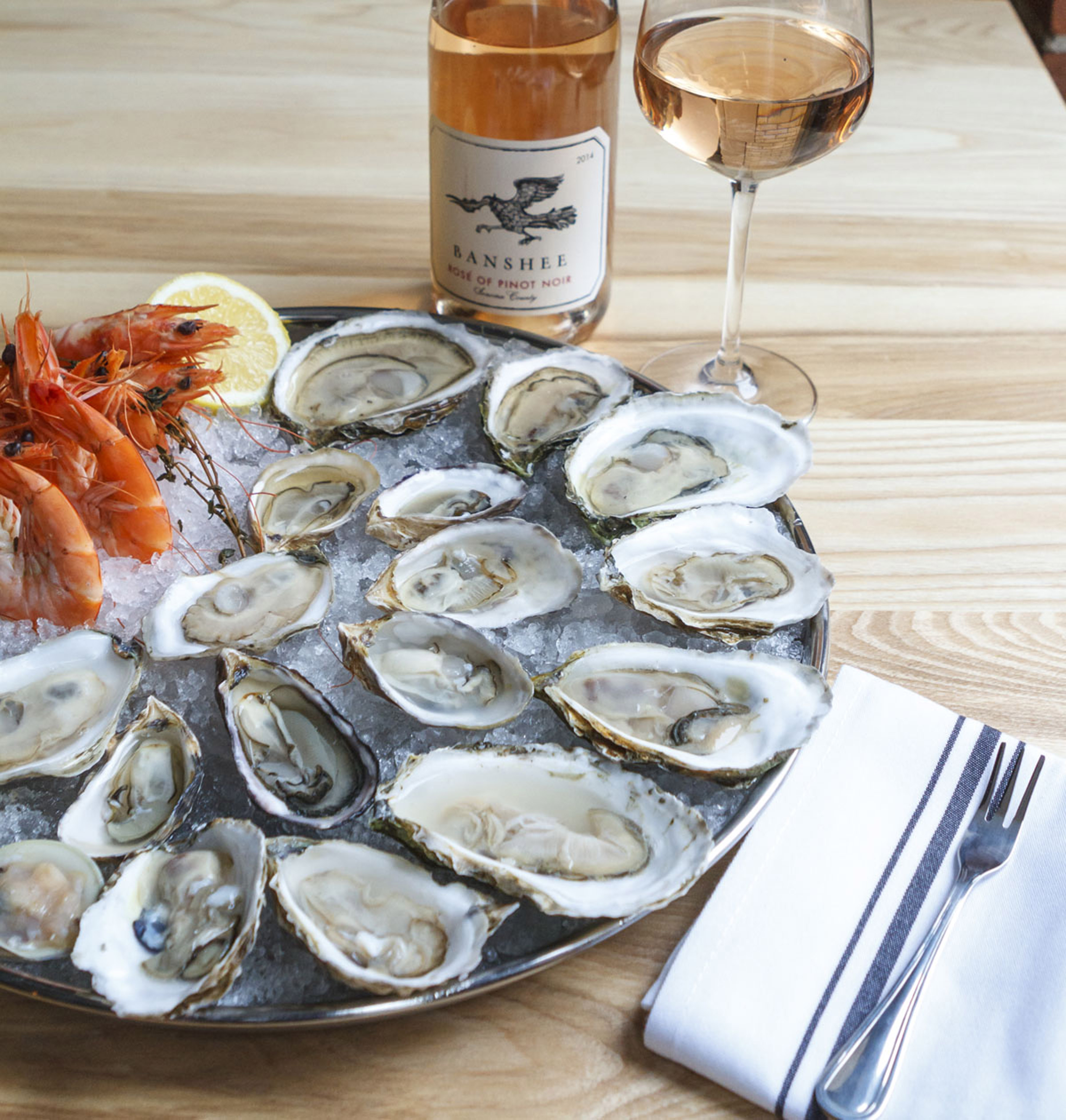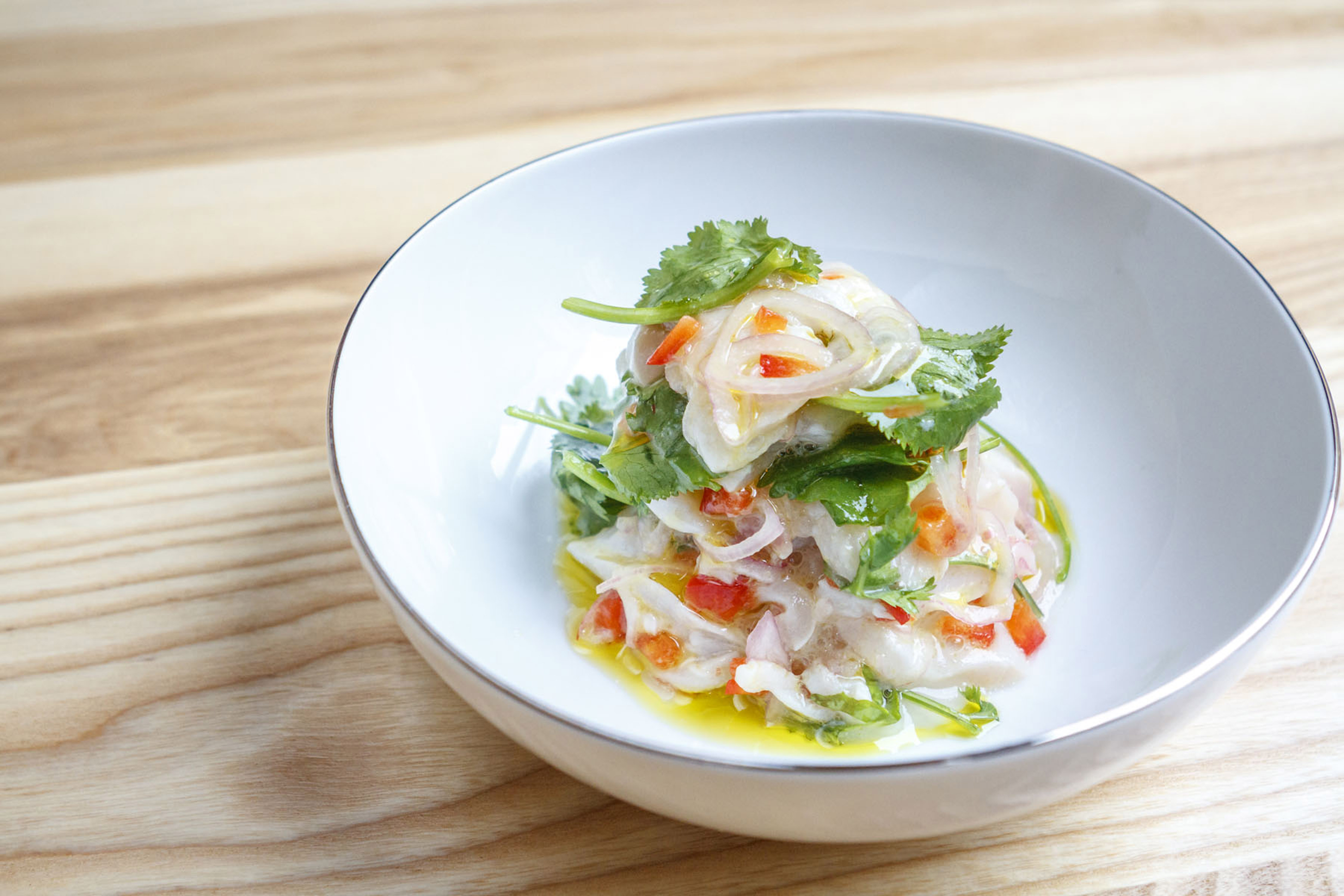 ---
If seafood with a view is in order, then the Boat House in Tiverton is a no-brainer. Set right on the banks of the Sakonnet River, with Mount Hope Bay in the distance, this drive-worthy eatery offers mesmerizing water views from the main dining room as well as the expansive outdoor patio, where tables are highly coveted on warm-weather days. Describing itself as taking the "seafood shack" to the next level, the Boat House excels in seafood prepared myriad ways. From raw bar treats to pan-roasted salmon or hake to surf & turf, there is something to satisfy every ocean-derived craving. Besides locally sourced seafood, the restaurant also uses area farms whenever possible. Aquidneck Honey, Barden Family Orchard, Baffoni's Poultry Farm and Matunuck Oyster Farm are just a few on their long supplier list.—Jennifer Sperry
227 Schooner Dr., Tiverton, RI
401-624-6300
BISTRO:
COMFORTING YET CREATIVE CUISINE
Take a trip to France without leaving Boston at The Colonnade Hotel's Brasserie Jo. The elegant restaurant, which realizes French food doesn't have to be formal, stuffy or overly elaborate, serves classics like onion soup gratinée, salade Lyonnaise and steak tartare. While the cuisine is the star of the show, the 1940s-inspired décor—mosaic tile entry floor, low-hanging chandeliers, vintage prints and a winter garden—adds to the brasserie's charm. Have a sweet tooth? Don't miss desserts like sweet profiteroles covered in chocolate sauce or a lusciously smooth crème brûlée. Come summer, the restaurant's patio is the perfect spot for taking a break over mussels Riesling marinière and watching the city pass you by.—Jessica Bowne
120 Huntington Ave., Boston, MA
617-425-3240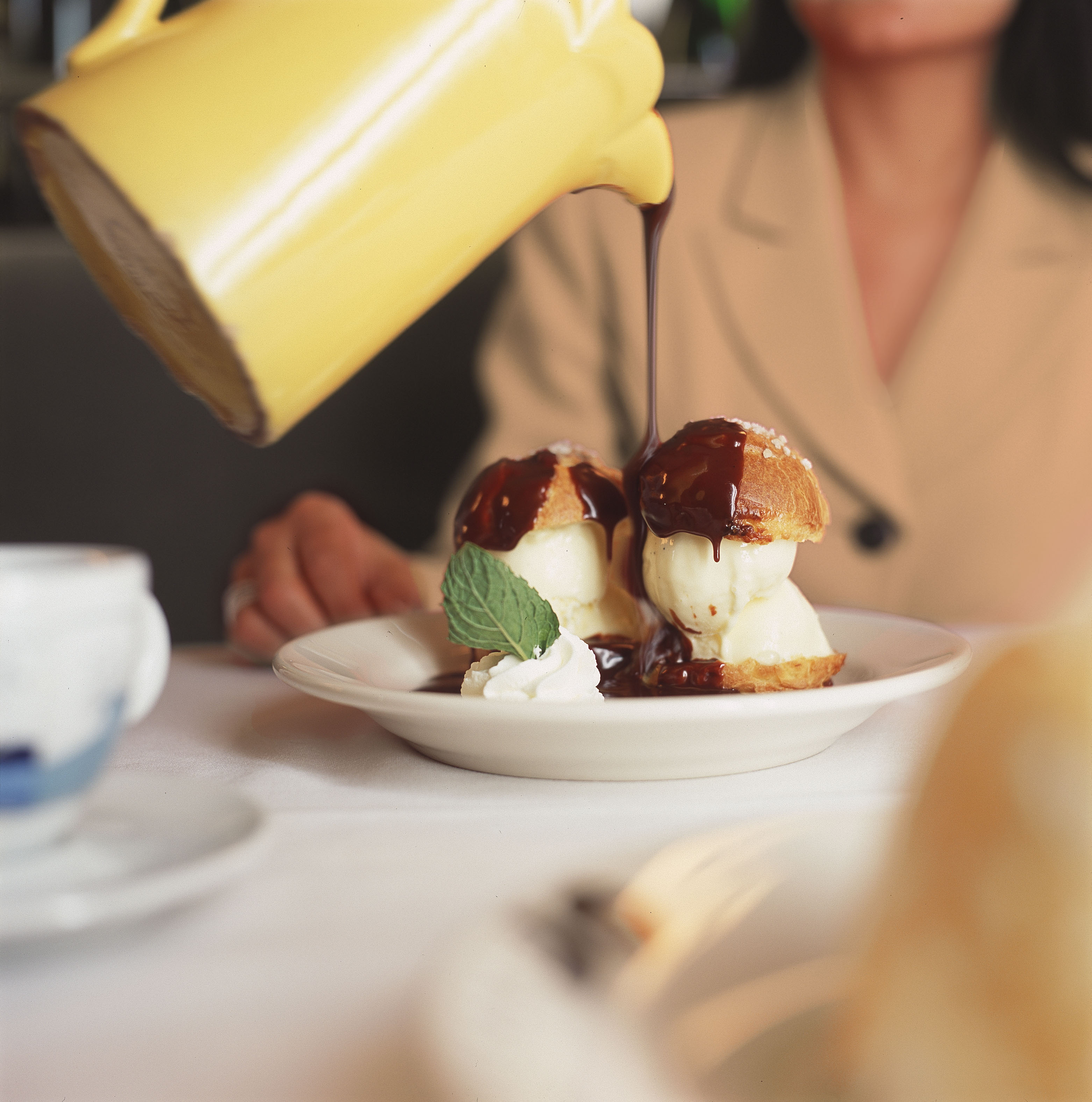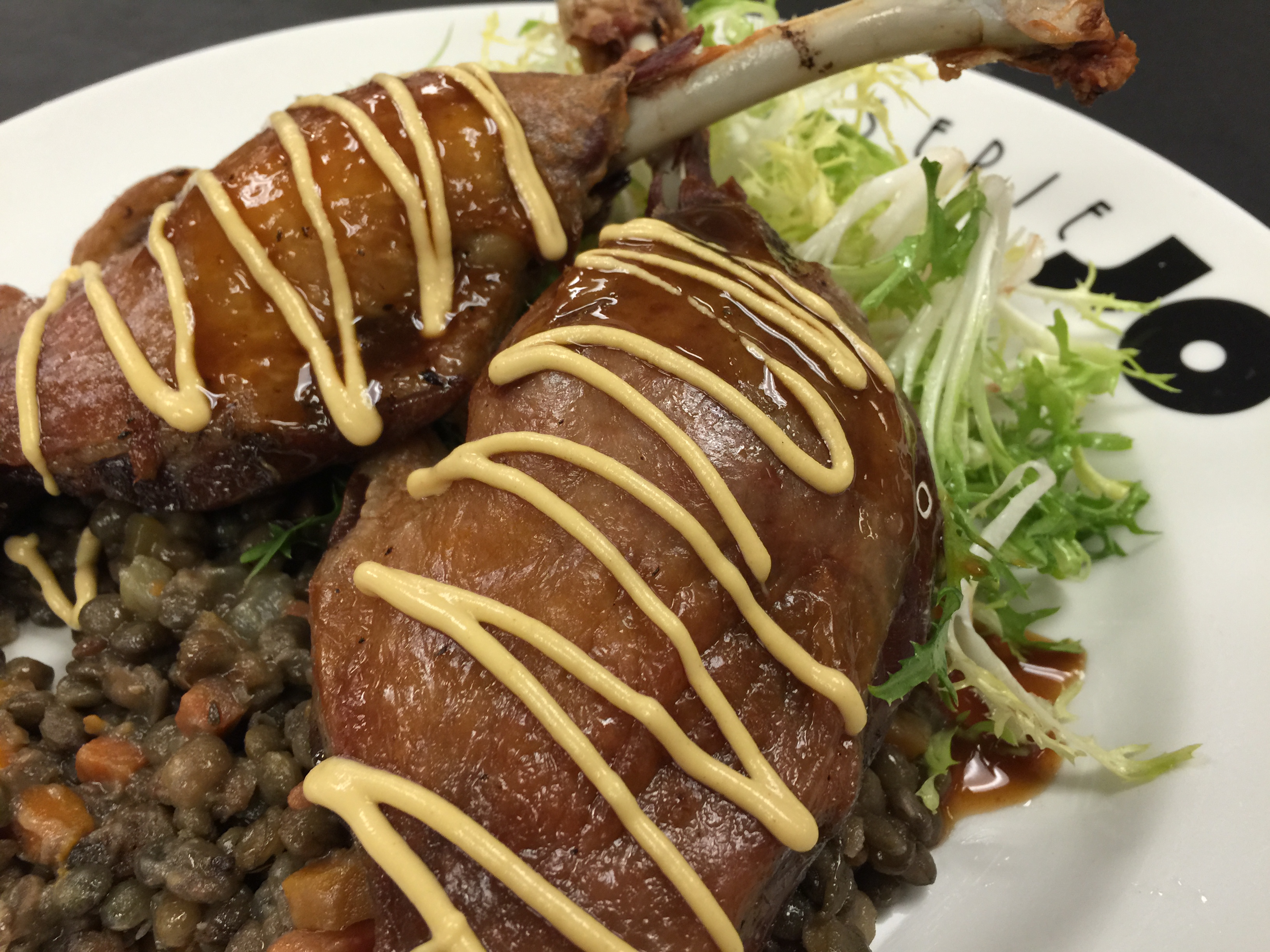 ---
Red Stripe on Angell Street in Providence is the ultimate brasserie experience (now there's one in East Greenwich too). The interior is everything you'd expect: black-and-white tiled floor, white tablecloths, romantic lighting and an open kitchen. The menu is equally comforting, filled with dishes that are simple in context and yet refined in taste. Those in the know opt for the Red Stripe grilled cheese, made with prosciutto, poached pear and basil, paired with oven-roasted tomato soup. It's impossible to ignore Red Stripe's famous mussels, which are available in 10 different sauces, from marinara to Portuguese. The menu ranges from burgers and salads to pasta and seafood, ensuring a tempting choice for every palate. Before the food even arrives, try a signature cocktail: the Hot & Dirty martini, with olive and hot pepper brine, is a spicy delight.
—Jennifer Sperry
465 Angell St., Providence, RI
401-437-6950
---
An inviting South End bistro, Gaslight Brasserie du Coin blends tile and wood floors with antique mirrors to create an atmosphere that charms. Its zinc bar beckons you to unwind with one of the restaurant's 120-plus wines. Once seated, start with traditional Parisian favorites like the fondue with fontina cheese or the pâté de foie gras before digging into the substantial beef bourguignon with spinach and bacon onion compote or a croque monsieur with béchamel sauce. The traditional bistro offers daily specials like Moulard duck breast, braised pork shank and seared Arctic char. Don't forget to order a helping of fries with aioli.—Jessica Bowne
560 Harrison Ave., Boston, MA
617-422-0224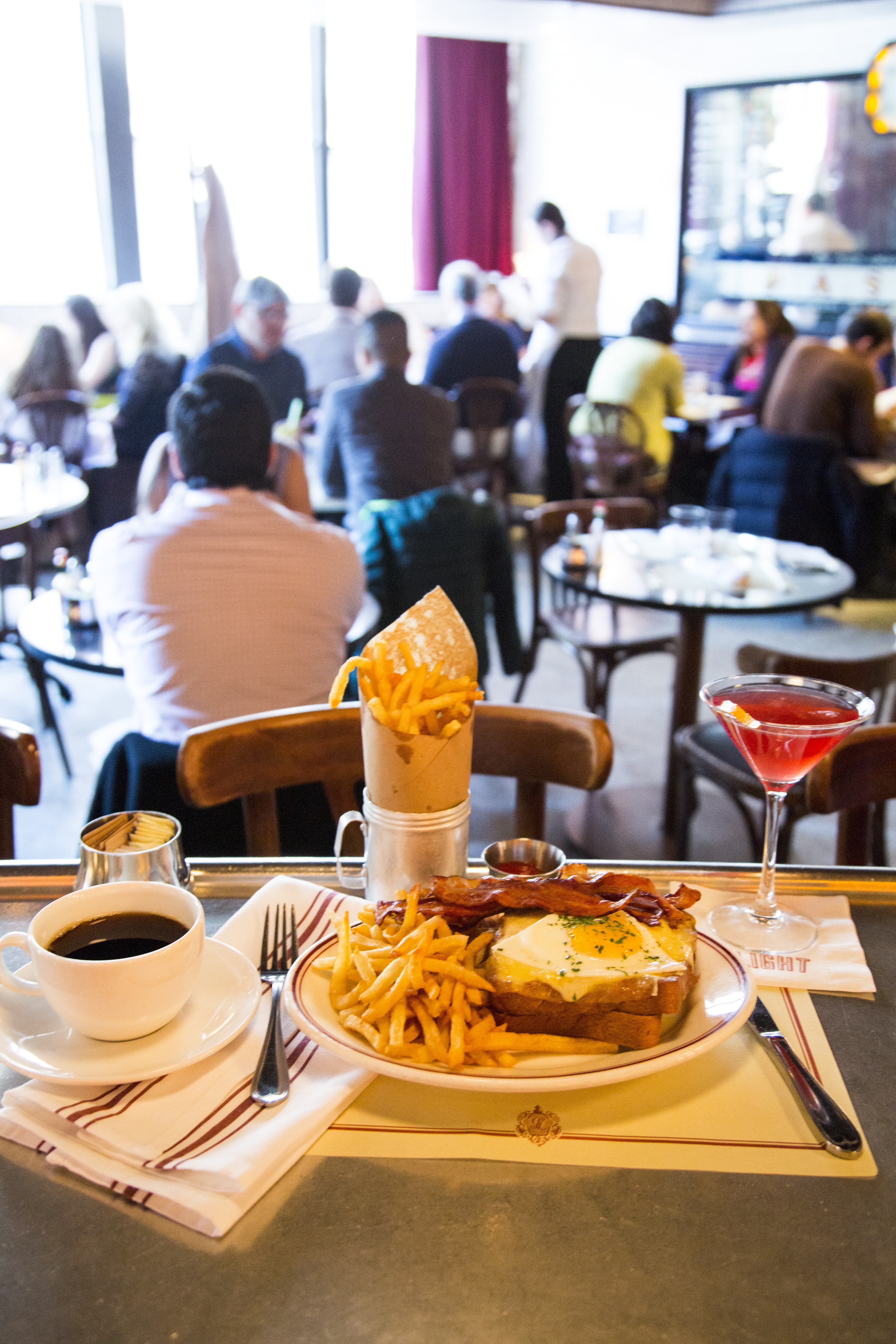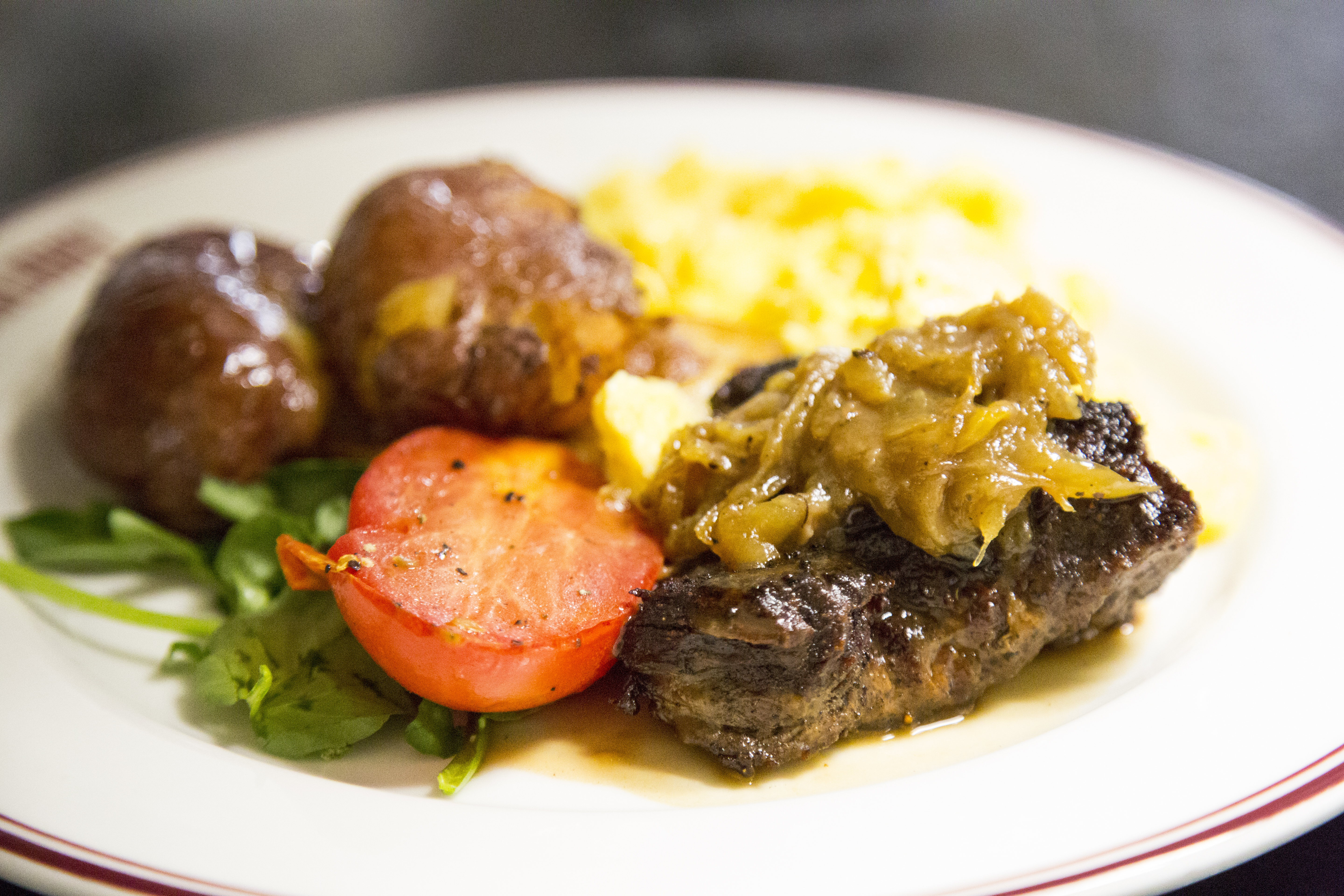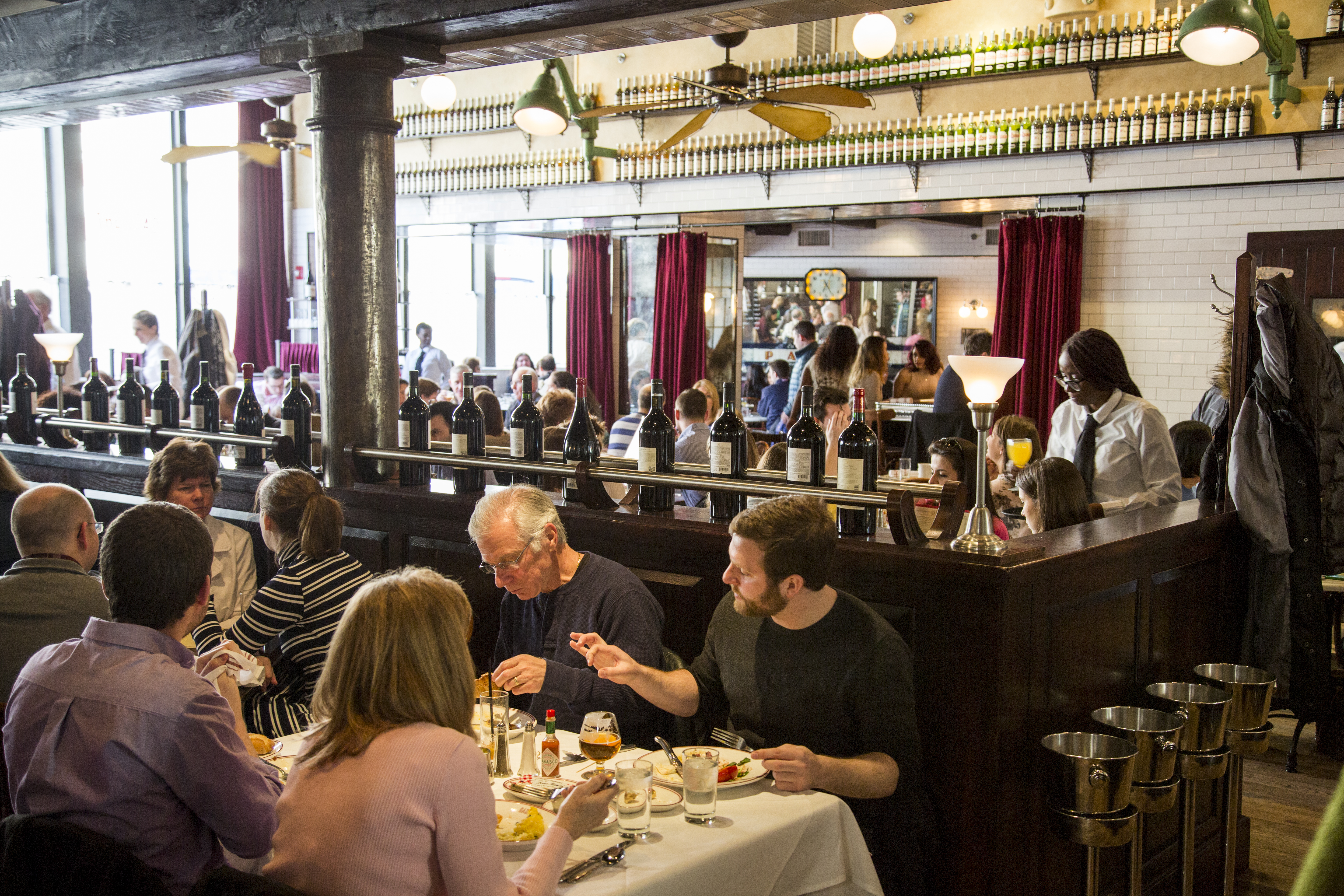 ---
Chills Bistro is the more casual side of the famous Chillingsworth restaurant, but its meals are equally memorable. Set in a glassed-in greenhouse with skylights, the bistro has flourishing plants and warm terra cotta tiles. The menu is contemporary and changes regularly. Sample appetizers include steamed local mussels in a saffron broth and crispy fried panko-crusted Chatham oysters. Main dishes you won't want to miss are the grilled bistro steak with house-cut fries and veal sauce, and pan-seared scallops. The homemade pappardelle with satiny Bolognese sauce is otherworldly. Make sure to save room for dessert, because the pastries are amazing.—Laurie Higgins
2449 Main St., Brewster, MA
508-896-3640
---
A modern restaurant with a historic soul, Chapel Bar & Grille greets guests with a dramatic stone exterior that exudes old-world glamour. Located in the Chapel View Lifestyle Village in Cranston, Chapel Grille is a thoughtfully conceived collection of dining and drinking spaces sure to satisfy, whether the goal is cocktails and apps, a special-occasion meal or even a private function or wedding.   
The restaurant's showpiece is its cathedral bar: a historic chapel built in 1891 that has been reinvented into a conversation-starting salon. Easily one of the coolest watering holes around, it wows with a soaring ceiling, stone walls, stained glass windows, portrait paintings and a sinuous bar with plush leather barstools. Once seated, you'll want to sample from the "Iconic Cocktails" list—you can sentence yourself to the Purgatory martini, made dirty with the heat of hot peppers and garnished with blue cheese-stuffed olives.
Other areas to enjoy are the plush main salon and the Skyline Terrace, where, on warm days, the roof retracts and the walls open for alfresco dining. Even in cooler weather, the Skyline Terrace still evokes outdoor dining thanks to its predominance of glass. And an actual outdoor terrace tempts with seating around an outdoor fireplace.
While each dining area has its own vibe, one thing always remains the same: Chapel Grille's consistently delicious Italian-Mediterranean fare. The lengthy menu covers all bases, from showpiece entrées like lobster, beef tenderloin and wood-grilled baby lamb chops to more relaxed options like grilled pizza. Ingredients are locally sourced whenever possible and the celebrated wine list means you'll never have to drink the same varietal twice.—Jennifer Sperry
3000 Chapel View Blvd., Cranston, RI,
401-944-4900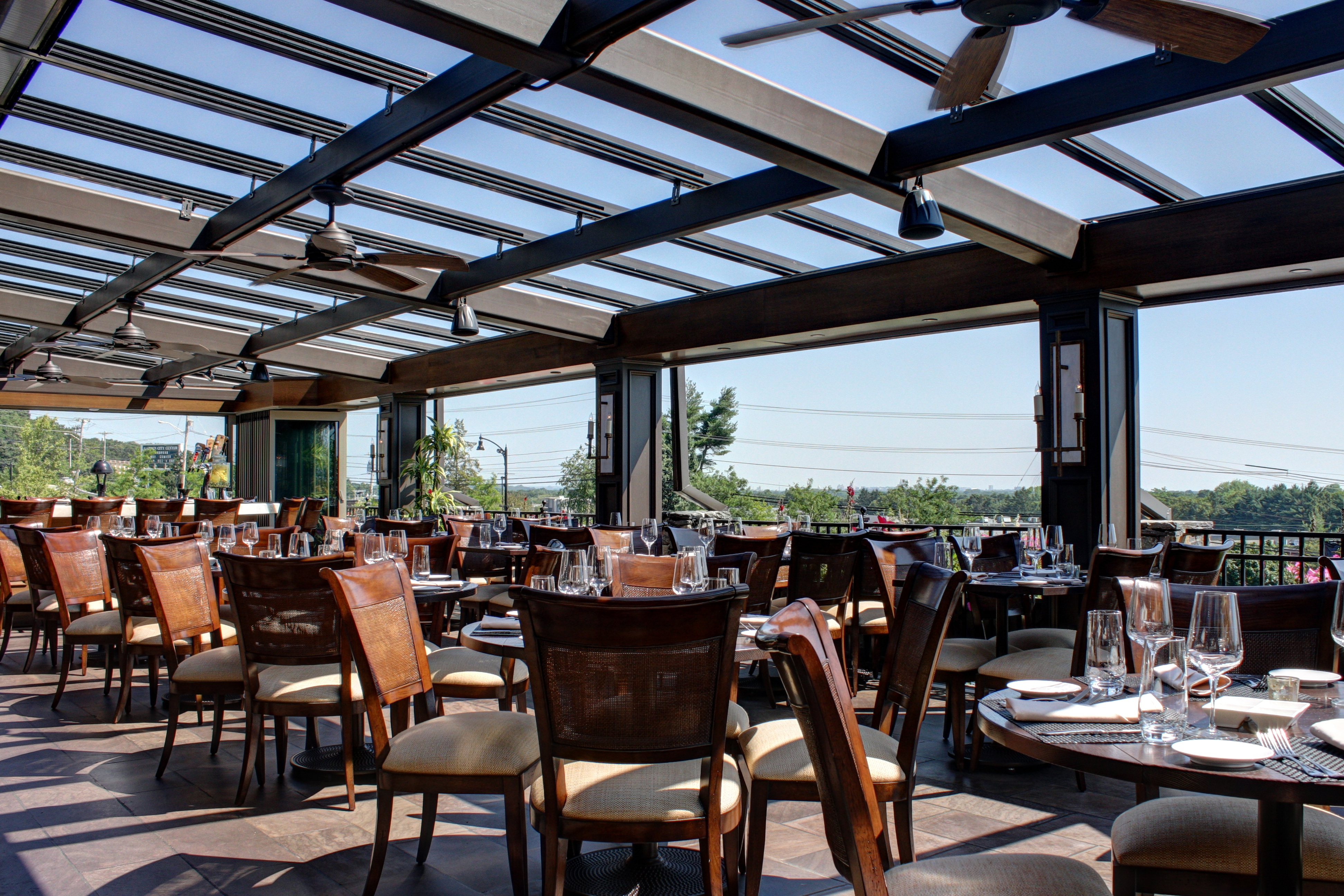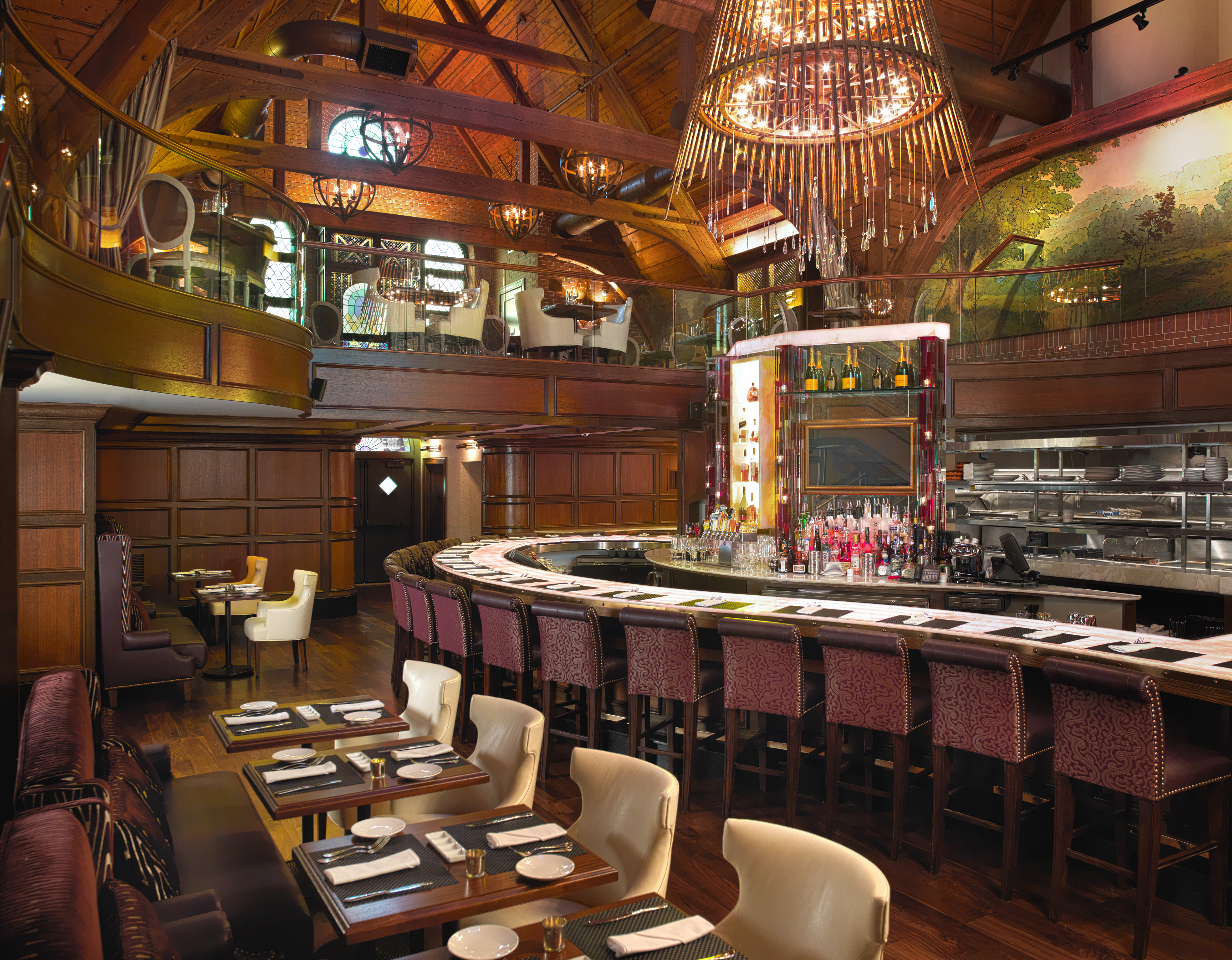 ASIAN:
DRESSED UP AND PARED DOWN
Bluefins Sushi & Sake Bar in Chatham offers exceptionally fresh seafood dishes that are so beautifully presented they are like art on a plate. Start with one of its specialty cocktails like a Tokyo Negroni made with Angel's Envy bourbon, Campari and Tozai plum sake or a Far East martini made with Hendrick's Gin, Ty-Ku cucumber sake, St. Germain liqueur and fresh lime juice. Appetizer favorites include the wakame salad, house-made kimchee and the sublime barbeque-glazed pork belly. Equally delicious is the Cape Cod monster roll, which comes with lightly torched yellowtail tuna topped with teriyaki sauce, spicy mayo, dots of tobiko, scallions and lime. Those who don't appreciate sushi will find plenty of other delicious choices as well. The wild Cape mussels and seared day boat scallops are amazing and the menu also includes items like chicken, a petit filet mignon and short ribs.—Laurie Higgins
513 Main St., Chatham, MA
508-348-1573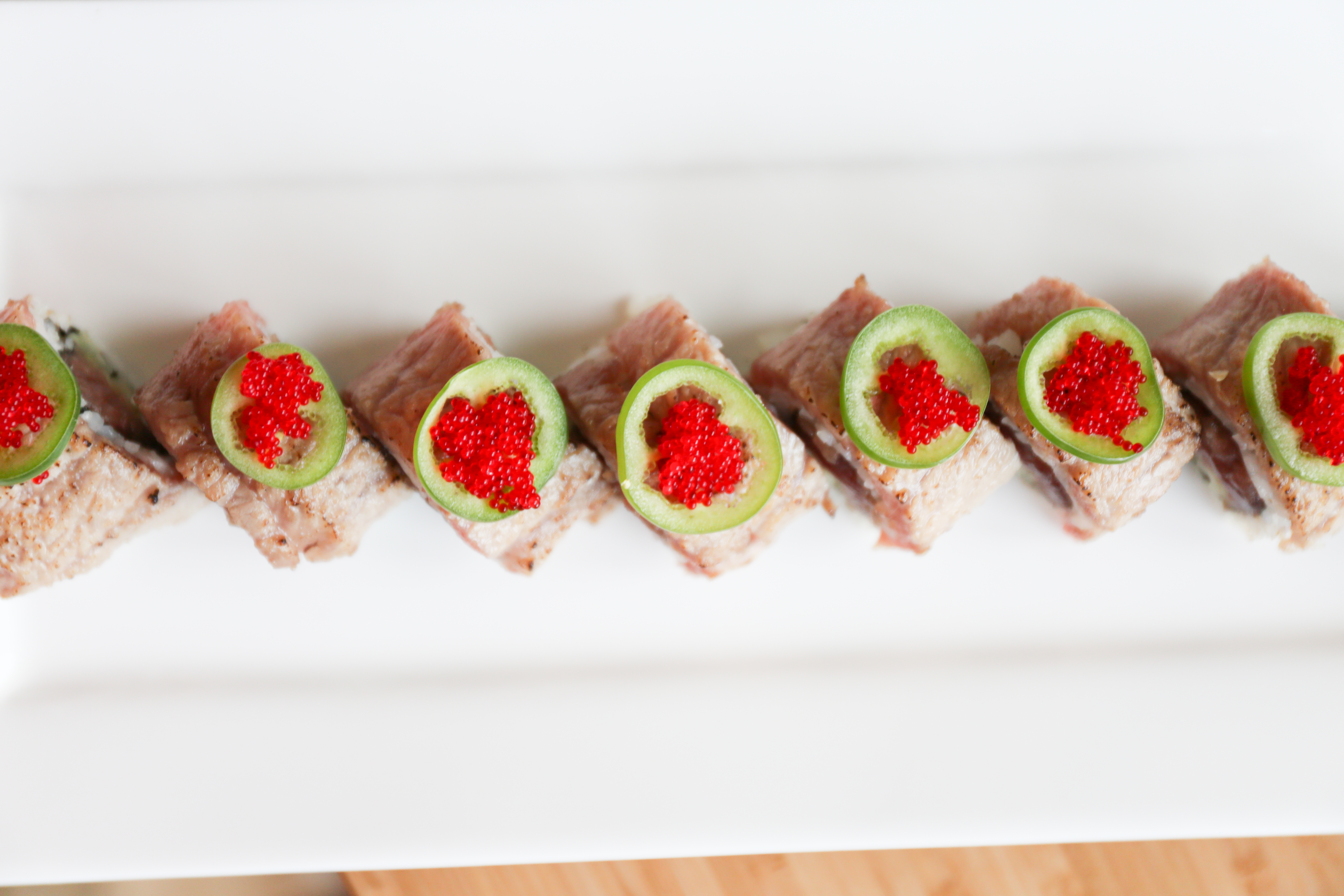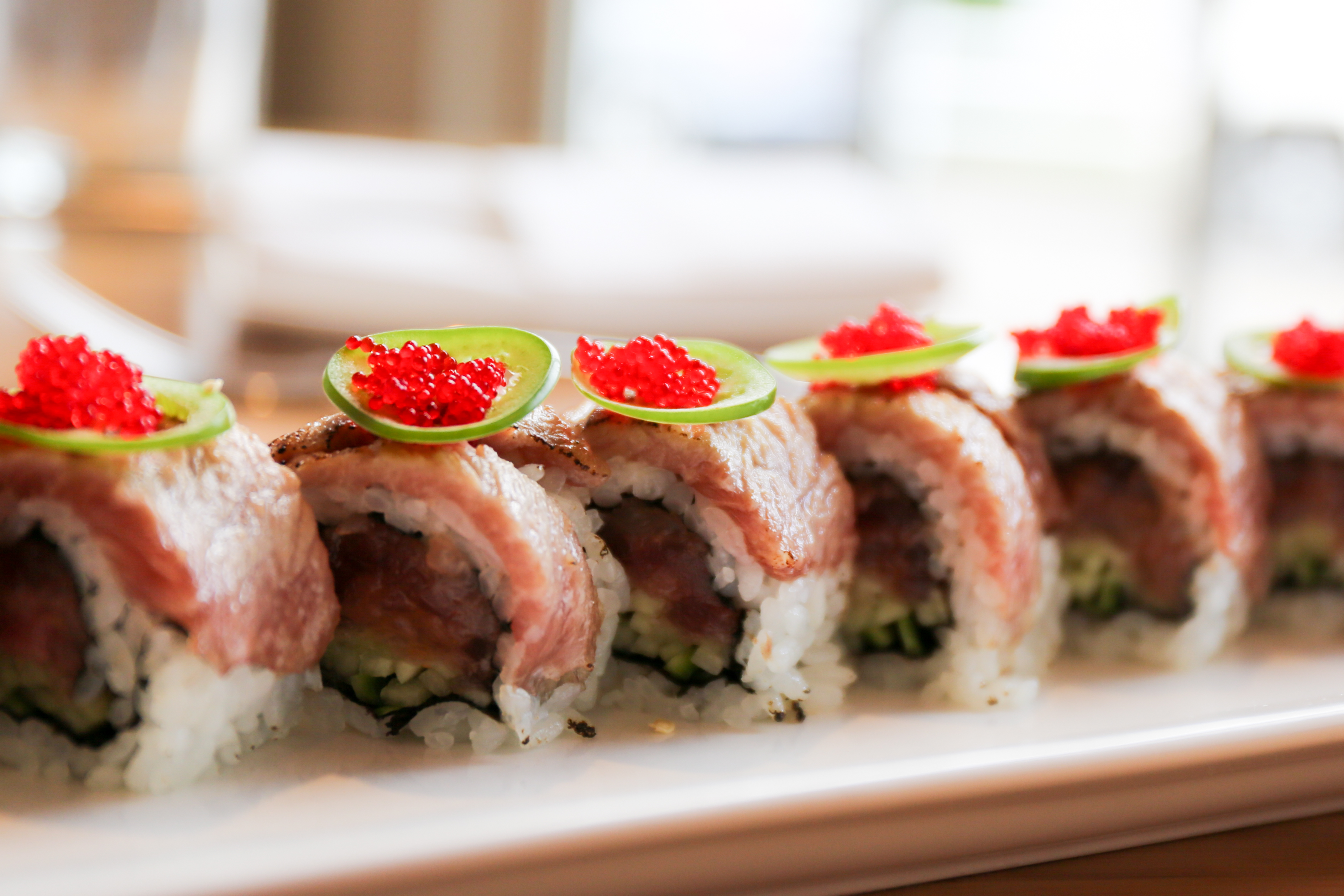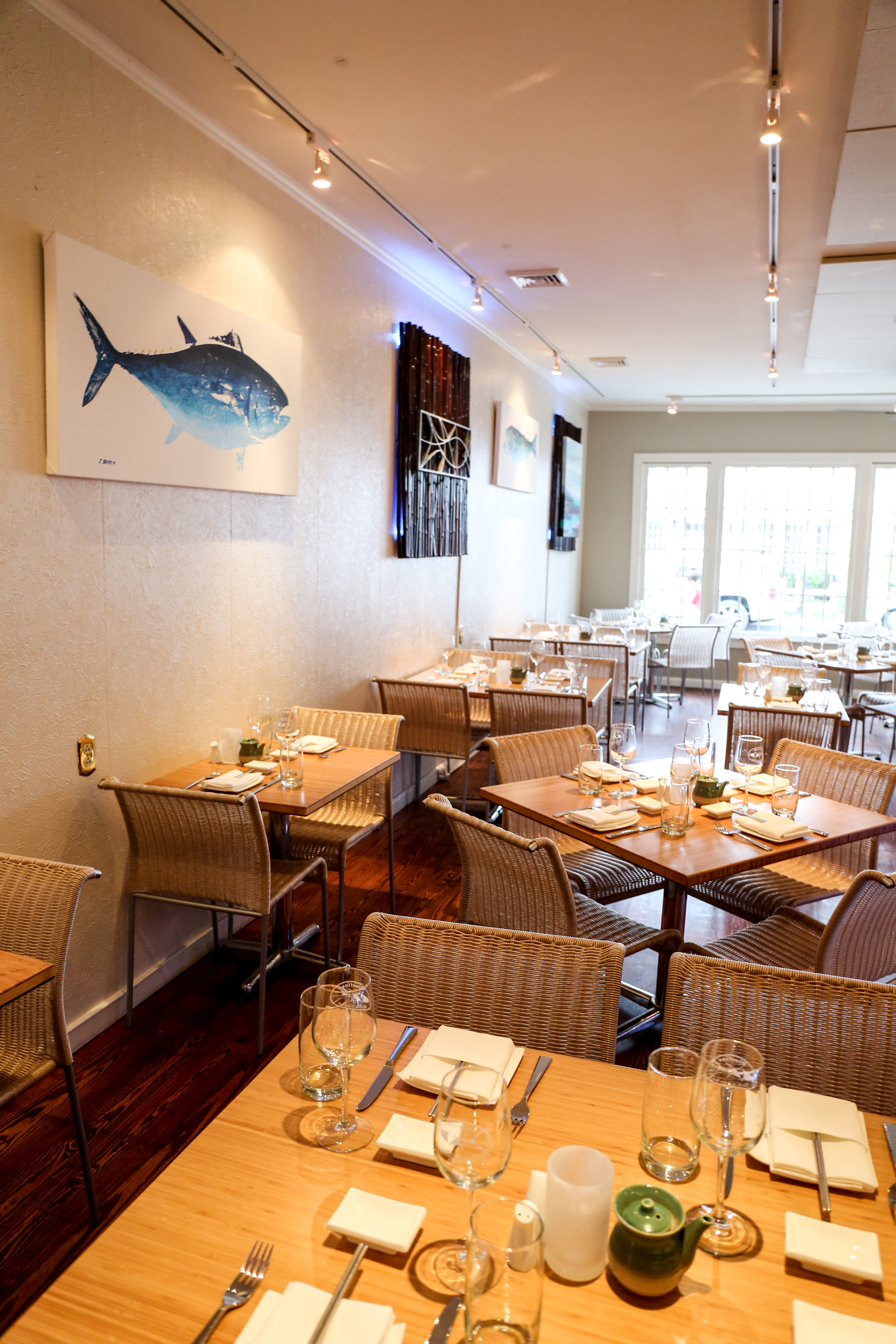 ---
Following the success of her Fenway barbeque joint Sweet Cheeks, Top Chef alumna Tiffani Faison strikes gold again with the opening of Tiger Mama. The Southeast Asian restaurant just down the street from Sweet Cheeks is drawing a crowd with its celebrated dishes and cocktails served from two bars. Settle in at one of the high-top tables to sample dishes like Pad Gra Pow with Thai basil, chili-spiced pork rib crudo and spicy okra, or grab a seat at the front bar for a cocktail and small bites (don't miss the crispy chili potatoes). Head to the Tiki bar in the back of the house (walk past the wall of live herbs, which are used by the kitchen) for inventive cocktails like the Harris Shrub with Aperol, pineapple and Thai chili.—Jessica Bowne
1363 Boylston St., Boston, MA
617-425-6262
---
It's small and doesn't take reservations, but North in Providence's West End is always worth a visit for its creative, refreshing Asian cuisine. The menu changes often as seasonal ingredients inspire the chefs and meals range from the familiar (roasted scallops) to the downright adventurous (seared beef heart). Popular starters include the raw littlenecks or oysters, both served with horseradish mignonette, and the hot and sour Chinese American bok choy, prepared with fermented chili, tamarind and puffed rice. For a main course, opt for the hot flavor sesame noodles, dan dan noodles with mutton and squid or the grilled scallion and chicken ramen bowl garnished with boiled egg, radish and wakame. The owners' engagement in their community is refreshing: 50 cents of every dish sold goes to the Amos House, to which serves warm, nutritious meals to people in need, or to the Rhode Island Food Bank. Now that's feel-good food.—Jennifer Sperry    
3 Luongo Memorial Sq., Providence, RI
401-421-1100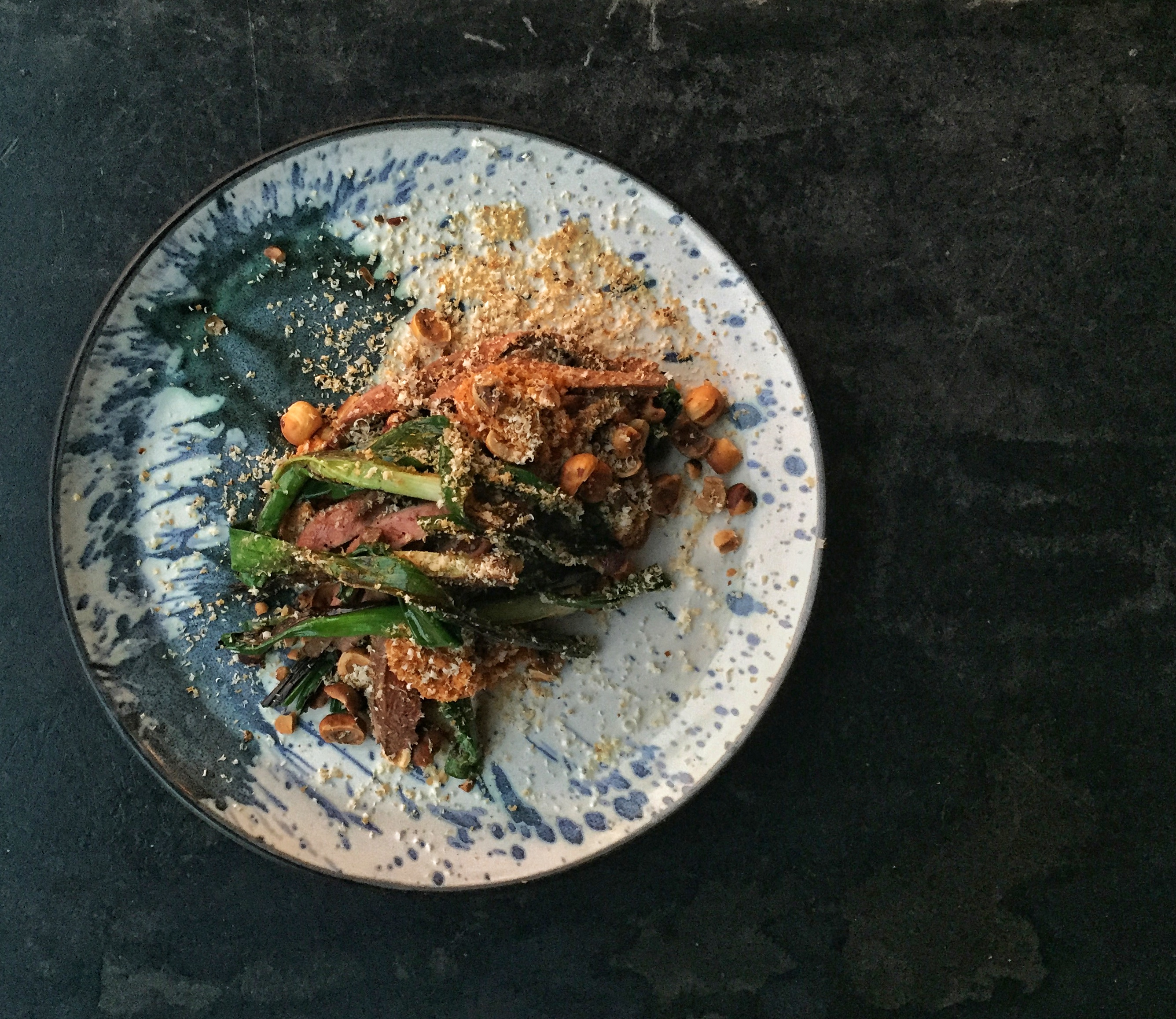 MEXICAN:
FRESH INGREDIENTS SERVED WITH SPICY FLAIR
There isn't any corny Mexican décor in sight at Naco Taco, a Central Square eatery helmed by executive chef Norlan Taborda, but there are plenty of house-made gluten-free corn tortillas. Order an icy margarita and then dip your chips into a homemade salsa or some freshly made guacamole before sampling one of the restaurant's signature tacos. The al pastor with spit-roasted pork and burnt pineapple, the barbacoa with braised beef and pickled vegetables and the fried fresh cod with spicy cabbage slaw hit the spot in equal measure. On warmer nights, sit outside and dine on the 100-seat patio under twinkling string lights.—Jessica Bowne
297 Massachusetts Ave., Cambridge, MA
617-945-1548
---
At Guapo's Tortilla Shack in Orleans (there's also a smaller location in Brewster), the décor is bright and the music is upbeat, adding to the festive feeling generated by the food. Guapo's serves Baja-style Mexican-American food with an emphasis on fresh ingredients and scratch cooking. You'll want to start with the house-made guacamole with chips and some chicken wings. For the main event, there are a dozen burritos to choose from along with amazing fish tacos (served with a signature lime sauce) and California-style burgers. There are also vegetarian and gluten-free options. No Mexican meal would be complete without a margarita and Guapo's has many fine ones to choose from. They make their own sour mix for fabulous flavor and the bar has a huge list of specialty tequilas for your drinking pleasure.—Laurie Higgins
136 Rte. 6A, Orleans, MA
508-255-3338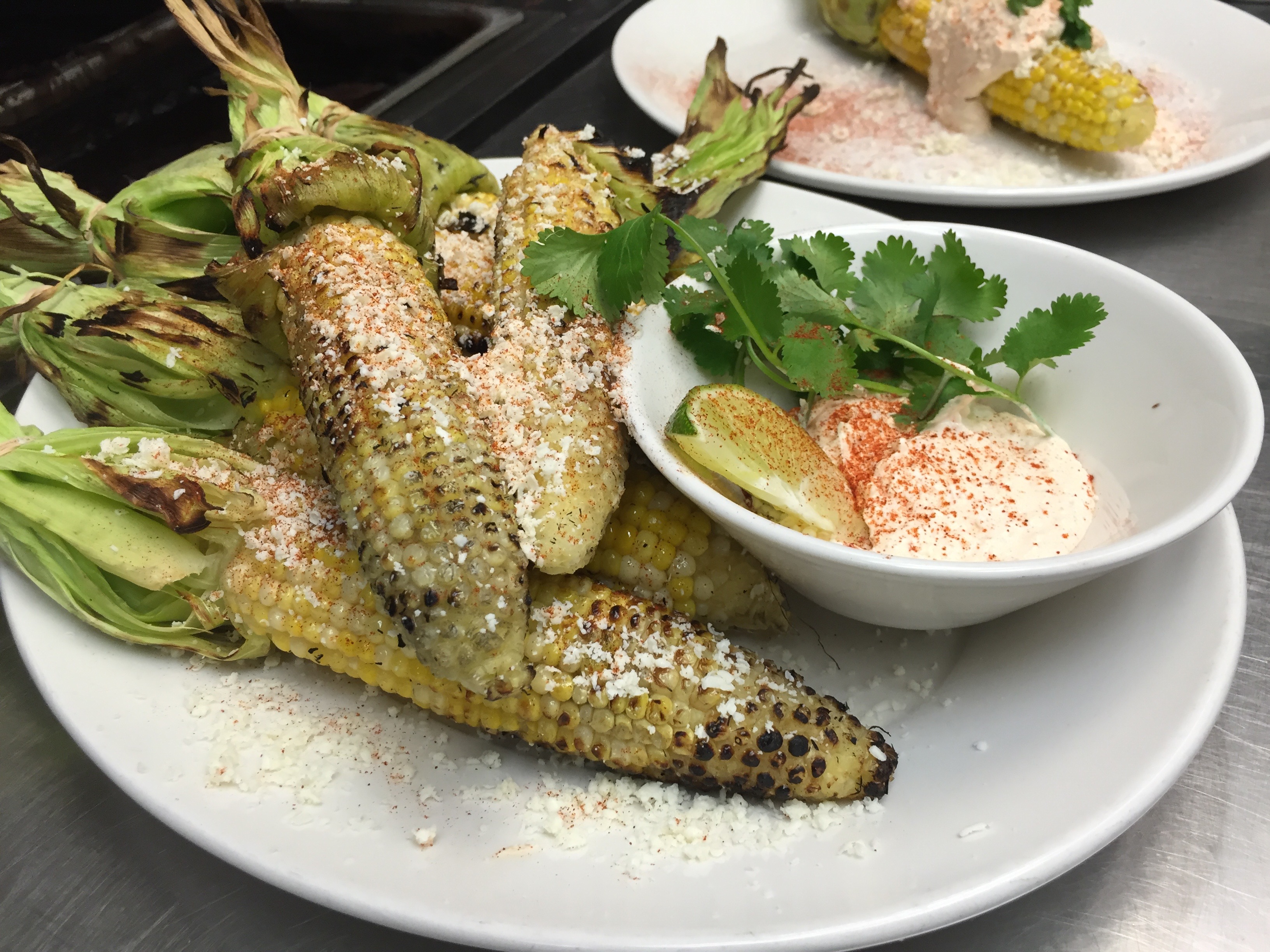 ---
If your wish is a Mexican eatery with a seemingly endless margarita list and an upbeat, colorful atmosphere, then Tortilla Flats in Providence is your place. With generously sized booths and a large double-sided bar in its center, Tortilla Flats is easygoing and appeals to everyone from college kids to date-night couples to families. The menu covers all your Mexican favorites—fajitas, quesadillas, tacos, burritos, enchiladas—but incorporates Cajun (crawdads, catfish and jambalaya) and Southwestern (ribs and pulled pork) fare as well. But to start, no one can resist pairing the house-made tortilla chips with salsa, guacamole or the meal-unto-itself chile con queso. Wash your chips down with a sangria or perhaps a freshly made margarita: flavors include strawberry, raspberry, melon and mango.—Jennifer Sperry
355 Hope St., Providence, RI
401-751-6777
EXTRA CHEESE:
NOT YOUR AVERAGE PIZZA JOINTS
For an Italian-style treat, Pizza Barbone in Hyannis is just the place. The casual pizzeria serves Neapolitan wood-fired pizzas baked in a Stefano Ferrara oven built in Naples, Italy. Everything is made from scratch using the highest quality ingredients like non-GMO Type "OO" Italian flour. Starters include crispy arancini and roasted cauliflower with golden raisins, pickled red onions, breadcrumbs and ricotta salata. Pizzas feature traditional toppings like meatballs and sausage or cool new combinations like crushed potato with garlic cream, bacon, mozzarella and scallions. When all is said and done, cannoli or house-made gelato with biscotti is a sweet way to end a wonderful meal.—Laurie Higgins
390 Main St., Hyannis, MA
508-957-2377
---
The savory pies at Area Four, an all-glass Kendall Square mainstay, are hand thrown, gently dotted with homemade sauce and cheese and expertly layered with toppings. Titans of tech, MIT geeks and even President Obama are all fans. The laidback spot serves up pizzas like the Carnivore, with bacon, soppressata, sausage and mozzarella, and the Caramelized Onion and Gorgonzola with candied walnuts. The secret is in the homemade dough; the team at Area Four uses a 12-year-old starter, flour, salt and water. Cover all the food groups by adding arugula salad with Manchego and lemon vinaigrette to your order.—Jessica Bowne
500 Technology Sq., Cambridge, MA
617-758-4444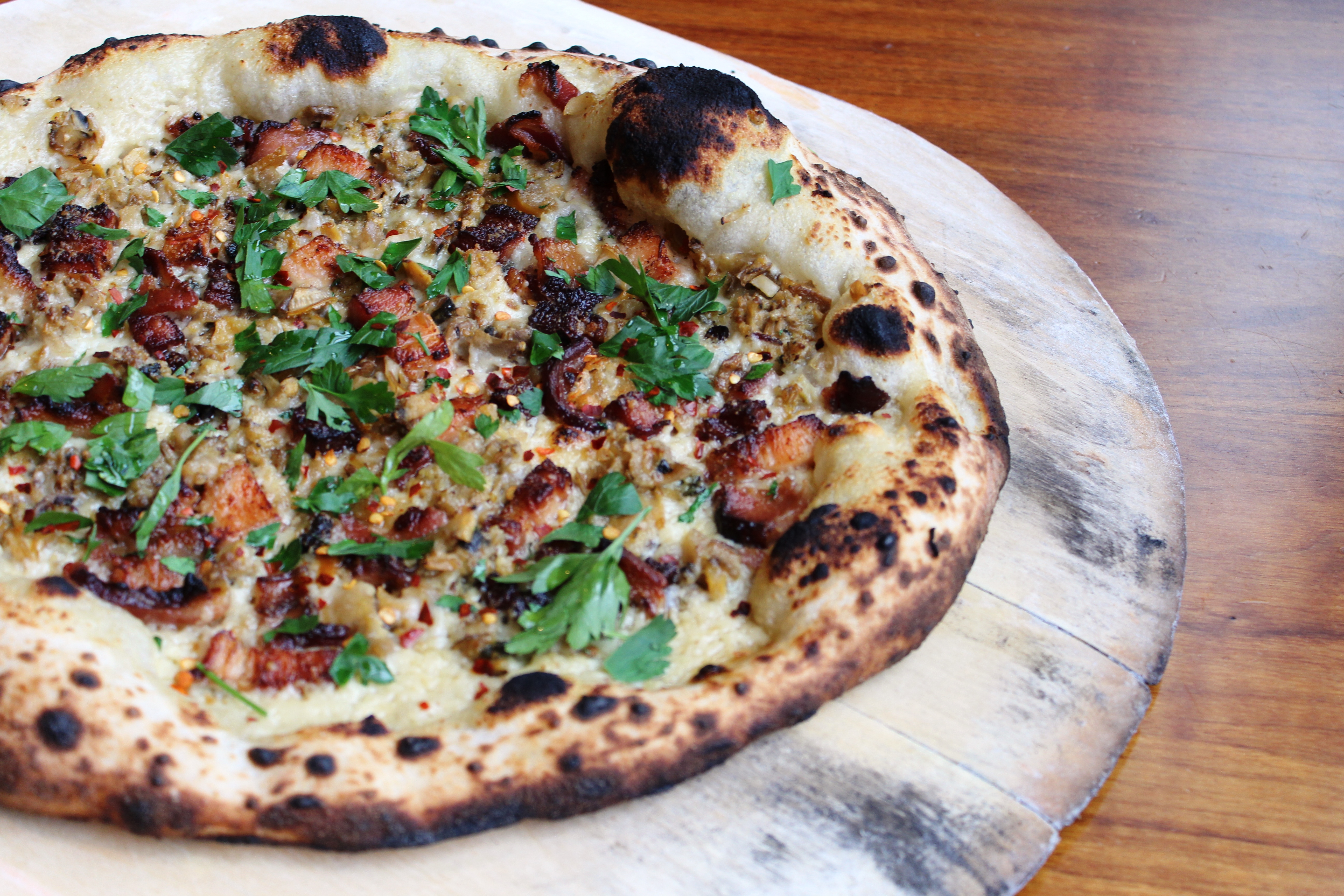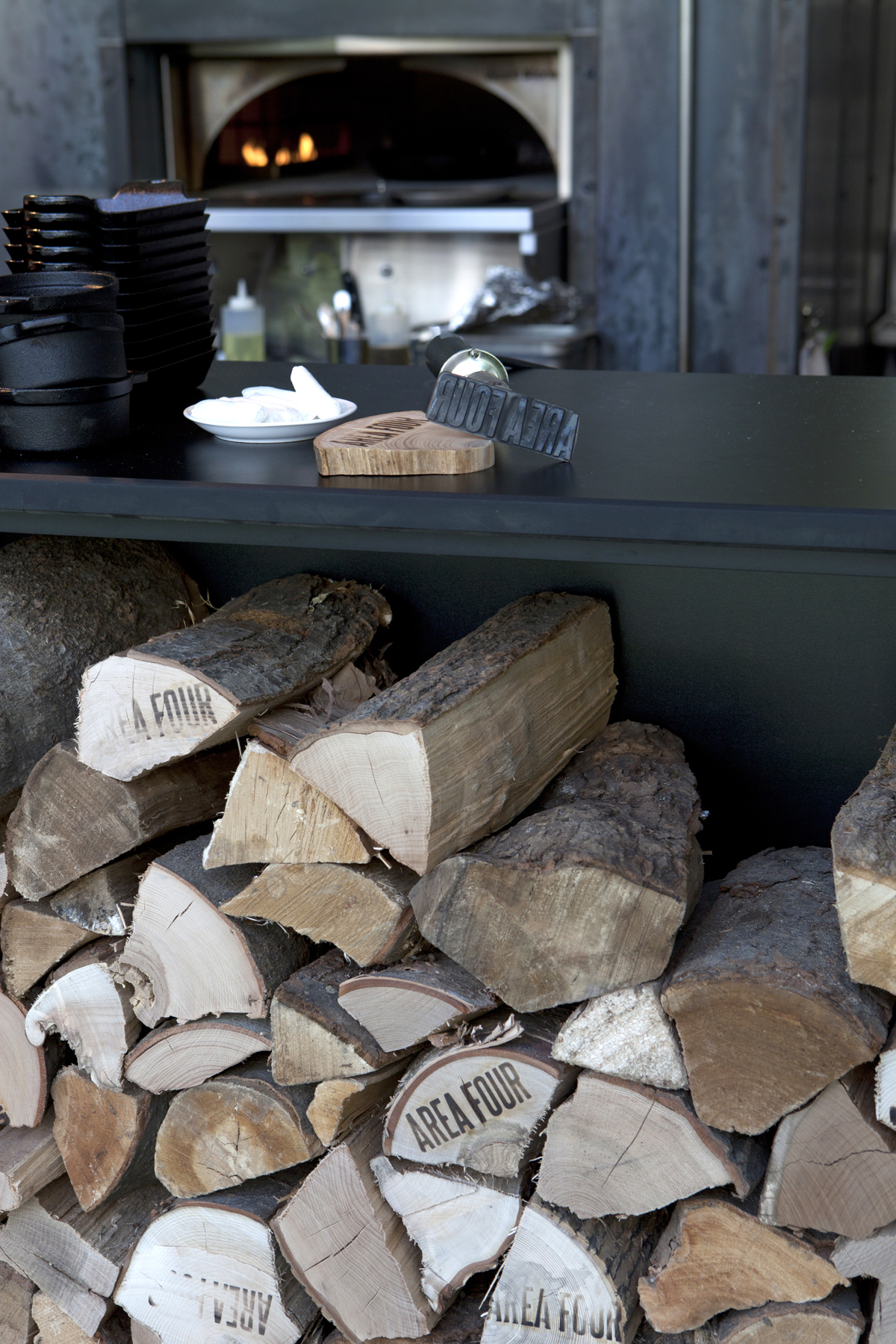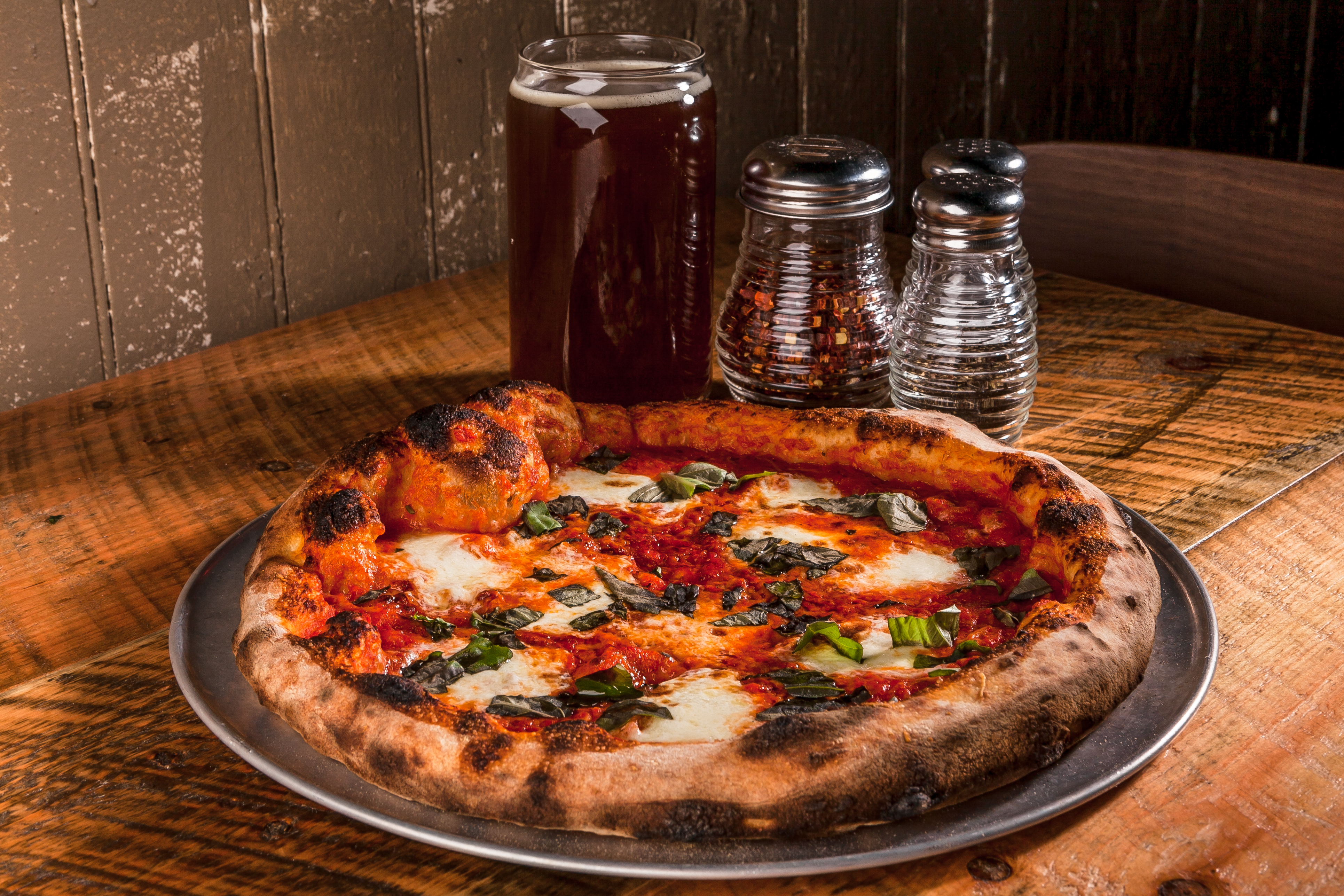 ---
No less than a Providence restaurant icon, Al Forno is always busy, always excellent and its fine Italian cuisine is perfect for special occasions. But that's not to say that it doesn't also excel at more casual fare, and its grilled pizzas certainly top that list. Just like Al Forno's entrées, the pizza selection benefits from topnotch Italian ingredients. Classic offerings such as the Margarita, the Pepperoni and the Mushroom Duxelles mingle with more unusual options such as the Bambina, served with crispy onion rings, or the Calamari, topped with fried squid and arrabbiata sauce. Order a glass of Italian Chianti, a pear and endive salad with warm gorgonzola-stuffed dates and you have yourself a meal to remember. And don't forget to pick your dessert early: each one is made fresh to order and requires advance notice.—Jennifer Sperry
577 South Water St., Providence, RI
401-273-9760