Two days, 17 hours, 26 minutes, and 27 seconds. That's how quickly Richard Moody and the crew of Boudicca sailed from Marion, Massachusetts, to Bermuda this past June.
As part of the newly added Performance Class in the venerable Marion-Bermuda Race, Boudicca, Moody's King Marine Reichel-Pugh 66 out of Jamestown, Rhode Island, broke the previous record for time (by just a few hours), which was set in 2011 by the 76-foot Briand Sloop Lilla, owned by Simon and Nancy DiPietro. With four entries this year, the new class was implemented to expand race eligibility to more performance-focused cruising vessels.
Departing Buzzards Bay on Friday, June 16, Moody and his crew of 14 quickly altered their original route. "The Gulf Stream does very weird and wonderful things," says Moody, who, with his navigator, Jeff Fisher, had put "two good solid plans together" ahead of the race. "We take the current weather data and run modules in the computer, but, obviously, there are several factors that go into deciding how to go." With a big, lighter wind patch rolling up the coast off of Long Island, Moody ditched his first plan to sail out of the bay and into Rhode Island Sound toward Block Island. "Instead, as soon as we could clear the tower, we tacked and went south to see if we could get around the light air, says Moody. "And it seemed to pay off."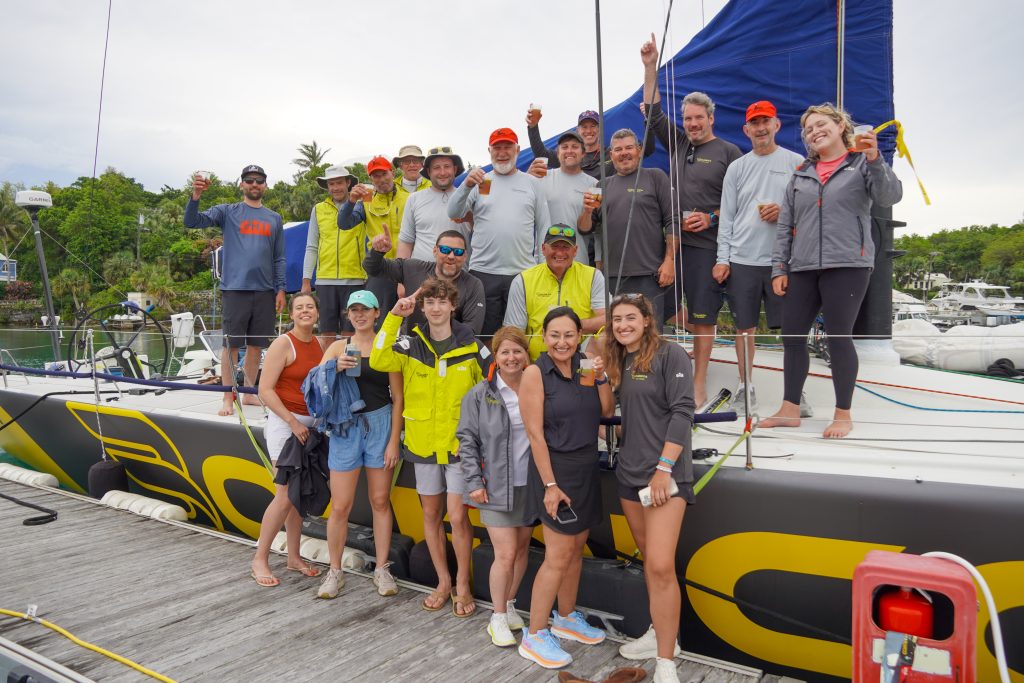 Once they were underway, Boudicca never trailed in the race. "We went through a lot of thunderstorms and kept ourselves on the other side of the rhumb line, where we knew the low air was," says Moody. "The most we ever got down to was six or seven knots at the back of a thunderstorm, but usually we were doing 16 to 20 knots of boat speed." When the sailboat crossed the finish line off St. David's Lighthouse in Bermuda at 6:30 Monday morning, they were nearly 200 miles ahead of the next boat.
Moody, who grew up in the United Kingdom and emigrated to the U.S., has been a sailor for most of his life. "I showed up in December 1990 with two duffel bags on my back," he says, "and began delivering and racing boats for people." He ran a lot of big races around the world, worked in a big boat factory in Rhode Island for a time, and then got the opportunity to work for Land Rover, which he still does, with his own Land Rover repair and restoration shop in Exeter, Rhode Island.
But his passion for sailing never wanes and he and his wife and daughter are part of a vibrant sailing community that finds him participating in numerous races each year, including another sprint to Bermuda, this time from Newport, Rhode Island, in a biennial event which next sets sail in June 2024.
The Marion-Bermuda Race was founded in the summer of 1977 by two sailing friends, Dave Kingery and Dickie Bird, who met at Bermuda's Royal Hamilton Amateur Dinghy Club, where Bird was a prominent member. The two families had sailed together aboard the Kingerys'50-foot Columbia sloop through the West Indies, and outlined the general principles of what would become the Marion-Bermuda Race. Kingery was a member of the Beverly Yacht Club and on the Board of Governors of the Blue Water Sailing Club; thus, all three boat clubs continue to provide support for the race, which this year saw 32 vessels taking part.
The next Marion Bermuda Race is in 2025, starting on June 13 of that year.