Prohibition, while likely quite inconvenient for those who lived through it, has become a trendy theme for bars in recent years. Speakeasies were once secretive establishments selling alcohol on the sly, but these days, they're popping up all over the place in a decidedly more legal capacity. If you're looking to conjure the past with a craft cocktail in a tucked-away bar, check out these hidden gems around Boston.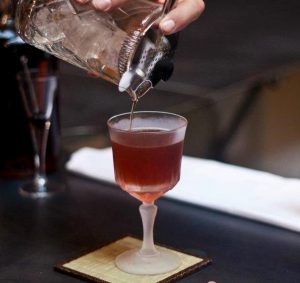 Backbar, 7 Sanborn Court, Somerville 
Like speakeasies of old, Backbar is a little tricky to find. Getting to this sleek, industrial space requires venturing down an alleyway off Union Square, going through an unmarked metal door, and walking past boxes and the like in a service hallway. But the cocktails are definitely worth the journey. The Professor Plum combines Dewar's 12, Laphroaig 10, lemon, plum, sherry and allspice. Fans of rum should try the Jungle Beer, a mixture of pineapple rum, Campari, Coors Banquet Beer and lime zest. Available snacks include assorted pickles, buttermilk ranch popcorn, and smoked bluefish pâté.
Lucky's Lounge, 355 Congress Street 
Channel the Rat Pack in this 50s-themed lounge, which you can find in the Seaport District (despite the lack of sign). Red leather stools, dim lighting, and a brick bar will make you feel like Sinatra's about to take the stage. Try the Fire Cracker (grapefruit vodka, lime, cranberry juice, and habanero simple syrup), or the Aviation 11 (gin, maraschino liqueur, violet liqueur, and lemon), and stop by on Sunday for the impressive brunch.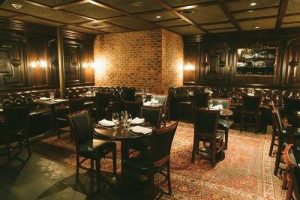 Saloon, 255 Elm Street, Somerville 
Saloon, also sign-less, is an underground treat in Davis Square that's all dark wood and classic, pre-Prohibition cocktails. With names like the Chattanooga Sling (bourbon, cherry Heering, Cardamaro, honey, and lime) and the Spaghetti Western (Highwest double rye, Melletti Amaro,  Luxardo Apertivo, and Cocchi Americano), you'll definitely want to spend some time exploring this drink menu. Food offerings range from steak au poivre to movie theatre popcorn. 
Carrie Nation, 11 Beacon Street 
Not quite as hidden as our other picks, Carrie Nation is named after one of the more violent supporters of the Temperance movement — Ms. Nation used to attack taverns and other alcohol-selling establishments with a hatchet, so she'd likely not be pleased with her namesake in Beacon Hill. Ragtime and jazz music set the scene in the cocktail lounge, separated from the main dining areas by a red velvet curtain and complete with a full bar, billiards table, and dark leather seats. Cocktail selections include The Flamingo, with house-infused strawberry vodka, lemon, Aperol, and soda, and the Boston Mahatma, a mixture of Irish American 10-Year Single Malt, lemon juice, orange marmalade, rosemary, and egg white.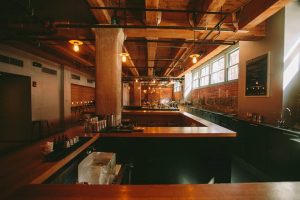 Drink, 348 Congress Street 
If you struggle with deciding what to order, Drink is just the place for you. After you arrive via hidden staircase, choose a spot at the winding and weaving bar, and take a look around at what was once a wool warehouse, your bartender will create a specialized cocktail based on your preferences. Drink is definitely a Boston must-see: how many cocktail bars have you visited that have no cocktail menu?
Top photo: Carrie Nation. Photos via respective websites.