Legendary French-American chef Jacques Pépin finds delight in whatever he does.
By Jaci Conry     Photography by Tom Hopkins
After writing 30 cookbooks, renowned chef Jacques Pépin wanted to produce a different sort of volume. His next book, to be published in September, Art of the Chicken, features his own vibrant illustrations of chickens—more than 120 of them—paired with, says Pépin, "stories from life."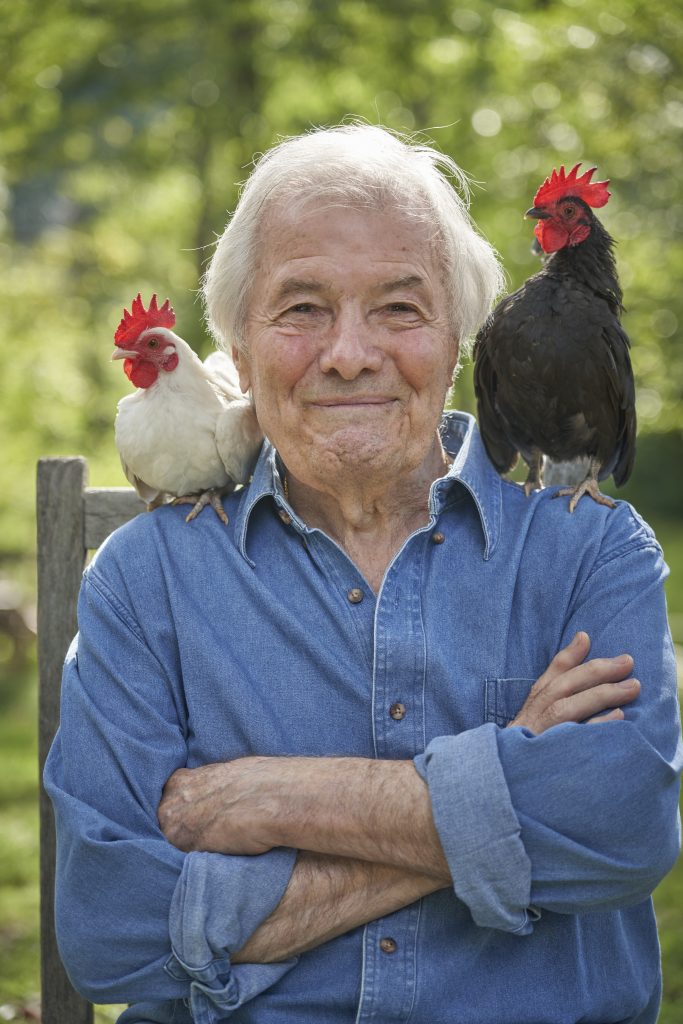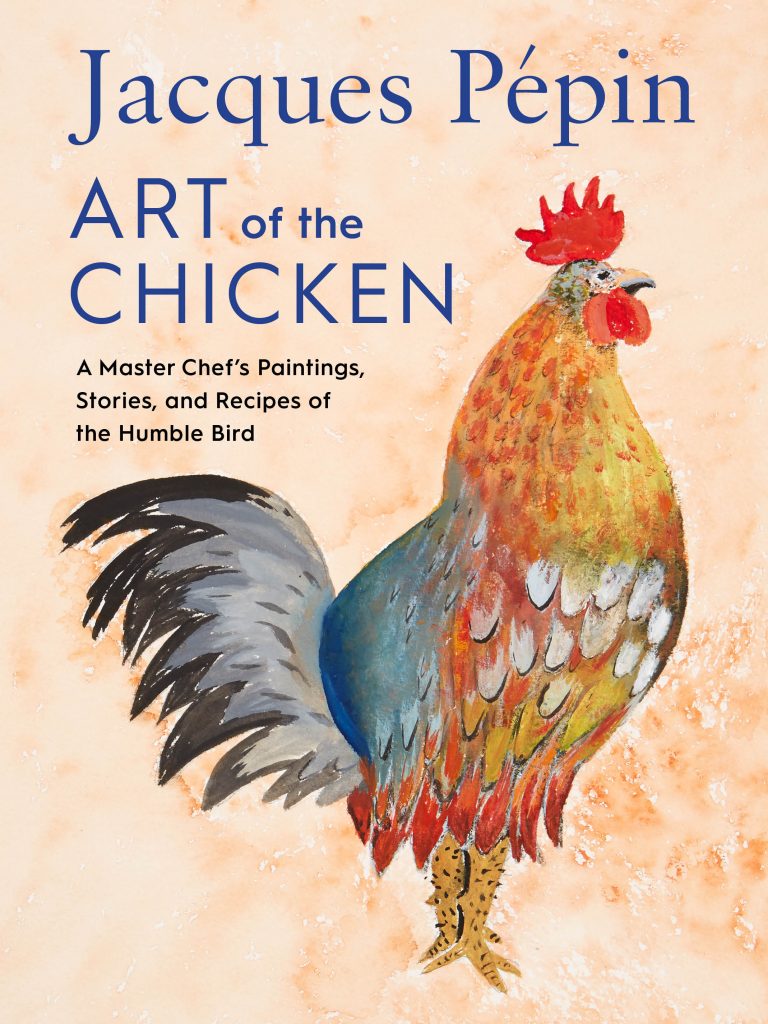 And what a life 86-year-old Pépin, who's lived in Madison, Connecticut since the 1970s, has had. A celebrity chef long before the term had been coined, Pépin learned the art of French cooking in the restaurants his mother ran in Bourg-en-Bresse, France. At age 13, long convinced he wanted to be a chef, Pépin left home to apprentice at Le Grand Hôtel de l'Europe. During his military service in 1956-1958, he was recognized for his culinary training and skill and was assigned to be the cook for French heads of state, most notably, Charles de Gaulle.
In 1959, Pépin made his way to New York City to work in the kitchen of Le Pavillon. The following year, he was hired to serve as the director of research and development at Howard Johnson, where he developed food lines for the emerging restaurant chain. To take the role, Pépin declined an offer to be the private chef for the newly elected president, John F. Kennedy. "I didn't recognize the potential of working at the White House then. At the time, cooks were unknown," recalls Pépin. "It's much different now, chefs are taken very seriously even though we're still just the mashed potato makers." Humor is an integral part of Pépin's endearing persona. Quick to smile, he's deeply humble; grateful for the life he's led. While he happily recounts his past, Pépin seldom emphasizes his accomplishments which include 16 James Beard Foundation awards, a Daytime Emmy, and an honorary doctorate from Columbia University where he earned his bachelor's degree at night.
After taking a drawing class at Columbia in the 1960s, Pépin's interest in art peaked. Soon after, he became involved in an artist colony of sorts in Woodstock, New York, where he and his friends redid furniture—another of his lifelong pursuits—and dabbled in painting. Over the years, Pépin has become a prolific painter, creating abstracts, landscapes, and still life. These days, Pépin's original works can sell for upwards of $10,000 and often for as much as $30,000; limited edition prints are also available on his site, jacquespepinart.com.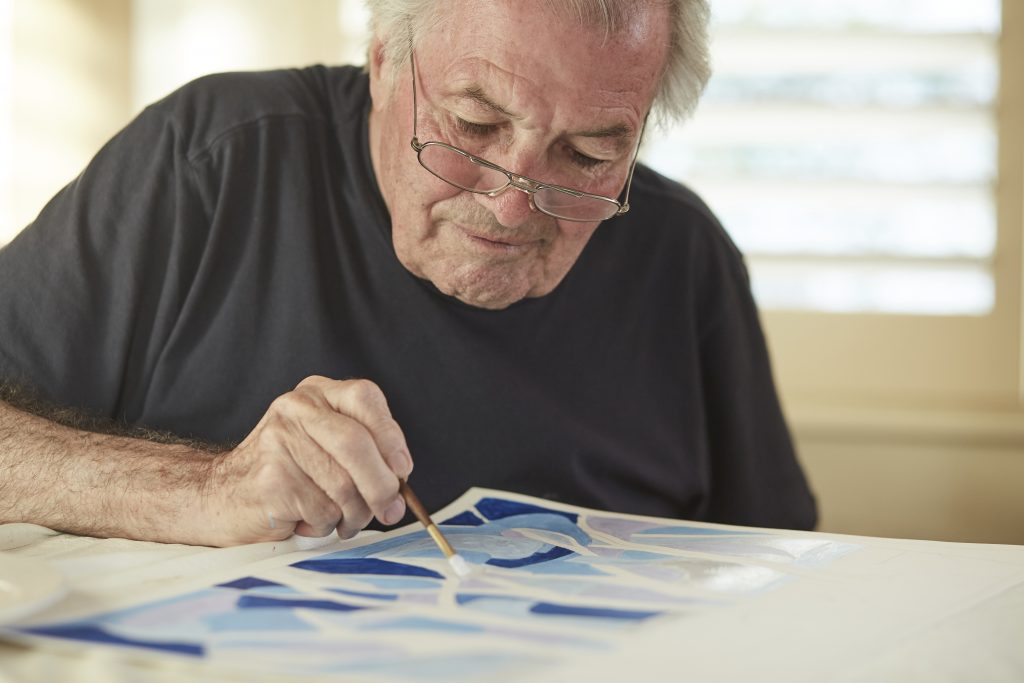 One of Pépin's passions is illustrating menus for meals he's created for his friends and family.  "Even for meals I prepared for just my wife and me, I'd often do a menu," says Pépin whose wife of over 50 years, Gloria, passed away in 2020; they have a daughter Claudine. "You'd be surprised at how many memories those menus create. Looking back at them 10 years later, I can remember the evening, the event—like the one from my daughter's fourth birthday—it's very special."
Pépin's focus shifted after a near-fatal car crash made it difficult for him to endure hours on his feet in restaurant kitchens. In the mid-1970s, he wrote the first of his many cookbooks and became an educator, offering classes at cooking schools and privately. In 1989, with his good friend, Julia Child, Pépin worked to create a culinary certificate program at Boston University, which led to the first, and still one of the few, Master's degrees in Gastronomy. This spring, Pépin plans to back in Boston to teach for his for his 39th semester at BU.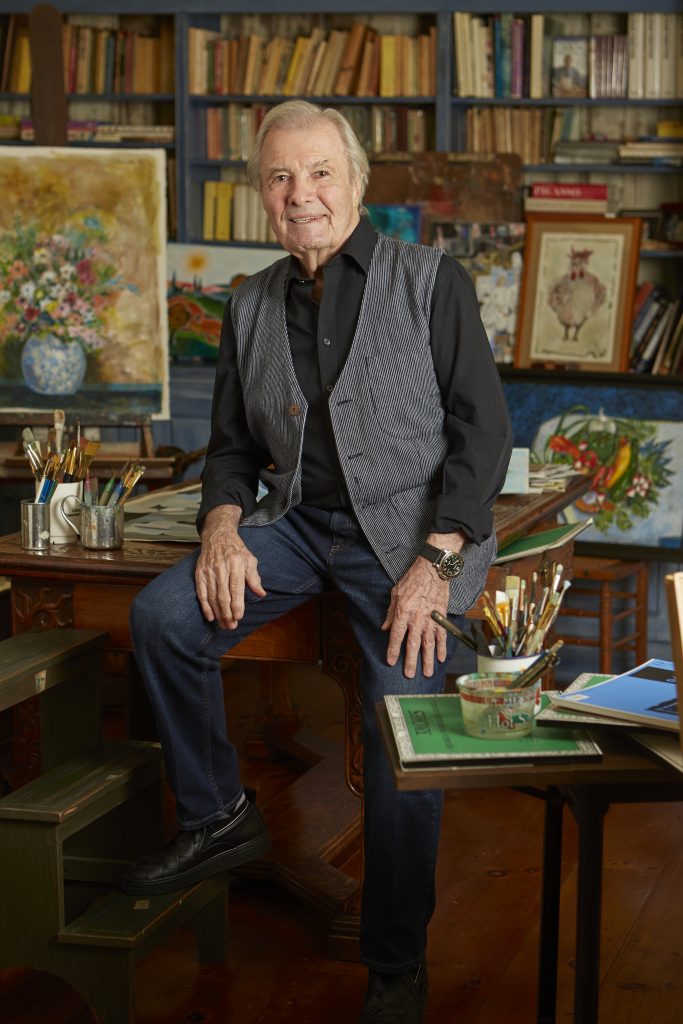 Pépin's popular culinary television shows on PBS—he starred in 12 series'—were the first of their kind. Debuting in the 1980s, the shows were a precursor to the abundant food-based programming available today. As he showcased his delicious recipes and French-honed techniques, Pépin was a natural on camera, both relaxed and engaging; his joy for cooking apparent.
While Pépin hadn't done a network show in years, once the pandemic hit, he and Claudine started streaming videos on Facebook. The two-to-six- minute videos showcase quick lessons featuring just a few ingredients. In his Connecticut kitchen, Pépin prepares hot dogs, sushi rolls, and tortilla pizzas. He instructs on how to use knives, how to cut vegetables, how to use what you have in the refrigerator and not waste it. "The pandemic brought a lot of people back to cooking at home or they started cooking for the first time," says Pépin. And a great many of them were interested in learning from the seasoned pro, in just a few months, the viewership jumped from 350,000 to 1.7 million.
Pépin's culinary inspirations come from ingredients; from what he sees at the grocery store that looks appealing and the vegetables that are growing in his garden. "I don't like to waste anything—that's a hold-over from growing up in a war," he says, adding that one of his signature dishes is "Fridge Soup," labeled by his wife.  "For this, I go through the refrigerator and take a piece of one thing or another and make a soup with it. This soup recipe can never be the same. It all depends on leftovers so it is the spirit of the recipe which counts," says Pépin.
"Cooking is the purest act of love. You have to give a lot of yourself and in doing that there is joy, because it makes the people you love happy," says Pépin. Chickens are his favorite ingredient to paint. He depicts their feathers in unexpected hues, gives them moody expressions, and sometimes, shapes their bodies as fruits and vegetables. "I paint more the way I feel it than I see it," he says. Unlike cooking, which he does for others, Pépin paints for himself, not to please anyone else.  "And in that," he says, "there is joy too."
With his daughter, Claudine and son-in-law Rollie Wesen, Pépin created his eponymous, non-profit, organization the Jacques Pépin Foundation (JPF). The mission of the foundation is to provide culinary training to adults and youths with barriers to employment such as low-income, low-skills, homelessness, issues with substance abuse, and previous incarceration. The JPF provides grants, equipment, direct teaching and video instruction to community-based culinary training programs around the USA.