This episode of New England Living TV centers around a home that Host Parker Kelley describes with one word as Larry and Kim, the owners, open their front door to greet her, "Paradise!" she says.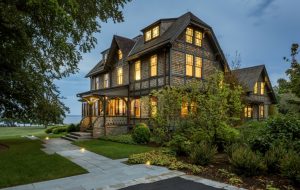 Originally owned by Edwin Booth, one of the great Shakespearean actors of his time and the brother of John Wilkes Booth, "Boothden," as it's been called since it was built in 1883, recently underwent a top-to-bottom renovation. Architect David Andreozzi plans preserved and refurbished many of the existing elements while bringing the home beautifully into the 21st century at the same time.
As Parker tours the home with Kim, beautiful room after beautiful room is revealed.
A living room with sweeping views of the adjacent Sakonnet River includes exquisite millwork which gives it a formal feel while artwork and personal accessories make the space very livable. The kitchen in large enough to allow groups of friends to help when cooking for Larry and Kim's frequent dinner parties, just as they wanted. The dining room is one of the architect's favorite, as Kim explains during the tour, because the renovations opened up the space making the staircase – a work of art itself – a focal point.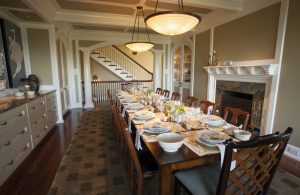 The great room at Boothden features a dramatic vaulted ceiling which is finished with natural wood and includes a series of gracefully-arched support beams. This room also has incredible views of the river. As Kim shows Parker the screened-in porch, she explains that the stone etching over the fireplace is of a windmill that originally stood on the property. A gazebo, a favorite spot of the homeowners, now sits on the windmill's original foundation.
As Kim and Parker approach the "hers" master bathroom – there's also a "his" – Parker exclaims, "Oh my!" when she sees the iridescent green tile that covers nearly every inch of the room.
As the sun sets on our first day of filming, Parker, Kim and Larry enjoy a paddle in kayaks on the Sakonnet.
The following day, Parker chats with David Andreozzi as well as Landscape Architect Kieth LeBlanc whose firm handled the landscaping of the extensive grounds. Parker then heads to Gracie's Restaurant to meet with Chef Matt Varga who will prepare dinner for the evening's gathering at Boothden. She and Matt spend the morning collecting ingredients for Matt's menu, visiting Narragansett Creamery, Hopkins Southdowns Farm and Newport Vineyards.
Back at Boothden, Parker works with Matt, assisting him in preparing a spring salad of peas and leeks and a pasta course.
The episode concludes as, "Dinner is served!"
New England Living TV is sponsored by Sub-Zero and Wolf appliances, Clarke Appliance Showrooms, Kohler, 7 Tide and Supply New England.