In the Middletown, RI episode of New England Living TV, Chef Matthew Varga of Gracie's, the widely-acclaimed restaurant in Providence, prepares an elegant dinner for the owners of the home featured in the show.
After beginning his culinary training with cooking classes in high school, Chef Varga went on to attend Johnson & Wales University, where he received his associate degree in culinary arts in 2003. In 2005, he earned his bachelor's degree in food service management. Chef Varga began working at Gracie's in 2007, and was promoted to executive chef in 2010. Since then, Gracie's has won the AAA Four Diamond Award for five continuous years, and has received three Diner's Choice Awards from Open Table.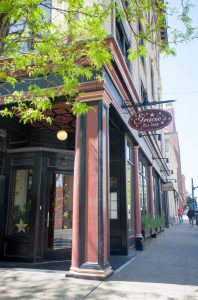 Chef Varga was kind enough to share his recipes for some the dishes he prepared in the Middletown episode of New England Living.
Spring Pea and Leek Tartine
Serves 4
Ingredients
1 lb. Burrata cheese, quartered
3 tablespoons good quality extra virgin olive oil, divided
1 small leek, white and light green parts only, sliced
1 ½ cups peas, freshly shelled
Sea salt
Fresh ground pepper
1 tablespoon loosely packed dill, or other herbs, minced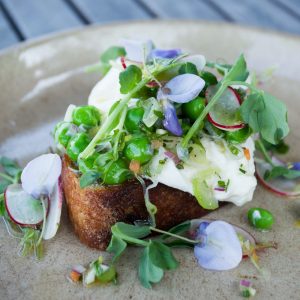 4 slices crusty sourdough bread
1-2 garlic cloves, peeled
Instructions: In a medium sauté pan over medium-high heat, warm 1½ tablespoons of the olive oil. Sauté the sliced leeks until they are soft, about 5 minutes. Add the peas and sauté another minute or so, until warmed through. Season the mixture with salt and a few grinds of fresh pepper.
Preheat oven to broil.
Place four bread slices on a baking sheet. Toast both sides, being careful not to burn.
Remove from oven. Rub both sides all over with garlic cloves.
Top each slice with a quarter of the Burrata and, divide the leek and pea mixture equally among the slices of bread.  Sprinkle the minced dill & thyme leaves over top. Drizzle with the remaining olive oil and sea salt and serve.
Pappardelle, Ramps & Lobster
Serves 4
Ingredients
1 lb. fresh pappardelle
3 tablespoon extra-virgin olive oil
2 cloves garlic (sliced)
Pinch red pepper flakes
½ cup ramps, thinly sliced
2 cups cooked lobster meat
1 tablespoon whole butter
1 cup fava beans, freshly shelled
¼ cup toasted bread crumbs
¼ cup white wine
1 tablespoon picked fresh marjoram leaves
Salt and freshly ground pepper to taste
Instructions
Bring a large pot of salted water to a boil.
In a large pan over medium-high heat, add the olive oil. Once hot, add the garlic and ramps and sauté until just tender, about 2 minutes, then add red pepper flakes and fava beans.
Drop the pappardelle in the boiling salted water and cook until al dente, about a minute.
Add the lobster to pan, cooking another 1-2 minutes. Deglaze the pan with white wine.
Add pasta and butter to the pan and toss to coat, adding a ladleful of the pasta cooking water if necessary to loosen the sauce. Season with salt and pepper and serve with a sprinkle of fresh marjoram.