Earlier this season, we headed north to film at the incredible South Portland home of Sam and Norma, the near-empty nesters who designed a house with future generations in mind. Situated on a rocky outcropping of the Casco Bay shoreline and with three of Maine's famous lighthouses within its sights, we positively gobbled up fresh sea air while filming.
As a result of said sea air, perhaps in tandem with tons of delicious food and the busy pace of filming this episode—which saw us island hopping on the local ferry system, climbing ladders to check out cupola views, and heading out on a lobster boat to catch dinner—we were utterly exhausted at the end of each day.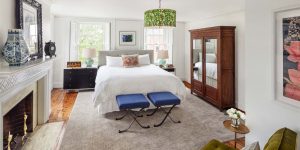 Enter the Danforth Inn, Portland's only luxury boutique hotel, located in the heart of the historic West End. Truly an oasis of calm, the Danforth is within easy walking distance of the midtown Arts District, the Portland Museum of Art, busy Congress Street and all the food, shops and fun of the Old Port, but is itself in a quiet residential area that is perfectly conducive to peaceful dreams.
The elegant brick mansion—designed in 1823 by the notable Colonial Revival architect and father of New England shingle style, John Calvin Stevens—has an exciting and unusual history that involves everything from the prohibition and a chance Russian inheritance to depression era bank runs and select preparatory education. Today, it has recently been reappointed to marry luxurious comfort with light, playful and modern style.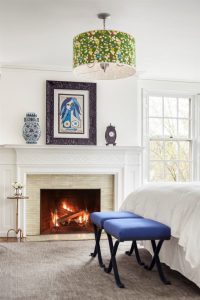 With the graceful bones of an old home, each room has been updated in gleaming white paint and has every modern amenity, as well as some historic ones: many rooms still have working fireplaces and wooden shutters. Large windows invite plenty of light and fresh air, and make the rooms hard to leave, but we made sure to explore the exquisite common spaces for guests of the hotel: a private, enclosed garden, a flower-filled balcony on the second floor, a conservatory, a wood-paneled billiards room, and of course, the majestic cupola that makes this building so iconic, and offers panoramic views of sunrise over the bustling port.
In the evenings, there was time to sample the hotel's Southeast Asian cuisine and award winning cocktails at their restaurant, Tempo Dulu, as well as follow the excellent dining recommendations of the hotel management. The burgeoning foodie scene of Portland—which has more dining spots per capita than any other city in the US — unfolds in every direction from the Danforth, with many notable spots within easy walking distance.
We are so grateful for the welcoming attention that the staff at the Danforth extended to us. We would not have been able to get through such a packed schedule of shooting were it not for the thought of their plush spa robes, heavenly soft beds and delicious breakfast spreads awaiting us in our downtime.