By Laurie Higgins
Coffee shops became all the rage in the '90s, thanks in part to television series like "Friends" and "Frasier," and their popularity is still going strong, whether your poison is coffee black, espresso neat or an iced chai tea latte to go. They are the perfect spot for a business convo or friendly catch-up; yet, unlike a restaurant, there is no stigma attached to hanging solo. Let's face it, your Keurig can't compete with the magic of a barista with a steam wand. So give in to that caffeine craving and head to the following stops for a pick-me-up. When it comes to coffee, we've got New England covered!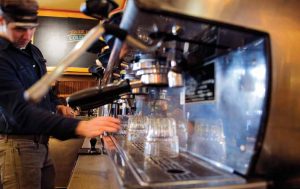 The typical crowd is a mix of college students and working types; at night, after dinner, restaurant goers swing through (it stays open until 10 p.m.). The Coffee Exchange on Wickenden Street in Providence is a welcoming shop where colorful notices (of the "need a babysitter" variety) provide entertaining reading material and an ensemble of wooden tables and chairs achieves a new configuration almost hourly. Mochas are touted as customer favorites because of their deep, intense flavors and the snacks include vegan and gluten-free options. You can buy a bag of house-roasted coffee and feel good doing so, since The Coffee Exchange is devoted to sustainability for coffee farmers and their employees.
The Coffee Depot in Warren sports wicker chairs, wood floors, cool murals and wainscoting and gives off a warm and inviting vibe. It has a rotating monthly art exhibit to promote local artists and also supports local farmers like Full Bloom Apiaries and Narragansett Creamery. A variety of freshly roasted coffees and teas are brewed in individual pots and, when the weather is warm, be sure to sample one of the delicious iced teas like blueberry rooibos. When a shipment of PV Donuts arrives on the weekend, don't delay, because flavors like toasted coconut and peanut butter don't last long.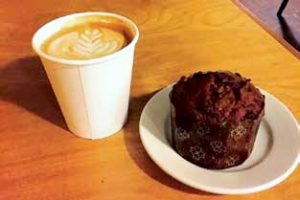 At Empire Tea & Coffee's three locations—two in Newport and one in Middletown—the staff is friendly and prone to remembering your order and name if you're a regular. Each shop has its own feel, with the Bellevue Avenue site marked by a touristy bustle, Broadway by its neighborhood devotees and Middletown by its order-and-go beach-loving patrons. In addition to its impressive coffee and tea selections, Empire's baked goods are topnotch. If you happen to be there when a fresh batch of chocolate chip cookies comes out of the oven, you won't be able to resist the wafting aroma and may notice a line quickly forming to snag one while they're still warm and gooey.
Coffee Obsession in downtown Falmouth and Woods Hole are funky little coffee shops with a mishmash of tables and chairs. Coffee O' has books to read and games to play while you enjoy your coffee, latte or chai. The Falmouth location offers bagels, quiche and other baked goods while the Woods Hole shop serves breakfast sandwiches and soups.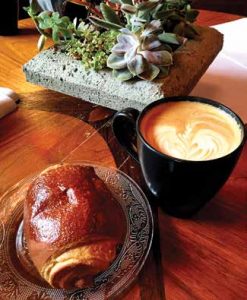 If you're a coffee aficionado, then Cape Cod Coffee in Mashpee should be on your radar. First and foremost, it sources the best, most consistently satisfying beans it can find and then roasts them onsite—plus all beans are grown on Rainforest Alliance Certified farms and many are certified organic. Its shelves are lined with coffee for sale by the pound as well as a variety of brewing equipment for both coffee and tea. And although it doesn't currently have a seating area, there is a counter where you can order hot and iced coffee and maybe a donut, made fresh daily onsite, before relaxing in one of the 10 cheerful orange Adirondack chairs outside. If you have the time, go behind the scenes and tour its roasting facility on Tuesdays and Thursdays.
In Brewster, Snowy Owl Coffee Roasters is a hip new hangout in a 200-year-old reclaimed barn. Husband-and-wife team Manuel Ainzuain and Shayna Ferullo roast their coffee in small batches and meticulously prepare each cup they serve, whether it is cold brewed, poured over or cold filtered. The Jaws blend pour over and coconut-infused Costa Rica cold brew pair well with a pastry or homemade soup.
Snowy Owl is comfortable, with small tables, bar-style seating and one big round communal table. It's a great place to meet friends, chill out with your laptop or even channel your inner child with one of the adult coloring books.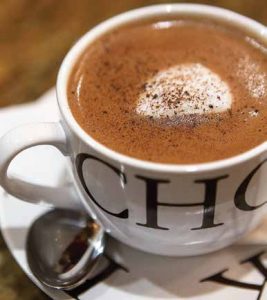 While L.A. Burdick Handmade Chocolates, with locations in Boston's Back Bay and Cambridge, serves a great cup of coffee or tea, its most popular order is rich and creamy hot chocolate. And forget about the store-bought kind: L.A. Burdick makes its drinking chocolate by steaming your choice of chocolate—dark, milk or white—with milk, a combination that is, in a word, delectable. At least once, opt for a spicy version (made with ancho, morita and New Mexico peppers): the spice is pronounced enough to awaken your taste buds but mild enough that the flavor can be enjoyed thoroughly. The Burdick Mocha, made with dark hot chocolate and espresso, is sinfully addictive. They sell their hot chocolate blends to go, but the atmosphere is inviting enough that you'll want to stay.
For an added bonus, the coffee shop is also an artisan candy store and sells chocolates from all over the world, homemade truffles, candies and luxurious pastries. It's particularly famous for its chocolate mice, which have delicious fillings, toasted almond ears and colorful silk tails.
Each of the six Pavement Coffeehouse locations in Boston has a slightly different décor geared to its respective neighborhood, but they all share the same sleek, ultra-modern style with upholstered leather chairs, cool art and industrial accents like brick and wood. The company specializes in single-origin coffees and customer favorites include the Spanish latte and mocha latte. If you're feeling adventurous, try a more exotic choice, such as a cup of cinnamon plum tea. Pavement is famous for its homemade bagels that can be eaten plain or turned into a variety of breakfast and lunch sandwiches. The food is flavorful and bold and wins rave reviews in its own right.
BECOME A SUPER BARISTA AT HOME!
Now you can create a coffee bar in your own kitchen, bathroom or office with Wolf's Coffee System. Stay comfy and warm at home while it prepares your perfect cup, every time. Fresh coffee beans can be stored and ground per cup with 13 settings from which to choose. Whether you are brewing coffee, espresso, macchiato, lattes or cappuccino, you can customize strength and water temperature. Your milk is stored in its own Wolf container, chilled just right in your fridge…when you insert it into your Wolf coffee system…let the frothing begin! Perfection, every time.
Plus…no plumbing is necessary, meaning this beautiful life enhancement can be easily installed anywhere. This one-touch, automated coffee system incorporates the following performance features to ensure consistent, delicious beverages:
SPEED: A fast initial system warm up leads to swift coffee drink production, providing the perfect cup in no time. Beverages are ready to enjoy in minutes. An internal clock allows the user to power on the machine at a set time so it is ready to go when you are.
EASY CLEAN-UP: This unique coffee system eliminates messy clean up often associated with built-in coffee machines. With one touch of a button, a three-to-six-second steam cleaning process is employed after each milk drink is prepared. Additionally, milk never enters the system's internal machinery, so no disassembly is required for clean up.
SETTINGS: Tailor your coffee system to work with whole bean or ground coffee. Settings can also be customized to adjust water temperature, brew strength and liquid output. Personal preferences can be stored by using the system's "My Coffee" setting.
WATER RESERVOIR: Conveniently located, the system's water reservoir can be easily accessed from the front without opening the unit. The reservoir holds a half-gallon of water. The system also contains a hot water dispenser for tea and other hot instant beverages.
For those whose lives depend on the perfect cup of coffee (we understand!), this will be the single best appliance you'll ever buy!