Harvard University is the oldest college in the country; Boston Common the oldest public park. Sudbury's Longfellow's Wayside Inn claims seniority as the oldest inn in the country. Peterborough Public Library in New Hampshire is not only the oldest tax-supported free library in the United States, but in the entire world.
We New Englanders are quite proud of our region's rich history, but when it comes to kitchens, homeowners are embracing modern design. Area designers are answering the call for contemporary by creating kitchens with clean lines, sleek surfaces and ingenious storage options that keep clutter completely out of sight.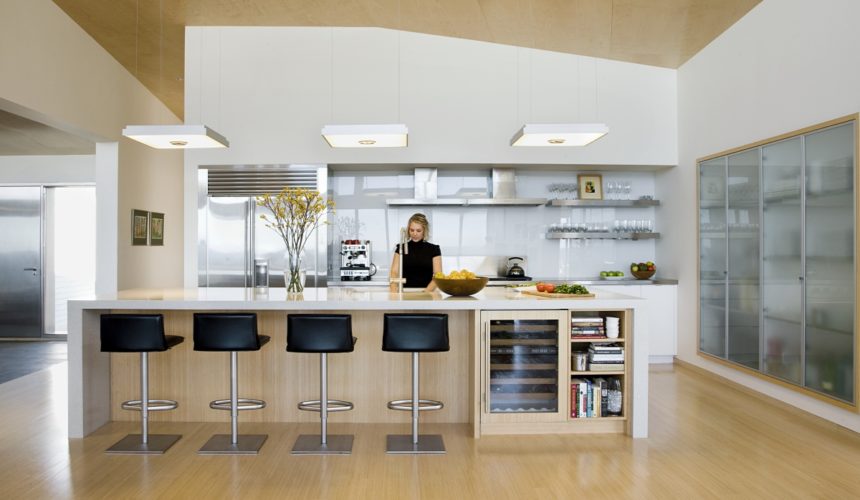 With blonde wood used throughout the space, this kitchen has a decidedly Scandinavian vibe. The design by Stephanie Horowitz, of Zero Energy Design, uses a unique wall treatment to create a focal point and draw the eye up to take in the cathedral ceiling. The frosted glass doors on the cabinetry are another unexpected design element as are the two side-by-side hood fans.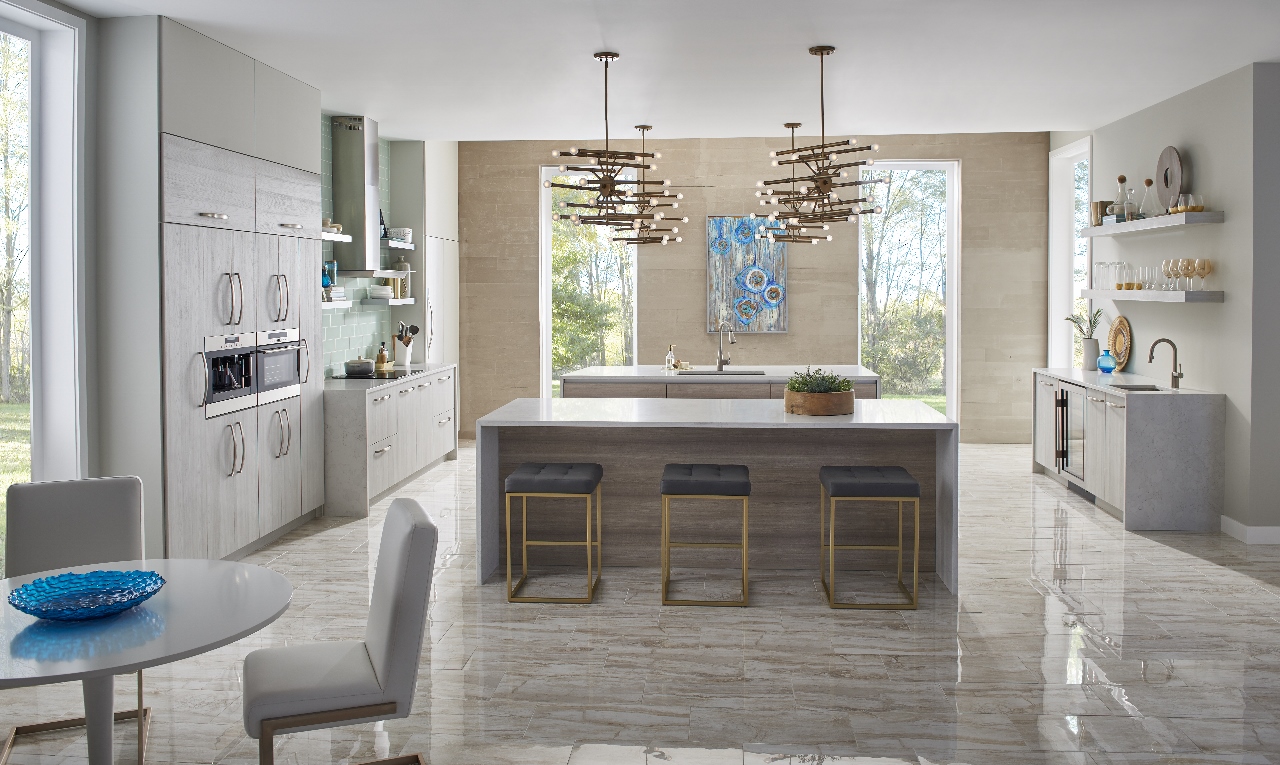 Bold Jonathan Adler light fixtures and dual islands take center stage – literally – in this kitchen from Plain & Fancy Custom Cabinetry. With most of the storage housed along one wall, in an array of floor-to-ceiling cabinetry, the rest of the space feels uncluttered and serene. A soothing color palette strengthens to calm appeal.
While contemporary kitchen design tends toward soft palettes of whites, creams and grays, designers have begun introducing richly-stained woods of late.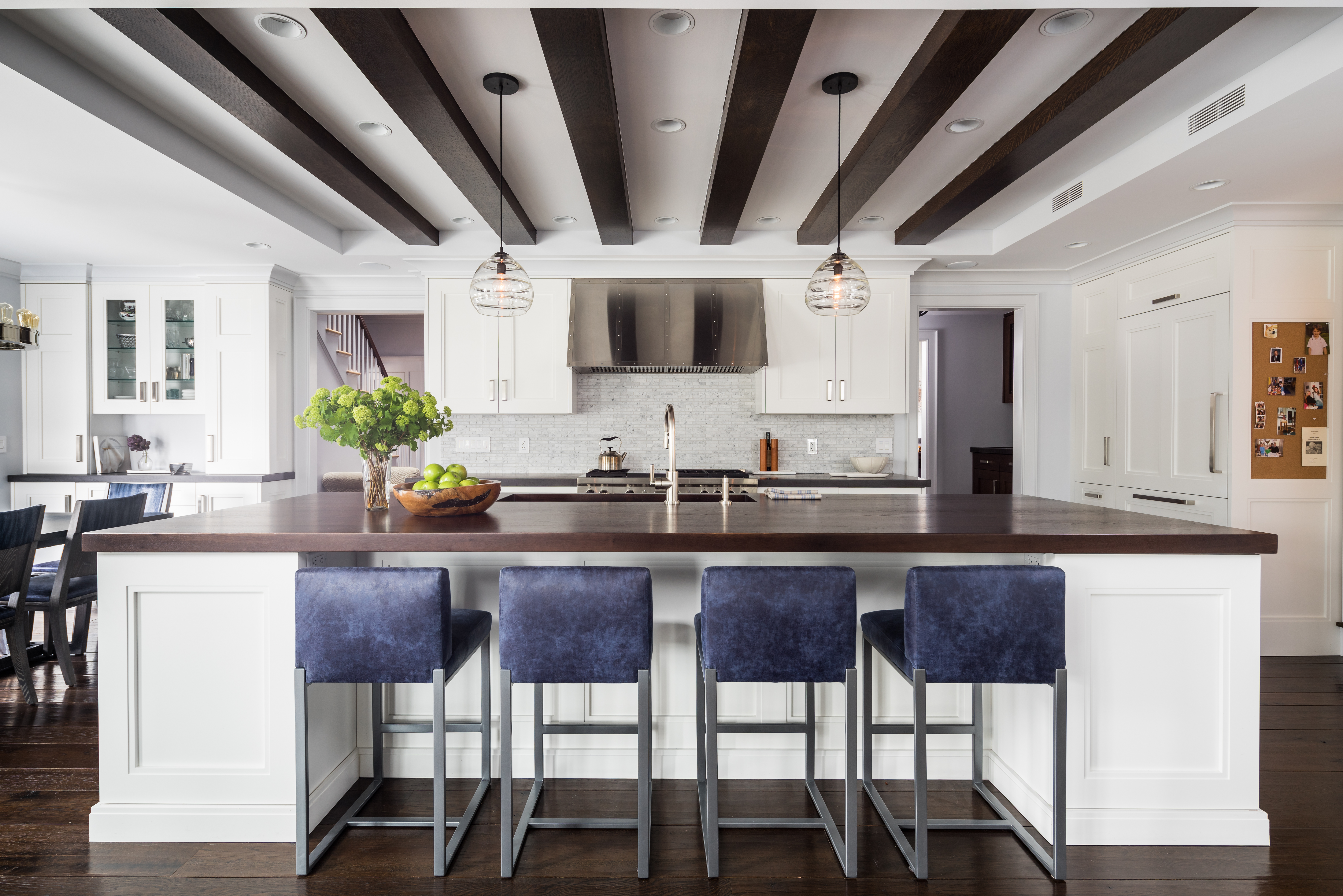 With wood stained in a deep ebony hue incorporated in the flooring, the island's countertop and the ceiling beams, this space, designed by Veronica Campbell of Deane Inc., feels incredibly balanced. The dark wood contrasts beautifully with the white walls and cabinetry, and the bold blue stools.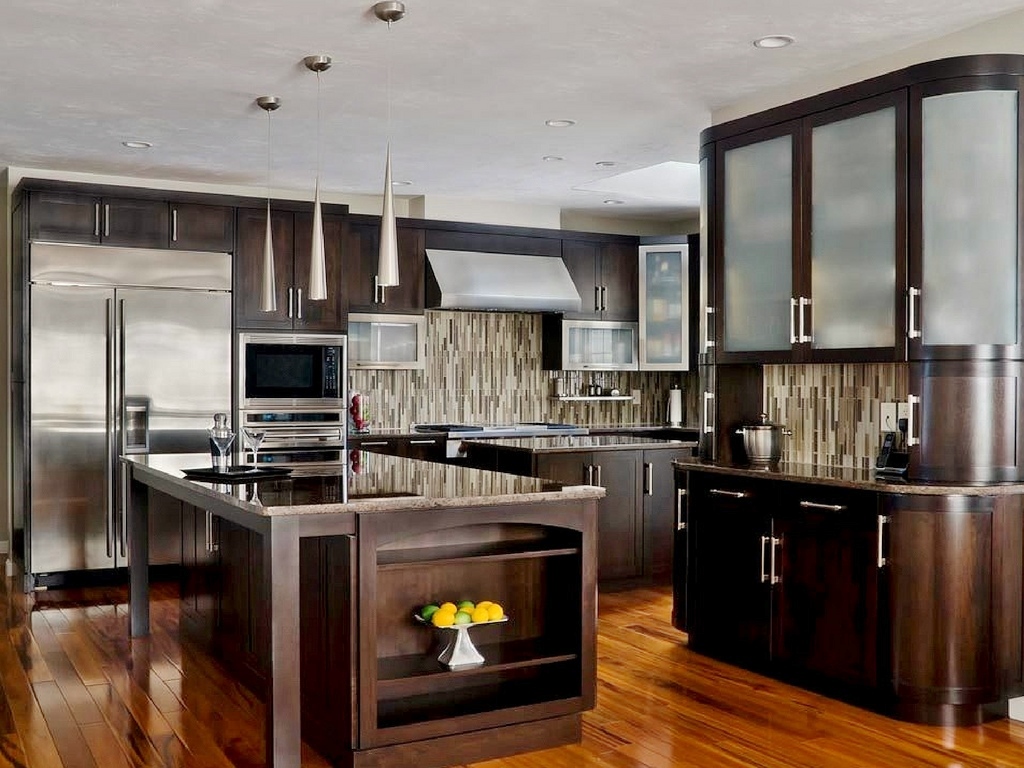 In pairing deep chocolate brown cabinetry with sleek stainless steel, gleaming countertops and frosted glass, Colleen Lord of Scandia Kitchens deftly straddles the line between contemporary and transitional in this kitchen.
All photos courtesy of Clarke Appliances.