One of the most dynamic chefs in New England, Jose Duarte continues to reinvent his magic while staying true to his Peruvian roots.
Written by Jonathan Soroff    Photography Kit Noble
Over the past decade, Peruvian cuisine has emerged as the biggest global trend in gastronomy, with traditional ingredients like quinoa, aji panca and cherimoya becoming readily available at most mainstream supermarkets, and Peruvian or Peruvian-fusion restaurants proliferating like alpacas in the Andes. In Boston, the person out in front of the trend is Jose Duarte, owner—along with wife, Anna—of the wildly popular North End eatery Taranta (now sadly defunct due to COVID-19), the white-hot Tambo 22 in Chelsea and Trattoria San Pietro in Norwell.
A bearded, affable bear of a man, with charm to spare, Duarte is also the driving force behind several projects designed to bring sustainability to agricultural communities in Peru and to introduce American audiences to the culture that spawned the craze. A native of the upscale Lima neighborhood of Miraflores, Duarte and his family moved to Venezuela when he was a boy, but when he returned on vacations, his fascination with the native cuisine had him visiting marketplaces, shops and restaurants.
"When I was nine years old," he recounts, "I had an epiphany. I went with my uncle to the house of a guy named Javier Wong." (Wong, known as "The King of Ceviche," is a major celebrity, not only with chefs, but among Peruvians in general.)"He opened his fridge, pulled out some flounder, and asked, 'Do you want it as ceviche, or sautéed in a wok with fermented soy?' and I thought, 'This is amazing. This is what I want to do one day.'" After studying tourism and hospitality in Venezuela and receiving a master's degree in Miami, he met his wife, a nice Italian girl from the North End, and they married in 2000. Their wedding gift to each other? Taranta, which originated as a purely Italian restaurant and only gradually began to incorporate Peruvian influences. Explaining the near-universal appeal of his native cuisine, Duarte says, "Peru, historically, is the origin of a lot of ingredients in modern cooking: tomatoes, potatoes, beans, kiwis, all kinds of fruit—all originated in the Andes region. In the pre-Inca period, on the coast, where fresh fish was available, it was pleasure food, and in the mountains, more subsistence, using different preservation and drying techniques, but the point is that there was already an infrastructure before the Spaniards got there."
What happened next is the meat and potatoes (pun most definitely intended) of history books. With the Spanish came European and Moorish influences. Lima became Spain's viceregal seat in the New World, and with the infusion of slaves from Africa, the Peruvian style of criolla cooking was born. Later, the advent of railroads brought an enormous influx of Chinese immigrants, resulting in the popular Peruvian chifa tradition and its local take on Cantonese staples like shumai and fried rice.
"My Peruvian grandfather had a wok and a kerosene stove that he cooked on," Duarte notes. "I have a cookbook from the 1940s that has recipes for sweet and sour dishes." The end of World War II brought a wave of Japanese immigrants, the Nikkei or Nisei—second- and third-generation Japanese—who added their own strong influences to the mix. In fact, although he was born and raised in Japan, Nobu Matsuhisa opened his first restaurant in Lima. "So, Peru got conquered," says Duarte, summing it all up, "and now Peruvian cuisine is conquering the world back. What we call San Marzano tomatoes? The original seeds were a gift from the Viceroy of Lima to the King of Naples."
Which brings us back to Duarte's personal story. When he and Anna (who was trained in voice at Berklee School of Music) opened Taranta in 2000, the concept was purely southern Italian, which proved too exotic. "People coming to the North End wanted Italo-American food, so we did that," he says. However, Duarte found himself incorporating more and more Peruvian elements into his dishes. "Eventually, I got a call from a food writer at the Globe, and I mentioned the ingredients I was using. It caught people's attention, and then I could openly serve this perfect marriage of Italian and Peruvian cuisine."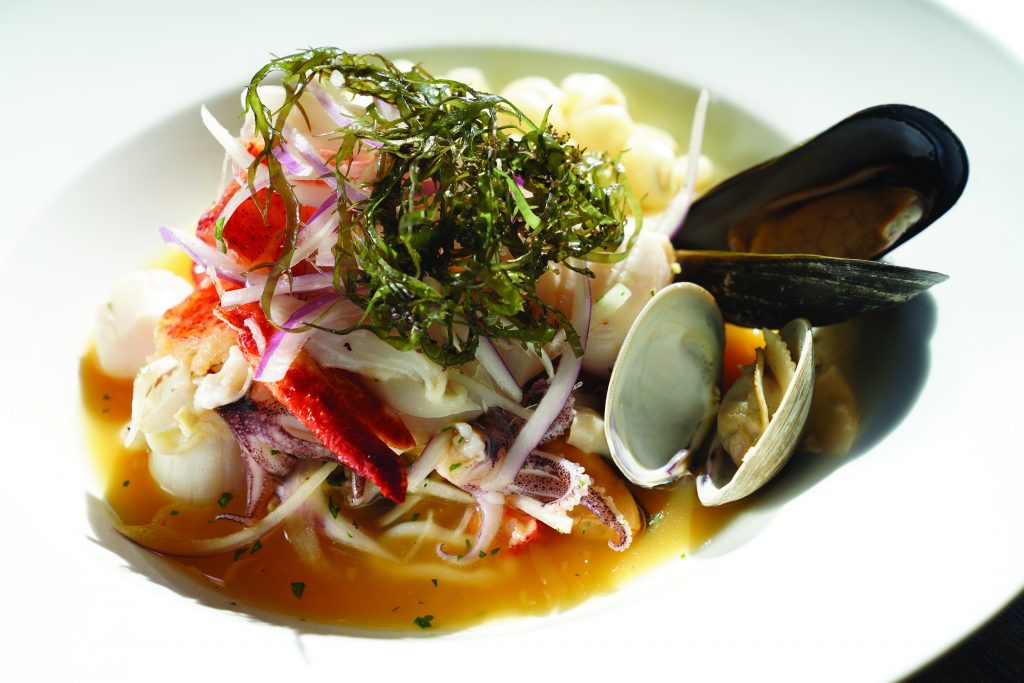 Unfortunately, the enduringly popular Taranta became a casualty of the pandemic, but in February 2020, the Duartes opened Tambo 22 in Chelsea, and its traditional Peruvian fare has managed to weather the storm, with such hits as ceviche, Lomo Saltado and Aji de Gallina earning consistent raves. (The couple's other restaurant, Trattoria San Pietro, also remains open). The pandemic also pressed pause on the passion project that Duarte has poured his soul into for the past five years: the Santa Cruz Lodge. A twelve-room eco-destination tucked into the Andes at the point where the Cordillera Blanca meets the Cordillera Negra, the biodynamic hotel was designed to introduce visitors to the local culture while improving the quality of life for the surrounding Huaripampa agricultural community. Beautifully situated in the foothills of the Huascaran National Park, the lodge offers experiences ranging from trekking to wellness programs to gastronomy courses, and Duarte's hope is that it can return to being fully operational once it's safe to do so. Ditto for Taranta, which he hopes to reopen in a new incarnation.
"COVID created habits that we won't shake," he observes, "and digital seems to be the future of dining." However, Duarte's passion for expressing culture through food has gotten him this far, and before lockdown, he was working in conjunction with scientists from Lima and MIT to cultivate cushuro, a highly nutritious cyanobacteria that looks a bit like caviar, in the lab. The Cushuro Project had sensors in a lake in the Andes, where it grows naturally, feeding information, in real time, to a lab in Chelsea, trying to duplicate the exact growing conditions. Duarte hopes to restart it post-COVID. It's precisely this intense intellectual curiosity and willingness to embrace science and technology that bode well for Duarte to emerge, like the proverbial phoenix, from the ashes. And when he does, we'll be the first in line for whatever it is he's cooking up.