An old-fashioned hardware store in Guilford, Connecticut isn't afraid to innovate.
Written by Haley Grant       Photography by Steve Depino      Historic images courtesy of Page Hardware
In the historic town of Guilford, Connecticut, sits a classic New England hardware store that boasts about as much charm as the community itself. Situated just across from the town green, Page Hardware & Appliance resides in three buildings that originally housed the town post office, a general store, an ice cream parlor, a meat market and a restaurant. The story of this hardware store goes back to 1939 when Harry L. Page Jr. purchased the building and business from E.H. Butler. Since its founding, Page Hardware has been owned and operated by five generations of Pages, with Andrew Page, grandson of Harry Page, now at the helm.
Growing up working in the store with his family was a unique, special experience for Andrew. "It was pretty nutty," he describes. "There was never a moment in which you couldn't find at least one Page in the store. My grandmother was a bookkeeper, my father ran the appliance section and my uncle ran the hardware side of the store." When Andrew returned to Guilford in 1993, he and his uncle bought out his father, and in the early 2000s, Andrew began buying out his uncle. Today, Andrew is the store's sole proprietor.
Page Hardware offers its customers the best of both worlds: the charm of an old-fashioned, small-town hardware store combined with the modern products of today's trend-setting retailers. One only needs to enter the store and observe the creaky hardwood flooring, friendly faces and most cutting-edge appliances to understand the unique environment that this family-owned business boasts. The store carries hardware, lawn and garden products, paint, housewares and major appliances from a variety of well respected manufacturers: Sub-Zero and Wolf, Big Green Egg and Weber grills, and Benjamin Moore paint to name a few.
An authorized dealer of Sub-Zero and Wolf products, Page Hardware has offered Sub-Zero appliances since the seventies. When Tom Clarke, founder of Clarke Distribution Corporation, took over the distribution of Sub-Zero products in New England in the early nineties, he completely revolutionized how these luxury appliances were displayed and marketed. Andrew explains, "Page Hardware was smart enough to realize that Tom's vision for selling luxury products was spot on." His concept called for Sub-Zero appliances to be displayed in actual cabinets in a functioning kitchen environment where consumers could experience the quality of the product firsthand.
Other Sub-Zero distributors soon realized Clarke's vision and changed how they merchandized these products to align with his ideas. "Tom Clarke went to all these dealers twenty-five years ago and sort of pioneered the living kitchen," explains Andrew. "He forced them to be better merchandisers and retailers. Sub-Zero took his concept and ran with this living kitchen idea."
With the arrival of the living kitchen concept, the days of showcasing Sub-Zero products on the display floor "naked" were officially over. Today, Page Hardware displays a full suite of Sub-Zero and Wolf appliances that are fully functioning and available for customers to test-drive before purchase. Prior to the pandemic, the store would even host cooking events in these kitchens on a regular basis, inviting new and previous customers to come in and learn about the products they owned or aspired to own, hands-on.
To this day, Page Hardware maintains a close relationship with Clarke Distribution Corporation, now owned by Clarke's son, Sean Clarke, whom Andrew commends as a top-quality partner. "At the end of the day, the level of service from Clarke Distribution is commensurate with the quality of the products they sell."
Quality of service is precisely what Andrew credits Page Hardware & Appliance's success to. "What's made us successful is the focus on the customer. And that's something my grandpa preached to my father: If you take care of the customer, they'll take care of you." This mantra certainly held true throughout the past year. Page Hardware went curbside in April 2020 and reduced its hours for almost an entire year, having just recently returned to its normal store hours. The pandemic brought out Guilford's strong sense of community more than ever before, with many residents showing up to support the family-owned business.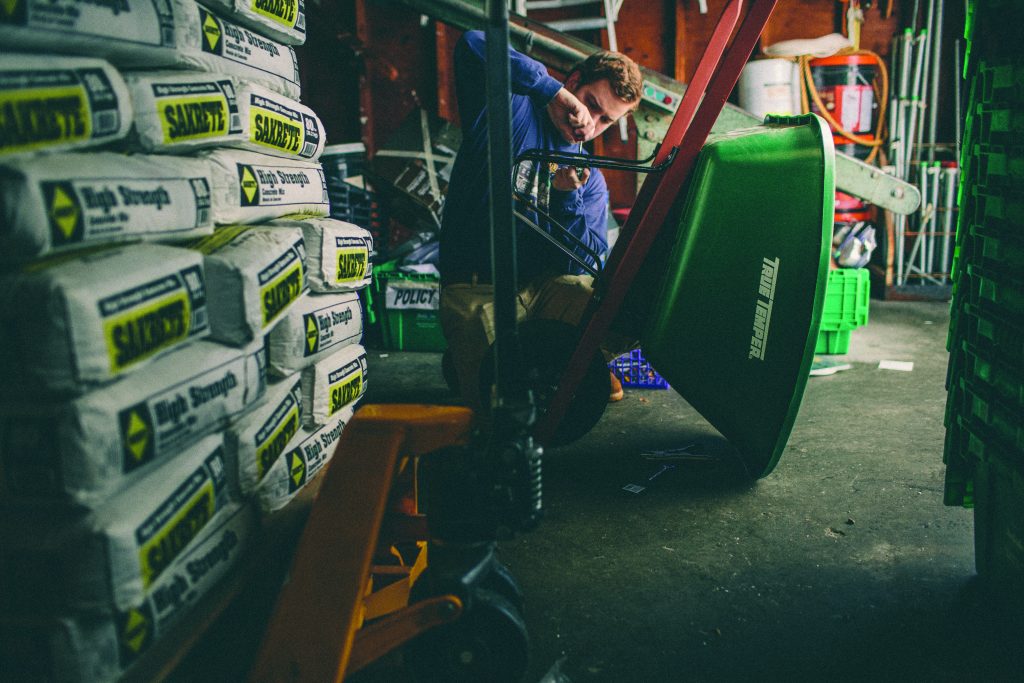 Many of Page Hardware's loyal customers have shopped at the establishment for decades, if not for multiple generations. "I've lived in Guilford all my life and I've probably been going to Page's for seventy years," said Russell Pierson whose family has shopped at Page for three generations. "If you were to walk into my house right now and took a look at the stove, the dishwasher, the refrigerator, the washer and dryer, they're all from Page. They're a great organization, a great bunch of people, and I really think our town would be lost without Page Hardware."
The store's long-term connections include other local businesses as well. "Over the past forty years, Page Hardware and JJ Russo & Sons Construction—both family-run businesses in Guilford—have worked together to achieve top-tier customer satisfaction," says Jackie Russo. "I feel proud that I can sell Page to my clients in full confidence, and just as proud to have the wonderful partnership that we do with Page Hardware."
Despite a global pandemic and the continual rise of big chain and e-commerce retailers, Page Hardware has weathered every storm that has rolled in due to the deep-rooted relationships that the store has built with its customers, brands and, of course, its employees, some of whom have been with the team for decades. Enter the store and you'll likely find Raymond P. Murphy Jr. at the cashier, where he has worked as Page Hardware's head cashier since 1985. And then there's Page Hardware Vice President Amy Earls, who joined the team in 1995. Two years later, Katherine Frydenborg came on board and has worked a variety of roles ever since. The store's "jack of all trades," Jim Smith, was hired in 2002, and in 2007, Page Hardware welcomed Mark Altsmanberger, who has more than 50 years of retail experience.
These individuals, among the many others who comprise the Page Hardware team, are ultimately the ones who inspire the unique quality of service that the store has prided itself on for more than eighty years. Just as the store maintains its old-time feel while offering the most modern appliances, Page Hardware & Appliance remains rooted in its values of family and community, while continuously proving its ability to adapt and evolve.