Cooking with New England Living TV: Boston's Seaport District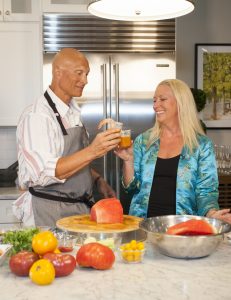 Rich Vellante, Legal Sea Foods' executive chef and executive vice president of restaurants, was kind enough to share recipes for a few of the dishes he prepared in the Seaport District episode of New England Living TV.
Jonah Crab, Corn and Avocado Toast
Ingredients:
1 lb. fresh Jonah crabmeat
1 cup corn (taken off ear and sautéed)
2 garlic cloves
2 serrano chilies (one seeded and diced raw; one charred, seeded and skinned)
8 oz. finely chopped tomato
2 TBSPs cilantro (rough slice)
Kosher salt
3 avocados (ripe)
¾ cups Extra Virgin Olive Oil
2 scallions slices very thin (whites only)
Zest of 1 lime
Juice of 1 lime
Loaf of crusty bread (cut into toast slices)
Method:
Sauté the corn in 1 tablespoon of extra virgin olive oil and 1 smashed garlic clove for 4 minutes.
Add salt to taste and the raw diced serrano. Cool, remove garlic clove and reserve.
Char one serrano chili on grill or gas stove top and put under plastic wrap. Remove skin, halve and remove seeds.
In mortar and pestle, mash up avocado until slightly chunky. Fold in scallion, lime zest, lime juice, tomatoes, half of the corn, cilantro and salt to taste.
Drizzle bread with extra virgin olive oil and toast in a 400˚ oven for 8 minutes or until golden brown.
(You can also grill toast if you would like instead.)
Rub toast lightly with a garlic clove. Smear a layer of avocado. Top with fresh crabmeat. Garnish with corn, tomato and cilantro.
This appetizer serves 4 people.
George's Bank Sea Scallop Ceviche
Ingredients
1 lb. dry pack sea scallop (diced into ½" cubes)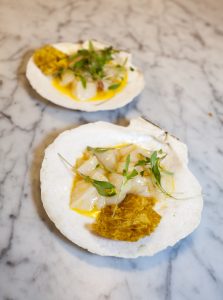 2 tsp Aji Peruvian peppers (can be bought in Peruvian market)
½ cup fresh lime juice
½ cup (or to taste) red onion sliced thin
6 sprigs cilantro
1 tsp jalapeño pepper seeded and diced
Salt to taste
Method:
Lightly salt the cubes of scallops and set aside in the refrigerator for 30 minutes.
Thinly slice red onions and soak in ice water for 30 minutes.
Squeeze lime juice in a bowl.
Add Aji pepper puree, onions, lime juice and jalapeño peppers.
Check flavor and adjust if needed. Finish with cilantro and serve.
This appetizer serves 4 people.
Lobster Rolls
Ingredients:
1 ½ lbs. lobster salad (see recipe below)
4 leafs red or green leaf lettuce
4 hot dog rolls
Method:
Lightly brush both sides of rolls with butter.
Place on griddle and grill both sides until golden brown.
Line each roll with a leaf of lettuce.
Divide lobster salad evenly among each roll.
Lobster Salad Ingredients:
1 ¼ lbs. lobster meat
4 tsp fresh lemon juice
¼ cup green onions sliced
¼ cup diced celery
½ cup mayonnaise
Season with kosher salt and ground pepper to taste
Method:
Gently fold all ingredients together.
Serves 4
Boston Cream Pie Cupcakes
Pastry Cream Ingredients:
1 cup whole milk
1/2 cup vanilla bean seeds scraped into milk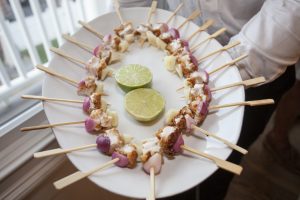 3 egg yolks
1/4 cup sugar
2 TBSPs cornstarch
1/2 oz. butter
 Method:
Heat the milk with the vanilla bean pod and seeds.
Combine yolks, sugar and cornstarch, temper hot milk in.
Add everything back to the pan and cook stirring constantly until thick. Add butter and strain.
Cool completely.
Cake Ingredients:
6 egg yolks
1 cup sugar
1/2 tsp salt
1 tsp vanilla
1/4 cup water
6 egg whites
1/2 cup sugar
2 oz. butter, melted
1 cup cake flour, sifted
 Method:
Whip in a stand mixer: the egg yolks, 1 cup sugar, salt, and vanilla until thick, 3 – 5 minutes, reduce speed and add the 1/4 cup water. Whip again until thick.
Fold in melted butter and sifted flour.
Whip egg whites with 1/2 cup sugar to medium peak and fold in.  Scoop into lined muffin cups and bake 350˚ for 15 minutes.
Let cool, cut out the center of the cupcake, keeping the top.
Fill a pastry bag with the pastry cream and pipe some in to each cupcake, put cake top back on.
Chocolate Glaze Ingredients:
4 oz. butter
1/2 cup sugar
1/2 cup cocoa powder
2/3 cup heavy cream
1/8 cup brewed coffee
1/8 cup light corn syrup
4 oz. semisweet chocolate, melted
Method:
Melt butter in a pot, add sugar and cocoa to make a paste.
Add and bring to a boil, stirring constantly.
Take off heat and strain, dip the top of each cupcake to coat and let set up.
Yields 12 cupcakes.