Sue Connors, the chef/owner of the wildly-popular Pisces Restaurant and Bar in South Chatham, was kind enough share the recipes she prepared for our Chatham episode. You can watch the episode on WCVB | Boston CBS at 11:30 a.m.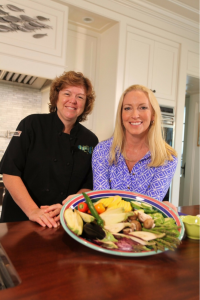 Grilled Summer Vegetables
2 Japanese eggplants cut lengthwise in 1/6
1 large zucchini sliced on the bias 1/4 inch
1 large summer squash sliced on the bias 1/4 inch
1/2 lb. of sweet baby peppers (multicolored) – throw in one hot one for that person that annoys you – just an idea!
pencil asparagus cut to 5 inch spears
1 bunch of scallions with roots trimmed and top trimmed back about an inch
crimini mushrooms cut in 1/2 or 1/4 depending on their size
Any other veggies you like such as fennel, corn, onion, etc
Spread veggies out in a single layer on a couple of cookie sheets. Season with kosher salt and fresh ground black pepper — none of that table salt and pre-ground pepper nonsense!
Put evoo in a small spray bottle (label it) and spray all the veggies lightly with a mist of oil.
Preheat gas grill on high with the lid closed for 20 minutes or so. If you like to use grill pans designed for smaller items such as vegetables preheat those for about 20 minutes or so on top of the regular grill.
Once your grill is preheated (make sure it is clean and freshly brushed with a hard wire grill brush) spray or rub grill with cooking oil or spray with PAM. If you are using a grill pan spray or rub with cooking oil or pan release.
Grill veggies in batches directly on grill in a single layer or on grill pan if you prefer – I recommend grilling the mushrooms last because of the high water content. Vegetables should be lightly charred and cooked through. Remove to sheet pan as you work and veggies are done. Arrange on a serving platter or plates taking advantage of the variety of shapes and colors much like you would arranging flowers in a vase. Sprinkle with fresh chopped herbs of your choice or drizzle lightly with evoo and balsamic glaze.
Grilled Striped Bass with Fresh Mango Ginger Salsa
Salsa:
2 ripe mangos
4 scallions sliced thin
1/4 cup small diced red pepper
1/4-1/2 t of finely diced jalapeño pepper (taste it to see how hot it is): No seeds!
1 t of finely chopped fresh ginger (look or ask for fresh young ginger not that old woody stuff)
1 T cilantro
juice of 1 lime
splash of pineapple juice
1 t evoo
dash of your favorite hot sauce
fresh ground black pepper and kosher salt (Morton's is my choice)
In a bowl combine all of the above ingredients and let stand at room temperature for up to 2 hours. You can make this as hot or mild as you choose by tweaking the hot stuff!
Ok! Get ready to cook the fish!
Preheat oven to 350 degrees. Light gas grill, close lid and put on high, let heat for 20 minutes; charcoal grill — same drill just using charcoal techniques instead.
Striped Bass:
Striper is purchased skin on but descaled (available seasonally in New England but if you are looking for something for off season you can substitute Rockfish from MD or small black bass)
2 lbs. fresh striped bass trimmed and cut into 4 x 7 oz pieces — ask for center cut. If you have a good fish monger, such as Chatham Fish and Lobster, they will portion it for you!
Place filets on a sheet pan or cookie sheet (I think that is what regular people call them). Season with kosher salt and fresh ground black pepper — none of that table salt and pre-ground pepper nonsense! Brush with cooking oil or spray with pan release such as PAM.
Once your grill is preheated (make sure it is clean and freshly brushed with a hard wire grill brush), spray or rub grill with cooking oil or spray with pan release.
Place seasoned fish portions flesh side down on the hottest part of the grill. Let the fish sear on the grill with the lid open for 3-5 minutes then using a thin metal spatula turn each one 45 degrees and let it sear another 3-5 minutes. Brush or spray the skin side of the Striper with a little cooking oil or pan release. Flip each piece once to crisp the skin side. Spray the cookie sheet with pan release. Transfer the beautifully marked fish to the sheet tray and finish in your preheated oven (if the skin comes off while transferring or your grill marks are a little shaky don't worry, it won't affect anything but your ego).
Cook for 10-20 minutes depending on the thickness of the filet; fish should be firm to the touch and cooked through.
Now you can serve this family style on a platter topped with mango salsa and some little sprigs of cilantro or leave the salsa on the side — you know, a lot of people are fussy or have allergies, we all know those people! If you are plating it do the same thing — a few little sprigs of cilantro and a lime wedge or wheel is a nice touch.
Boiled Summer Potatoes with EVOO, Parsley, and Sea Salt
Wash, pick and dry flat Italian parsley (1/2 cup of loosely packed leafs in total)
assorted small potatoes — assorted colors but close in size
*Red, white, and yellow potatoes are the best choice for this dish — purples or blues are cute and fun but break down a bit faster when boiling and don't have the same texture.
Rinse potatoes in fresh cool water and scrub to remove any dirt if you are lucky enough to have garden potatoes. Place potatoes in a large pot of cool salted water Bring to a boil and simmer for about 20 minutes and potatoes are just cooked through (pierce with a paring knife or fork to determine doneness). Drain potatoes and let cool for about 5 minutes. While spuds are cooling finely chop parsley on a clean dry cutting board (use a nice sharp knife so that the parsley doesn't bruise and look wet when chopped). Toss cooked potatoes in a bowl with parsley and 1/3 cup of evoo, finish with Maldon Sea Salt or coarse sea salt of your choice and freshly ground pepper to taste.
Transfer to a serving bowl or platter to serve family style or place a variety of colors on individual serving plates.
Sue's Secret Decoder:
evoo = Extra Virgin Olive Oil
cooking oil = oil that you normally use for cooking, I won't tell you what blend or flavor to get because you know how some people are.