For those who tuned into the Greenwich, CT episode of New England Living, you may recall the dramatic waterfront setting of l'escale at the Delamar Hotel on Greenwich Harbor. Perhaps equally memorable on that episode was the hotel's charismatic executive chef, Frederic Kieffer, who prepares a meal rich in local ingredients and French savoir faire with Host Parker Kelly on the show.
After eating such a delicious spread—which was an honor, in its own right, given Chef Kieffer's renown — it was our distinct pleasure to retreat to our luxury accommodations at the Delamar Hotel in Southport, CT for a much-needed rest.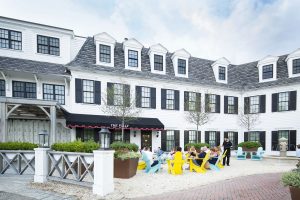 While we never get to spend as much time as we would like to at the spectacular hotels that welcome us during filming, to wake up in one of the serene and light-filled rooms  of the Delamar each morning was to feel as though we had died and gone to heaven—or possibly the French Riviera. It did not escape our notice that each room is uniquely appointed with exquisite continental furnishings, soothing color palettes and artwork from the owner's private collection. And it was an absolute delight to discover products from Bvlgari in the bath.
The Delamar hotels are a luxury brand of boutique, family-owned accommodations in Southport, Greenwich Harbor and, soon, West Hartford, Connecticut. Each location has its own unique charms—such as waterfront views and complimentary shuttle service in the hotel's Tesla (up to 3 miles) at the Greenwich Harbor hotel, or the farm fresh cuisine of Artisan Restaurant at the Delamar Southport, which puts on a magnificent breakfast buffet each morning. And of course, each hotel is equipped with a world-class spa, and welcomes canine guests (up to 100 pounds, please) with their very own bed, bowl and treats, and has electronic charging stations for those motorists embracing the wave of the future.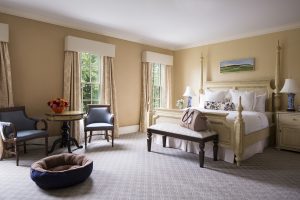 In short, the Delamar brand is synonymous with unparalleled luxury that will leave guests, whether there on business or pleasure, feeling thoroughly pampered. We are so grateful to the entire staff for making our filming experience in the town of Greenwich such a memorable, and, when we were finally able to sink into our delicious sheets, restful one! We wish them well as they open their West Hartford location this summer!