By Kelly McCoy
Embrace the health benefits, convenience, and versatility of cooking with steam.
The Chinese have been cooking with steam for more than 3,000 years. Meanwhile, the "combioven" (combination steam and convection) is a fixture in the finest European restaurants, bakeries, and home kitchens. Over the past decade, steam has been catching on in the U.S., and we're here to unpack its potential for New England kitchens.
The Healthy Choice
According to certified holistic health coach Liz Bane of Liz Bane Life in Balance, steam cooking is the gold standard when preparing many foods. "Not only does your food retain its moisture and freshness," she says, "it also—especially vegetables—better retains vitamins, minerals, and other nutrients." Bane recommends a primarily plant-based diet, with three-quarters of your plate consisting of plant-based foods.
"When you steam vegetables, you're softening the fibrous tissues and making your meal easier to digest, but you're also foregoing oil in their preparation," she explains. "Many times, vegetables are cooked in unhealthy oils, like canola, soybean, and grapeseed, removing the benefits of a plant-based diet."
Bane suggests steaming vegetables in a basket over water on your stovetop or using an appliance like the Wolf Convection Steam Oven. Steamed cruciferous vegetables like broccoli, cauliflower, brussels sprouts, and asparagus are her favorites. "They send great messages to your brain as you digest; they tell it that you're full, so you don't go looking for additional empty
calories.
"When you steam vegetables, they retain 90 percent of their antioxidants," Bane continues. "These are the nutrients that support our immune systems and reduce inflammation. If you still feel like you need a little coating, drizzle some extra virgin olive oil or avocado oil after the veggies cook for added taste."
Embracing Steam
Jane Vitagliano is a showroom consultant at Clarke, New England's official Sub-Zero, Wolf, and Cove Showroom and Test Kitchen. She notes that 8 out of 10 homeowners who visit Clarke make the switch from a traditional double oven to a single Wolf Wall Oven and Wolf Convection Steam Oven. In fact, more homeowners are adding a Wolf Convection Steam Oven to their kitchen design than any other appliance.
"What surprises homeowners the most," says Vitagliano, "is that you can actually roast a 23-pound turkey in the Wolf Convection Steam Oven. At 24 inches, it appears small, but due to the rear convection fan, which circulates air evenly, you can fit a lot inside. It's really the perfect second oven. I find that most people who buy double ovens rarely use the bottom one," she continues, "but when your second oven is steam, you use it constantly!"
Some who are tight for space—empty-nesters in condos or summer cottage owners—make the Wolf convection steam oven their one and only, she adds.
Three ovens in one, the Wolf Convection Steam Oven is an incredibly versatile appliance. It can be used as a traditional convection oven for roasting and baking, as a steam oven exclusively, or as a combination of steam and convection. Think about the difference between a chicken baked in a traditional oven and a delicious, moist roast chicken prepared with the introduction of steam.
"Many cooks don't realize that when we roast, we remove moisture from our foods," explains Vitagliano. "Your carrots and brussels sprouts lose their shape and color when you roast them long enough to caramelize. However, when you add steam to the process, your vegetables look better, keep their color, and their taste is more flavorful. With the Wolf appliance, you can harness the power of steam but also control how much to add. The oven's various cooking modes help you predetermine that mixture."
Inner Workings
The key to the versatility of steam cooking is being able to hold steam at temperatures above and below the boiling point of water, so foods like fish cook in the gentle environment they require.
Critical to the effectiveness of using steam is the oven's ability to monitor its environment throughout the cooking process. With Wolf, two sensors continually provide feedback, working with the software and venting system to make adjustments. The humidity sensor calls for steam only when needed, saving water and maintaining precise humidity. Meanwhile, a thermocouple temperature sensor signals whether to activate the main heating element.
These two sensors, paired with a dynamically controlled vent that releases and retains moisture, provide the Wolf owner with a precise cooking environment for vegetables, breads, pastries, pastas, roasts, and more.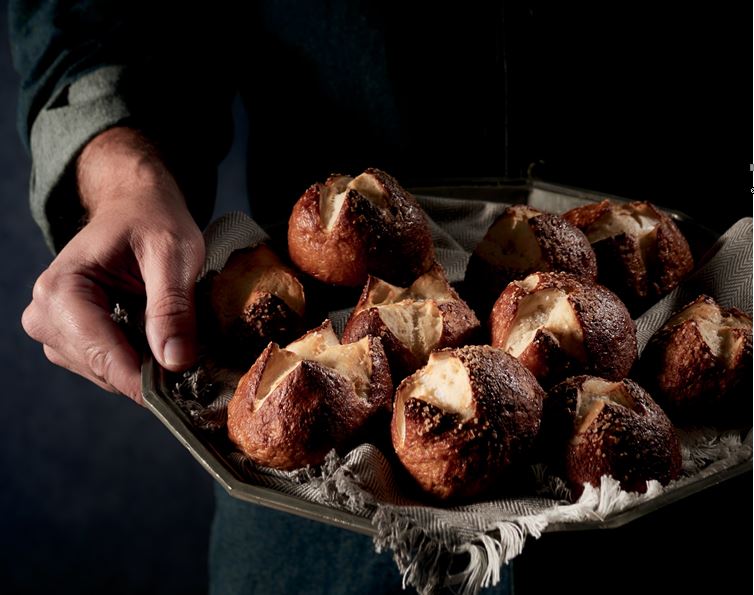 In addition, the internal water boiler system produces steam within 60 seconds and is monitored to minimize excess steam and unnecessary venting. Any water that remains after cooking is pumped back into the water tank to be boiled and converted to pure and naturally safe steam later. What's more, one-touch access to the water reservoir never interrupts the cooking process, and the appliance is self-contained—no plumbing lines required. This trait equates to design flexibility; the oven can go anywhere in your kitchen.
Push–Button Ease
The Wolf Gourmet Mode is where the magic happens. You select the dish, and Wolf Gourmet Mode does the rest. On the electronic face display, choose from 14 categories of food, anything from a soufflé to a freshly made pizza to a few sweet potato wedges. Then, the climate sensor detects the volume, shape, and consistency and adjusts the time, temperature, and humidity for guesswork-free, delicious results.
Use the "Frozen Appetizers" option for frozen egg rolls that are perfectly crisp, like they came from a deep fryer. Want to make your potatoes in the oven while your steaks are on the grill? No problem: just choose "Baked Potatoes," season them with oil, salt, and pepper, pop them into the Wolf Convection Steam Oven, and you're done. They'll be perfect.
Cooking Is Believing
Imagine turning dry pasta, stewed tomatoes, and fresh basil into a luscious Italian meal in 30 minutes with no pots and pans. Or opt for "Fresh Pizza" on the Gourmet Mode and turn your dough, sauce, and toppings into a perfectly crisp pizza in minutes. Make fall-off-the-bone ribs, swoon-worthy veggies, or rejuvenate leftovers to restaurant perfection—all with this oven.
If this sounds too good to be true, schedule a test drive at one of Clarke's three showrooms, located in Boston; Milford, Massachusetts; and South Norwalk, Connecticut. During your appointment, a Clarke chef will walk you through the many features of this in-demand appliance.