There is still time to get in one final summertime escape before the leaves start to fall and autumn is upon us. We suggest spending the last few warm days of the season on the enchanting island of Cuttyhunk, part of Massachusett's Elizabeth Islands. Famous for its natural beauty and unhurried pace, it is a perfect place to wrap up your summer.
Getting to the Island
Derived from the Wampanoag name Pocutohhunkunnoh, meaning 'Land's End, Cuttyhunk is located 12 miles off the southeastern Massachusetts coast but only one hour from New Bedford on the Cuttyhunk Ferry Company. The year-round service offers one-way, round-trip, commuter, and luggage tickets. Reservations are required for all passengers, and your furry friends are welcome to join at no cost.
Places to Stay
Avalon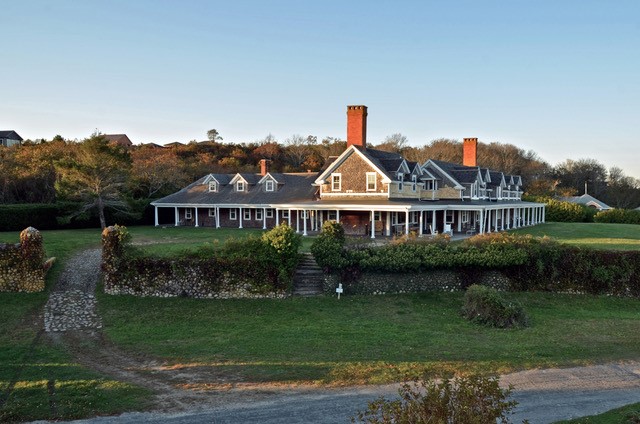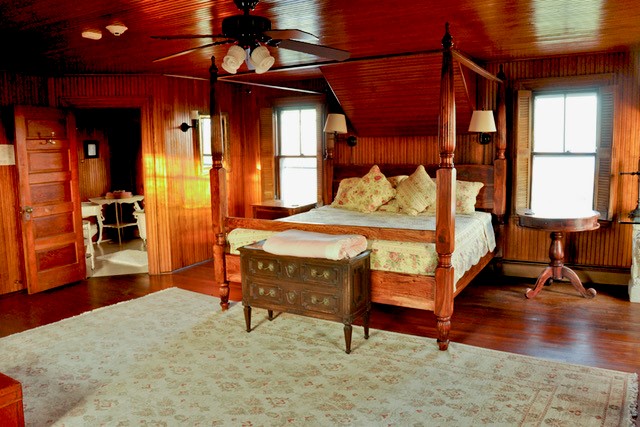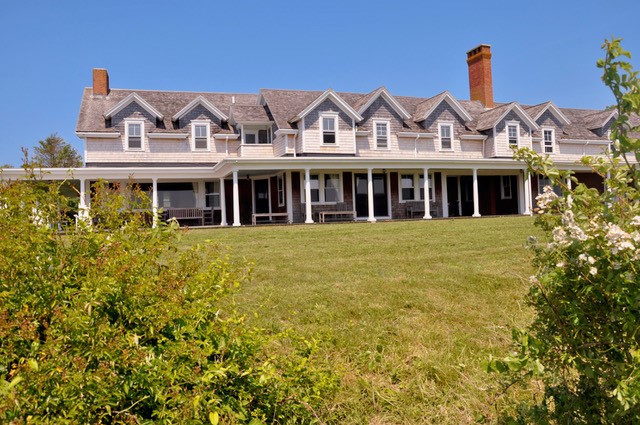 Originally built in 1909, The Avalon, aka the Inn on Cuttyhunk Island, is home to seven rooms, and an eighth room is available during the off-peak season (mid-May through mid-June and Labor Day through Columbus Day). Guests can rent individual rooms for two to four guests, or the entire house, which can hold up to 24 people for large gatherings. The first-floor common area allows guests to play billiards, enjoy the "boat bar," or head outside to the large, covered porch and frolic on the lawn.
Open from mid-May through Columbus Day weekend.
Cuttyhunk Fishing Club
Photos Courtesy of Cuttyhunk Fishing Club Inn
Located on eight acres overlooking Vineyard Sound, the Cuttyhunk Fishing Club is the perfect family destination. Founded by fishing enthusiasts, the Club has eight guest rooms with choices between "Ocean View Rooms" with shared bathrooms or "Island View Rooms" with private bathrooms and a three-bedroom apartment. The property offers plenty of chances to relax, explore the beach, and of course, go fishing. May, June, September, and October are ideal fishing months.
Open from mid-May until early October.
Pete's Place Rentals
Pete's Place Rentals offers ten private spaces ranging from a loft style apartment to a five bedroom Cottage. The homes sit on a beautifully manicured compound off the Shore Road with breathtaking views of Martha's Vineyard.  The company offers weekly rentals during high season and nightly rentals in the shoulder season with some spaces open year around!
Weekly rentals from Memorial Day through Labor Day.  Two-night minimum off-season (Labor Day through Memorial Day).
Places to Eat
Start your day with a fresh pastry and coffee at the Cuttyhunk Cafe, located on the Cuttyhunk Fishing Pier. Open everyday from 5am-4pm, Memorial Day to Columbus Day.
However, one of the big draws of the island is the fresh local seafood, especially Sea Bass. The Cuttyhunk Lobster Shack, located in the parking lot of the main dock is open everyday 10am-7pm through Memorial Day to Columbus Day. It offers fresh cooked lobster dinners, chowder, fried fish/chicken and onion rings and best know for their made to order hot lobster rolls!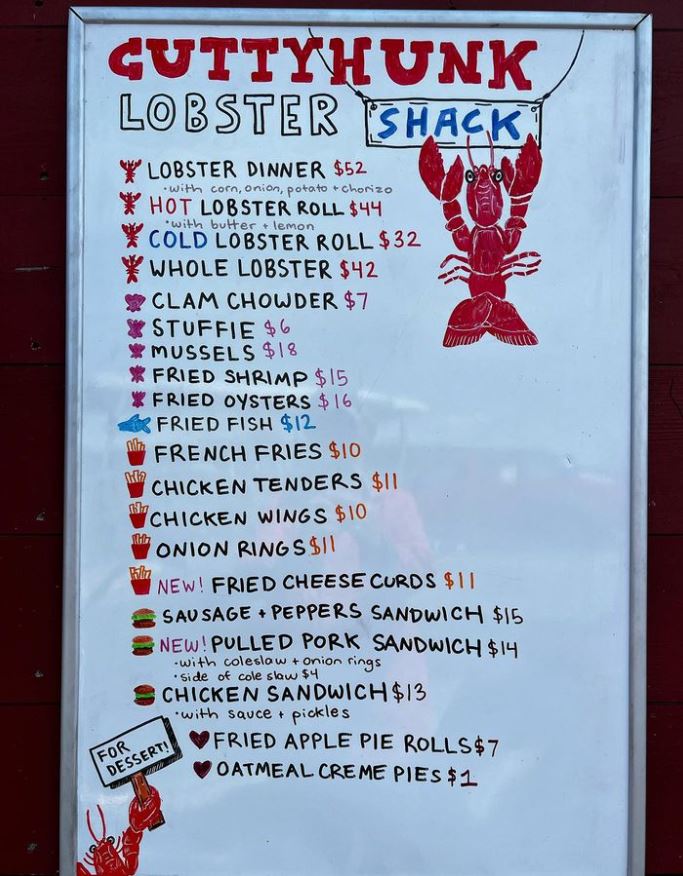 Head to the Fish Market for takeout seafood or Cuttyhunk Shellfish Farms, home to the convenient floating raw bar that delivers anything from the menu right to your boat!
The 42-year-old, Cuttyhunk Shellfish Farms is the only year-round business on the island. "We aim to sell 30,000 shucked-to-order oysters between Memorial Day and Columbus Day … and delivered about 100,000 oysters to restaurant customers in 2022" states Charmaine Gahan, owner, and CEO. Their oyster farm plays economic and environmental roll to Cuttyhunk Island and Buzzards Bay including cleaning the water, creating habitats for marine life, and providing jobs for the locals.
But if seafood isn't your thing, try Soprano's Pizza, an outdoor, sit-down eating spot perfect for families and groups. End your day with the Ice Cream Shop located on the fishing dock to grab something cold and sweet. Or maybe try a dessert box from Cuttyhunk Picnic Co., a charcuterie and dessert board company that offers to-go boxes and creates personal picnics for a special seaside day.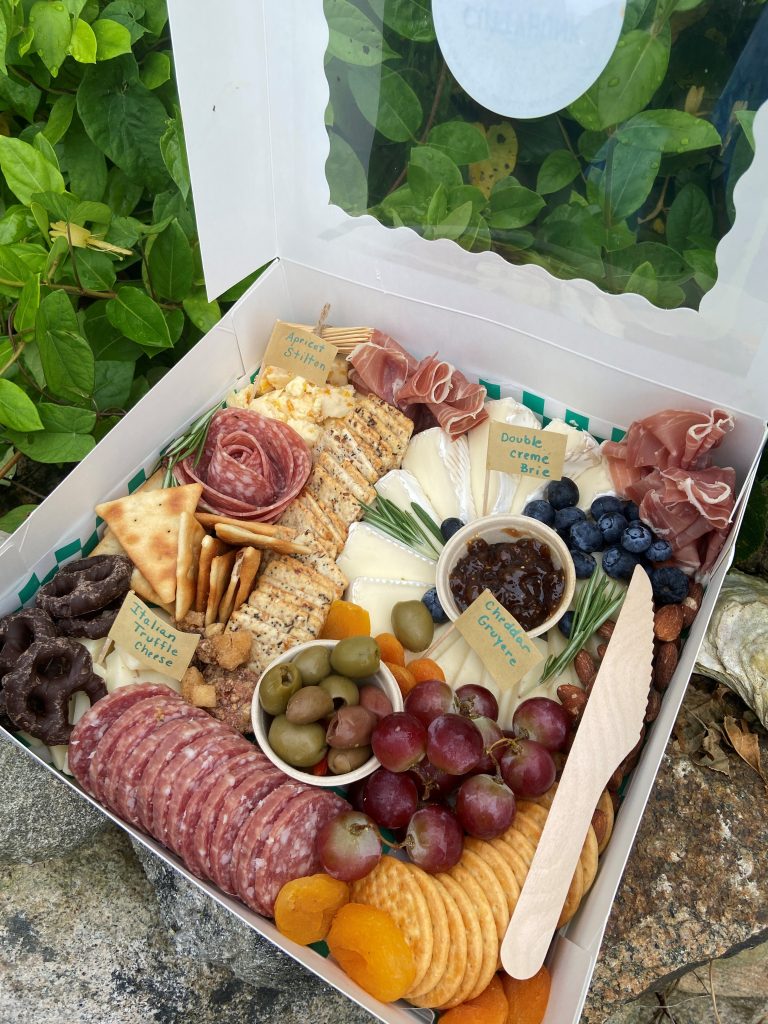 Photo Courtesy of Cuttyhunk Picnic Co.
Things to Do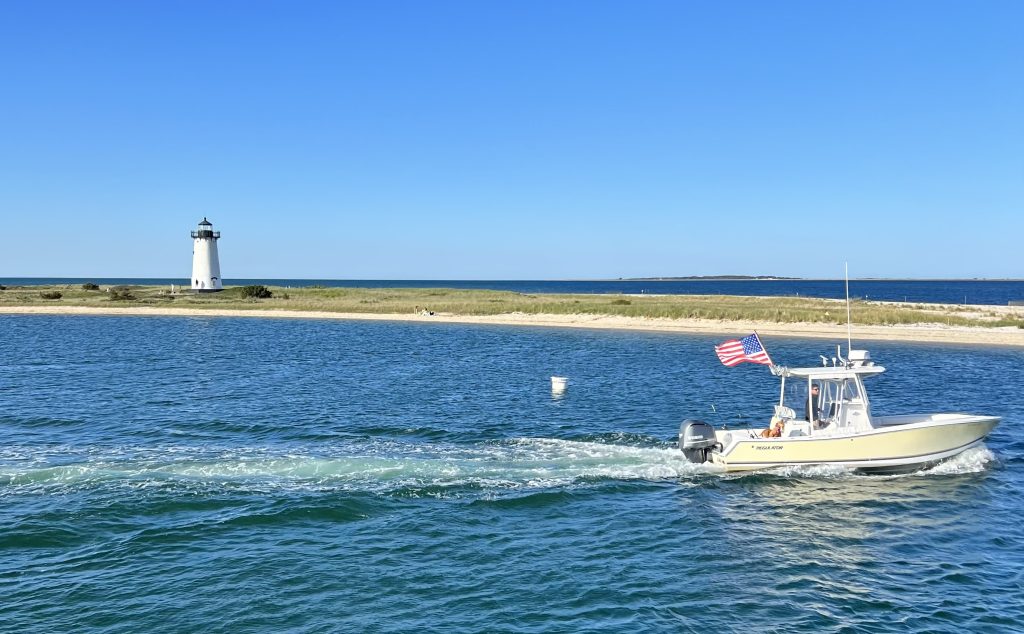 • Cuttyhunk Harbor
• Frog Pond Marine Moorings
• Jenkins Moorings
• Revenge Charters
• Old Squaw and Wahini
• Lisa G. Charters
• Linesider Charter Fishing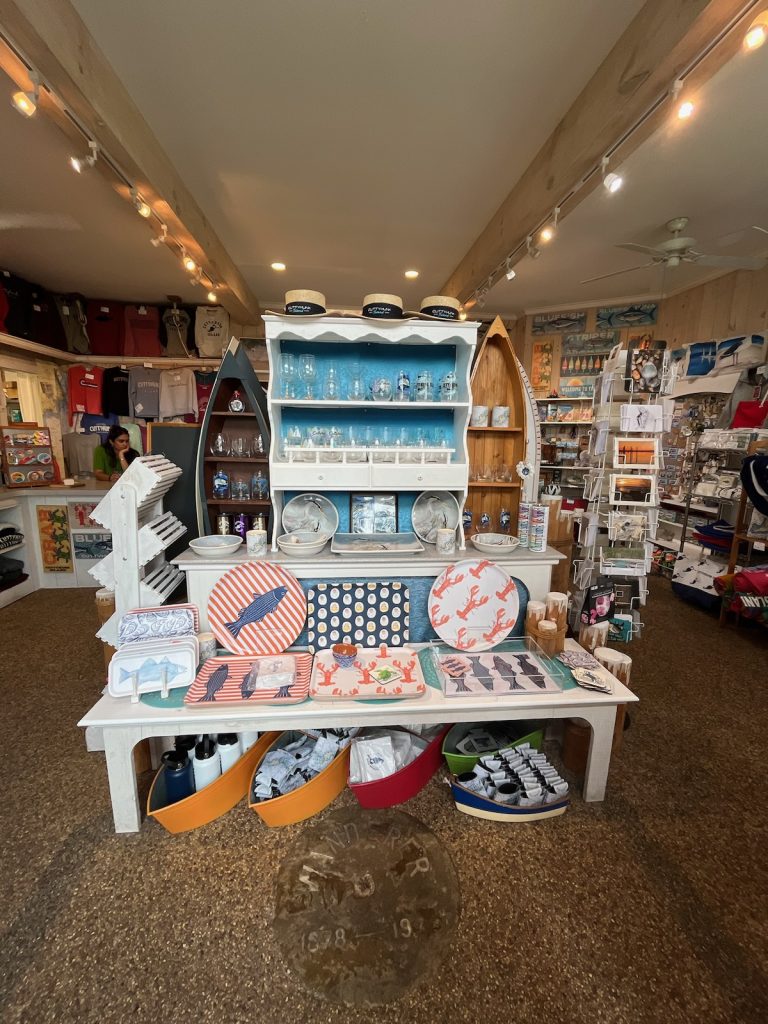 Photo Courtesy of Cuttyhunk Corner Store
• Cuttyhunk Market
• Cuttyhunk Corner Store
• Cuttyhunk Yacht Club
Beaches
• Church's Beach
• Barges Beach
• Channel Beach
Helpful Tips:
Here are a few things to remember when traveling to Cuttyhunk:
Alcohol
If you are looking for alcohol on a vacation, you will be disappointed as Cuttyhunk is a "dry island" with no alcohol being sold or purchased. However, you can bring alcohol along with you on your trip for personal consumption.
Currency
Remember dollar bills? Most places around the island do not take credit cards, so it is a good idea to bring cash for your time there.
Walking
There are no bikes, kayaks, paddleboats, or jet skis on the island to rent, so be prepared to walk as your transportation. (Make sure you bring bug spray walking on unpaved roads, as ticks are common).