Inspired by his runway collection for L.L. Bean, fashion designer Todd Snyder debuts 20 camp-chic bungalows at the Hidden Pond resort in Kennebunkport, Maine.
By Marni Elyse Katz
Many people head to Kennebunkport for the boating, the beach, and the boutiques. Located just a mile and a half from sandy shores and under five miles from downtown, Hidden Pond offers proximity to all of that but with a completely different vibe. The rustic-luxe resort is nestled among 60 acres of birch and balsam firs. It is Ralph Lauren meets summer camp meets woodland nymph, without a trace of kitsch. Hidden Pond is earthy and divine.
Forty-six standalone two-bedroom cottages, one-bedroom bungalows, and treetop lodges are available at this New England in the woods/at the beach getaway. Each accommodation enjoys privacy and access to amenities. And if you care to wander farther afield, bicycles and a beach shuttle are at the ready.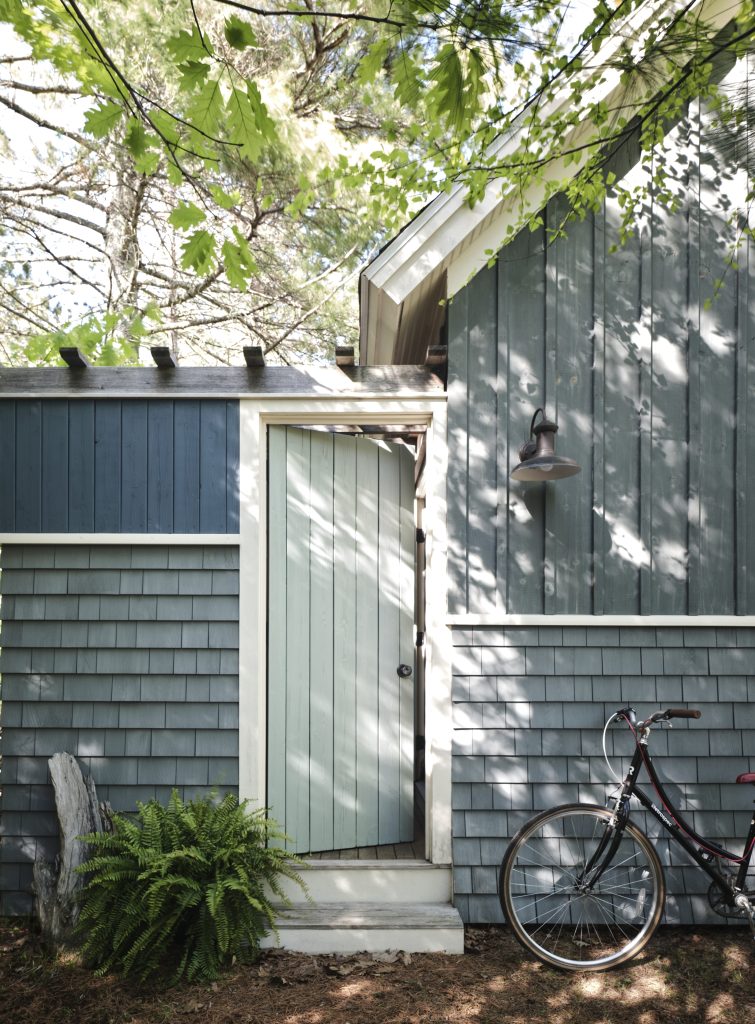 Earth at Hidden Pond, the resort's restaurant, is a farm-to-fork fantasy. Walls constructed of wood slices salvaged from the trees cut down to clear the site, a rugged stone fireplace that's always aglow, and overhead branches illuminated with fairy lights conjure an other-worldly atmosphere that still feels rooted to its surroundings. Ingredients featured in the inventive and inviting dishes hail from adjacent gardens, local fisheries, and farms.
By day, guests can snip flowers from the gardens, take a watercolor class, learn to mix drinks with an Earth bartender or take a nature walk with a certified forest therapy guide. In addition, there are two pools, a fitness facility with name-brand machines, and outdoor yoga classes. An elevated boardwalk leads to the Tree Spa, where services are enhanced by potions infused with herbs picked from the grounds' gardens.
Cozying up in your room can be as tempting as an excursion, especially because of the resort's newly designed spaces. Playing off the success of The From Away Lodge by Todd Snyder, the two-bedroom treetop accommodation at Hidden Pond inspired by the fashion designer's Fall 2020 runway collection with L.L. Bean, the resort has debuted 20 Snyder-inspired bungalows this past May.
Snyder collaborated with interior designers Krista Stokes and Mark Cotto, who both hold creative corporate positions with the hotel, on the 650-square-foot bungalows with screened porches, floor-to-ceiling stone fireplaces, and outdoor showers. Other room perks include a Todd Snyder Spotify playlist, a dark and stormy cocktail kit with locally distilled rum, and a custom-scented candle from local maker Sea Love. Delightful finds and bespoke details amp up the flavor throughout the bungalow collection, including old paint brushes from a local artist's studio sourced from Carboni Antiques in Wells and arranged under cloches, which are a design team favorite. The themed décor includes three design concepts inspired by Maine's geography and landscape: Countryside, Mountainside, and Seaside.
Countryside bungalows embrace a traditional camping palette with sage green paint, camouflage wallpaper, red and black plaid pillows, and dark wood furniture. One bungalow features a vintage military cot upholstered in an old wool blanket from furniture designer Stephen Kenn's personal collection. An oil portrait above a Countryside bed hails from designer John Derian's Manhattan studio. Reclaimed antlers make a showing in many of the bungalows, with an impressive collection punctuating one Countryside bungalow's screened porch. "It's more impactful to have them together as a herd," Cotto says.
A smattering of midcentury modern pieces can be found in the Mountainside bungalows, which are colored in mid-tone blues, greens, and browns. For instance, a molded midcentury chair came from Portland dealer Bonny Read. William Morris wallpapers are featured on walls behind canopy beds dressed in cashmere alpaca plaid blankets by Sandra Jordan. In one bungalow, a mirrored demi-lune table found at a vintage shop in Hudson, New York, makes for a charming and unexpected touch. "It seems like it could've been handed down through generations," Stokes says.
Seaside bungalows have a breezier feel with white walls and paler woods. Shell wallpaper designed by John Derian anchors gray-washed canopy beds, while seashell-encrusted mirrors add Maine yesteryear whimsy. A charcoal portrait that the team uncovered at a flea market in Arundel sits on the reclaimed beam mantel in a Seaside bungalow, while a perfectly patinated iron table plucked from an estate sale in Seal Harbor adds character on its screened porch.
"We collected one-of-a-kind pieces for six months to ensure each space feels unique," Snyder says. "I wanted the state's magic to transcend into these spaces."