When a husband and wife set out to renovate two bathrooms in their North Shore home, they discovered a whole new form of couples counseling.
Written by Lisa Cavanaugh
Couples don't often start a date night at a bathroom design center, but for Alex and Nada Jovanovic, meeting up at the Kohler Signature Store by Supply New England in the Seaport became something of a romantic ritual. The North Shore husband and wife were renovating both their master bath and the bathroom used by their three young daughters. So after Alex got out of work from his downtown office, he'd meet Nada at the Kohler store where they'd spend the next few hours collaborating with Anne Marie Diamond, a kitchen and bath designer with Supply New England who married their bathroom dreams with reality.
"Anne Marie is so lovely and she made the entire process simple and practical for us," Nada says. "She was really great at helping us find our own voice and style and gave us important feedback without imposing anything on us." The Jovanovics already had a good idea of what they were looking for in each space, but making such an important investment in their family's home took some time. "The design process took us around five months to complete, from initial concept through to final design and selection of materials," Alex says.  "Anne Marie was kind and patient with us throughout. It was a wonderful experience."
The couple was seeking quality materials that were durable and timeless and would also bring elegance and sophistication to the master bath and charm and liveliness to their daughters' bathroom. "They have exquisite taste," Diamond says. "Alex really knew what he wanted and was very thoughtful about each element." She adds, "Whenever Nada voiced a preference, I knew it was important to listen to her and incorporate her wishes into the design." Their colonial-style home was built in the 1980s, and the bathrooms had not been updated. "Initially, I was providing just consulting services," Diamond says, "but once we looked at the entire project and talked about how the structure of the master bath would change, they opted for the full design service that we offer."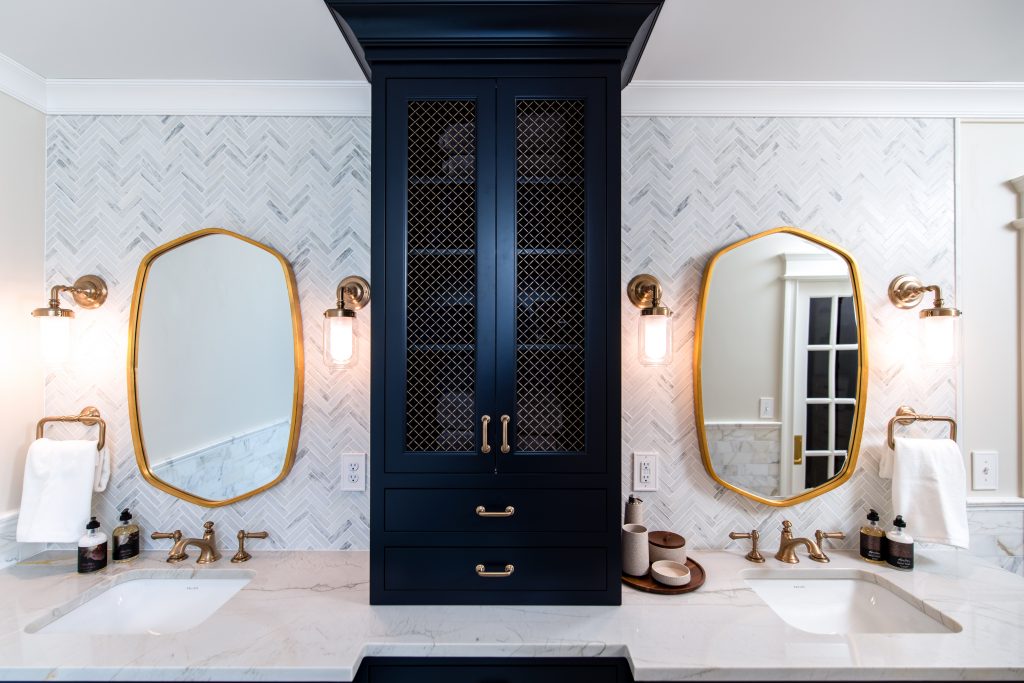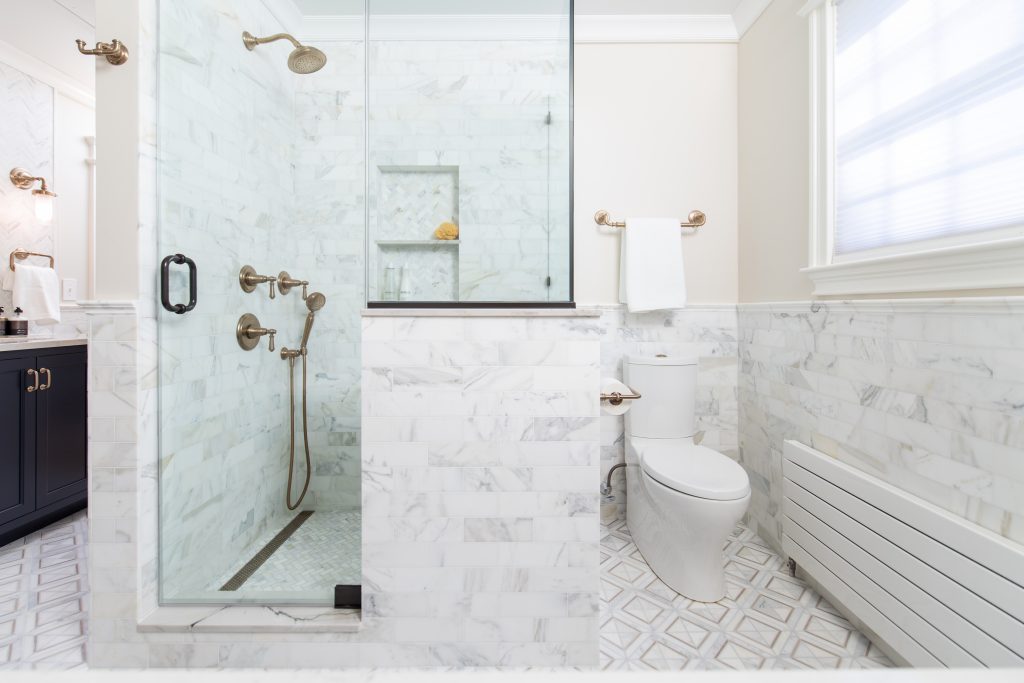 As part of those design services, Diamond visited the Jovanovic home to assess the two spaces, take photos and measurements and get a sense of how her clients wanted the bathrooms to function and feel. The Jovanovics were looking for a clean, transitional style that would work with the home's architecture while also feeling modern. To open up the room, they decided to remove walls and consolidate closet space in the master bath. "The shower was entirely closed in, and we knew we wanted it to feel more spacious and relaxing," says Nada, who felt reassured that Diamond was coordinating with their contractor throughout the process.
While her design assistant, Serina Weeks, created comprehensive sketches and renderings for the project, Diamond diligently researched a variety of fixtures and materials as options for the Jovanovics. "I wanted depth and texture, so we went with a marble floor and walls," says Alex, who appreciated the many tools and options that Diamond and her team offered. "Nada's big desire was not to have our bathroom feel cold, so we chose a mosaic-patterned Calacatta marble that has mineral deposits with subtle brown and gold tones, which gives it a softer, warmer feel."
To complement both the marble and their dark blue custom cabinetry, the couple chose the Kohler Artifacts collection in brushed bronze for the master bath fixtures. When the large cast-iron Tea-for-Two Kohler tub arrived, the entire family thought it might not make it up the staircase. "We ended up using piano movers," Nada laughs. "They knew what they were doing, and the tub is just perfect!"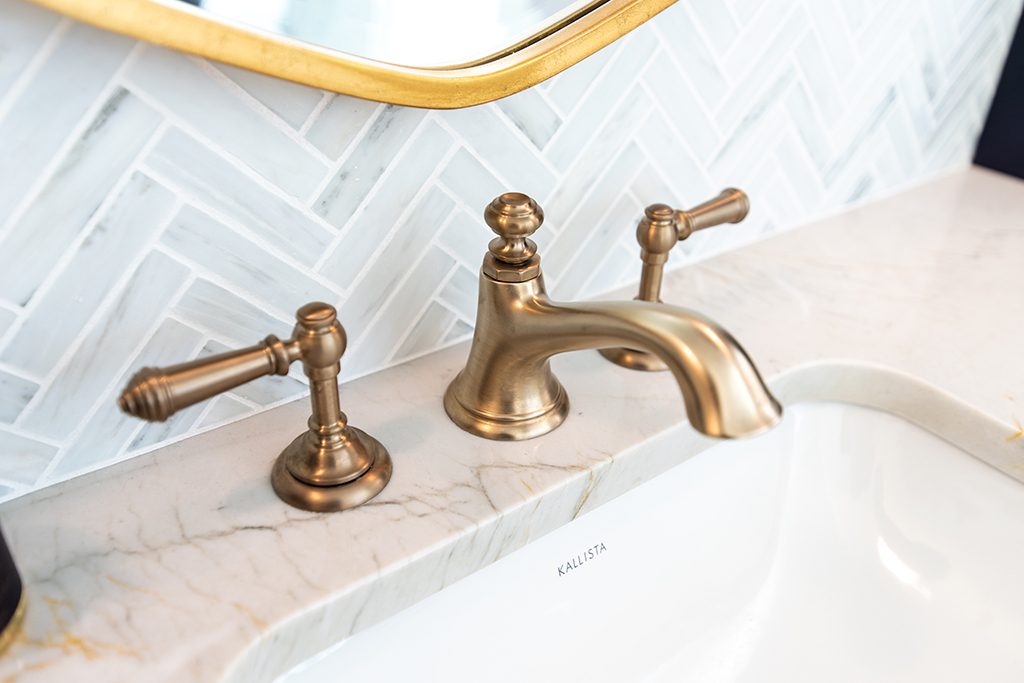 For their daughters' bathroom, both parents were seeking something a little more playful but still polished enough for guests. With Diamond's assistance, they chose a hexagon marble for the floor, a gray Cambria countertop and blue-green glass tile for the wall behind the sinks. The light green subway shower tiles that Nada chose flawlessly accentuate the custom gold tone finish of Kohler's Purist fixtures.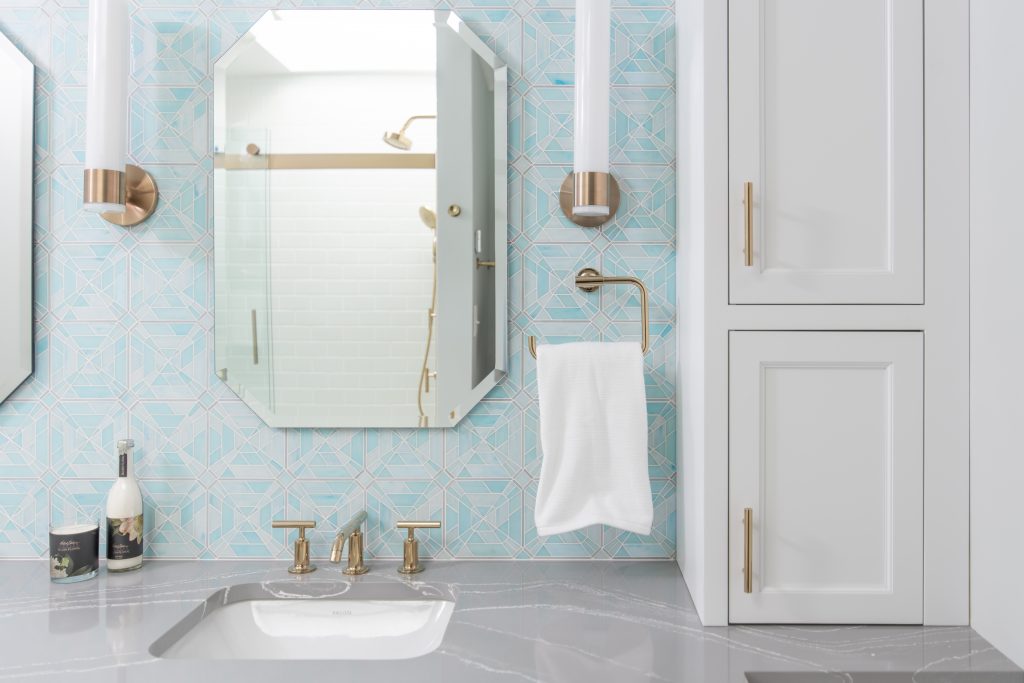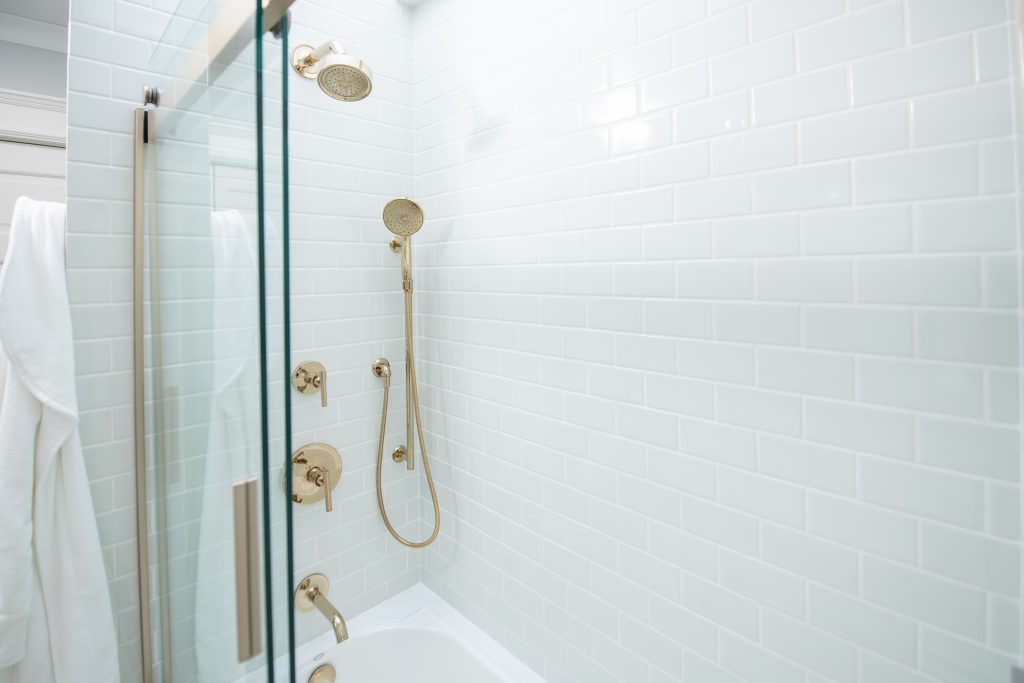 "Everything came together so beautifully," Nada says. "And through working with Anne Marie, we actually discovered the style that works for us and our home." Alex is pleased that they were able to merge artistry and functionality in their new bathrooms. "We are hoping to be in this house for many years, so we really wanted to pick tile, finishes and fixtures that spoke to us and would make us happy for the long term," he says. "And we achieved that."