Kohler's new Anthem and Statement shower collections offer the utmost convenience in a striking visual package.
Kohler's new Anthem shower valves and controls were born from a mission to go beyond industry standards. Available in either digital or mechanical versions, the shower valves are a result of precise engineering and best-in-industry technical expertise, they offer innovative ways to manipulate flow, temperature, and water.
Acting as a control center to achieve the most personalized shower experience, Anthem's precise and uncluttered digital controls were designed to make bringing technology into the shower space seamless, says Christeen Suwaizdis, a designer in Supply New England's Natick showroom. The line's mechanical controls are an intuitive design that puts complete control over pressure, spray, and temperature more in the hands of the user. There's even an optional remote start button that can be placed anywhere in the bathroom or adjoining room.
From a design perspective, says Suwaizdis, "Anthem shower valves have a clean, unexpected, and very modern look. They are available in a full range of finishes, including brushed brass, matte black, polished chrome, bronze and rose gold, among others.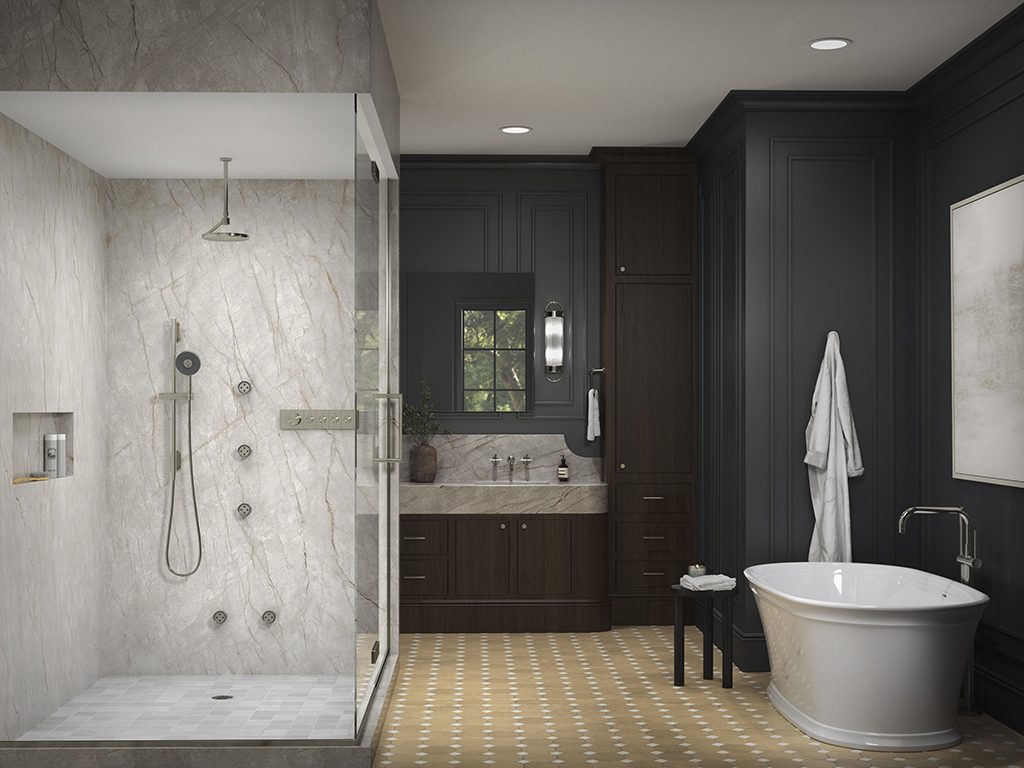 The Anthem digital control offers built-in, preconfiguring hydrotherapies designed to enhance well-being with targeted experiences that can relax, invigorate, or deliver a sense of escape. Among the selections is Wake Up a setting in which spray begins at a mid-range temperature to ease the user into the experience with warmth gently increasing throughout the shower. Shine/Tone begins with a gentle warmth and after seven minutes the temperature slowly decreases to help lock in moisture for skin and hair. Sleep Simple is geared to help relax the body in preparation for sleep.
Inspired by iconic domestic objects, says Suwaizdis, Kohler's Statement showering collection is defined by unique shapes and sizes. With voluminous, approachable designs, the collection of showerheads echoes the minimal modernism of the past paired with a contemporary sensibility that take cues from lighting elements and furniture to evoke warmth.
The Statement showerheads provide powerful spray experiences that create immersive showering environments for rinsing, massaging, and restoring. Each component is paired with the sprays that best suit its use and settings include: Ribbon Massage where water cascades at an angled stream to target the shoulders, Deep Massage creates a slow kneading pattern with a strong sense of water that twists and swirls, and Full Coverage Rain has gravity-fed droplets to envelop the body in a gentle spray.
With multiple rain and showerhead styles and four different hand shower options,  flexibility is a cornerstone of the Statement collection. Each model can be paired with different valves and controls for countless configurations and like Anthem, Statement elements are available in a slew of finishes to match your personal design sensibility.