Looking for a mysteriously entertaining indoor event this spring? Join one of the many Murder Mystery Dinner events across the region, where you can eat a deliciously prepared meal while deciphering clues in inventive and dramatic faux crimes.
Massachusetts: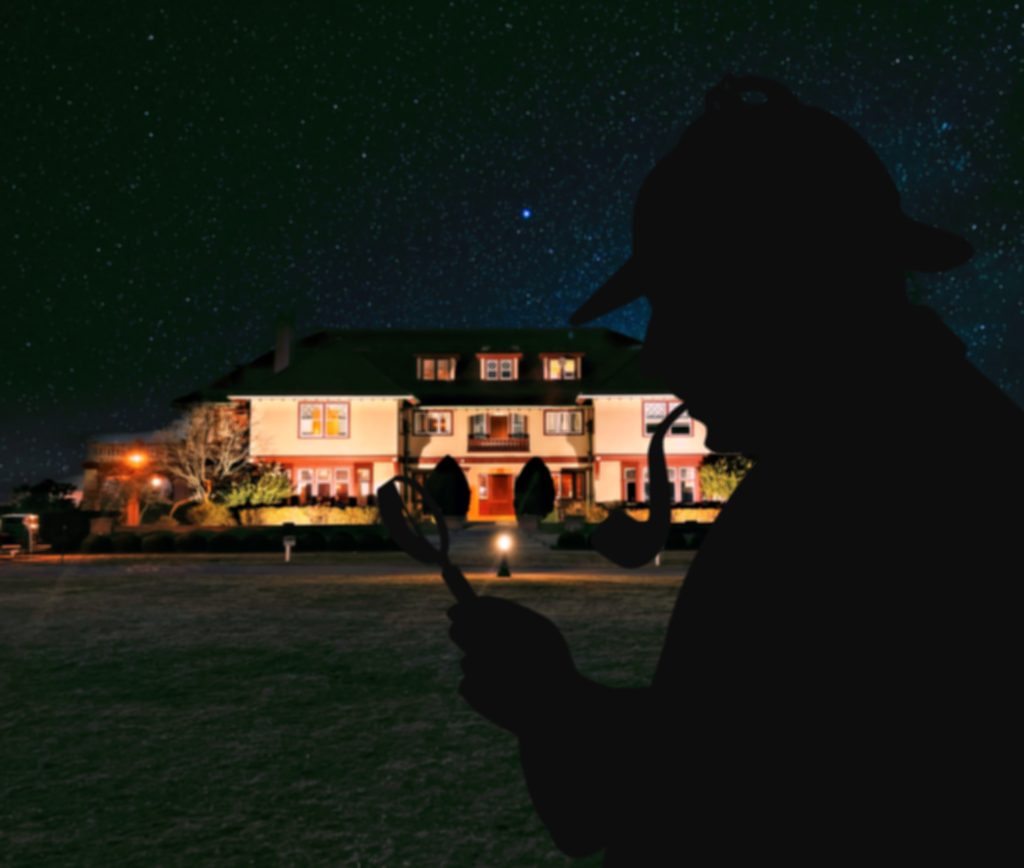 You are invited this March to the Dunn Speakeasy for a "married to the mob" themed wedding whodunit at the Ocean Edge Resort in Brewster.  Guests are encouraged to dress the part of flappers and pinstriped mafiosos while they enjoy a 4-course dinner and try to crack the case. The special package also includes one night's accommodation, breakfast, and access to all resort amenities.
https://www.oceanedge.com/dining/murder-mystery
Connecticut:
America's largest interactive comedy murder mystery dinner theatre show, The Dinner Detective Murder,  is now playing on select dates at the Omni New Haven Hotel at Yale.  Solve an engaging mystery while you feast on a fantastic dinner.  The twist? Culprits and suspects are hidden in the audience – and you can purchase a specialty "Suspect Package," allowing a member of your party to be involved in the show as a Prime Suspect.
https://www.thedinnerdetective.com/new-haven/
Vermont:
The stately Wilburton Inn is the spine-chilling setting for The Case of the Missing Mummy, an Egyptomania Murder Mystery Dinner on Saturday, April 29.  This immersive musical mystery adventure takes guests back in time to 1923 to solve a mystery inspired by local history. Written and produced by Tajlei Levis, with musical direction by Brian Drutman, the play begins at The Vermont Explorers Club and sweeps through Hollywood on the way to archeological adventures among the pyramids in Egypt. The audience (encouraged to dress in elegant 1920s Hollywood attires or Egyptomania-inspired flapper fashion) will dine with the cast as they join forces to solve the ancient mystery.  Tickets are available for a weekend "getaway with murder" package.
https://www.wilburtoninn.com/murder-mystery
Rhode Island: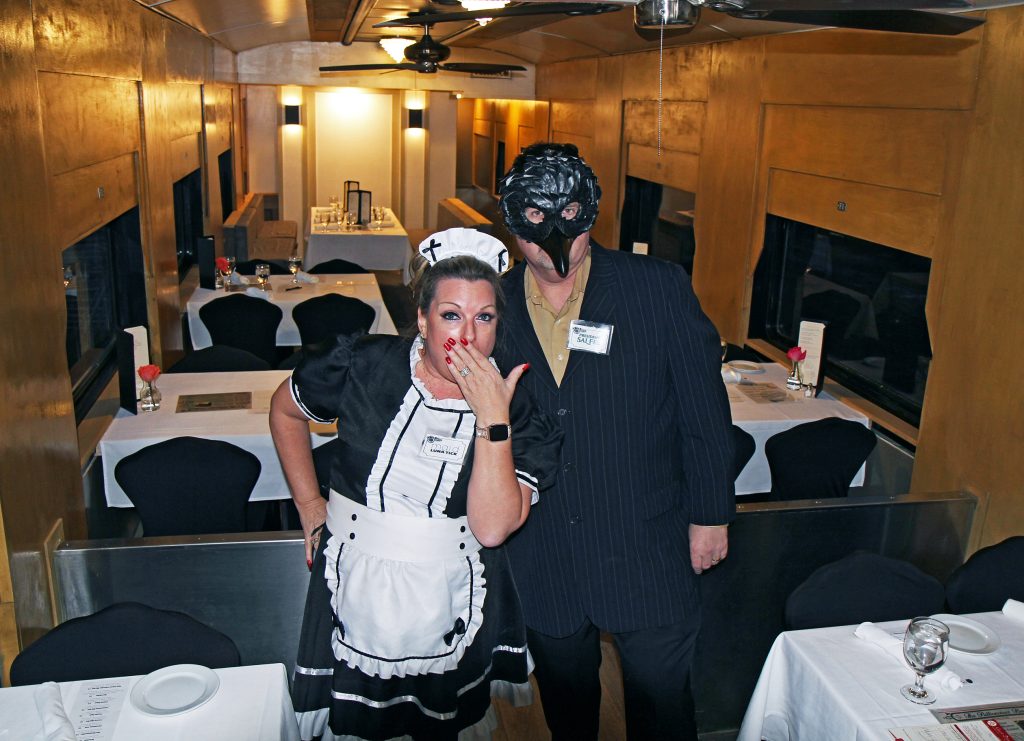 You've seen Murder on the Orient Express – why not experience your own on-the-rails mystery? Clues, cocktails, and cuisine will all be on the menu as part of the Grand Bellevue's one-of-a-kind theater car Atlantic Rose. Presented by the nationally-renown Murder Mystery Company, the two-and-one-half-hour dinner theatre event lets you meet the characters, follow the clues, and navigate the twists and turns of a dastardly crime. Trains operate Fridays, Saturdays, and select Thursdays. For excursions through April 1, the train remains station-side during the dining experience, while the Spring and Summer departures take you on a journey along Aquidneck Island.
https://thegrandbell.com/murder-mystery
New Hampshire: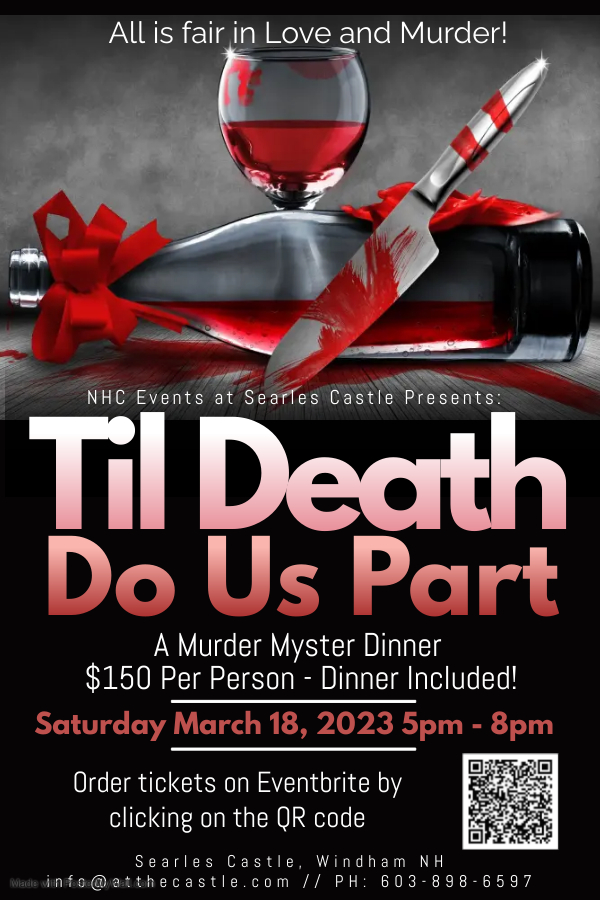 All is fair in love and murder at Til Death Do Us Part – A Murder Mystery Dinner held at Searles Castle in Windham on March 18. The historic castle was constructed between 1905 and 1915 and designed to be a 1/4-scale replica of the medieval Tudor manor of Stanton Harcourt in Oxfordshire, England. With a long and storied history, perhaps some ghosts may join in the mysterious fun!
https://www.facebook.com/searlescastleevents/
Maine:
You can kill two birds with one stone (so to speak!) with a St. Patrick's Day-themed murder mystery dinner at Byrnes Irish Pub in Brunswick on March 8. Dress up in green or any other Celtic-themed costume and dig into a hearty Irish dinner while attempting to identify the culprit from among the talented cast of Mystery 207.
https://www.eventbrite.com/e/st-paddys-themed-murdermystery-dinner-at-byrnes-irish-pub-tickets-533510543397