Designed with sunlit interiors in mind, modern farmhouse homes in New England evoke West Coast living.
Written by Janice Randall Rohlf
Interior designer Kate Gelfand has a lot of bright ideas. Many of them come from her sandy stomping grounds in Newport Beach, California, where coastal homes are designed with large expanses of glass to maximize natural light and enhance the sense of space. While this airiness might also allow the occasional beachcomber to peep into the homeowners' living rooms, according to Gelfand, "they would rather have sunlight than privacy." A few years ago, when she relocated three thousand miles away to Greenwich, Connecticut, Gelfand brought this West Coast design instinct with her. Though Greenwich residents might be more reserved than their West Coast counterparts, Gelfand has found effective ways for them to still see the light without sacrificing their privacy.
Shortly after arriving on the East Coast, Gelfand joined forces with another California native named Albert Orlando to develop a residential enclave close to downtown Greenwich named Avenue Terrace. The two former Golden Staters envisioned a clean, light-filled modern farmhouse aesthetic for the half-dozen properties clustered on a rise. "People attracted to these homes are often empty-nesters downsizing from several-million-dollar residences in backcountry Greenwich and want easier, more casual living in downtown," Gelfand explains. Yet, she adds, they don't necessarily want to relinquish the luxury amenities they've grown used to, so the challenge was to "put all those things into a smaller footprint."
"Many of our selections were made in the interest of making these somewhat compact spaces feel larger," she says. High ceilings and big Marvin windows flood the interiors—white oak floors and light-painted walls—with abundant sunlight. Oversized two-over-two windows that punctuate TruStile front doors do double duty: They frame nature outside and also allow a peek into a roomy twenty-foot-high, two-level entry clad in white shiplap.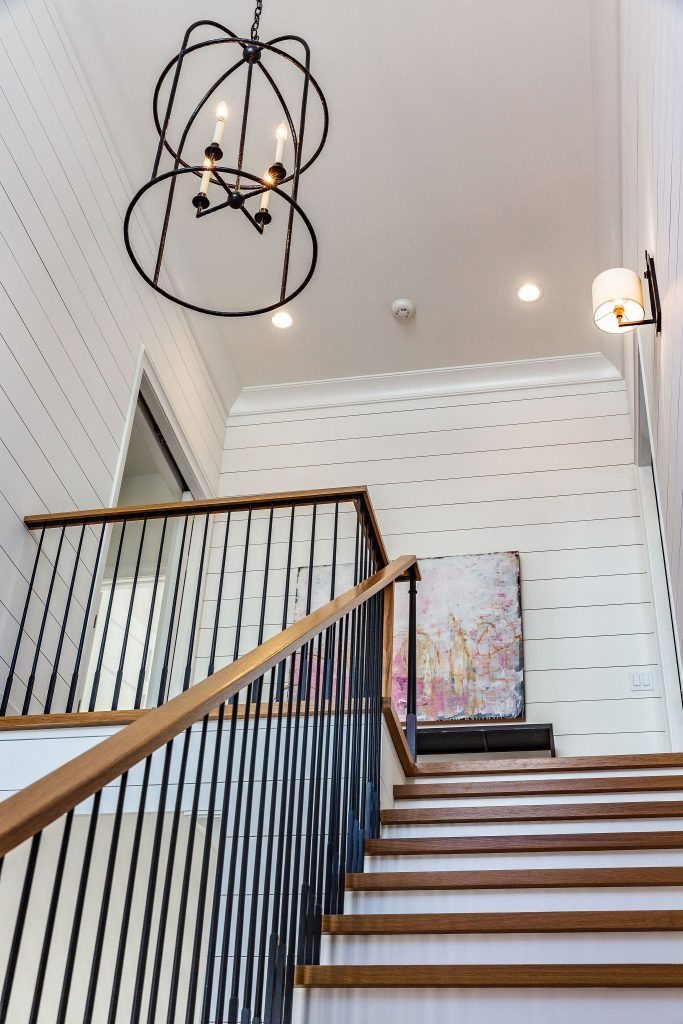 Even the smaller details enhance the sense of spaciousness in these homes that range from 2,500 to 3,200 square feet. For example, the clean-lined, small-profile square sticking on the Marvin windows keeps the detail minimal. "It was incredibly appealing to have as much light as possible," Gelfand says, "and [the square sticking] also reads a little bit modern versus beveled, which is really chunky on the glass." Similarly, opting for a steel custom railing for the staircase instead of traditional wood was a way of introducing modern materials and sleek styling into the equation.
The exteriors contrast tall, black wood-cased windows and dark pitched roofs against white clapboard siding and natural wood front doors. Facade features—brick chimneys, mahogany garage doors and flagstone porches—"drove what went on inside the homes," Gelfand says. Inside, the modern farmhouse look continues, with five-inch oak plank flooring, fireplaces with reclaimed wood mantels and stone surrounds, and sliding barn doors to a study. These rustic aspects add subtle texture to an otherwise sleek environment, while the use of organic materials keeps the space feeling as though it's connected to the outdoors, where each resident has their own space to plant a garden or hoist a bird feeder.
Maximum light, minimum clutter and an unadorned, restrained palette provide a tasteful backdrop against which to layer other features selectively. "Every square inch was really thought out," says Gelfand, indicating the personal touches and expert craftsmanship in the homes, including all-custom kitchens and bathrooms. "There are a lot of high-end details in these small spaces—Sub-Zero and Wolf appliances, Kallista in the master baths, Lacava bathroom sinks, marble floors with radiant heating."
Aesthetically as well as geographically, the New York City bedroom community in Connecticut is a far cry from the beaches of Southern California. And yet in spite of the marked differences between the two coasts, Gelfand and Orlando achieved a design wherein "sunshine and light are crucial." A clean, bright and open farmhouse aesthetic that still reads modern relies heavily on professionals like them to interpret it accurately. You don't have to be a Californian to get it right, but being from a place that averages nearly three hundred sunny days a year can't hurt.