Name a favorite New England destination—Boston, Portland, Watch Hill, Nantucket—and there's one important common draw for residents and visitors alike: a pervasive sense of history. From city blocks to country roads, these locales are studded with architectural gems that represent a visual, even tangible slice of America's past.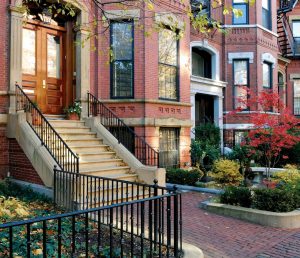 Factors that go into maintaining the historical authenticity of buildings in these areas range from the sheer conscientiousness of homeowners who don't want to disturb the flavor of the neighborhood to extremely rigid historic district commissions that provide the most legal protection for significant historical properties via planning and zoning boards and building permit functions.
Today, thousands of cities and towns throughout the U.S. have some form of historic district zoning in place, ranging in size from a couple structures to a couple hundred. Nantucket, Massachusetts, is known for having one of the most rigorous historic districts in the country. Although each district has its own rules and regulations, most of which are modeled after standards established by the Department of the Interior, they all share a common purpose: first, to preserve significant historic structures, and second, to retain the marked personality, the enduring appeal of their collective neighborhoods.
JUDGE A BOOK BY ITS COVER
Local historic districts concern themselves with home exteriors and in general do not govern interiors. For existing homes, preserving what's in place is of primary importance. "If a piece of molding or window is in good shape and can be restored, it should be restored," relates David Andreozzi, principal of Andreozzi Architects in Barrington, Rhode Island. If replacement is warranted, then the new should mimic the old to whatever extent possible in an effort to maintain the original character.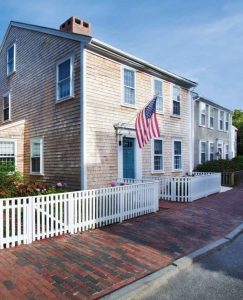 Tobin Shulman, an architect at Siemasko + Verbridge who has worked extensively in Boston's Beacon Hill laborates: "Everywhere you see the building in a public way, up close and from a distance, is judged with the same level of scrutiny by the Beacon Hill Historic Commission." He notes that "windows, siding, roofing, masonry, railings and stairs" all have to fall within the commission's guidelines.
INTEGRITY VS. AUTHORIZED DECREE
Not all historic districts are as strict as Nantucket and Beacon Hill. Architect Michael McKinley doesn't do preservation, but he works extensively in historical conclaves like Watch Hill, Rhode Island, and Stonington, Connecticut, where, he says, he "comes up against the forces of history." For "Surfside," a recent project in Watch Hill, the original 19th-century home had to be gutted but historical integrity was present in all aspects of the rebuild.
"The renovated home is not a replication of the 1886 house, but rather it is a highly orchestrated composition of the best elements of the Watch Hill Shingle Style," explains McKinley. "We had the opportunity to collaborate with some of New England's finest craftspeople who had learned the trades of woodworking and masonry from previous generations."
Surfside uses the materials of the old structure, the entry is in the same location and the front gable is very similar to the original one. According to McKinley, unlike synthetic siding, the red cedar shingling, has a "very expressive character … a real personality". Eventually, Surfside will turn a silvery gray, like other houses in the vicinity.
"Modern architecture has not played a role in Watch Hill yet," says McKinley. "Our clients don't want [their houses] to stand out as an image breaker."
NEW CONSTRUCTION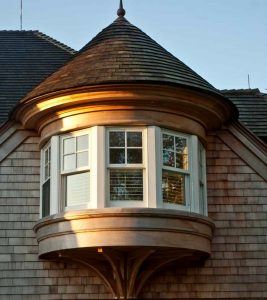 A variety of factors can influence new construction in a historic district, from setbacks to height limits to footprint caps based on lot size. Even in a luxury real estate market like Nantucket, house size is capped by these regulations, regardless of budget.
Windows are a vital consideration to the overall look of a new-old home, and the ultimate historic window is single pane with true divided lites. In fact, industry leader Marvin Windows and Doors recently released a "Nantucket Window" to meet the aesthetic and performance needs of communities requiring historically accurate replication. It features 5/8-inch divided lites and a narrow muntin profile, not to mention a deeply profiled muntin bar inside and a simulated putty profile outside.
McKinley says that Surfside's 50 or so windows "represent the entire Marvin catalogue." He has high praise for the people at Marvin as well as for the variety of high-end windows readily available, including awning, double-hung and arch windows. "Marvin takes a lot of pride technically and is so in tune with its design intentions." In comparison, adds McKinley, "a more modern beach house might have three or four window types and doesn't speak to the history nearly as directly."
Building materials that would have been readily available to craftsmen in the past, such as local hard woods, stone, brick and slate, are commonly approved materials. Some engineered products, such as fiberglass roof shingles or aluminum-clad simulated divided lite windows, are possible in less rigorous zones.
Overall, the new does not have to replicate the old exactly but should be compatible in terms of site placement, height, massing, proportion, scale, materials and architectural characteristics, such as ornamentation and fenestration. In fact, preservation activists prefer that designers do not try and carefully replicate history as this creates a "Disneyland effect," notes Andreozzi, whereby it's hard to tell period from replica.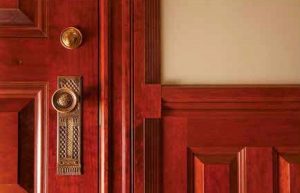 HOMEOWNERSHIP
Owning a home in a historic district is a double-edged sword. On the plus side, a district's regulations ensure a neighborhood's cohesive look, maintaining that classic charm that keeps property values high. On the down side, these same regulations can restrict common home improvements, such as a new porch, driveway or addition, and make certain exterior alterations cost more due to high material and architectural standards.
"When you decide to live in a historic district, you're committing to abiding by a governing body telling you what you can and cannot do with your home," explains Andreozzi. "At first, all of the rules can be intimidating, but in reality, it's an amazingly strong benefit to guarantee that someone isn't going to come in and negatively impact a neighborhood's look with a poorly designed project." NEL
This story appeared in New England Living magazine. Written by Jennifer Sperry. Top photo: Michael McKinley & Associates design; Kindra Clineff Photography.