This week's episode of New England Living  TV brings us to Bristol, RI. Set on a 10-mile peninsula of land set between Mount Hope Bay and Narragansett Bay, Bristol's history is all about the surrounding water. The small town is home to the Herreshoff Marine Museum and America's Cup Hall of Fame where Host Parker Kelley spends time interviewing the museum's executive director about Bristol's incredible history of producing famed America's Cup-winning yachts.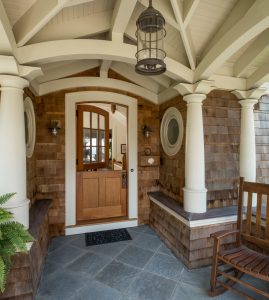 Sea captains' homes dot the shoreline and shops, galleries and restaurant are clustered in Bristol's charming downtown area.
The home featured in this episode sits high on hill which affords it stunning views of the bays. Designed by Architect David Andreozzi, principal of Andreozzi Architects, and affectionately known as Pen Marc'h by owners Marie and Charlie, it is a classic bungalow style home that Andreozzi describes as embracing as "…that feeling of showing up in your flipflops and being welcomed."
Parker tours the home with Maria and Charlie before heading to the museum,  upon whose board Maria sits, and then enjoys a bike ride through Colt State Park with the couple.
Back at the house, in "Maria's beautiful kitchen," as Parker describes the space that Maria calls her "zone" because she spends so much time in the room and was instrumental in its design, Parker prepares a multi-course dinner with Personal Chef Kim Herson before joining the homeowners and a group of friends for a leisurely and relaxed meal.
Watch the Bristol, RI episode of New England Living TV on Sunday, April 30th at 11:30 a.m. on WBZ | CBS Boston.
Aaron Usher PhotographyTop photo by .