As vegan options abound, the demand for plant-based restaurants in Boston and throughout New England is on the rise: there's a slew of local vegan eateries turning out delicious dishes that you should know about.
By Juliet Pennington
The new Plant Pub, scheduled to open across from Fenway Park this spring, is likely to make a huge dent in the Greater Boston food scene. What's equally good news for area diners who are plant-based or just plant-curious is that there are many other options nearby including the original Plant Pub vegan food and beer hall in Cambridge.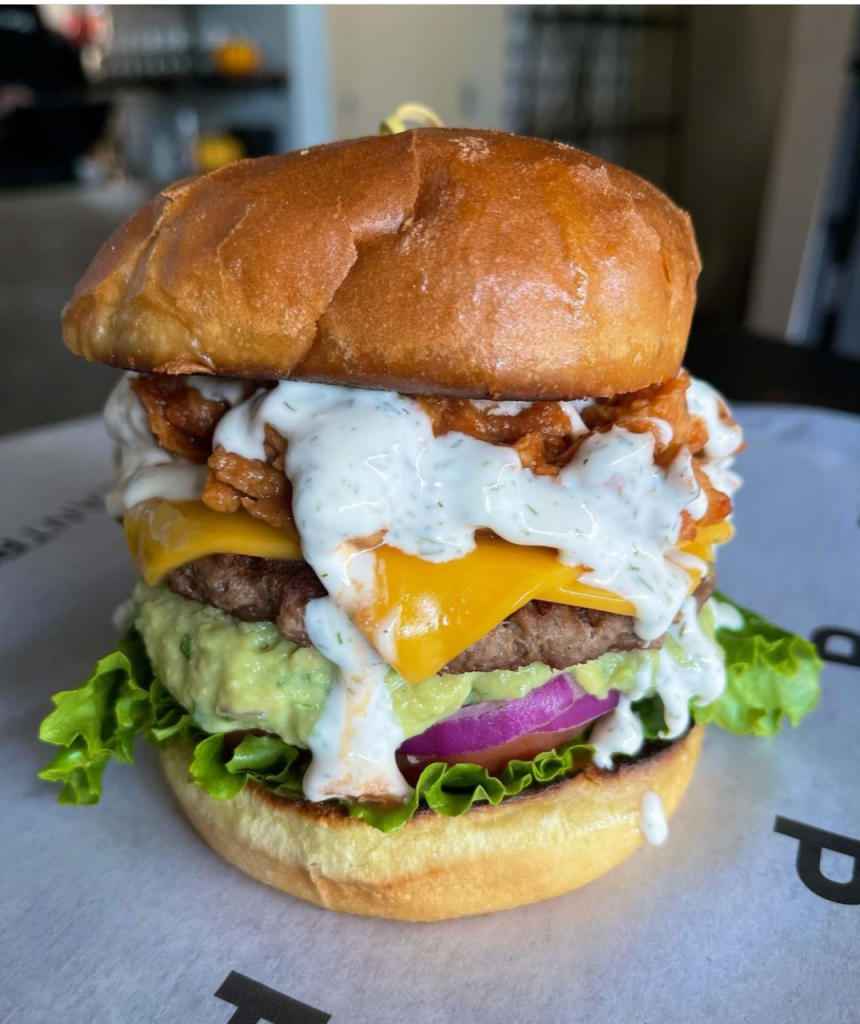 Co-owners Pat McCauley and Mary Dumont, head chef, opened Plant Pub in Kendall Square in September 2021. Earlier this year, they partnered with international celebrity chef Matthew Kenney in the Plant Pub brand, which includes the larger Fenway location and plans for additional Plant Pubs elsewhere.  The Cambridge restaurant's menu, overseen by Dumont, an award-winning chef, includes small bites like Buffalo cauliflower wings and chili queso fries, burgers, and a variety of pizzas ranging from pepperoni to wild mushroom truffle. The garlic fingers "appetizer" (it's huge and can easily feed a family of four) is made with organic dough, roasted garlic, scallions and melted mozzarella, and comes with herbed ranch and basil marinara dipping sauces.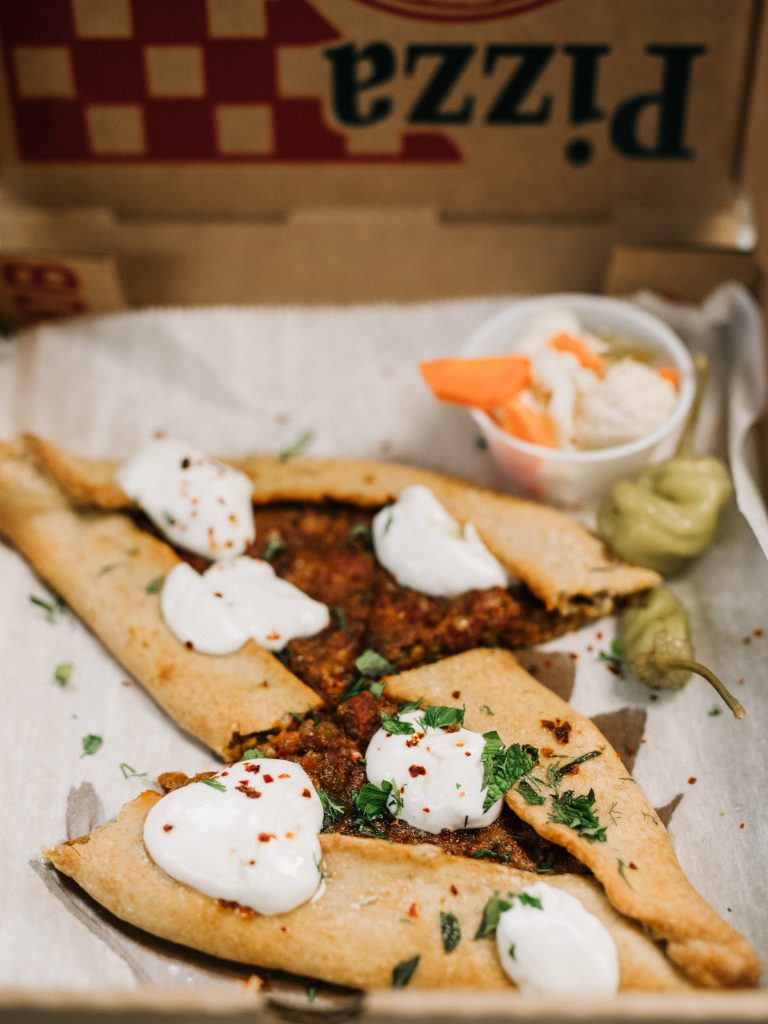 In neighboring Somerville, veg diners will find Littleburg, which opened in spring 2021 and serves Mediterranean food from the garage front of a former catering kitchen. Owner Graham Boswell says the made-from-scratch Greek pita bread and gyros are a huge hit with customers, as are the stuffed flatbreads and hush puppies with a variety of vegetables mixed into the batter.  "We've slowly built-up a following," says Boswell, who admits that opening during a pandemic presented challenges, but adds that his customer base has grown steadily "They like that we make stuff from scratch that has great ingredients and really great flavor." The St. Louis native, who moved to Boston in 2010 to attend Boston University, said he hopes to open a sit-down restaurant in the future.
"I think we're finally at a place where the future looks bright for vegan dining," Boswell says. "I'm vegan because I'm a food lover and I want to eat things that reflect my values."
Other Somerville options include True Bistro, a fine-dining eatery that serves globally inspired food, and Taco Party, a kitschy counter-serve spot that offers a meatless Mexican menu featuring innovative veggie tacos.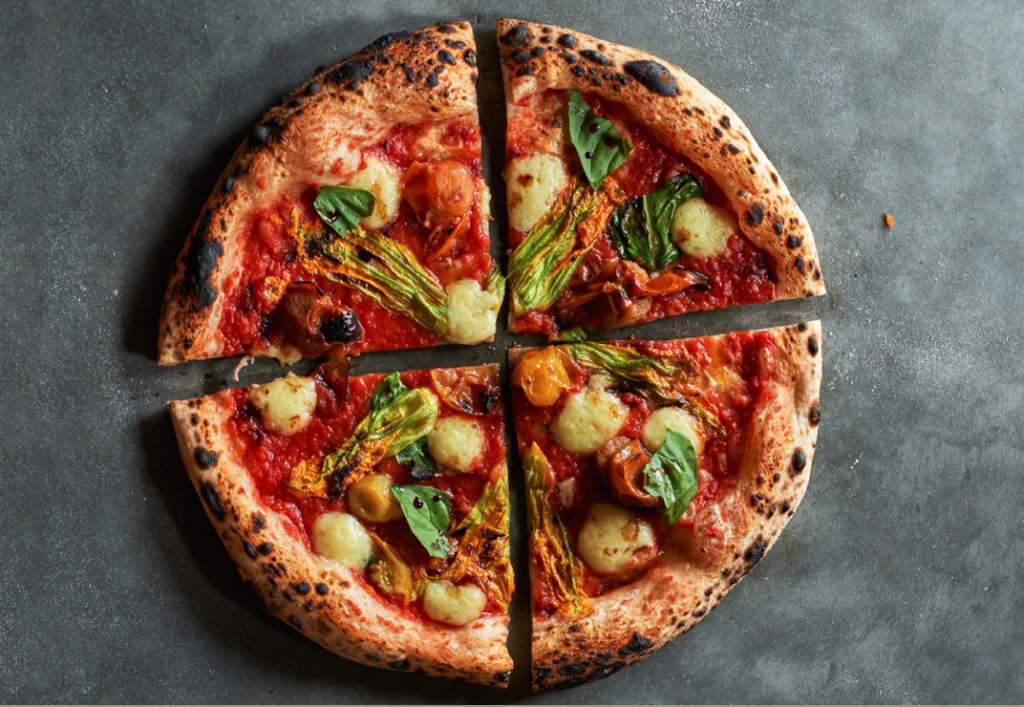 The newest addition to the Boston vegan scene is Double Zero—an Italian-themed restaurant known for its pizzas and calzones made with finely ground double zero flour for the crust—which opened on Newbury Street in June 2021. Some pizza favorites include artichoke (with tomato, spinach, garlic cream, balsamic, and shallots) and bianca (with macadamia ricotta, cashew mozzarella, parmesan, rice mozzarella, pepperoncini, rapini, and plant yolk. Non-pizza menu items that are also customer favorites include cacio e pepe with parmesan and black pepper cashew cream and pasta Bolognese with walnut mushroom ragout. Double Zero is owned by Kenney, who has other Double Zero restaurants in Providence (at Plant City), New York City (Manhattan and Brooklyn), Baltimore, and Los Angeles.
Other popular Boston vegan restaurants include The Grasshopper, My Thai Vegan Café, Oasis Vegan Veggie Parlor, Ramen Red White, and LuLu Green.
While the Boston-area and beyond plant-based dining scene in Massachusetts is on the upswing, there are many new and some not-so-new restaurants in other cities and towns throughout New England that are meat and dairy-free.  Below is a state by state breakdown of some of our favorite plant-based, go-to eateries:
Connecticut
Three Girls Vegan Creamery and Three Girls Downtown, Guilford
These restaurants, located right off I-95, offer organic traditional Italian fare – from calzones to cannolis – and more that has been thoughtfully (and tastily) veganized. Try the tantalizing Buffalo "chicken" grilled cheese sandwich with blue cheese sauce, the wide variety of stuffed breads, and the savory potatoes au gratin. Don't miss out on the oat milk-based soft-serve ice cream.
Arles & Boggs Vegan Eatery, Wallingford
This popular veg hot spot specializes in gluten-free ethnic cuisine and old-school diner favorites. Try the authentic Middle Eastern plate, flavorful curry stew, and customer-favorite loaded taquitos featuring two corn tortillas wrapped around garlic, jackfruit, and serrano peppers and loaded with root vegetable queso served with a variety of condiments and a side of sweet plantains.
Rhode Island
Plant City, Providence
This innovative food hall and marketplace from celebrity vegan chef Matthew Kenney and R.I.-based entrepreneur, Kimberly Anderson—includes several restaurants, a raw-food full-service buffet, coffee bar and bakery, as well as a marketplace. The creative pizzas from Double Zero is a customer favorite, as are the tacos and chili rellenos at Besina, which also serves decadent crispy cinnamon sugar churros with warm chocolate ganache.
 PiANTA, Providence
This new vegan eatery (which means "plant" in Italian) on Federal Hill started as a takeout-only business, but with a strong and growing customer base, in May opened a brick and mortar on Atwells Avenue. Top-rated menu items on the predominantly Italian menu include the steak and cheese eggrolls, chicken broccoli ziti, zucchini fritters, and the jalapeno barbecue chicken grilled cheese sandwich.
New Hampshire
Col's Kitchen, Concord
The Ps and Qs pad Thai with seared tofu, rice noodle, carrots, cabbage, spinach, basil, and peanuts is a crowd pleaser, as is the "strong enough stroganoff" with seitan, broccoli, farfalle pasta, pea tendrils, and cream sauce. Top your meal off with an apple cider doughnut.
The Valley Vegan Café & Crystal Shop, North Conway
This breakfast and lunch spot has a variety of breakfast sandwiches, and an appetizing lunch menu that includes a barbecue tempeh bacon burger with all the fixings and a steak bomb pizza.
Vermont
Pingali Café, Burlington
With a wide variety of menu items, from "dawgs" to burgers to innovative wraps (like the Rooster Wrap, made with maple-sriracha tofu, greens, dilly ranch, tomato, crispy onions, and toasted sunflower seeds), this café also has wheat-wrapped dumplings made with tofu and veggies on a bed of greens and slathered in Korean barbecue sauce. The all-day breakfast includes French toast puffs and a Brunchwrap Supreme.
Flavors of Our Travels, Rutland
This takeout restaurant serves organic and gluten-free vegan food including a variety of unique sushi rolls, soups like chickpea miso, a popular mixed farm root medley pot pie, and cashew "cheeze" perogies ranging from caramelized onion to caramelized sauerkraut. Be sure to save room for the dark carob and orange "cheesecake."
Maine
Copper Branch, Portland
Tantalizing power bowls are a major draw at this restaurant, but tacos, wraps, and the all-day breakfast sandwiches—including the bacon maple tempeh sandwich with smoked tempeh, zucchini, sweet potato, cheese lettuce, tomato, caramelized onions, and barbecue mango sauce – are also customer favorites.
Lovebird Donuts, Kittery
What better way to satisfy a sweet tooth than with a doughnut? From Boston cream to pineapple Berliner (rolled in sugar and filled with pineapple jam and buttercream), there's something for everyone. For a special treat, try the extra-large (feeds eight) funfetti doughnut layered with buttercream and vanilla cake doughnut chunks and topped with colorful sprinkles.