There are few places in the country where you can enjoy dinner in the same restaurant as our founding fathers centuries before. But New England is a history-buffs dream, filled with historic dining spots where George Washington might have mapped out plans for defeating the British.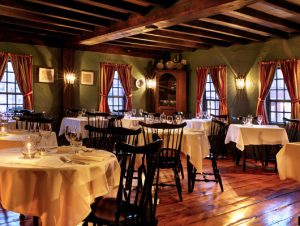 When you visit the White Horse Tavern in Newport, Rhode Island, you are stepping inside America's oldest tavern. Opened in 1673, the White Horse was a regular haunt for Colonists, British soldiers, pirates and sailors. For nearly 100 years, it served as the meeting place for Rhode Island's General Assembly, Criminal Court and City Council. It became a tavern in 1702. Today, no building is believed to be more typical of colonial Newport, with its clapboard walls, gambrel roof and plain pediment doors bordering the sidewalk. Inside, giant beams, a small stairway hard against a chimney, a tiny front hall and cavernous fireplaces display classic 17th-century American architecture. So, sit back, soak in the history and choose from a menu that ranges from beef wellington and hangar steak to Georges Bank scallops and native swordfish.
While the White Horse building has been around longer, the Griswold Inn in Essex, Connecticut is the oldest continuously run tavern in the country. Founded in the late 18th century, the "Gris," as it's commonly known, was captured by British troops and used as a base of operations during the War of 1812. It was also the site of protests during the 1840s organized by the women of the "Temperance Movement."  Several temperance banners remain from those protests, now hanging in the historic dining section of the inn. Even as the nation was turning toward prohibition in the 1920s, the "Gris" was known as a reliable source for spirits. The inn was also used as a filming location for the gothic television soap opera "Dark Shadows." The Tap Room, which features burgers, house-made soups, chowder and fish and chips, along with nightly live entertainment, has been named one of the "Top 100 Bars in America" by Esquire magazine.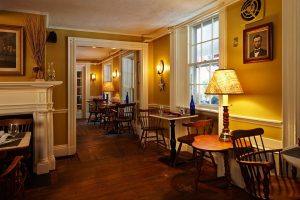 The Colonial Inn in Concord, Massachusetts was built in 1716 and was used as a storehouse for arms during the Revolutionary War. It also served as the home of Henry David Thoreau from 1835 to 1837 while he attended Harvard. It began operating as a restaurant in 1889, and today includes the Tap Room and the Village Forge Tavern. The Tap Room was once the town's "men's only" bar and still holds its original charm and detail. The Village Forge Tavern is one of the best places in the area for live music.
On Martha's Vineyard, there is no more historic restaurant than the Kelley House in Edgartown, which opened its doors in 1742. The hotel's rich history and genuine Colonial character is most evident in its pub, called The Newes From America, where you can sit alongside original rough-hewn beams, ballast brick walls and a warm hearth, while enjoying such favorites as bangers and mash, fish and chips and daily specials based on what's fresh on the island. The Newes also offers limited-release, New England draft beers.
Jameson Tavern in Freeport, Maine was built in 1779 and exudes the atmosphere of Colonial times. It opened as a tavern in 1801, and among the celebrities who have visited are President Franklin Pierce and Henry Wadsworth Longfellow. The historic Taproom is the ideal spot to enjoy a fresh Maine lobster, while sampling Dr. Hyde's Angry Ale or Jameson Brown Ale, beers brewed solely for the tavern. Be forewarned before visiting; the tavern is reputedly haunted by ghosts.
The Hancock Inn in Hancock, New Hampshire, which opened in 1789, is the oldest inn in the state. The Fox Tavern reflects that history, with wood walls, Colonial-style furniture and a wood stove creating a cozy atmosphere. The menu changes seasonally, utilizing local farmers and producers to prepare pan-roasted fish, steaks, seasonal vegetables and flavorful, rich braises such as the signature Shaker Cranberry Pot Roast.
The Dorsett Inn, located in Dorset, Vermont, has been welcoming guests since 1796. Today, the inn's rich history has been retained with wide-pine floors, period furnishings, a candlelit dining room and a restored tavern. It has been named by Yankee magazine as one of the "Top 10 Historic Inns." The tavern features local Vermont beers on tap, a selection of "bottle conditioned ales" and an extensive menu of single malt scotch, small batch bourbon, single rye whiskey and Irish whiskey.
Clearly, if you enjoy a bit of history with your burgers and beers, New England supplies a steady diet of pubs and taverns that will take you back in time.
Photos via respective website. Top photo: The Colonial Inn in Concord, MA.