Chefs Romelio Pauta and Claudio Quezada of La Zingara, the regionally-renowned restaurant in Bethel, CT, joined Host Parker Kelley in the beautifully-renovated 18th-century farmhouse featured in the Newtown, CT episode of New England Living. Here the chefs the recipes they prepared. Mangia!
Antipaste Station:
Piatto del Salumiere
Butcher block of assorted imported meats and cheeses
First Course: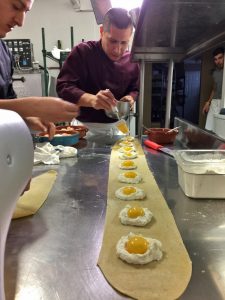 Raviolo di Uovo (Serves 6)
Ingredients:
Dough:
1 lb. all purpose flour
5 egg yolks
1 whole egg
pinch of salt
water as needed
Filling:
1 lb Ricotta
1 cup parmesan cheese
¼ cup chopped fresh parsley
sprinkle of both salt & pepper
1 egg
1 egg yolk
White Truffle Oil
Directions:
Dough: Combine all ingredients except water in a large bowl. Once all combined add water as needed to hold dough together. Roll dough out as thin as possible. Approximately 1/16" – 1/8" thin.
Filling: Prepare filling by whisking 1 egg in medium mixing bowl. Add cheeses and parsley. Sprinkle generously with salt and pepper.
Lay dough on clean flat work surface and cut to 6 large size ravioli's. Spoon filling mixture into center of dough, careful to not place filling near edges. Create a well or small nest in middle of the filling on place one egg yolk in center. Top with top layer of dough and seal edges.
Bring large pasta pot filled with water to a boil. Reduce water to simmer and add raviolis. Poach 3-4 minutes.
Brown Butter Sage Sauce
Ingredients:
¼ lb of butter
15 fresh sage leaves
Directions: Melt butter over medium heat in sauté pan. Fry sage leaves in butter about 1-2 minutes/side and until crisp but not brown. Remove from butter and place on paper towel and to let dry and crisp up and later be used for garnish.
To Plate:Transfer to one ravioli to plate and top with 2-3 Ts brown butter sauce and garnish with fried sage leaves. Drizzle with white truffle oil.
Main Course: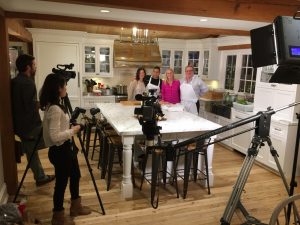 Costine Brasato (serves 6)
Ingredients:
6 large short ribs
1 large onion – chopped
1 large carrot – chopped
2 stalks celery- chopped
red wine – approx. ½ bottle
12 fresh thyme sprigs – divided
olive oil
salt & pepper
Directions:
Heat large dutch oven pan on stove top over high heat. Add 1 T Olive oil and heat. Season short ribs on all sides with salt & pepper. Add short ribs to dutch oven pan and sear on all sides till crisp brown edge starts to form. (hint: do not disturb short ribs while searing in order to form a nice crusted edge, then turn and repeat until all sides are seared but not cooked through) Remove short ribs from pan and set a side.
Heat 2 olive oil in bottom of large dutch oven and sauté onion, celery and carrot unit tender. Approx 6-8 mins.
Add short ribs back to pan and fill dutch oven with wine. Wine should be nearly covering ribs but ribs should not be submerged in wine. Add fresh thyme sprigs. Cover and braise in 4000 oven for 1 hour.
Remove ribs and coarsely puree pan drippings to create finishing sauce.
Mashed Red Bliss Potatoes
Ingredients:
12 red bliss potatoes
1 pint whole milk
1/4 lb. butter – melted
1/8 tsp. nutmeg
½ tsp. salt
½ tsp. pepper
Directions:
Place potatoes in large pot of boiling salted water with skins on and cook until fork tender. Transfer to a bowl. Combine butter, milk , nutmeg and salt and pepper. Slowly add in small batches to hot potatoes and smash with a potato smasher to incorporate. Keep adding milk mixture in batches until desired creamy consistency.
Wilted Spinach
Ingredients:
12 cups butter
4-5 cloves garlic – sliced thin
¼ cup extra virgin olive oil
1 T butter
Directions:
In a large sauté pan, heat olive oil and butter. Add garlic and sauté approx. 1 min. Add spinach and toss to coat. Continue to toss and stir until just wilted. Approx. 3 mins.
To Plate:
Spoon potato smash onto plate. Add wilted spinach and place one short rib on top. Ladle with pan dripping puree and garnish with sprig of thyme.