Have you ever watched the Rachel Ray Show or Ellen? We know; who hasn't?
When you find yourself craving artfully-prepared red meat, do you head to the nearest Ruth's Chris Steak House? We know; who doesn't?  
And do you now find yourself wondering where we're going with these two seemingly disparate questions? That is a completely valid question. Welcome to the world of Taniya Nayak.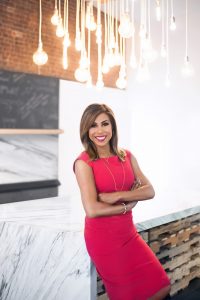 Whether you're a fan of TV talk shows or red meat – or the Food Network or HGTV, for that matter – you have, in fact, spent time in the ever-expanding world of Ms. Nayak. As the host of HGTV series' Designed to Sell, Billion Dollar Block and House Hunters on Vacation – to name of few – and a longtime designer on the Food Network's Restaurant: Impossible, Taniya first found fame with interior design aficionados and foodies. As a regular guest on the Rachel Ray Show, and as Ellen Degeneres' brand spokesperson for her "ED on Air" line of home products on QVC, Taniya has expanded her fan base…big time.
When not flying off to NYC or California to film appearances, Taniya turns her talented eye to interior design. Recent projects have included Ruth's Chris Steak Houses, both locally (in Boston and Waltham) and in more far-flung locales (Tulsa, OK and Louisville, KY).
If you live in Boston or the 'burbs, it's quite possible you've dined at a Taniya-designed restaurant even if you're not a fan of red meat. The list of Boston-area restaurants – several of which she co-owns with husband Brian O'Donnell – she's designed is lengthy: Lion's Tale, Back Bay Harry's, Bostonia Public House, Abby Lane and Julep Bar, in Boston, and Lowers Mills Tavern in Dorchester, and The Poynt in Newburyport to, once again, name a few. Taniya has also just completed the interior design of the home of Patrice Bergeron, of the Boston Bruins, whom she described as "lovely" to work with.
A native of India who moved to the Boston area as an infant when her father's career as an architect brought him to the States, Taniya's career may have her jetting around the country, but she's chosen to remain in New England. She and Brian, and a bulldog named Flynn that she is constantly posting of photos of on social media, live just outside of Boston.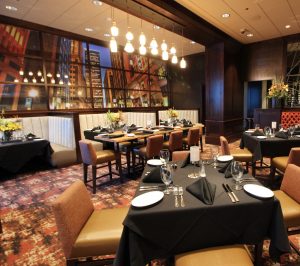 Your list of TV appearances is impressive; is there any one that stands out for you?
Working with Ellen as her brand ambassador and getting "hazed" on her show was definitely a stand out! I was scared shitless, but she just has a knack for making people feel right at home.
I guess that's why she gets paid the big bucks! haha
How do you find the time…seriously? Is it difficult being away from home so much while juggling multiple design projects in the Boston area?
All I wish for is to buy a fridge full of groceries and actually get to eat them before going back out on the road again. Is that too much to ask?
How long have you been collaborating with Ruth's Chris Steak Houses? Will you be designing additional locations?
We (TND) have been working with them for three years now. We have completed two new construction projects, completed three renovations of existing locations, and are currently working on one new construction and two more renovations as we speak. They have huge list of revamps and new locations allocated over the next several years.  We love working with them and everything they stand for. The steaks are off the charts!
The commercial spaces you've designed often have a pared down, modern aesthetic. Is the design of your home similar?
I tend to have a very masculine design aesthetic which is weird because I am a total girly girl. But to answer your question – my home is what I call Livable Modern. It's tailored, open, modern, but completely indestructible. Go ahead – spill red wine – I don't care.
What's your favorite thing about living in New England?
Everything.
Seasons, honest people, plenty of culture, great food, the best seafood anywhere, the fact that the F word is perfectly acceptable in just about any situation, and my fave part about living in NE is that my entire family is here.
Top photo by Michael Giragosian.