Since Massachusetts enacted highly-competitive film tax credits in 2005, there have been dozens of big budget movies filmed in and around Boston, including 2016's Oscar winner for Best Picture, Spotlight. Other made-in-Massachusetts movies have included The Social Network, and The Town, both of which won multiple awards, and The Finest Hours, which was co-written by Hyannis native Casey Sherman and was filmed on Cape Cod.
With budgets running into the tens of millions of dollars, all-star casts and major distribution deals, these films debuted with wide releases, opening in thousands of theaters across the country which translated into big numbers at the box office, often in just a matter of days.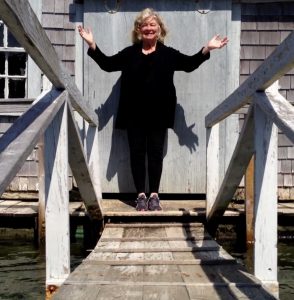 And then there's Year by the Sea, the movie based on the New York Times bestselling memoir of Joan Anderson who lives in Harwich Port, MA. The book chronicles Anderson's year of self-imposed exile on Cape Cod. While it too was filmed in Massachusetts, in locations on Outer Cape Cod, it was done on a shoestring budget. Initial funding for the indie film was raised via a Kickstarter campaign in 2014. Spearheaded by Alexander Janko, who went on to write and direct the film, as well as compose its score, Producer Laura Goodenow and Anderson herself, the people who were touched by Anderson's unabashed story of finding herself after decades of marriage and raising children, turned the dream of making the movie into a reality with their small, individual donations.
After conquering multiple hurdles, Year by the Sea was filmed in Wellfleet, Chatham, Eastham and Orleans in just a few short weeks in 2015. It stars Karen Allen (Raiders of the Lost Ark, Animal House) as Anderson, Michael Cristofer (Mr. Robot), S. Epatha Merkerson (Chicago Med, Law & Order), Yannik Bisson (Murdock Mysteries) and Celia Imrie (The Best Exotic Marigold Hotel),  along with dozens of locals who were used as extras.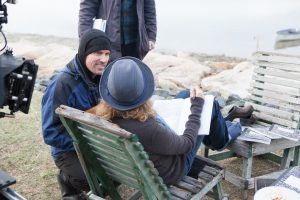 It is local Cape Codders who are now rapidly propelling Year by the Sea to a wider release.
Throughout 2016, Janko, Goodenow and Anderson entered the movie in film festivals around the country. With multiple awards and wide-spread positive press garnered while on the festival circuit, Year by the Sea opened for its first extended release in New England at Cape Cinema on May 5th and Cape Codders came out to see it…in droves.
In its first week, Year by the Sea was the third highest grossing film in New England.
While big-budget movies typically have equally big distribution deals, an indie film such as Year by the Sea needs to prove itself by drawing in audiences while in limited or, in this case, very limited release.
Based on the box office numbers at Cape Cinema, the production team was able to secure a wider release for the movie. On May 26th, Year by the Sea will open on Cape Cod at Entertainment Cinemas in South Dennis, the Chatham Orpheum, Waters Edge Cinema in Provincetown and Plimoth Cinema at Plimoth Plantation. It also opens at The Moviehouse in Millerton, NY on the 26th. Upcoming runs have been confirmed at Wellfleet Cinemas (opening on June 9th) and Avon Cinema in Providence, RI (opening June 23rd).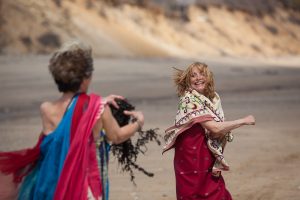 Should the film do well in these theaters, the possibility of releasing it in larger markets such as Boston, New York and L.A. is very real.
"Making a movie is hard, financing it even harder…and distribution the hardest of all!" said Janko. "We've always believed in the universality of Joan's message, so the reward is our proof-in-the-clambake—the more people who see the film on Cape Cod this Memorial Day weekend, the better shot we have at expanding nationally!" he explained of the logistics of securing additional theaters.
Janko has lovingly dubbed Year by the Sea "the little clam that can" and, with continued success in its New England showings, this movie just might prove to be the next My Big Fat Greek Wedding, the low-budget, indie film which became a "sleeper hit" and went on to gross $368M. It's a logical comparison given that Janko co-wrote the score to My Big Fat Greek Wedding.
Watch the trailer for Year by the Sea.