Cape Cod resident Lauren Wolk is an award-winning poet, artist, and author of the adult novel Those Who Favor Fire (1999, Random House) and of two middle grade novels, Wolf Hollow (2016) and Beyond the Bright Sea (2017) both published by Dutton.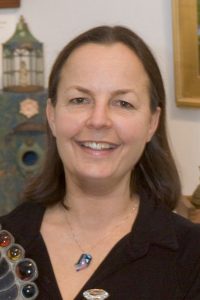 Wolf Hollow won the prestigious Newbery Honor which "is given to the author of "the most distinguished contribution to American literature for children," and recently hit the New York Time's bestseller list for middle grade readers. The book has garnered high praise including "Harper Lee has a worthy successor," (The Times) and "Wolf Hollow is beautifully written, with spare, simple language perfectly suited to its subject and setting," (New York Times). Early reviews of Beyond the Bright Sea have also been extremely positive.
Wolk's career has included chapters in community development, editing, freelance writing, teaching and arts administration. In addition to writing and creating art, Wolk works at the Cultural Center of Cape Cod, where she has been Associate Director since 2007. She was born in Baltimore and has since lived in California, Rhode Island, Minnesota, Canada, and Ohio. Since 1997, Wolk has lived in Centerville, MA. She graduated from Brown University in 1981 and married her classmate Richard in 1982. They have two sons: Ryland, who was born in 1988, and Cameron, in 1991.
Sounds as though you have a busy life; associate director of the Cultural Center of Cape Cod, award-winning poet and visual artist: How does writing fit in as a part of your daily life, and what is your writing routine?
I am a binge writer. When I work on a novel, I work on a novel. Every minute I can. When I'm not at the computer, my conscious writing-brain is on hold, waiting until I return to the work, but on some level I'm still engaged in the process. A really strong idea or combination of words will rise to the surface and demand attention until I pull off the road or step out of a meeting to jot it down so I don't forget. But I try really hard to wait until I'm at liberty to give the work my full attention, partly so I do it justice, but mostly because I don't want to know what's coming until I can write it, in real time, as the characters experience it. I never plan out a book. The one time I tried that, it felt like work. Tedious. And the results weren't so good. If I create authentic, living, complex characters and follow where they lead, we both experience the story together. It's quite an adventure. Absolutely exhilarating. I get up very early when I'm in a book, and I write until the last possible moment, before I have to jump in the shower and head for work. If I get home early enough, which is rare, I work again in the evening. But mostly I'm a morning and weekend writer. And I generally finish a draft in three or four months of intense bursts.
You began your career as a writer of adult fiction and poetry, although your last two novels are geared for middle grade children. What prompted you to make the change, and what particular nuances and challenges are involved in writing children's literature?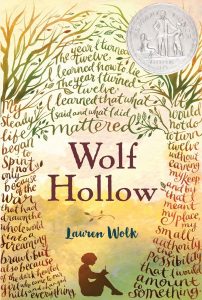 I actually didn't make the change to children's literature. I had always written for adults but I wrote Wolf Hollow as a novel, with no particular audience in mind, though I was very surprised when my agent thought it would work well as a middle grade novel. I was happy with the idea, but I didn't fully understand the opportunity until I remembered the impact that novels had had on me as a kid. They were as important to my health and development as any other form of nourishment. More important than most. And I was honored by the possibility that my books might figure in the lives of children as they came of age. My editor, Julie Strauss-Gabel, did not ask me to make any significant changes because of the age of the audience, and I was thrilled that she appreciated Wolf Hollow for what it was: a story that would resonate with many ages and was not too difficult or dark for young readers. I finished Beyond the Bright Sea before Wolf Hollow was published, and I found it easy to write without altering my process or work to suit an age level. I hope I can hold onto that focus.
Your last two novels, Newbery Honor winner, Wolf Hollow, and your latest release Beyond the Bright Sea, both take place in historical settings. How much research goes into your novels, and how much of the plot is based on actual events?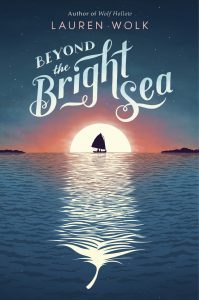 Since Wolf Hollow was inspired by and is a tribute to my mother and the farm where she grew up, I did very little research beyond talking to her and tapping my own memories of that place and the people who lived there. If I needed to know something about that time and place, I just gave her a call or did a little on-line exploring. Beyond the Bright Sea was different, since it came primarily from my imagination and, in one sense, needed no research. But it also involves places and situations that called for quite a lot of investigation. I relied heavily on libraries, which had materials I could find nowhere else, and on pictures and periodicals I found on line. It's amazing what I was able to find in the archives of libraries and the digital troves of the web: which flowers grew on the Elizabeth Islands on any given month in 1925; what life was like on the sad and lonely island of Penikese before its leper colony relocated to Louisiana; what happened on Cuttyhunk when a ship floundered on Sow and Pigs Reef. Few know about the Elizabeth Islands, but they are an historian's dream, full of stories and images I tapped as I wrote. Since I give my characters a great deal of power, following where they lead, I conduct research as I write, as it's needed, so the people drive the process. If I conduct too much research in advance, it drives the story and the characters. I prefer the reverse.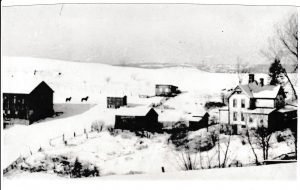 What are the memorable books that have stayed with you, and inspired you over the years?
I could name hundreds of books that fit that definition, from Goodnight Moon to Charlotte's Web, Island of the Blue Dolphins, A Tree Grows in Brooklyn, The Once and Future King, Wuthering Heights, Sophie's Choice, Cold Mountain, The Curious Incident of the Dog in the Nighttime, All the Light We Cannot See, poetry collections by Robert Frost, William Stafford, Sharon Olds, and on and on and on … and on. Even books I didn't love were part of my education as a writer, and as a person. Reading means lifelong learning. I only wish I had more time to read all the amazing books waiting for me.
And finally, what is your favorite part about living on Cape Cod?
Hmm. So many favorites. The ocean, of course. That and living near my mother. The rich arts community. The artists themselves. Always, behind it all … the ocean. Even if I go weeks without laying eyes on the water. It's there. Very powerfully there. Close by. That's important to me. When I'm too far inland, landlocked, I feel … bereft.