Please join Host Parker Kelley for the Greenwich, CT episode of New England Living TV on Sunday, May 28 at 11:30 a.m. on WBZ | CBS Boston as she spends time with Helen Maher in her beautifully-renovated Tudor-style home which is set on four acres that include the 9,000-square-foot home, a guest cottage, pool and pool house, and a greenhouse where Helen grows her own orchids.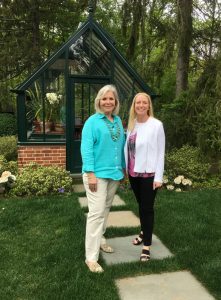 With furniture curated from three generations of hers and her husband's families, Helen has created spaces that effortlessly combine a feeling grandeur with a relaxed sense of hominess. An avid cook, Helen has room which houses her extensive cookbook collection as well as a wine cellar.
In this episode, Parker also visits with Douglas VanderHorn, AIA and principal of Douglas VanderHorn Architects, who worked with Helen on the renovation of her home; Chef Frederic Kieffer of l'escale and Artisan, who prepares dinner for the homeowners and a gathering of friends and family; and wine expert Terry Rogers who chooses the wines for the evening's dinner party.
Parker also gets a lesson in orchid growing from Helen and tries her hand at skeet shooting at a nearby range where Helen and her husband, both avid hunters, are members. Though she's never even held a gun before, Parker proves herself quite the markswoman!
New England Living TV is sponsored by Sub-Zero and Wolf appliances, Clarke Appliance Showrooms, Kohler, 7 Tide and Supply New England. Join us for the Stowe, VT episode on Sunday, May 14th at 11:30 a.m. on WBZ | CBS Boston.