In the third episode of New England Living, airing on April 16th at 11:30 a.m. on WBZ | CBS Boston, we travel to York, ME. Originally one of the earliest English settlements in the country, York later became a fashionable summer resort town and an ideal retreat for those seeking the peace of nature. Now known for its rich architectural heritage, vast and unspoiled beauty, and intriguing combination of Atlantic coastline and mountainous forests, York continues to captivate the imagination of visitors year round.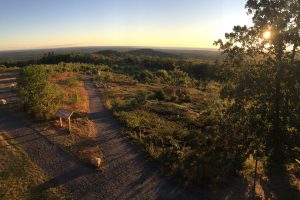 Mount Agamenticus Conservation Region
Mount Agamenticus is a coastal mountain nestled among 10,000 contiguous acres of conserved forest, wetlands, ponds and streams to the north of York. With scenic vistas of both the Atlantic Ocean and the White Mountains, and over 40 miles of trails that allow sustainable public use of this protected area, the Mount Agamenticus Conservation Region is a great place for families, and serious hikers and cyclists alike to connect with nature. While most of the trails are designated moderate to difficult, a summit picnic area is accessible by car, and a new, universal access trail that will offer vistas from around the summit for all is under construction. Open year round from dawn to dusk, with seasonal restrooms and drinking fountains.
Nubble Lighthouse and Sohier Park: Sohier Park Road
Widely considered a must see for anyone travelling to York, the Cape Neddick Light Station—fondly nicknamed "Nubble Lighthouse"—is one of the most iconic lighthouses in North America, and certainly one of the most picturesque. A member of the National Register of Historic Places, the lighthouse was built in 1879 to protect mariners from Maine's rocky coastline, and was maintained by lighthouse keepers until 1987, when its aids to navigation (light and horn) were automated by the Coast Guard. Nubble Light is perched upon a rocky island, or "nub," a few hundred feet from shore, and although it isn't open to tours, it makes a stunning backdrop for year-round visitors to neighboring Sohier Park. The park welcomes picnickers, scuba divers, fishermen, artists, photographer, dogs (leashed, please), and birdwatchers. Gift shop and rest room open seasonally.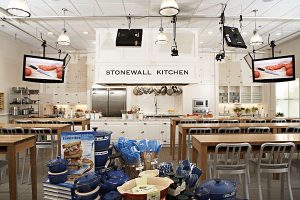 The Cooking School at Stonewall Kitchen: 2 Stonewall Lane
Purveyors of the finest American jams, jellies and other pantry delights, Stonewall Kitchen got their start at a farmer's market in nearby Portsmouth, NH selling their now famous Wild Maine Blueberry Jam.  In 2000, they moved their headquarters to York, and are now one of the most visited tourist destinations in Maine. In addition to browsing the company store, visitors can enjoy the bounty of Maine's local farms at the café, relax in an Adirondack chair in the impressive gardens or watch production of Stonewall Kitchen's goods from a viewing gallery. Those interested in picking up some culinary tips from professional chefs can register for a 90-minute cooking class in Stonewall Kitchen's state-of-the-art demonstration classroom. Classes are offered year round. Check their website for the complete course schedule and online registration.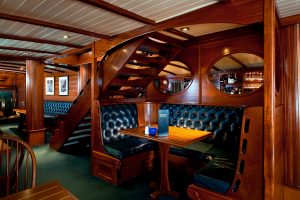 Ship's Cellar Pub at the York Harbor Inn: 480 York Street
Those who want a taste of Maine's rich boatbuilding heritage won't want to miss a chance to drink or dine at the Ship's Cellar Pub, located in the lower level of the York Harbor Inn. An exquisitely crafted interior of wooden joinery, mahogany decking, and shiplap walls pairs with porthole windows and booths in navy leather to give guests the feeling that they are dining on a very elegant classic yacht. Open Monday-Saturday for lunch, 7 days a week for dinner, with frequent live music and specially-priced cocktails and hors d'oeuvres weeknights from 4-6.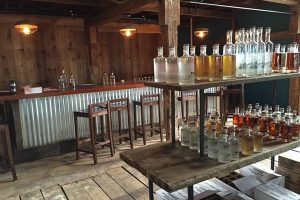 Wiggly Bridge Distillery: 441 Rt. 1
This family-run craft distillery takes its name from a Maine landmark: the smallest pedestrian suspension bridge in America. But what started as a fun challenge for the father-son duo —could they distill their own whiskey? — has become a passionate life pursuit. This pursuit has yielded an award winning Small Barrel Bourbon and White Whiskey, as well as gin, vodka, and rum spirits that are distributed throughout northern New England. Take a tour of their rustic distillery, housed in an old barn, for a spirit tasting and a peek at their small batch process and handmade copper still.
Old York Historical Society: 3 Lindsay Rd., York Village
For those interested in York's architectural and cultural heritage, which dates all the way back to its beginnings as a 17th-century frontier outpost, the museums of the Old York Historical Society are not to be missed. The organization owns and conserves historic buildings and grounds throughout York, including several colonial house museums, an 18th-century one-room school house, a tavern, a colonial era waterfront shipping warehouse, an exhibition space displaying artifacts from the Historical Society's collection, and an 18th-century jail, The Old Gaol, which is a National Historic Landmark. Visit their website for more information about their various properties and tour schedules.
Photo of Nubble Lighthouse above by Jeremy D'Entremont.