If a trip to Cape Cod is on your summer itinerary, consider spending the day – or longer – in Provincetown. The fun and funky village at Cape's end has rich history as both an artists' colony and fishing town. Whether you're a family with young children or enjoying a weekend with a group of friends, you'll find an endless list of things to do. Here are some of our faves.
Far Land on the Beach: Province Lands Road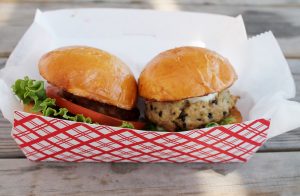 With an all-new bath house at Herring Cove Beach in 2013 came altogether new approach to the basic beach shack. Far Land on the Beach, an outpost of in-town Far Land Provisions, offers beachgoers a menu of upscale take-out food served under a pergola over the expansive deck. During the day, it's a bathing-suit kind of crowd while in the evening it's a mix of locals and visitors who come to savor the food as much as they do the views. The Sunset Music Series on Wednesdays and Sundays is absolutely epic.
Dolphin Fleet Whale Watch: 307 Commercial Street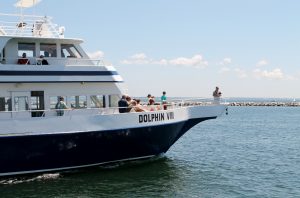 Yes, we know it's touristy; so what. Even native Cape Codders can't help but be awed by the, well, awe-inspiring view of a pod of 30-ton humpback whales frolicking so nearby that it's not remotely usual to get hit with splashing water. A whale watch really is that cool. The Dolphin Fleet has several vessels and runs multiple trips per day making it easy to hop on one without too much advance planning. Reservations are good idea, but if one trip is full just grab lunch while you wait for the next boat. Trips are three-four hours long which can be a bit long for the littlest ones. Bring sunscreen!
Province Lands Visitor Center: 171 Race Point Road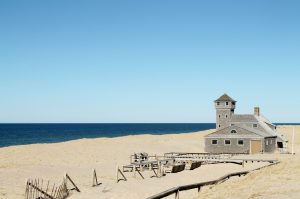 If you're day-tripping to Provincetown and don't have the time to fully explore everything there is to see within Cape Cod National Seashore, a quick  stop to take in the view from atop the Province Lands Visitor Center is a must-do. The wraparound, second-level deck offers 360-degree views of Provincetown and the surrounding waters as well as the Old Harbor Life-Saving Station and Pilgrim Monument. There's also a small shop with a curated selection of toys, books and gifts. Ample parking, restrooms and everything is free of charge; perfect.
Hike to Hatches Harbor
You won't find any hills on the trail to Hatches Harbor, so maybe it's more of a "walk" then a "hike." You also won't find any people. This long and winding road – it's a former fire road – is one of the hidden gems of Cape Cod National Seashore and it's nearly deserted even on a picture-perfect summer day. Park at Herring Cove Beach and follow the directions to the trailhead. If time permits, plan on spending several hours and walking all the way out to the ocean. Mind the tide or you'll be getting your feet wet on the way back (start about an hour before low tide). Even if you can only spare a half hour or so, a saltwater creek winding through dunes and incredible views of the Pilgrim Monument still make this a worthwhile endeavor.
When Cape Cod National Seashore was established in 1961, much of the barren dune-scape of the Outer Cape became off limits to the general public except, that is, for Art's Dune Tours. Because they were already in operation, Art and his fleet of woody wagons were grandfathered and allowed to continue ferrying people out over the sand. Today it's Art's son, Rob, at the helm and the woody wagons have been replaced by a fleet of new Suburbans. Other than that, not much has changed which is exactly why we love Art's.
Lobster Pot: 321 Commercial Street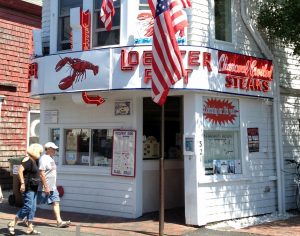 There's just something inherently fun about the Lobster Pot. The décor is kind kitschy and the crowds can be annoying, but the salty attitude at the Pot is just so P-town. The second story – a.k.a. Top of the Pot – is the place to be at this waterfront restaurant; better views, fewer people, more locals. The lengthy menu is a combination of classic clam-shack cuisine, such as raw bar, clams casino, boiled lobster and fried seafood, as well as more creative items like Russian oysters, P-Town paella and lobster arancini.
Photos by Jennifer Kain DeFoe.