By Lannan M. O'Brien
Nothing beats a homemade pie fresh out of the oven. But let's face it: when your to-do list seems to grow by the minute, especially before hosting family gatherings – like a big Thanksgiving feast – baking Grandma's made-from-scratch recipe might not be a priority.
Luckily, we live in a region filled with bakers who have mastered the art of pie making. Take a trip to these top bakeries for a slice in every state that might just be — dare we say it? — as good or better than the family recipe.
Somerville, Massachusetts

The founder of this pie shop, Renee "Petsi" (pronounced peet-see) McLoed, started baking pies in her grandmother's kitchen, and carried the tradition into her business. Now owned by Jill Rembly, Petsi Pies sells a delicious assortment of sweet dessert pies — think classics like apple, berry and pumpkin (seasonal), plus unique additions like Chocolate Bourbon Pecan and a southern-inspired Brown Butter Pecan — as well as savory chicken pot pie and quiches, all of which are made fresh daily with natural ingredients. Long lines are common for this locals' favorite, but it's worth the wait. Note: a selection of vegan fruit pies is available. 
Providence, Rhode Island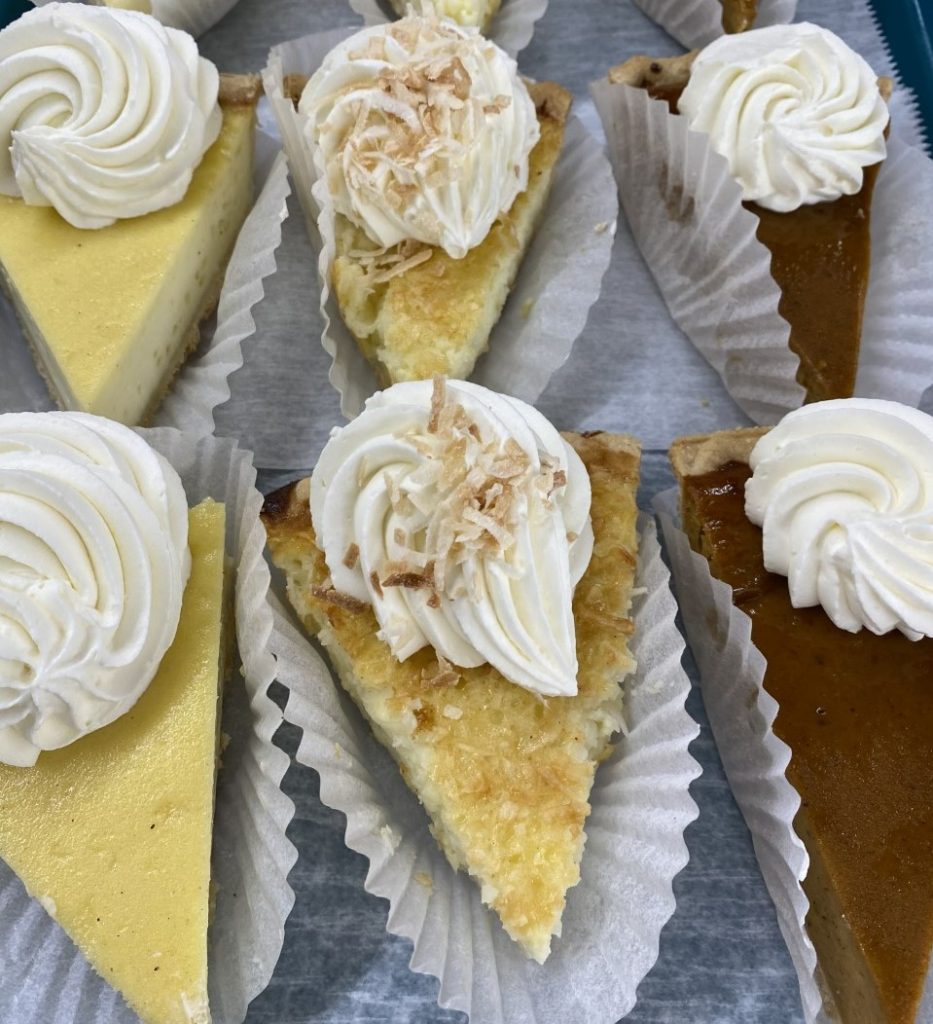 With over 70 years of operation, Borrelli's is an institution in the Providence community. The business still uses family recipes passed down through generations, dedicated to delivering the same level of quality since its opening in 1948 — and the locals have noticed. From their pizza, calzones and prepared takeout meals to their pastries and pies, Borrelli's is the epitome of authentic Italian. Regulars rave about the meat pies and mini spinach pies, but their selection of sweet pies (think custard and cream pies) is equally delicious.
East Hartford, Connecticut
Since opening in 2006, this family-owned business has become a destination for pie lovers who line up early for their fresh-baked creations. Granny's sells wholesale pies in various states of preparedness along with fresh pies sold directly to customers, which can be frozen in their containers if needed. The sweet selection of fruit and cream pies, including seasonal specials, makes for a difficult decision, but the pecan pie and cream varieties are local favorites.
Woodstock, New Hampshire
Named the Best Pie in New Hampshire by Yankee Magazine, Woodstock Pie & Coffee is a little spot in the White Mountains with big flavor. In addition to delicious drip coffee, smoothies and specialty drinks, the shop serves a variety of pastries, quiches and pies. For dessert, you'll find apple, peach, fruits of the forest, lemon meringue and a cookie pie, to name a few, and dinner pies include creative offerings like chicken parmesan and roasted veggie pot pies. Note: all fruit pies are vegan.
Underhill, Vermont
Partners Jamie and Paula Eisenberg started selling pies out of their garden shed in 2009 in an effort to "keep out of the poorhouse." Little did they know their honor-system business would not only thrive for years to come, but become a treasured community staple. While Poorhouse Pies has since changed hands to local Suzanne Tomlinson and moved to a larger building (which resembles the original shed), the spirit of the business and quality of the pies — and beloved doughnuts — remains the same. Sweet pies in every flavor, sold with an option of crumb topping or double crust, along with cheesecakes, doughnuts and quiches make for a mouthwatering menu. It's worth trying something savory, too: the Chicken Enchilada and Pulled Pork Mac n' Cheese Pies are not to be missed. Note: gluten-free pies made daily; vegan pies can be ordered in advance.
Belgrade Lakes, Maine
Stop for breakfast or lunch at this made-from-scratch bakery, then take a pie (or three!) home with you. Coffee lovers will be impressed by the quality of the locally-roasted brew. As for food, well, you can't go wrong with anything on the menu, from the breakfast sandwiches on fresh-baked bread of the day to the homemade soups and sandwiches. Whatever you eat, don't forget about the pie, known for its "particularly flakey crust." The menu features a rotating selection of dessert and dinner pies, the former made with local fresh berries and fruit. Options are subject to change, so arrive with an open mind.