By Kelly Chase, Allie Herzog, Kiley Jacques, and Katy Kelleher
New England is home to a number of top chefs and mixologists. For scratch cuisine and genius cocktails plan to indulge at a few of these select hotspots.
Maine
Black Birch
This hip and cozy restaurant, located in the heart of Kittery, serves standbys with an artisanal twist, like grilled cheese and tomato soup made with fresh juicy tomatoes and rustic bread, and pork shank with "whipped and chipped" parsnips and cipollinis. While the pierogies are on the small plates menu, these fried potato dumplings (served with sausage, hash and sauerkraut) would make a mighty nice meal on their own.
2 Government St., Kittery, ME, 207-703-2294, theblackbirch.com
Chaval
Located in Portland's West End neighborhood, Chaval is an old school-style brasserie that serves unfussy Spanish- and French-inspired seasonal cuisine. While vegetarians will do fine ordering the harvest salad or the salt-roasted celeriac with zucchini, meat-eaters will be particularly pleased with the pork-heavy menu. Try the pork belly "a la Plancha" (with chickpeas and greens) or a plate of classic Jamon Serrano (dry cured ham). Save room for the churros, which come with hot chocolate sauce and salted sugar. 
58 Pine St., Portland, ME, 207-772-1110, chavalmaine.com
Eventide
Some like their lobster rolls dressed with butter and chives, while others swear by mayo. Eventide does things a little differently, offering up succulent chunks of lobster meat lightly coated in brown butter and served in a soft-steamed rice bun. The sunny and casual seafood joint is an excellent choice for either lunch or dinner, but no matter when you go, don't skip the oyster flight. Watch your mollusks get shucked and then try tasting the difference in provenance—it's a surprisingly fun way to get to know the Atlantic Ocean.
86 Middle St., Portland, ME, 207-774-8538, eventideoysterco.com
Tao Yuan
Everything at Tao Yuan, from the savory dashi to the juicy slices of aged duck breast, tastes somehow delicate and light. This small-plates joint makes the most of subtle flavors and prioritizes complexity and elegance. The best way to enjoy chef Cara Stadler's food is through the tasting menu, which changes nightly and takes you on a culinary tour from Beijing to Berkeley to Versailles (all places where Stadler has cooked). While each dish feels complete unto itself, it's the passage through the various courses—from hot bite to cold, dumpling to oyster—that makes a visit to Tao Yuan feel particularly decadent.
22 Pleasant St., Brunswick, ME, 207-725-9002, tao-yuan.me
The Lost Kitchen
It's not easy to get a table at The Lost Kitchen, but the wait is worth it. After calling ahead and requesting a dining date, you'll doubtless find yourself counting down the days until you can drive up to Freedom, Maine, and sample chef Erin French's inspired menu. Housed in an old mill, the Lost Kitchen is more than just a restaurant—it's a dining experience. Over the course of three or four hours, you'll eat "simple food," as French describes it, in the intimate company of just a few like-minded diners. It's like going to a fantastic dinner party—and your hostess just happens to be a world-renowned chef.
22 Mill St., Freedom, ME, 207-382-3333
Primo
For almost 20 years, Primo has been in the vanguard of the eat-local movement; chef Melissa Kelly was doing the farmer thing long before it was cool. Produce is grown and harvested on the property, and what kitchen scraps aren't used in their delectable Italian dishes are fed to the pigs (who appear on diners' plates when it's their turn—such is the circle of farm-to-table life). Diners can expect classic Mediterranean flavors with a rural twist, like pasta carbonara with prosciutto, broccoli and kale or pork saltimbocca with roast garlic mash, garden spinach, prosciutto and mushrooms.
2 Main St., Rockland, ME, 207-596-0770, primorestaurant.com
Aragosta
Perched on the edge of an island in a picturesque cedar-shingled structure, Aragosta looks at first glance like it might offer up heavy Old World-style food to match its vintage exterior. This isn't the case. Helmed by chef Devon Finigan, this upscale-yet-down-home eatery serves sophisticated and thoughtful farm-to-table fare, like bitter greens salads with citrus and chevron or seared duck breast with roasted cherry sauce. It's also one of the few places on this list where you can watch lobster boats cruise in and out of the harbor as you feast on their daily catch.
27 Main St., Stonington, ME, 207-367-5500, aragostamaine.com
Vermont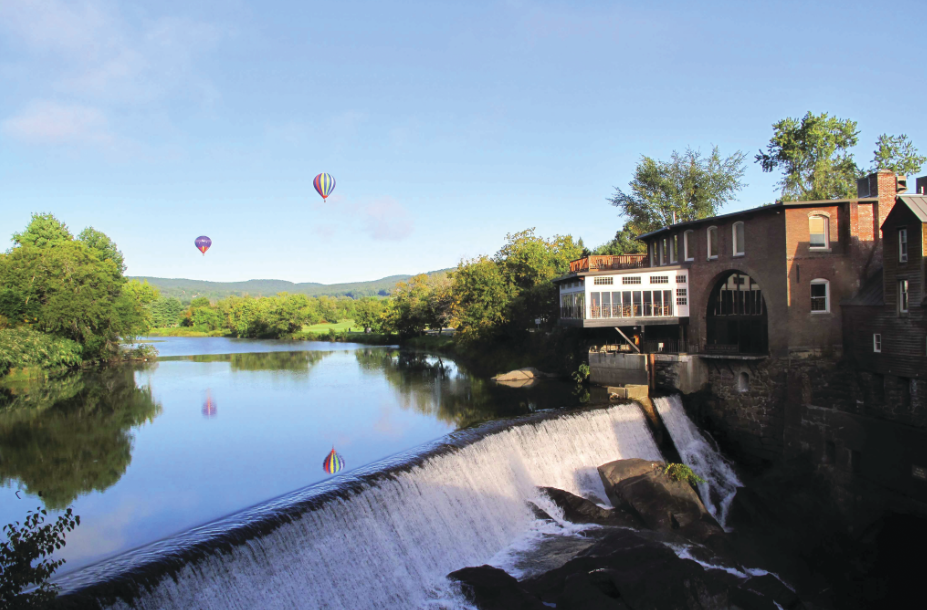 Hen of the Wood
For a fine dining experience in a rustic-chic setting of wood tables and pendant lights, this James Beard Award-nominated restaurant delivers. Following the seasons, chef/co-owner Eric Warnstedt prepares farm-to-table fare showcasing Vermont's local purveyors. As the menu changes daily, each visit offers something unique—and everything is made better with butter by Ploughgate Creamery.
55 Cherry St., Burlington, VT, 802-540-0534; 92 Stowe St., Waterbury, VT, 802-244-7300, henofthewood.com
Leunig's Bistro & Café
Said to have "the panache of Paris," this downtown Burlington institution has an Old World vibe and a French-inspired menu. The beef bourguignon and white truffle frites garner consistent praise, and the charcuterie board is a popular appetizer. Live jazz adds to the Euro appeal.
115 Church Street
Burlington, Vermont, 802-863-3759, leunigsbistro.com

ZenBarn
Housed inside a timber-frame barn, this hip haven specializes in locally, sustainably and ethically sourced ingredients. Prime cuts of beef, fresh garden salads and craft brews are but a few of the offerings that inspire regularsto  return. Homespun folk tunes contribute to the down-home atmosphere.
179 Guptil Road, Waterbury Center, VT, 802-244-8134, zenbarnvt.com
Latchis Underground
This speakeasy-style joint has just recently joined Burlington's culinary scene. Located in the landmark 1938 Latchis Hotel and Theatre, it offers unique ambiance. Buffet dinners are featured on Friday and Saturday nights, and pub fare accompanied by live music is served in the lounge.
50 Main St., Brattleboro, VT
The Gryphon
Enjoy simple, unpretentious cuisine while peering over Queen City Park through the large windows that characterize the Historic Vermont House building. The American bistro and neighborhood lounge dishes casual pub fare in an architecturally rich setting. (The seafood grits are a perennial favorite.)
131 Main St., Burlington, VT, 802-489-5699, gryphonvt.com
Misery Loves Co.
Rustic decor and experimental cuisine distinguish the bistro helmed by chef-owners Nathaniel Wade and Aaron Josinsky—two-time James Beard Award nominees for best chef in the Northeast. Labor-intensive, slow-cooked dishes, include the likes of house-made squid-ink farfalle.
46 Main St., Winooski, VT, 802-497-3989, mlcvt.com

Prohibition Pig
Popular for its Southern-inspired barbecue made with Vermont ingredients, "Pro Pig" celebrates all things pork. In addition to its own line of fruity IPAs (which pair well with the pork cracklins and maple baked beans), the place is home to one of New England's largest craft-beer selections.
23 S. Main St., Waterbury, VT, 802-244-4120, prohibitionpig.com
Waterworks Food + Drink
Housed in the Champlain Mill on the Winooski River, this 200-seat hub is warm with exposed brick walls and heavy timber posts and beams. Small plates feature Mediterranean flavors and original cocktails invite conversation. From-scratch pickles and breads win foodies' favor.
20 Winooski Falls Way, Winooski, VT, 802-497-3525, waterworksvt.com
The Mill at Simon Pearce
Test Simon Pearce's handmade glassware and pottery at their restaurant inside a restored 19th-century mill overlooking the Ottauquechee River. The recipient of Wine Spectator's Award of Excellence, and voted one of the most romantic restaurants by Travel & Leisure, The Mill promises a memorable occasion.
1760 Quechee Main St., Quechee, VT, 802-295-1470, simonpearce.com/our-restaurant
The Artisan at Four Columns
At the Artisan at Four Columns, local cheeses and meats take center stage in dishes such as the Maplebrook Farm burrata and the Cherry Rail Farm pork loin. The atmosphere is enticing: the classic white exterior and bright red door invite you in and the roaring fireplace on chilly evenings encourages you to stay awhile.
21 West St., Newfane, VT, 802-365-7713, fourcolumnsvt.com
New Hampshire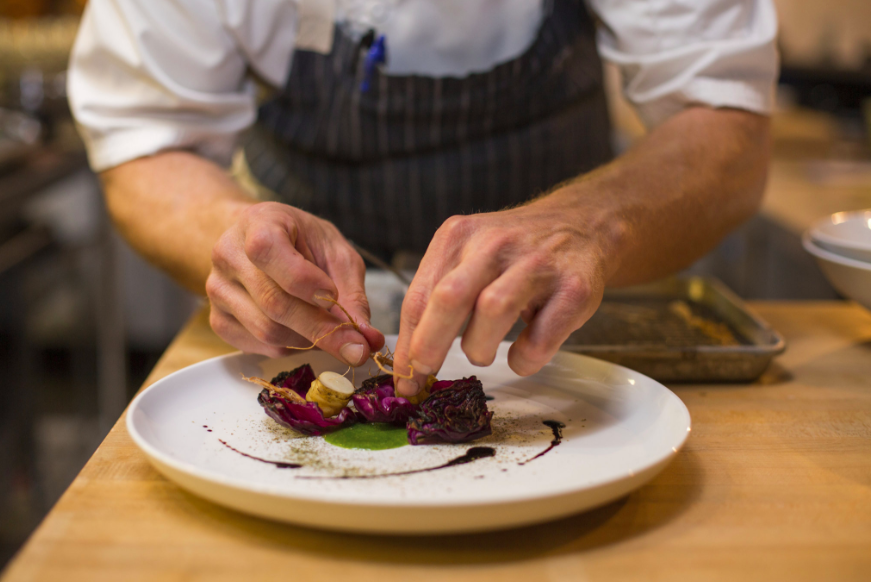 Moxy
Chef Matt Louis pays homage to the foods and culinary traditions of northern New England. Twice nominated for the James Beard Best Chef Award, Louis's famed American tapas draw diners from far and wide. A foodie destination, the place is beloved for its locally inspired, seasonally focused menu. The New England Dinner 2.0 is a must: corned beef brisket, napa cabbage, crisp potatoes, maple mustard and pickled veggies.
106 Penhallow St., Portsmouth, NH, 603-319-8178, moxyrestaurant.com
Applecrest Farm Bistro
Situated in the midst of a working farm, the Applecrest Farm Bistro serves meals made with ingredients sourced right outside the door—bringing the farm-to-table concept to a whole new level. The day's harvest inspires chef Derek Clough's flavor-forward dishes and desserts. Stop into the farm store for a few cider donuts to go!
133 Exeter Road, Hampton Falls, NH, 603-926-0006, www.applecrest.com
Bar One
House-made potato chips, shrimp and jalapeño grits, fried chicken and sweet potato waffles with candied bacon and bourbon maple syrup, and mac 'n cheese flatbread win kudos at this popular gastropub. An inspired selection of craft cocktails includes the Botanical Betty and a watermelon mojito.
40 Nashua St., Milford, NH, 603-249-5327

Black Trumpet
This upscale bistro and wine bar enjoys a location in the heart of Portsmouth's old port and features bold flavors from around the world. Pop into STOCK + SPICE next door to browse their curated selection of spices and rubs and for a copy of Black Trumpet: A Chef's Journey Through Eight New England Seasons by chef/owner Evan Mallett.
29 Ceres St., Portsmouth, NH, 603-431-0887, blacktrumpetbistro.com
Stages at One Washington
New England is celebrated on every front at this New Hampshire gem, where the focus is on foods that have been regionally "farmed, foraged and fished." Located on the third floor of a historic mill, the place is celebrated for chef Evan Hennessy's progressive approach to flavor.
One Washington St. #325, Dover, NH, 603-842-4077, stages-dining.com
The District
Its historic downtown Portsmouth location and menu featuring eclectic dishes made with ingredients from 27 local farms help put this place on the map. During the warm-weather months, guests are privy to the city's largest outdoor dining patio.
103 Congress St., Portsmouth, NH, 603-501-0586, thedistrictnh.com
Rhode Island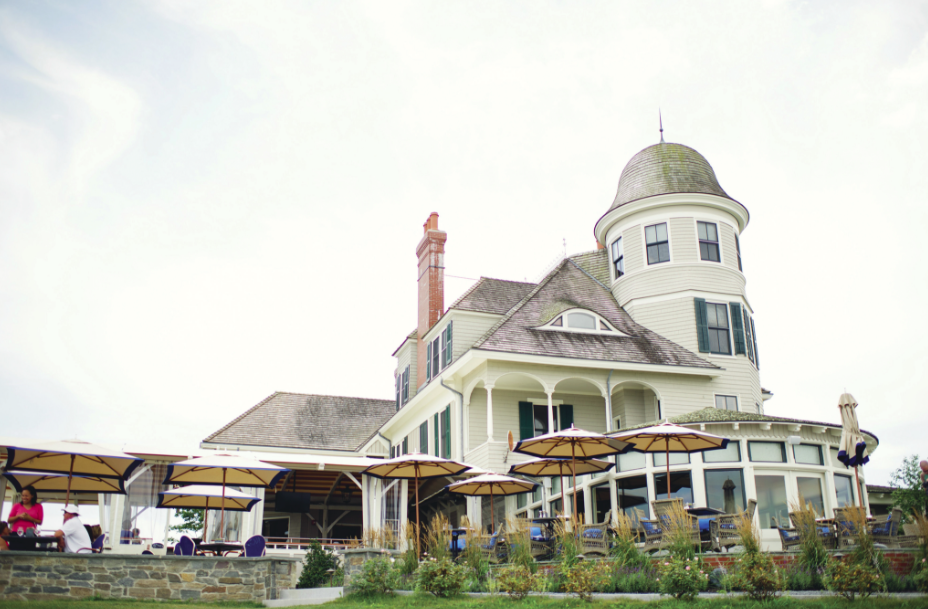 Castle Hill Inn
On Ocean Drive in Newport, this iconic inn has unmatched views of Narragansett Bay. Castle Hill Inn is home to two restaurants: the formal indoor Dining Room and The Lawn, a seasonal and more casual dining experience. Fine dining connoisseurs can enjoy delicacies such as caviar, oysters and beef tartare in the Dining Room, while The Lawn offers more laid-back New England classics such as chowder and lobster rolls.
590 Ocean Drive, Newport, RI, 888-466-1355, castlehillinn.com
Chapel Grille
Located in a circa-1891 chapel, Cranston's Chapel Grille serves top-notch Mediterranean Italian cuisine with a focus on local ingredients and seasonally inspired dishes. Diners have multiple spaces to choose from when visiting–each with a unique design concept–including the restaurant's cathedral bar with soaring high ceilings and a striking chandelier; the main-level conservatory room; the skyline terrace with floor-to-ceiling windows and doors for an al fresco-style experience; as well as the lofted mezzanine (perfect for rehearsal dinners) and a large, lower-level Wine Salon, which offers a private bar and access to the venue's garden terrace boasting panoramic views.
3000 Chapel View Blvd., Cranston, RI, 401-944-4900, chapelgrilleri.com
White Horse Tavern
Established in 1673, "America's Oldest Restaurant" continues to serve locally sourced food from nearby farms and waters. The restored colonial building, which some believe is haunted, has a rich history as a gathering place for colonists, soldiers and early politicians and businessmen. After a cup of their signature chowder, try the Duck Scotch Egg and Crispy Heritage Pork Belly.
26 Marlborough St., Newport, RI, 401-849-3600, whitehorsenewport.com
Clarke Cooke House
The Clarke Cooke House in Bannister's Wharf is the place to be seen. There are multiple dining rooms, including the Candy Store that  with its exposed, 18th-century woodwork and warm lighting has a casual bistro vibe. Open May through October, The Summer Porch's tables have harbor views.
26 Bannister's Wharf, Newport, RI, 401-849-2900, clarkecooke.com
Simpatico
While Newport tends to get all the glory, those in the know head over the bridge to the quaint little town of Jamestown, home to one of the best outdoor and open-air eateries around, Simpatico. Ditch the car and take the Newport-Jamestown Ferry during summer months, which drops passengers off just steps from the restaurant.
13 Narragansett Avenue, Jamestown, RI, 401-423-2000, simpaticojamestown.com
Matunuck Oyster Bar
Matunuck Oysters are harvested from Potter Pond, right on the restaurant's premises. In addition, they proudly serve a selection of other raw bar and seafood from around the region, including oysters, clams, shrimp and lobster.  Seafood is the obvious choice here, and you really can't go wrong with any of it. Be prepared to wait a bit during the summer months, when traffic sometimes backs up all the way down the road to get in. Snag a seat at the bar or by the pond to enjoy a cocktail and a summer sunset.
629 Succotash Road, South Kingstown, RI, 401-783-4202, rhodyoysters.com
Coast Guard House
One of the most recognizable Rhode Island landmarks, the Coast Guard House sits directly on Narragansett Bay, with views of the rocky surf from all angles. While it's undoubtedly one of the best places to spend a summer afternoon (while sipping on a mudslide of course), it's a true year-round dining destination, serving up a mix of locally sourced land and sea fare. Their candlelight dinner series, local beer and wine dinners and Wellington Wednesdays are among their special offerings throughout the year.
40 Ocean Road, Narragansett, RI, 401-789-0700, thecoastguardhouse.com
Ella's Fine Food & Drink
The second restaurant by Jeanie and James Roland, this downtown Westerly eatery is known for its "from scratch" approach. Chef Jeanie's cooking has attracted quite a few fans, like Watch Hill summer resident Taylor Swift, for one. You'll find everything from nostalgic comfort foods like grilled cheese and fried chicken to hearty Italian pastas to Asian- and French-inspired dishes like pork buns and steakfrites. And if that's not enough variety for you, make sure you save room for dessert, with an option named Just Chocolate, do you even need to think about it?
2 Tower St., Westerly, RI, 401-789-0700, ellasfinefoodanddrink.com
Los Andes
The family-run restaurant, named after the mountain chain in South America, has received national recognition for both their Bolivian and Peruvian food and their hospitality. The menu is filled with authentic and flavorful beef, chicken, rice and seafood dishes, and the Ceviche Martini and paella are popular crowd favorites. Adventurous diners can opt for dishes such as beef tongue or marinated beef heart.
903 Chalkstone Avenue, Providence, RI, 401-649-4911, losandesri.com
Oberlin
Offering fine dining with a neighborhood feel, this cozy downtown spot comes from husband-and-wife duo Heidi and Benjamin Sukle, who also own Birch. Seafood that comes directly from the local docks highlights the menu, as do the house-made pastas. Their small plates-style dishes are best enjoyed alongside a craft beer, glass of wine or sake.
186 Union St., Providence, RI, 401-588-8755, oberlinrestaurant.com
Wurst Kitchen
Despite its name, Wurst Kitchen, serving mainly house-made sausages and other cured meats,  is actually the best. Located inside Chez Pascal, it started as a hot dog truck and after attracting a cult following morphed into a permanent extension of the restaurant. Folks can get their fix day or night, Tuesday through Saturday at either the Wurst Window for takeaway or by scoring a seat in the very limited indoor space. Reservations are taken for the first seating of the night only, and calling ahead is also an option. 
960 Hope St., Providence, RI, 401-421-4422,  wurstkitchen.com
Massachusetts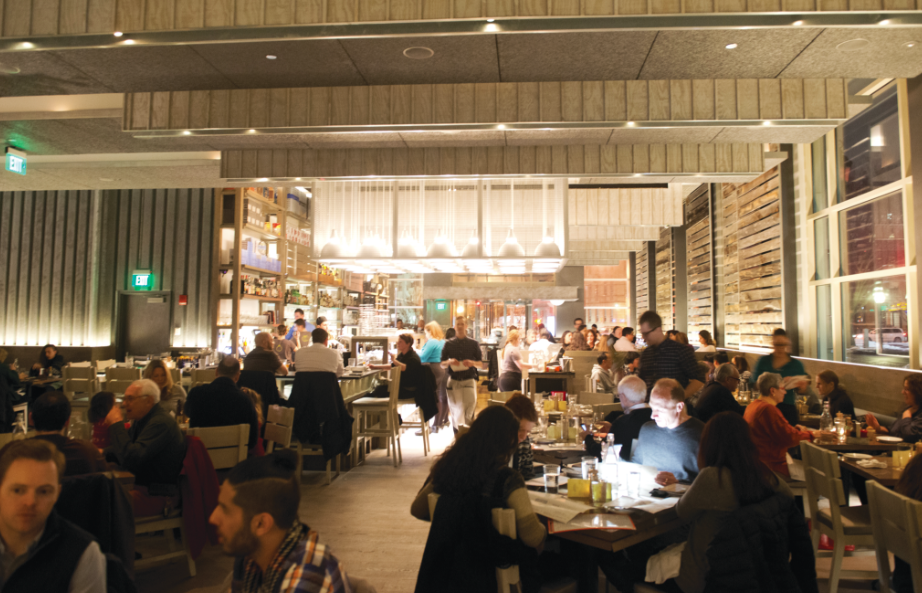 Island Creek Oyster Bar
Island Creek  Oyster Bar in Boston is a popular destination for fresh takes on locally harvested seafood. The concept was a result of the collaboration between renowned chef Jeremy Sewall and founder of Island Creek Oyster Farm in Duxbury, Massachusetts. Of course, the menu includes the South Shore-grown bivalves, but also rotating fish selections—from monkfish schnitzel to East Coast halibut served over dirty Carolina rice, tasso ham, charred scallion aïoli.
500 Commonwealth Avenue, Boston, Massachusetts, 617-532-5300, islandcreekoysterbar.com

Proprietors Bar and Table
If you're the type to enjoy surprising and creative dishes, the dining experience at Proprietors Bar and Table on Nantucket won't disappoint. The concept for the restaurant's menu is built off the history of the island as a former whaling capital, where crewmembers and captains would arrive from destinations across the globe often bringing treasures with them. From Smoked Beef Tongue (everything bagel spice, hashbrowns, trout roe, dill and horseradish cream) to Cannelloni of Braised Short Rib (parsnip cream, aged cheddar, chanterelle mushrooms) be prepared for a culinary journey.
9 India St., Nantucket, MA, 508-228-7477, proprietorsnantucket.com
Deuxave
On the corner of Massachusetts and Commonwealth Avenue, chef Chris Coombs and restaurateur Brian Piccini have created a restaurant worthy of any special occasion. The modern French dishes are created with local ingredients, such as the Scituate lobster gnocchi with mushrooms, green grapes, curried walnuts and pearl onions in a citrus fricassee. Each dish is so artfully plated, you'll be tempted to break out your camera. Arrive earlier than your reservation to have a drink at the bar, which fills up on weekend nights and after work.
371 Commonwealth Avenue, Boston, MA, 617-517-5915, deuxave.com
Sportello
The atmosphere is in the name—Sportello is Italian for counter service, and is famed chef Barbara Lynch's trattoria-style eatery in Fort Point. The restaurant has stood the test of time, opening close to 10 years ago, and became well-liked for its freshly made pastas and polentas and authentic Italian. Downstairs is another creation by Lynch—Drink, a popular spot to descend to before or after dinner.
348 Congress St., Boston, Massachusetts, 617-737-1234, sportelloboston.com
Pellana
This unassuming steakhouse is a North Shore gem. Bring a group for a special occasion, chef Daniel Mammola has designed a menu that will please all palates. The list of over 400 imported and domestic wines got the attention of and the Award of Excellence from Wine Spectator. There are steak, chops and fish options, plus a collection of tasty add-ons under the heading "to smother your steak with," this place knows meat lovers.
9 Sylvan St., Peabody, Massachusetts, 978-531-4800, pellanasteakhouse.com
Matadora
COJE Management Group—responsible for Yvonne's, Ruka, and Lolita—opened Matadora last year on the North Shore. Culinary director Tom Berry's dishes include Spanish-inspired tapas and wood-fired steaks and fishes. Located inside the Hilton Boston/Woburn hotel, the restaurant's dramatic interior design and busy open kitchen makes clients feel part of the pulse.
2 Forbes Road, Woburn, Massachusetts, 781-932-0999, matadorarestaurant.com
Uni
Uni inside the Eliot Hotel on Commonwealth Avenue in downtown Boston is an "izakaya," a Japanese bar with unfussy dishes served to pair with drinks. Chefs Ken Oringer and Tony Messina have built a menu of not-your-typical sushi rolls, such as the lobster BLT with brown butter mayonnaise, pickled celery, as well as a variety of small hot plates, like Chiang Mai Duck Carnitas, to go along with the craft cocktails and sake offerings. The late-night ramen that has its own dedicated fan base.
370 Commonwealth Avenue, Boston, Massachusetts, 617-536-7200, uni-boston.com
Bancroft Burlington
A 32-seat bar plus three cocktail areas, including one with a library theme, leaves plenty of space to grab a drink at the Bancroft. The inventive cocktail program, which utilizes housemade bitters and tinctures, changes quarterly, taking its cue from the New England seasons. After an appetizer from the raw bar, consider the skirt steak with charred avocado or one of many steak cuts. An entire gluten-free menu makes it easy for those with dietary restrictions.
15 Third Avenue, Burlington, Massachusetts, 781-221-2100, the-bancroft.com
Rye Tavern
At the end of a long dirt road is Plymouth's Rye Tavern. The historic building, erected in the 1790s, has all the charm of a historic dwelling and offers a cozy setting for dinner. Executive chef Andrew Swain adapts his menu every few weeks and uses the freshest ingredients from the property's surrounding gardens. In the warmer months, the patio opens up and the heated outdoor bar allows guests to linger under the stars for a little longer.
517 Old Sandwich Road, 508-591-7515, ryetavern.com

C Salt
Chef chef Jonathan Philips changes his menu at this Cape Cod restaurant and wine bar based on what is available locally. Watch him in action in the open-concept kitchen while waiting for entrees like the "Twin Tornadoes," two five-ounce filet mignons with wild mushrooms and baby carrots or the lemon-grilled swordfish chop.
75 Davis Straits, Falmouth, Massachusetts, 774-763-2954, csaltfalmouth.com

Connecticut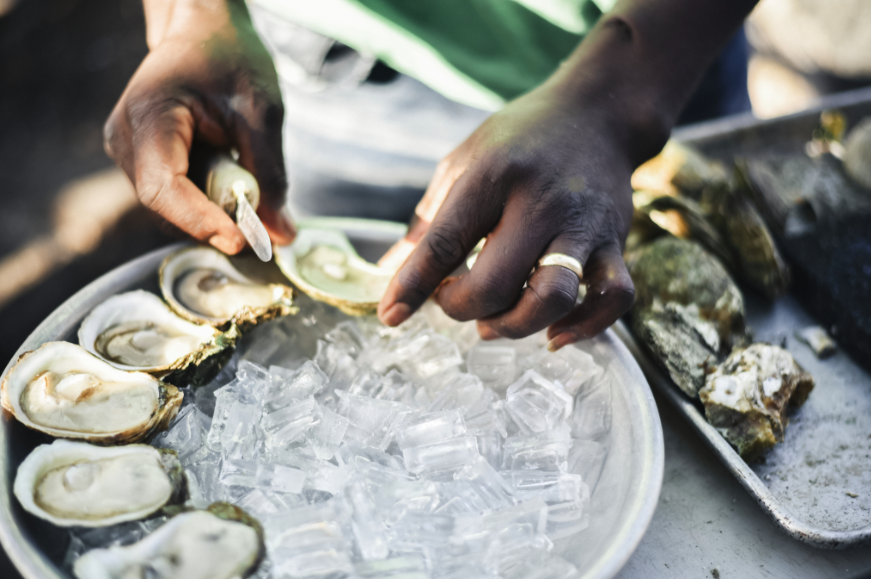 Oyster Club
Chef James Wayman writes a new menu daily and works with nearby farmers and fishermen to arrange options that are fresh and inventive. Matt Behan of Behan Family Farms on Ninigret Pond is one such purveyor; Behan's oysters stay within 50 miles of the Rhode Island pond they are harvested. When the weather warms, the Treehouse opens up. The casual alfresco dining space overlooking the Mystic River has Happy Hour specials, a menu of clam shack classics, and oysters shucked to order.
13 Water St., Mystic, CT, 860-415-9266, oysterclubct.com
l'escale
Chef Frederic Kieffer grew up in the countryside of France and has brought his passion for his native land to the menu at l'escale. The Hudson Valley foie gras has a ginger glaze and comes with apple chutney and brioche toast. The light and healthy dishes—such as Georgette's salad with greens Chioggia beets, quinoa and pumpkin seeds—and the location on Greenwich Harbor, make it an appetizing summer spot.
500 Steamboat Road, Greenwich, CT, 203-661-4600, lescalerestaurant.com
Winvian Farm
Winvian Farm is a luxury resort composed of private cottages in the Litchfield Hills, and its restaurant is open to the public Wednesday through Sunday. From the property's organic gardens, executive chef Chris Eddy assembles dishes that are seasonal works of art. If your idea of fine dining is at a fire-side table in an eighteenth-century dining room, then make a reservation at Winvian Farm.
155 Alain White Road, Morris, CT, 860-567-9600, winvian.com
Union League Cafe
How fitting that a French brasserie now occupies a Beaux Arts-style building in New Haven's theater and entertainment district. Union League Cafe opened in 1993 and is named after the social club that once gathered in the building. Executive chef and owner Jean-Pierre Vuillermet hails from a town at the foot of the French Alps and has established a restaurant in Connecticut that clings to Old World sophistication in a relaxed environment.
1032 Chapel St., New Haven, CT, 203-562-4299, unionleaguecafe.com
The White Hart
Quaint and bucolic, Salisbury occupies the northwestern corner of Connecticut. With trails, views, and fresh air the area is a welcome respite for the urban dwellers and those who flock to the charming White Hart Inn are also in for a culinary treat. Michelin-starred British chef Annie Wayte is known for wholesome, clean dishes, such as  grilled scallops, lentils, crispy prosciutto and gremolata. In the casual Tap Room, guests can fill up on British-inspired comfort food like house-made pretzel with pimento cheese dip.
15 Undermountain Road, Salisbury, CT, 860-435-0030, whitehartinn.com
The Whelk
While the atmosphere is casual at the Whelk, the plates are edible masterpieces. Chef Bill Taibe's original menu makes it hard to decide between land—Le Farm's roast chicken served with polenta and cauliflower—and sea—Norman's lobster butter with leeks, potatoes, dill and toast. If you have a group of 8 or more in town for a celebration consider the Dinner with Friends option: four courses family-style between $55 to 75 a person.
575 Riverside Avenue, Westport, CT, 203-557-0902, thewhelkwestport.com