Sales of craft beers have been skyrocketing for the past decade. Not surprisingly, that has meant a dramatic increase in breweries. Since 2009, the number of breweries in the United States has tripled, and there are now more than 5,000 across the country. New England might be called the birthplace of microbreweries. The D.L. Geary Brewing Co. in Portland, Maine, founded in 1983, is considered New England's first microbrewery.
Microbreweries have become tourist destinations. Visitors get to sample a wide variety of brews, while often touring the factory and learning how the unique craft beers are produced.
There might be no better place to begin a tour of microbreweries than Burlington, Vermont, which in 2006 was named by MSNBC as the fourth best beer-drinking city in the world. The other three cities? They were all in Europe.
Vermont boasts more than 40 breweries, with 10 in Burlington, led by the Vermont Pub and Brewery, which was opened in 1988 by Greg Noonan, who literally wrote the book on craft beers. There are 10 beers brewed on site, and tours are offered through Vermont Brew Tours, which also provides tours to 15 other breweries, from small local craft productions to large-scale regional operations. Among them is Magic Hat Brewing Company, where you'll taste an array of craft beers as you watch the new bottle line being filled with fresh lubrication.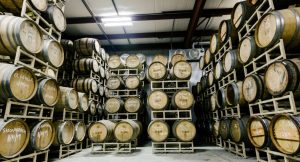 Pointing the car toward Kittery, Maine, you won't want to miss Allagash Brewing Co., which offers free tours and, are you sitting down, four free samples of beer to those of legal drinking age. The tour will take you past massive stainless-steel vats and hundreds of oak barrels, where you will learn exactly how that refreshing Belgian stout came to be. Allagash also features a spacious wood-paneled taproom and an outdoor beer garden.
Bissell Brothers is approximately 15 minutes away, with the brewery and taproom sharing space in an industrial park with a winery, a distillery and a fried chicken shack. Close by in Freeport is Maine Beer Co., where on selected Saturday mornings visitors can sample hard-to-get new releases.
Heading south, your next stop should be Smuttynose Brewing Co. in Hampton, New Hampshire. Tour are free and offered every 30 minutes. The massive facility features 270 towering fermenting tanks, after which the taproom awaits to sample golden ales, IPAs and Smuttynose's smoky Scottish ale.
Portsmouth offers numerous choices, from the expansive Portsmouth Brewery to the cozy Liars Bench, which is housed in an old plumbing supply warehouse.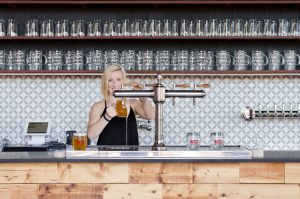 In Massachusetts, Notch Brewing in Salem is relatively new to the microbrewery world. Opened in 2010, it offers daily tours, along with an all-season beer garden that overlooks the South River. Nearby is the 25-year-old Ipswich Ale Brewery, located just a few steps from the town center. On site is the Brewer's Table, a beam-and-brick restaurant where you can have lunch while selecting from 16 beers on tap. The Cape Ann Brewery in Gloucester overlooks the harbor and offers free tours, along with its flagship Fishermen's Brew, an amber lager.
Departing the North Shore, make a detour to Trillium Brewing in Boston, located in a farmhouse-style brewery at Fort Point. The native yeast culture used in Trillium's Stonington saison comes from Connecticut's Saltwater Farm Vineyard, where the owners were married.
If you're willing to drive a bit, head to the tiny town of Monson in Western Massachusetts to Tree House Brewing, where you will be rewarded with three of the top five craft beers in America, according to reviewers at BeerAdvocate.com. Take note, the beers are only available at the brewery.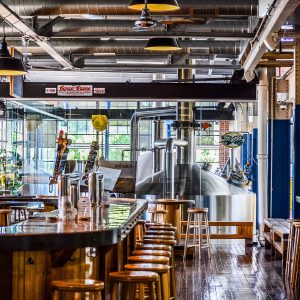 Two Roads Brewing Company in Stratford, Connecticut is worth the journey just to try the experimental Road Less Traveled series, like Philsamic, which is a sour beer made with 14-year-old balsamic vinegar. While you're in the Nutmeg State, check out New England Brewing Company in Woodbridge, making sure not to miss Sea Hag IPA, one of the first IPAs to be canned back in 2005.
Had enough? Here's the thing: this list of microbreweries is merely the tip of the iceberg. Hop in your car one week later and you can tour the same regions and visit entirely different breweries, all while sampling unique and creative homegrown craft beers.
Top photo courtesy of Allagash Brewing Co.