By Lannan M. O'Brien
There is something magical about ice skating outdoors. It might be the crisp winter air and the feeling of the blades carving the ice beneath your feet. Or maybe it's something else altogether: the sense of community from a shared activity or the knowledge that you're partaking in an age-old tradition that dates back thousands of years. Whatever the reason, New England is one of the best places to enjoy this winter sport. Here are our recommendations for outdoor skating spots to try across the region.
Lynnfield, Massachusetts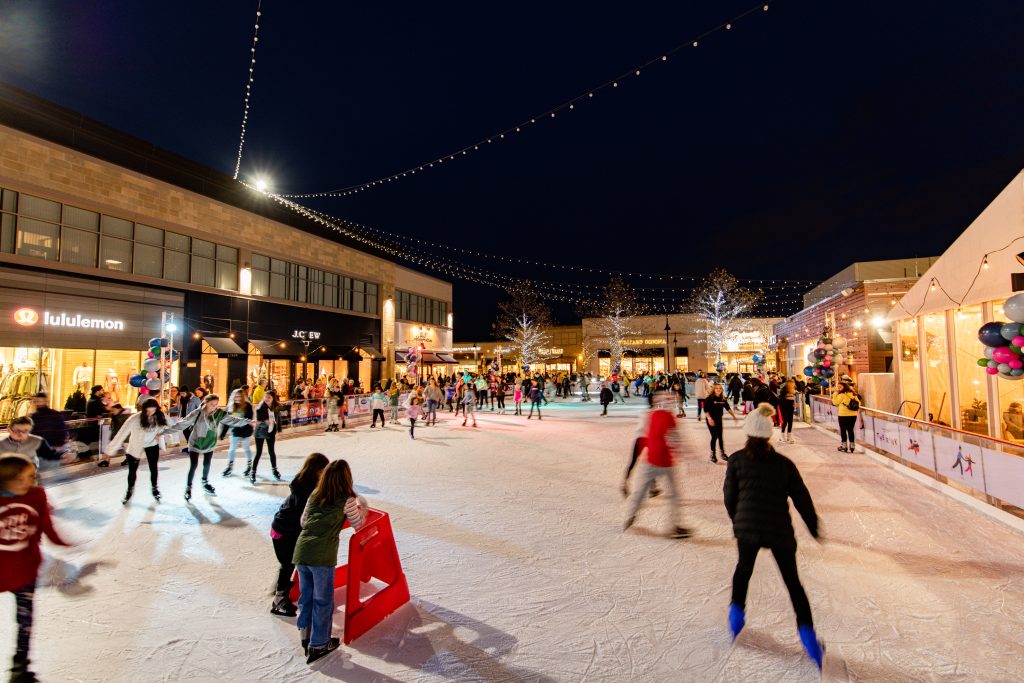 In the heart of MarketStreet retail center is a cold-weather destination adorned with twinkling lights. The Rink is a great way to complement a day of shopping, where families can skate to the music of upbeat hits and holiday tunes. Surrounding the rink are cast-iron chimenea gas fire pits to help you warm up after skating or while watching others out on the ice. Just a few steps away, you can find the warming tent for skate rentals. New this year: monthly weekday themes for kids, like superheroes, pirates and "Santa Skate," which include fun accessories for little ones' skates with admission.
Opens November 14-February 26
$12 admission, free for kids under 3; $5 skate rentals
Kennebunk, Maine
An open-sided pavilion in downtown Kennebunk, The Waterhouse Center is a hub of community events year-round, from summer concerts and arts markets to ice skating in the winter. In 2014, a Kennebunk resident, Geraldine Waterhouse, and her granddaughter, Paige Hill, donated $1.4 million to the Waterhouse Youth Endowment Fund to support youth activities downtown "for the betterment of children," and the facility continues to host events for the same purpose today. The small-town rink is BYOS (bring your own skates), but provides skate aids for kids. The best part? Admission is free.
Opens late November-March, weather permitting
Free admission
Jackson, New Hampshire
With rinks popping up in city centers and shopping plazas, it can be easy to forget ice skating's history as an age-old tradition. A trip to Nestlenook Farm allows you to envision what the sport may have been like many years ago. Spread over three acres and beautifully lit to create a wintry fairytale setting, the rink on Emerald Lake is reminiscent of Victorian skating parks. In addition to ice skating, the property offers an extensive network of snowshoe trails and both private and group sleigh rides on their custom-built Austrian sleighs. Privately owned accommodations on site include a grand Victorian manor and a Victorian village townhouse — so, why not stay the night?
Skating opens mid December, weather permitting
$10 admission, $7 for kids ages 4-12, free for ages 3 and under; skate rentals $12 for one hour, $15 for the day
The Vermont hills make the perfect backdrop for ice skating at Lake Morey Resort. At 4.5 miles, the Lake Morey Skate Trail is the longest in the country, offering an open atmosphere where natural beauty abounds (you may even spot a bald eagle along your journey). Admission is free, and skate rentals are available in the Morey Room. The resort also boasts snowshoeing and hiking trails, cross-country skiing, and numerous pond hockey rinks, as well as water sports and golfing in warmer seasons.
Check Facebook page for ice reports
Free admission; $30 Nordic skates, $17 hockey and figure skates
Providence, Rhode Island
Hosting concerts, outdoor events and roller derby matches the rest of the year, The Providence Rink transforms when the weather drops for wintertime fun in the city center. A popular destination situated near Kennedy Plaza, the family-friendly rink draws locals and tourists alike (in other words, you may want to purchase tickets in advance). Skating isn't the only attraction: a special area of the rink is designated for bumper cars on the ice. After your skate, warm up with a walk downtown and a bite to eat at one of the many surrounding restaurants.
Open November-February, weather permitting
$7 admission, $4 for seniors (65+) and kids 12 and under; $6.54 skate rentals
Westport, Connecticut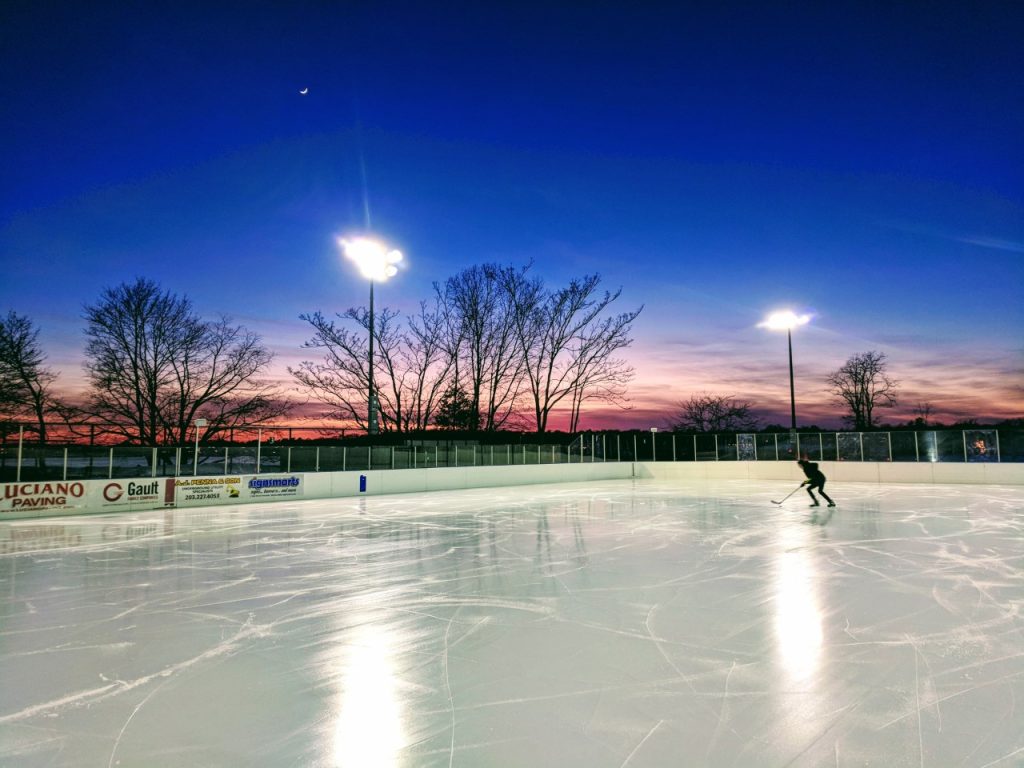 Since its opening over 25 years ago, the Police Athletic League (PAL) Rink has become an institution in the Westport community. The rink offers beautiful views of Long Island Sound (tip: visit in the evening for spectacular sunsets), and is known for being smooth and well-kept. Floodlights make for safe, easy night skating at this family-friendly spot. Lessons are available for kids and adults through the Westport Parks and Recreation Learn to Skate Program.
Opens November 25, weather permitting
Admission ranges from $8-15; $5 skate rentals