Unwrapping the palate-pleasing perks of local cheeses.
By Laurie Higgins
---
There's nothing quite like the taste of fresh, quality cheese. Putting those sometimes dry, oftentimes gummy "grocery store" options to shame, locally produced artisan cheeses impress with complex flavorings, textural subtleties and optimum ripeness. But, most importantly, they are the direct result of a great deal of tender, loving care. In the case of the following rising-star cheeses, the proof is in the pudding—or, if you prefer, the reward is in the rind.
MARION, MASSACHUSETTS
Tim Stone started his cheese-making business, Great Hill Blue, 16 years ago at Great Hill Dairy in Marion, Mass. The farm had been in his family since the early 1900s, run by his great-grandfather first and his grandfather after that. Stone restarted the dairy with Guernsey cows in the mid-1980s but couldn't make a living as a dairy farmer so he sold the herd.
"I wanted to stay on the farm and looked at all different possibilities," Stone says. "I landed on the idea of making cheese and decided to make blue cheese, since none was being produced in the east at that point."
He converted a barn basement into a cheese plant and contracted with local dairy farmers to buy milk. Delivered by truck on the same day the cows are milked, the raw milk is not pasteurized or homogenized: "I think we get a little bit more variability making our cheese with raw milk because there are more organisms competing for the same food source," says Stone. "It can be a little bit more unpredictable, but I think the end result has an enhanced flavor profile."
He heats the milk and adds cultures and a liquid form of mold. Once the cheese coagulates, the curd is cut and stirred until the desired consistency is reached, at which time the whey is drained off. Each cheese form is hand-filled to ensure proper whey expulsion and curd structure.
The resulting six-pound wheels are aged for at least four to six months. Great Hill processes cheese three times a week and makes 1,200 pounds per day. Compared to varieties augmented by bleach or food colorings, Great Hill Blue presents a slightly more dense, yellow curd and is a favorite of many restaurants. It's particularly delicious used raw on crackers, in salads and dressings or melted on top of filet mignon.
"It's great to see the recent emphasis on local, quality food," says Stone. "We were making cheese before the movement began, but it has really gone a long way towards helping our cause."
Available at select retail outlets or order online.
888-748-2208
---
WESTPORT, MASSACHUSETTS
Like Great Hill Dairy, Shy Brothers Farm in Westport, Mass., has been in the same family for three generations. Owned by the Santos brothers—two sets of fraternal twins five years apart in age—the farm was solely a dairy farm until 2006. When Arthur, Norman, Kevin and Karl Santos couldn't survive on milk sales alone, they decided to diversify and turned to cheesemaking.
One of the younger twins, Karl, spearheaded the cheesemaking movement because, as he explains: "By the time my brother Kevin and I came along, the essential chores like milking were already being done by our older brothers. It was natural for me to start making cheese because I like working with my hands."
Family friend Barbara Hanley volunteered to help the farm thrive as a business and traveled with Karl to a cheesemaking workshop in New Hampshire. They then spent two weeks in France visiting farmers and producers—it was this trip that inspired Karl to begin their venture with tiny artisanal cheeses that the French call boutons de coulottes (trouser buttons) but that the Shy Brothers call Hannahbells (after their mom).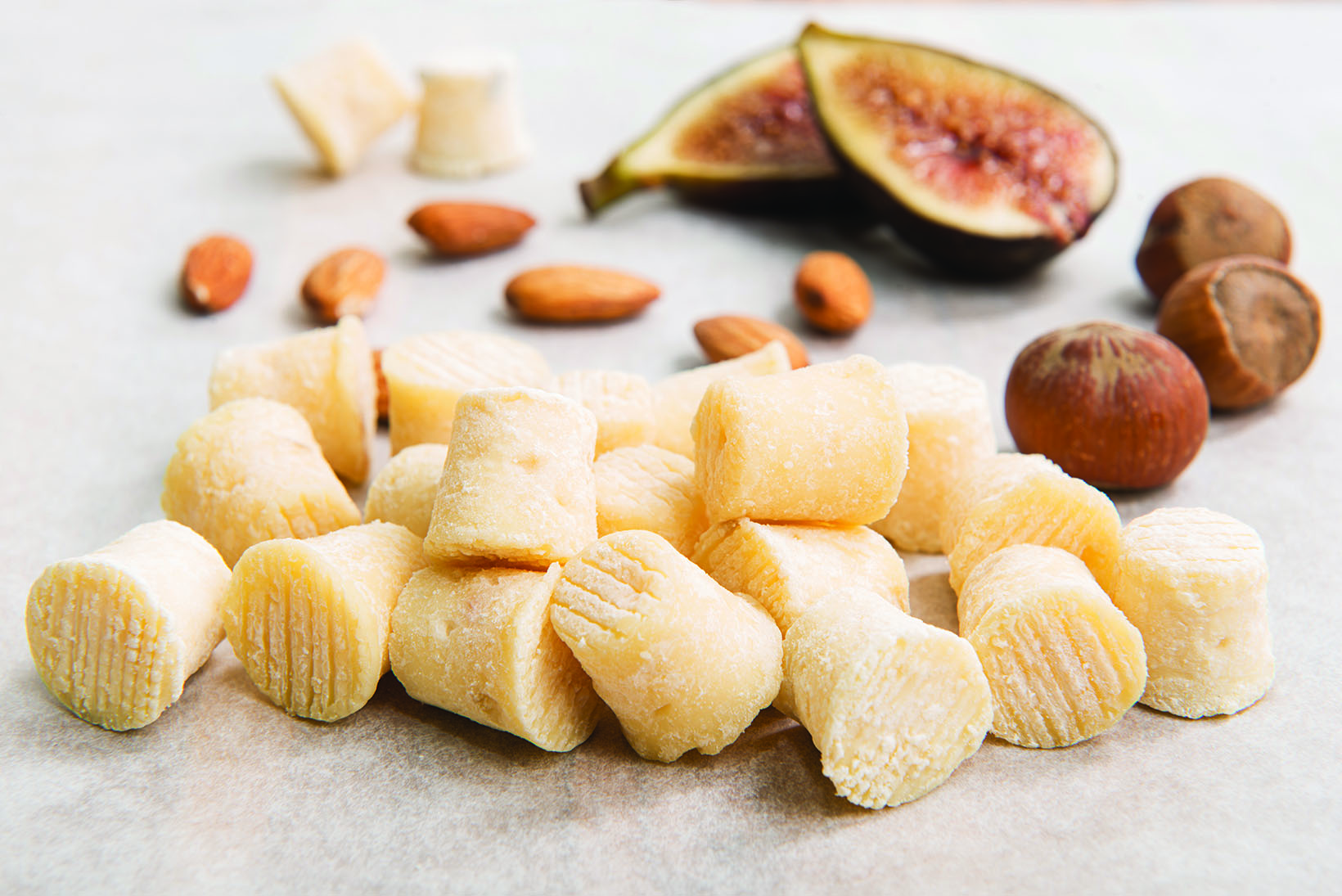 Shaped like a thimble, these molded rind cheeses are small in size but big on taste and have landed a variety of first-place awards. They are available in four flavors: classic French, lavender bud, rosemary and shallot.
"It's amazing what some of the local chefs do with them," says Karl. "It can be as simple as bake a potato, poke a hole in it and stick a Hannahbell in there. They also melt them over a cob of corn, throw them in salads instead of croutons and put them in martinis instead of olives. A Hannahbell dipped in chocolate is like a little mini cheesecake. It's awesome."
While Hannahbells are the Shy Brothers' signature product, their Cloumage has taken off in a big way and is about to hit the national market. Cloumage is a soft cheese that can be eaten raw as a dip or spread, or cooked like ricotta. Their third cheese is an unstretched mozzarella sold in blocks to chefs who want to heat and stretch in-house
While Karl makes his cheeses at a creamery in Dartmouth, his brothers tend to the Westport farm and its 120 dairy cows. The herd is a mix of Holstein, Ayrshire and Jersey cows, but the farm is moving towards switching entirely to the Ayrshire breed. "I think the flavor of the milk is better, and the fat molecules are smaller and that just works better for my cheese," says Karl.
Available at select retail outlets or order online.
508-333-2626
---
LOCAL LOVE
The Massachusetts Cheese Guild is made up of artisan cheesemakers, cheese enthusiasts and members of the trade. Its 21 cheesemakers—working with non-chemically corrected milk that is different every day—have won more awards combined than any other state in the nation.
Visit its website to learn more about these talented producers and their products. As the guild points out, buying locally made cheese supports local farmers and also helps stabilize over 5,000 acres of pastureland in the Commonwealth.
---
CHILMARK, MASSACHUSETTS
Before becoming organic farmers, Eric Glasgow worked in the corporate world for 15 years, and his wife, Molly, a Pratt Institute graduate, worked as a designer. When Eric decided to leave his job, the pair toyed with the idea of farming, and even more specifically, of owning a farm on Martha's Vineyard, where they had summered with their two young boys for years.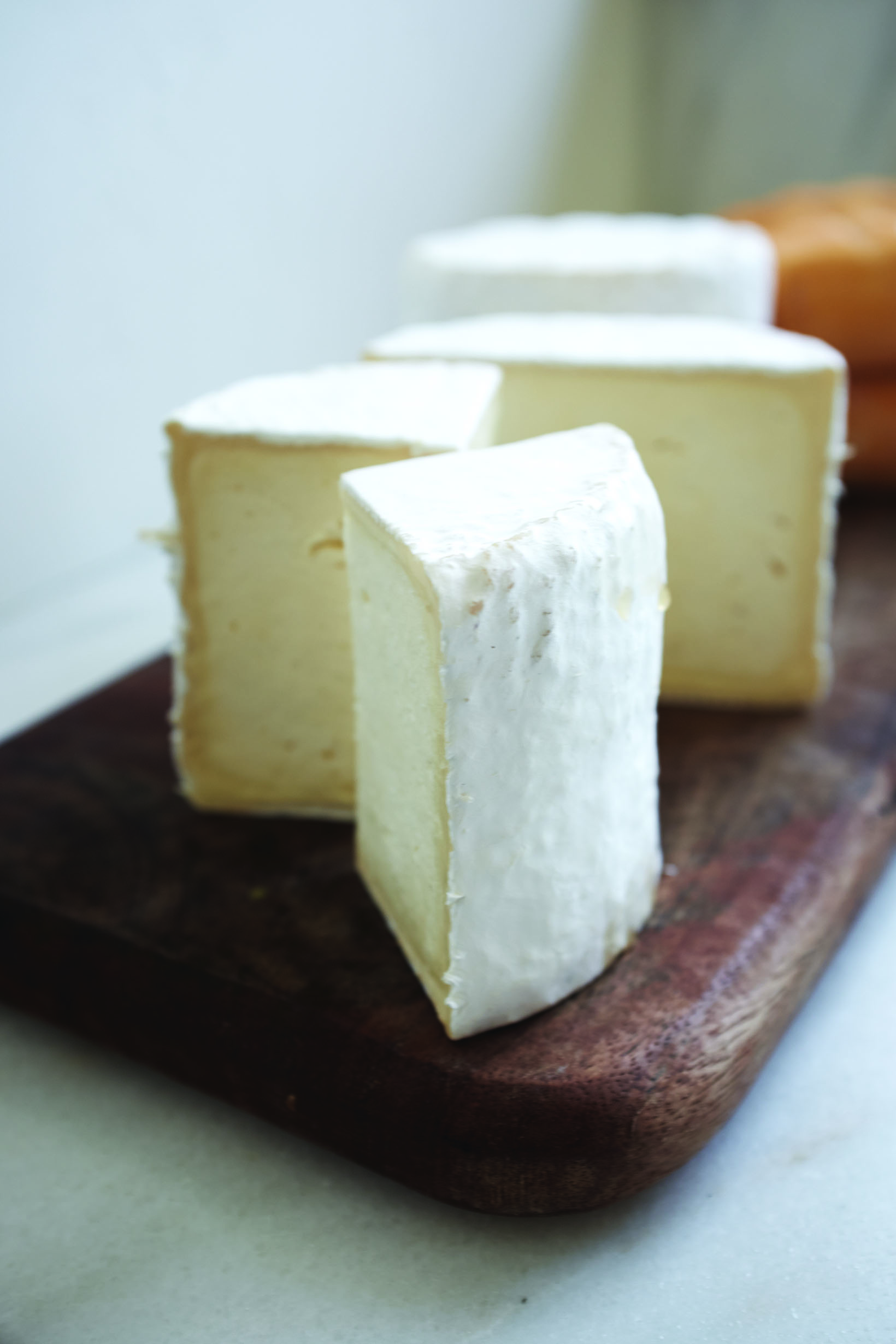 Well aware of the island's successful core of small vegetable farms, they decided that dairy and meat needed better representation. They put themselves through extensive research and training before making the leap and buying the Chilmark property in 2009. By March 2010, they had their first three Dutch Belted cows—a hardy, dual-purpose breed that is a great milk producer.
"Our herd of 25 ladies supplies us with both milk and beef," explains Molly. "They are friendly, intelligent and curious creatures with a beautiful white belt around their middle. They produce about four and a half gallons of delicious milk on grass alone and many of them continue producing into their teens," she adds.
The couple's decision to venture into cheesemaking was two-fold: cheese appeals to the Vineyard's local population and can also be shipped off-island easily. "Cheese is a way of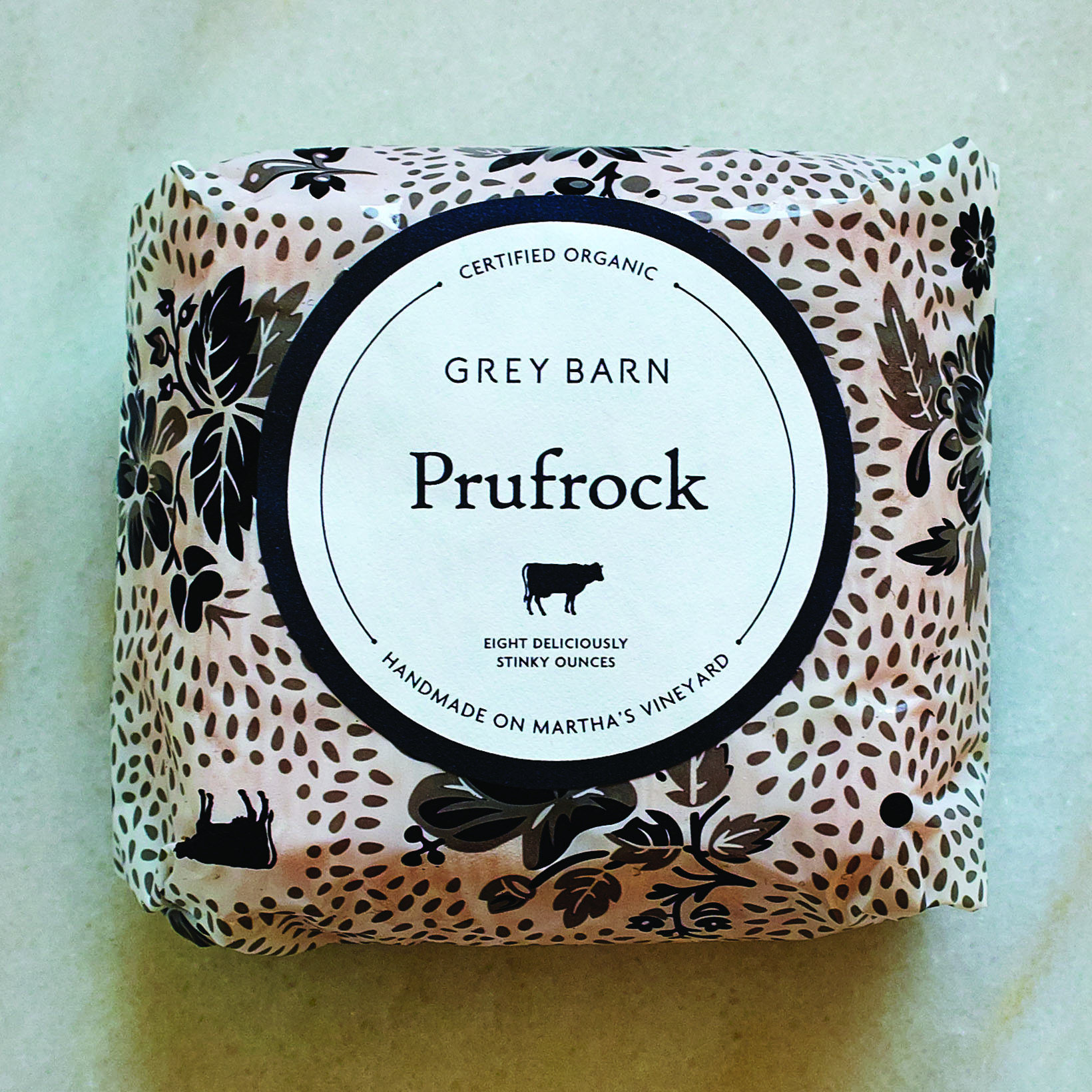 preserving dairy products until a period of time when people are ready to consume them," says Eric. "We can make our hard cheese in the fall so that it's available in the summer when demand is higher. And the other consideration is that it's a lot easier to export 100 pounds of cheese than 1,000 pounds of milk."
When the Glasgows decided to make cheese, they looked for producing regions with similar climates to Martha's Vineyard and found them in Northwest France and Southern Ireland, where traditional washed-rind cheeses are prevalent. The couple's own washed-rind cheese is called Prufrock, which begins as a curd that is ladled by hand into square molds and flipped several times. After a night of rest, the cheese is placed in a brine bath and then transferred to a cheese cellar, where it is carefully tended via washing and flipping for six weeks before leaving the farm.
"The final result is a supple, stinky cheese with a rustic orange rind," says Molly. "Its golden paste is thick yet soft, with toasty, nutty flavorings.
It is savory and slightly salty."
Grey Barn's second cheese, Eidolon (named after the Walt Whitman poem), has a white, bloomy rind reminiscent of Brie. Its dense, cakelike center is surrounded by a softer, creamier texture towards the rind. The Glasgows describe it as bright and grassy, noting that "seasonal changes in the pasture give way to subtle changes in our milk that infuse this cheese with its own terroir."
Eidolon available at Formaggio Kitchen and both Eidolon and Prufrock available at the Grey Barn farmstand (22 South Rd., Chilmark) and the West Tisbury Farmers' Market (1067 State Rd., W. Tisbury). 508-645-4854
---
PROVIDENCE, RHODE ISLAND
In Providence, Narragansett Creamery makes 12 different kinds of cheese. Owner and cheesemaker Mark Federico uses high-quality milk from small family farms with cows that are not treated with antibiotics or bovine growth hormone. The milk is delivered fresh every day and turned into cheese in less than 24 hours.
"We have a variety of cheeses, from soft versions like fresh ricotta and mozzarella to harder options like Atwood's Gold, which is like an Asiago, and Divine Providence, which is a natural rind gouda," says Federico, whose family is deeply rooted in the food industry. His grandparents owned The People's Market, considered Providence's first supermarket, in the 1940s, and he grew up stacking produce in his parents' New Haven grocery store. Federico and his wife, Pattie, formed Narragansett Creamery in 2007 as an artisan brand under their umbrella company, Providence Specialty Products.
Two Narragansett Creamery cheeses have won the Wisconsin Cheese Makers Association's United States and World Championships: their sea salt feta and whole milk ricotta.
"Most ricottas are made with whey," says Federico, explaining that commercially produced ricottas are similar to a chemistry experiment. They begin with whey protein; then cream is added for flavor and a stabilizer binds the two. "We make ours from whole milk instead of just whey and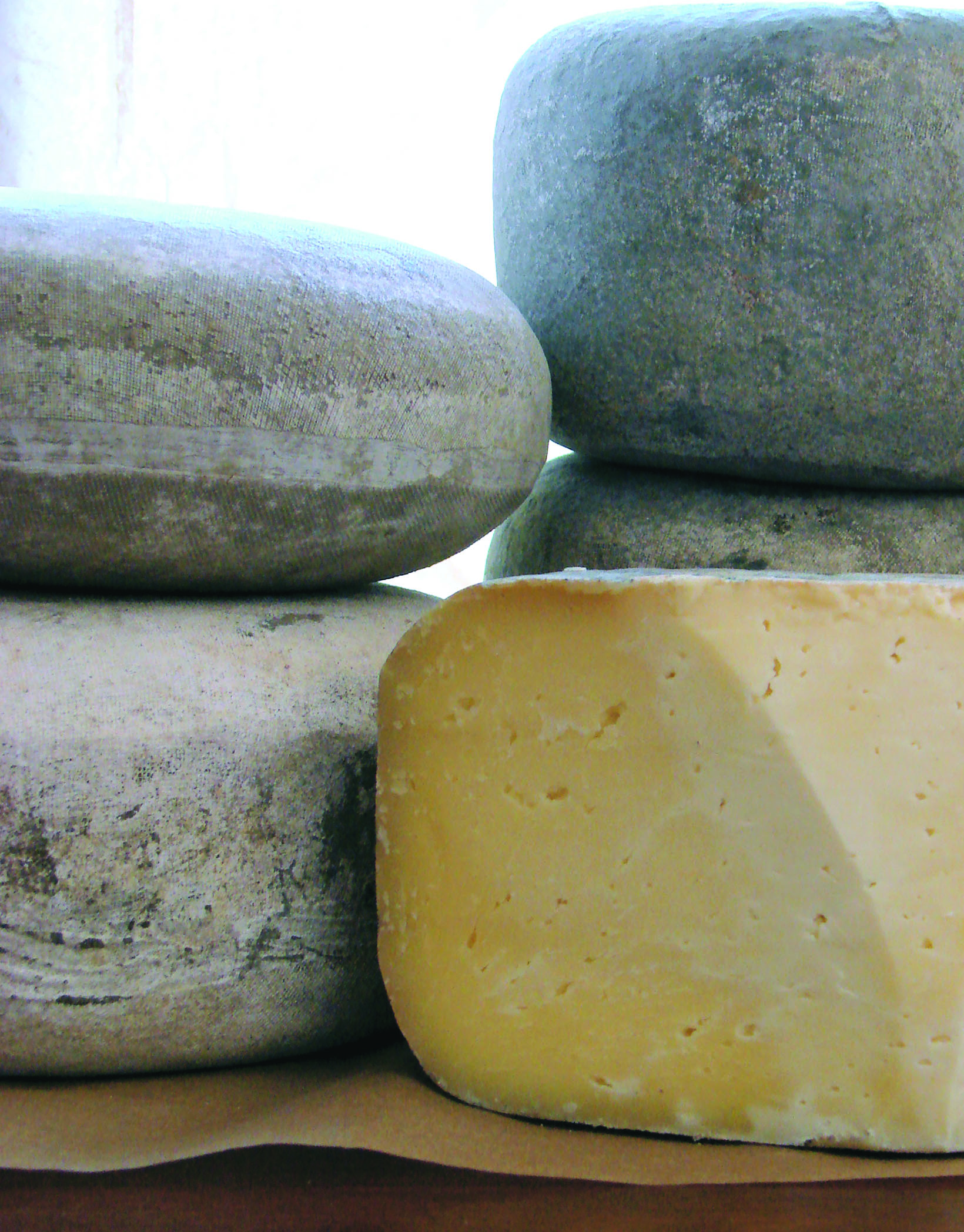 get a much creamier, sweeter ricotta," he explains. "You take the milk, cook it up and add the starter. The resulting cheese is then scooped by hand into forms. It's simple, the way it's supposed to be."
Federico is excited about his latest venture, a Mediterranean-style grilling cheese: "You can actually pan fry it without any oil or butter. You put it in the pan and toast it on both sides and it's like eating a grilled cheese without bread."
No matter the type of cheese, Narragansett Creamery uses local milk, kind bacteria, vegetable-based rennet, salt and nothing else, staying true to their philosophy of "real food—simple and uncomplicated."
Available at select retailers.
401-272-4944
---
MORE CHEESE, PLEASE
Southern New England is home to a variety of gourmet shops specializing in artisan cheeses (not to mention wine, craft beer and charcuterie). All of these stops boast knowledgeable staff, plentiful samples and handpicked selections hailing from around the world and oftentimes just down the street. (Some even have online stores to save you a trip!)
Concord Cheese Shop
29 Walden St., Concord, MA
978-369-5778
Bacco's Wine + Cheese
31 St. James Ave., Boston, MA
617-574-1751
Central Bottle Wine + Provisions
196 Massachusetts Ave., Cambridge, MA
617-225-0040
Formaggio Kitchen
244 Huron Ave., Cambridge, MA
888-212-3224
Formaggio Kitchen – South End Location
268 Shawmut Ave., Boston, MA
617-350-6996
The Chatham Cheese Company
902 Main St., Chatham, MA
508-945-1605
Main Street Wine & Gourmet
42 Main St., Orleans, MA
508-255-1112
Sid Wainer & Son
2301 Purchase St., New Bedford, MA
800-249-0447 x150
Artisan Cheese Shop in Eastside Marketplace
165 Pitman St., Providence, RI
401-831-7771
Tony's Colonial Foods
311 Atwells Ave., Providence, RI
401-621-8675
Milk & Honey Bazaar
3838 Main Rd., Tiverton, RI
401-624-1974