Nothing says summer like an alfresco deck party that's as simple as it is beautiful, thanks to ready-made food and icy cocktails.
Lee Repetto's gift and home furnishings store, The Spotted Cod, in Sandwich village on Cape Cod, is a hot spot for local décor enthusiasts and tourists alike. And it's no surprise that the retail entrepreneur, known for her creative eye and vintage finds, enjoys entertaining at home. She's a firm believer in the importance of getting together with friends to unwind, catch up and "break bread" when time permits.
Repetto's easygoing party style is inspirational in its simplicity, and an outdoor gathering in her sheltered, shady backyard fits her pace. From its white pergola to its rhododendron-lined deck, her Sandwich property is inviting at every turn. Wooden tables and chairs, complete with decorative pillows from her store, are artfully arranged to create intimate gathering spaces.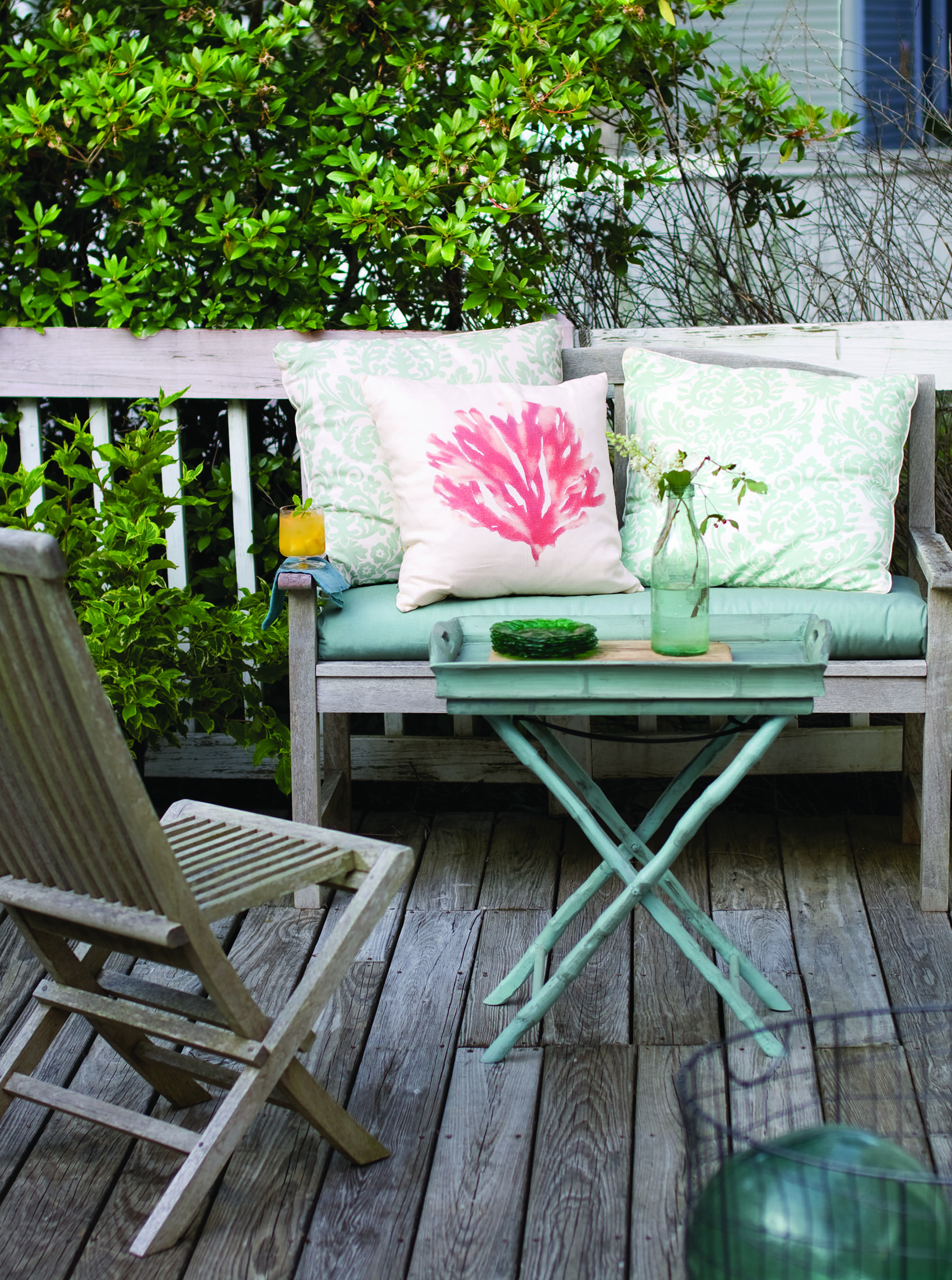 To get party-ready, Repetto hangs lanterns from the pergola as well as in nearby trees and shrubs. A small, weathered wheelbarrow moonlights as a charming bar cart, holding bottles of wine, wine glasses and fresh lemons. Similarly, a vintage drinking fountain mounted on an exterior wall doubles as an ice bucket for bottled drinks.
For her table settings and food displays, Repetto ups the wow factor with thoughtful flourishes such as herb-infused ice cubes and vintage glassware. Instead of traditional flower bouquets, she opts for fern fronds set in old glass bottles and zinnias tucked into a painted heating grate. Pretty cotton napkins in fun patterns lend pops of color.
When it comes to creating a party menu, Repetto stays true to her motto that you don't have to make everything from scratch. A quick trip to a local farm stand and Trader Joe's provides the storeowner with all she needs to whip up an impressive assortment of appetizers, cocktails and sweet desserts. The best part is that she makes and assembles everything ahead of time—giving herself the opportunity to relax and enjoy her guests.
An excerpt from Matthew Mead's Backyard Style
---
PARTY COCKTAILS
These cool, refreshing creations are perfect for a hot summer day.
Island Whisper Cocktail
This icy cocktail imparts a sweet tropical flavor via pineapple juice, tempered by the acidity of grapefruit juice. It is garnished with juicy pineapple spears and pineapple mint, whose green leaves edged in white emit a light pineapple scent when crushed.
1 1/3 cups pineapple juice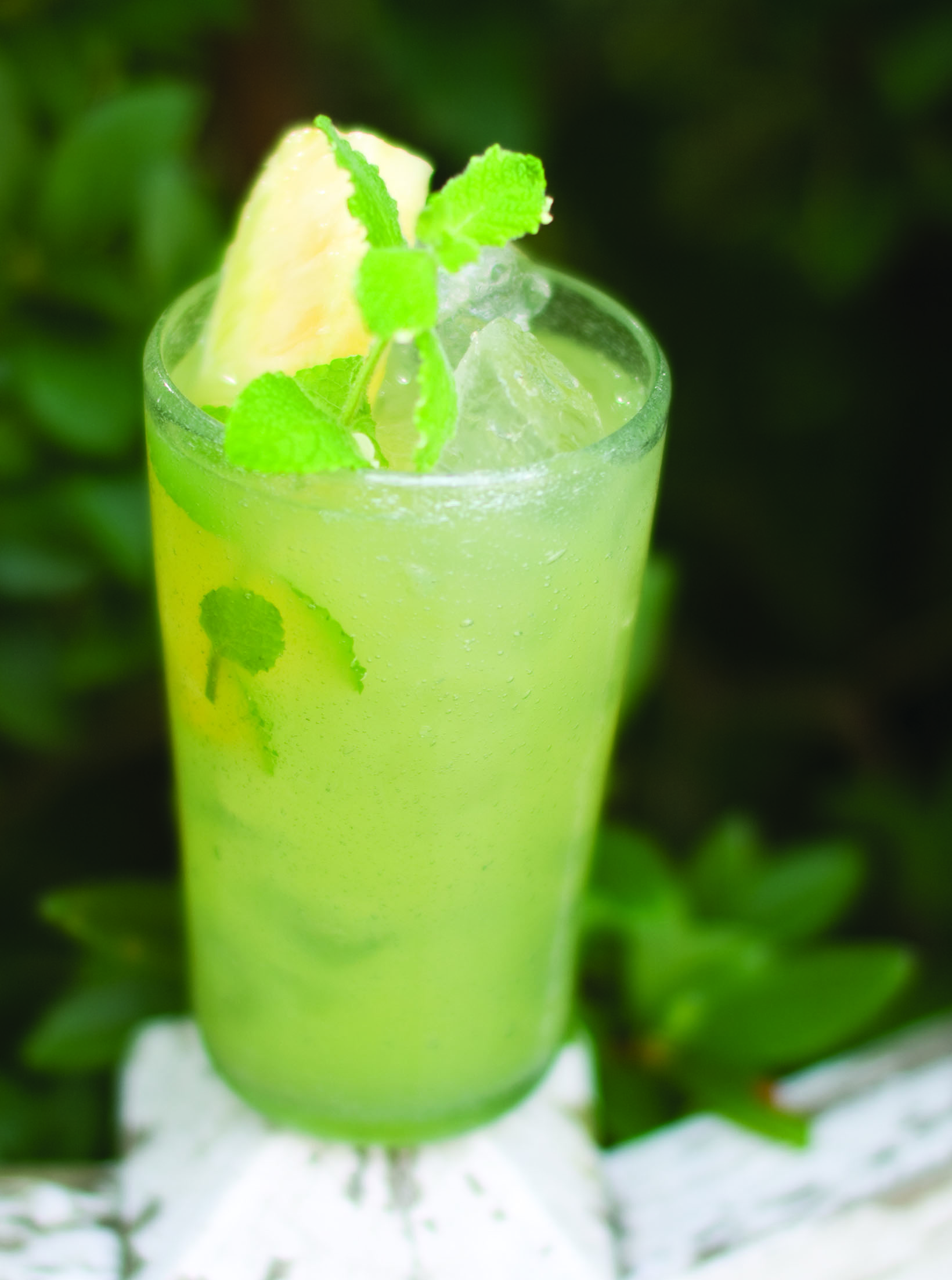 1 cup pink grapefruit juice
8 ounces good quality gin
Pineapple spears for garnish
Pineapple mint for garnish
1. Fill four glasses with ice; mix the juices and gin together in a glass pitcher and stir well to blend the flavors.
2. Pour equal amounts of the cocktail mixture into each glass and stir. Garnish each with a pineapple spear and a sprig of mint.
3. If making ahead, refrigerate the cocktails and add the ice directly before serving.
---
Raspberry-Mint Mojito
Herbs and edible flowers have been used for centuries to flavor food and drinks, and mint is an all-time favorite. This thirst-quenching cocktail boasts the addition of tart-and-sweet raspberries for an added kick to ignite the taste buds.
1 cup dragon berry rum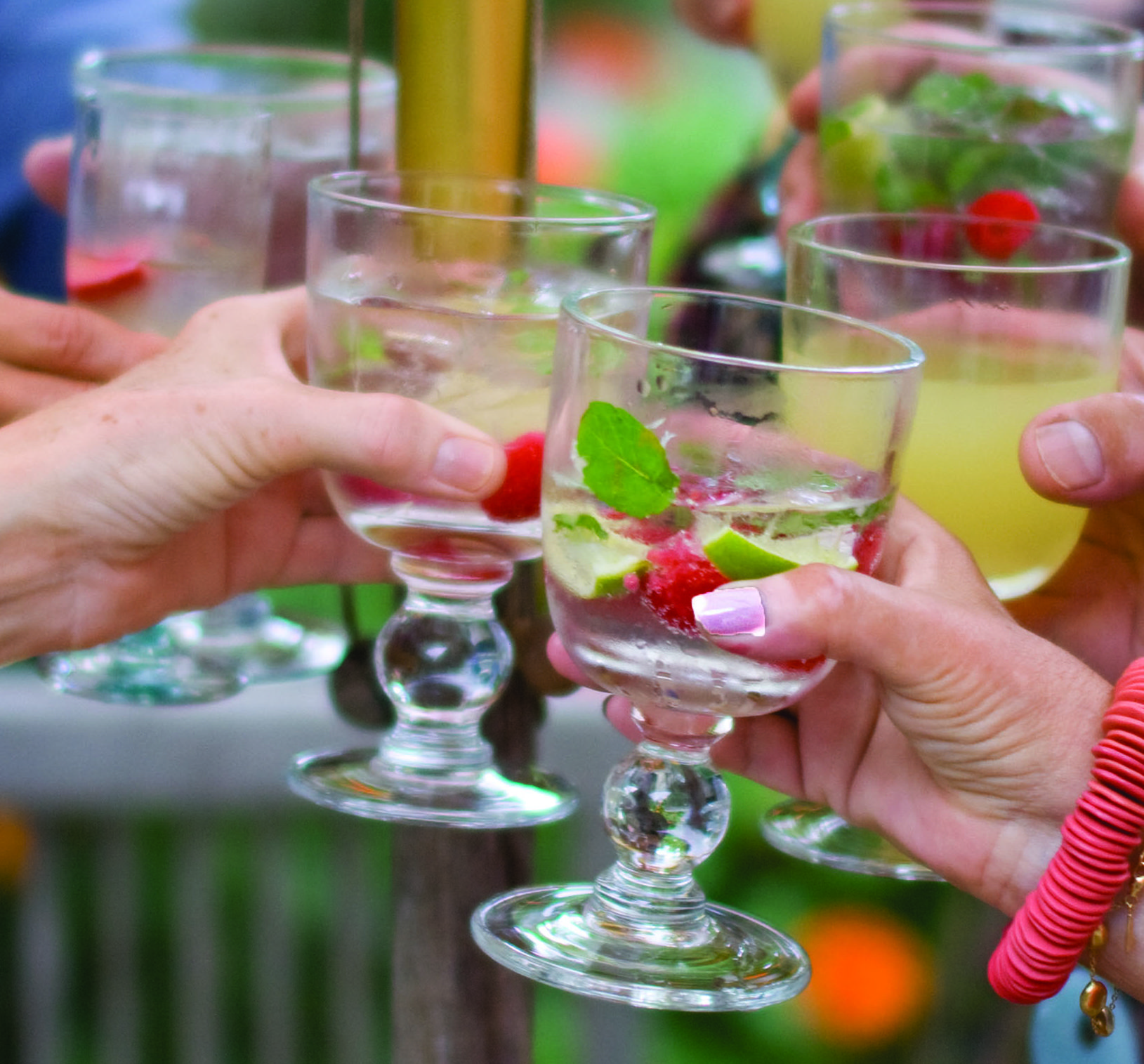 24 mint leaves
3 limes, cut into wedges
1 cup raspberries
2 tablespoons simple syrup
4 cups chilled club soda
Ice
Mint and lime to garnish
1. Gently crush mint with a muddler or the back of a spoon.
2. Squeeze the limes into a glass pitcher and add the mint. Pour in simple syrup to cover and stir; add ice.
3. Pour in rum, raspberries and club soda to taste and stir well. Serve in a glass of your choice and garnish with lime wedges and a few mint sprigs.
---
This piña colada-inspired cocktail will be a hit with guests who love a taste of the tropics. Chill each ingredient well before blending, and serve with plenty of ice.
1 liter coconut water
1 cup pineapple vodka, chilled
1 1/5 cups pineapple juice
1/5 cup orange juice
Fresh pineapple chunks and orange slices
1. Pour first four ingredients over ice in a tall pitcher.
Stir well to blend.
2. Garnish with pineapple chunks and orange slices.
---
The simplicity of this cocktail makes it a go-to favorite for summer gatherings. Using basic bar stock ingredients, this icy beverage can be created in minutes.
1 shot dragon berry rum

1 shot orange liqueur
Club soda, chilled
Strawberry for garnish
1. Pour the first two ingredients into a chilled or frozen glass. Stir to blend; then add club soda to taste. Stir carefully to avoid removing the soda's carbonation.
2. Cut a small slit into a plump strawberry and slip it onto the rim of the glass for garnish.
---
SUMPTUOUS PLATTERS
Elevate the oh-so-predictable tray of cheese and crackers by switching out a few key elements. Arrange a goat cheese log on a simple white platter and top it with sliced red grapes and toasted pine nuts. Drizzle with honey and serve alongside crisp, seeded flatbread crackers.
A crudité platter invites guests to graze throughout the party. Get creative and serve miniature zucchini spears, baby carrots and crackers with a creamy edamame dip.
FRESH, IN-SEASON FARE
When temperatures climb, hearty food is often too much to digest. Summer meals lend themselves to grazing on appetizers, salads and savory nibbles that can be assembled and served up in minutes.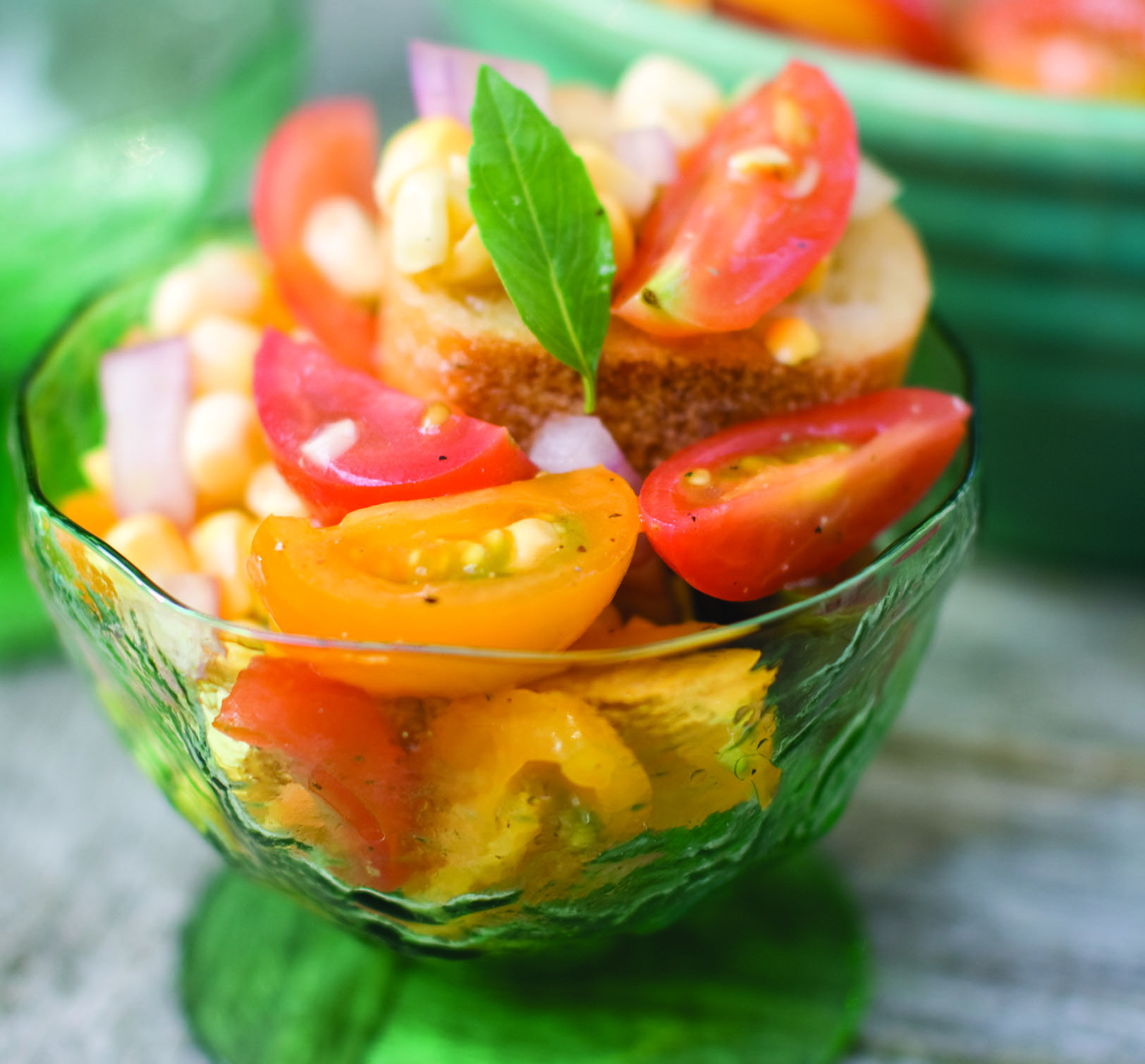 Tomato and Corn Bread Salad
Take advantage of the season's fresh corn and tomatoes to make this zesty, colorful salad.
4 cups fresh corn, cut from the cob
1/4 cup red onion, coarsely chopped
2 pints heirloom cherry tomatoes, sliced into quarters
15 pieces French baguette, cut into ½-inch slices
1/2 teaspoon freshly ground pepper
2 teaspoons kosher sea salt
6 tablespoons extra virgin olive oil
1. In a medium bowl, place the corn, onions and tomatoes. Add in the salt, pepper and olive oil. Toss well and refrigerate for several hours.
2. Remove from refrigerator and toss with freshly toasted bread slices. Serve immediately.
---
 Steak and Herb Crostini
A warm baguette is layered with a creamy dip and topped with tender slices of beef. Slice it into hors d'oeuvre-sized servings and be prepared to replenish often.
One fresh baguette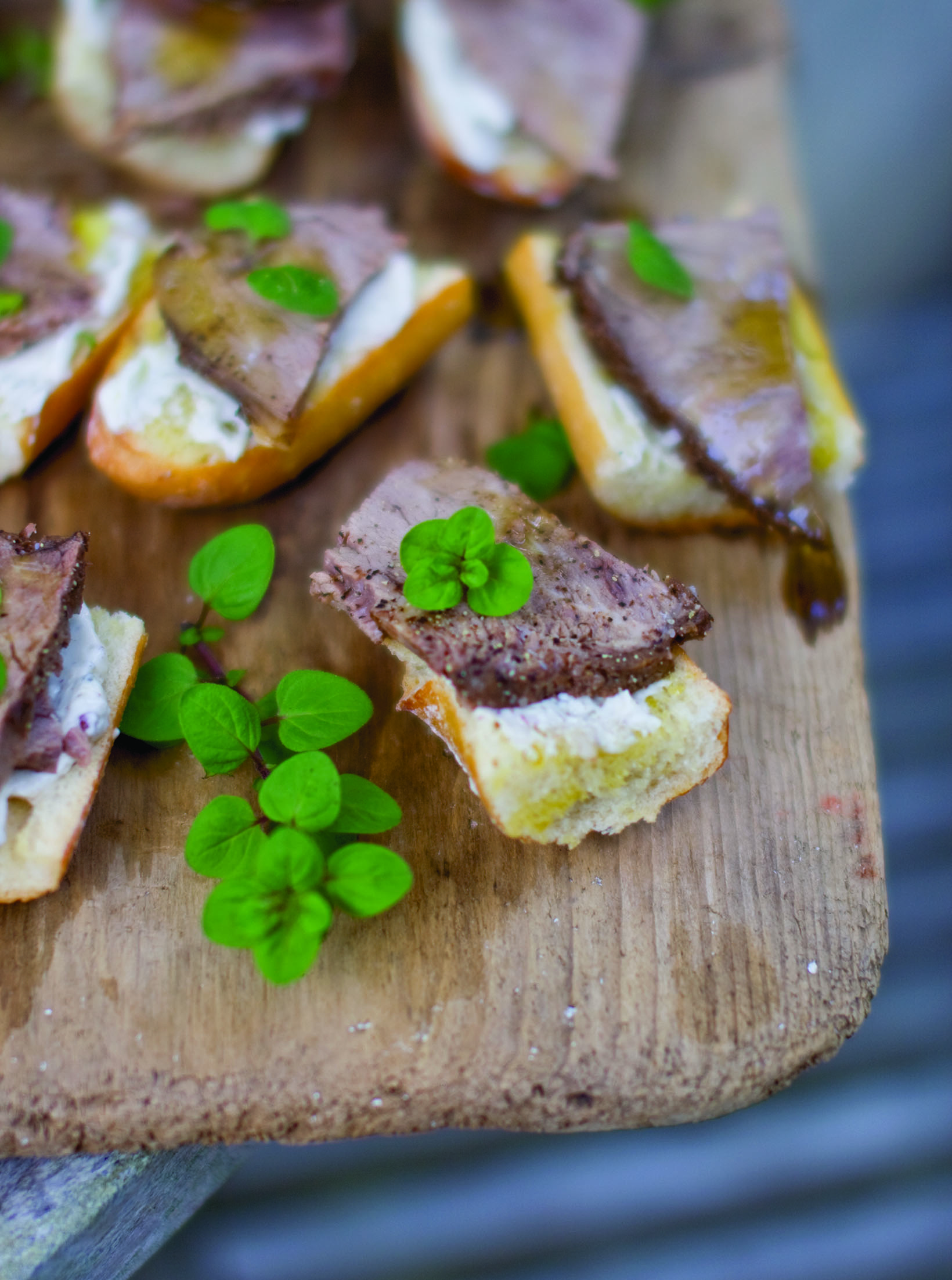 Pre-cooked deli pot roast from Trader Joe's
Trader Joe's Walnut and Blue Cheese Dip
Fresh basil
1. Cut baguette in half, lengthwise, and place it under the broiler until top is slightly browned and edges crisp.
2. Remove from oven and spread with the walnut and blue cheese dip. Cut the baguette into individual servings.
3. Top each baguette with a slice of pot roast and garnish with fresh basil leaves.
---
The addition of basil-infused olive oil and toasted pine nuts take a premade specialty dip to a whole new gustatory level.
1 container of Trader Joe's Edamame Hummus
1/4 cup toasted pine nuts
Fresh basil
1 teaspoon basil olive oil
1. Toast pine nuts in a skillet until warm and slightly browned.
2. Let pine nuts cool and stir them into the hummus.
3. Spoon the hummus into a small, shallow bowl. Make a small divot in the dip and pour the basil oil into the hollow. Garnish with fresh basil.
---
Herbs on Ice
Summer cocktails taste best served ice-cold. Make your own pretty, flavor-infused ice cubes by slipping in some small berries, lemon zest and fresh, pesticide-free herbs. Not only will these cubes be an extra special garnish for drinks, but they will also infuse additional flavor into every sip.
Ice cube trays in a variety of shapes and sizes
Distilled or boiled, slightly cooled water
Fresh herbs, small berries and/or lemon zest
1. Wash and pat dry sprigs of herbs such as lavender, mint and lemon thyme and place into each ice cube section.
2. Pour in water to fill each tray, leaving room for expansion as the ice freezes.
3. Place in freezer for 2-3 hours until ice is set.
---
COOL OPTIONS
Scour flea markets and thrift shops for vintage ice trays. Their perfectly square sections create larger, more beautiful cubes than the plastic trays sold today.
Alternatively, experiment with silicone trays, which come in a variety of shapes and themes. For example, tubular trays make intriguing cylinders of ice.
---
Matthew Mead is a stylist, writer, author, photographer, lifestyle editor and noted style expert. The former style editor of Country Home magazine and editor in chief of his own magazine series with Time Inc. Home Entertainment, Matthew has also written 12 books and is the official food photographer for the Associated Press. He's known for styling beautiful spaces using vintage treasures, nature's offerings and what is at hand; for guiding others to entertain with ease in a stylish way; and for inspiring homeowners to create beautiful food and living spaces. To keep up with his current work, including two new design magazines, Upcycled Style and Style Tips, visit his blog.