There's still time to hit the local pumpkin patches this weekend and score the perfect pumpkin for your front stoop—plus a mini one for the mantle and a couple for baking a sweet treat too!  While it seems you can barely drive a few miles in New England without stumbling upon a farm, we've rounded up a few favorites, where the ambiance is bound to impress:
1. Clark Farms
One of the best known farms in Rhode Island for family fun, you can stock up on pumpkins and mums, while letting the little ones explore the petting zoo, corn pit, corn maze and mountain slide.  Don't forget to grab a donut and take a hayride too!
2984 Comm. O.H. Perry Highway
Wakefield, RI 02879
clarkfarms.com
2. Sweet Berry Farms
This quaint little gem on Aquidneck Island features a post-and-beam barn, a specialty market and a great café and patio area for lunching after making your haul in the pumpkin patch.
915 Mitchell's Lane
Middletown, RI 02882
sweetberryfarmri.com
3. Lyman Orchards
Celebrating their 275th year, this historic family-run farm is nicknamed "Connecticut's Sweet Spot." Their properties include a golf course, pick-your-own fields and the Apple Barrel Market, which houses a delicious bakery.
32 Reeds Gap Road
Middlefield, CT 06455
lymanorchards.com
4. Cider Hill Farm
More than just pumpkins, this farm (like its name suggests) has endless apple orchards for picking, hot cider donuts, a hard cider cellar for the adults and a corn maze, animal yard and trike farm for the kiddos.  There's also an onsite food truck called the Pitchfork, which serves cider ice cream (yes, you read that right!).
45 Fern Ave
Amesbury MA 01915
ciderhill.com
Wondering what to make with all those pumpkins you scored?
Jessica Robinson of A Farmgirl's Kitchen has a solution. The New England-raised farmer's daughter grew up on a small farm in Connecticut and is now a beloved cookbook author. Below is a recipe for her Pumpkin Waffles that we'll be whipping up for brunch this weekend!
Pumpkin Waffles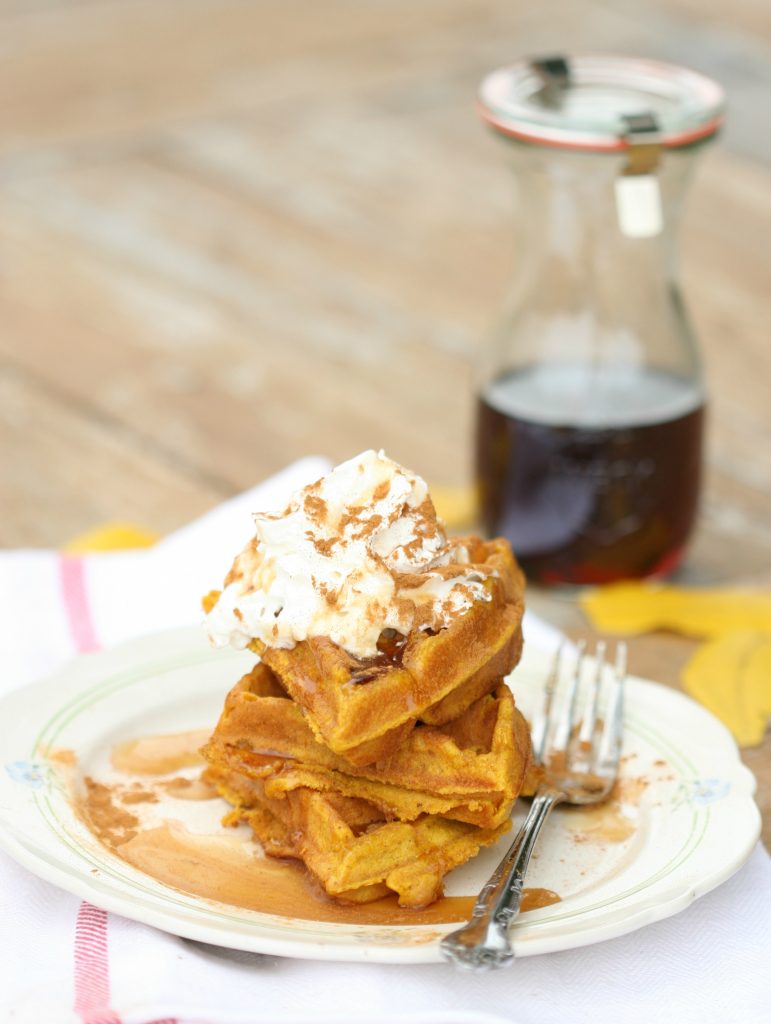 Ingredients
2 1/2 cups all-purpose flour
2 cups buttermilk
1 cup mashed pumpkin
4 large eggs, room temperature, separated
1/2 cup granulated sugar
1 teaspoon vanilla extract
1 tablespoon baking powder
6 tablespoons butter, melted
2 teaspoons ground cinnamon
1 teaspoon ground nutmeg
1/4 teaspoon ground cloves
Directions
1. Separate your eggs into two different bowls. Add 1/2 teaspoon cream of tartar to the egg whites and beat them using a hand mixer until stiff peaks form. Set aside.
2. In a large bowl, combine all of the dry ingredients with a spoon. Add the egg yolks, vanilla, melted butter, pumpkin and buttermilk and combine. Gently fold in the whipped egg whites with a rubber spatula.
3. Cook the waffles in your waffle iron according to the manufacturer's instructions.
4. Serve with warm maple syrup and a sprinkle of cinnamon.

*Tip: Heat your oven to about 200°F to keep waffles warm while you cook the rest.
—Allie Herzog