By Allie Herzog
As a new-ish mom, there are a few things I've learned pretty quickly.  I can change diapers like a pro, I've become an expert at making up silly songs, and I never leave the house without a few snacks stashed in my purse.  But as my baby becomes a toddler, I often wonder if I'm making the right choices when it comes to food. You want to give them something nutritious that doesn't cost a fortune, is simple and portable, and that they'll actually eat (and enjoy). Goldfish, veggie sticks, cheese and fruit have been my go-tos, but after reading Little Bites by Christine Chitnis and Sarah Waldman, I've seen the light. Although I can't say that I'll give up packaged snack completely (Those Goldfish really are a godsend when waiting for your food to come at a restaurant!), I do plan to buy and cook with more seasonal and local ingredients, do more meal prepping, and one day even be the envy of my daycare with impressive homemade treats for the class.
A few things that really stood out for me in this book was the idea of making cooking and meal prep a family affair, not hiding the veggies in a recipe, but rather letting your child know what spinach looks like and feels like, and the concept of using more seasonal ingredients.  I also appreciated the dirty dozen and clean fifteen lists that highlighted what items you really should purchase organic, since I generally stand in the produce section for what seems like an eternity, mentally debating whether the organic strawberries are really worth the extra $5.  Spoiler Alert: According to this book, they are!
I can't wait to make more recipes from this book as each season approaches, but in honor of spring's arrival (ha!), here are a few of my favorite spring and summer recipes from the book, all of which include some of my son's current favorite fruits, veggies and concepts (anything with an accompanying dip gets 5 stars from him).
Honey Frozen Yogurt-Dipped Strawberries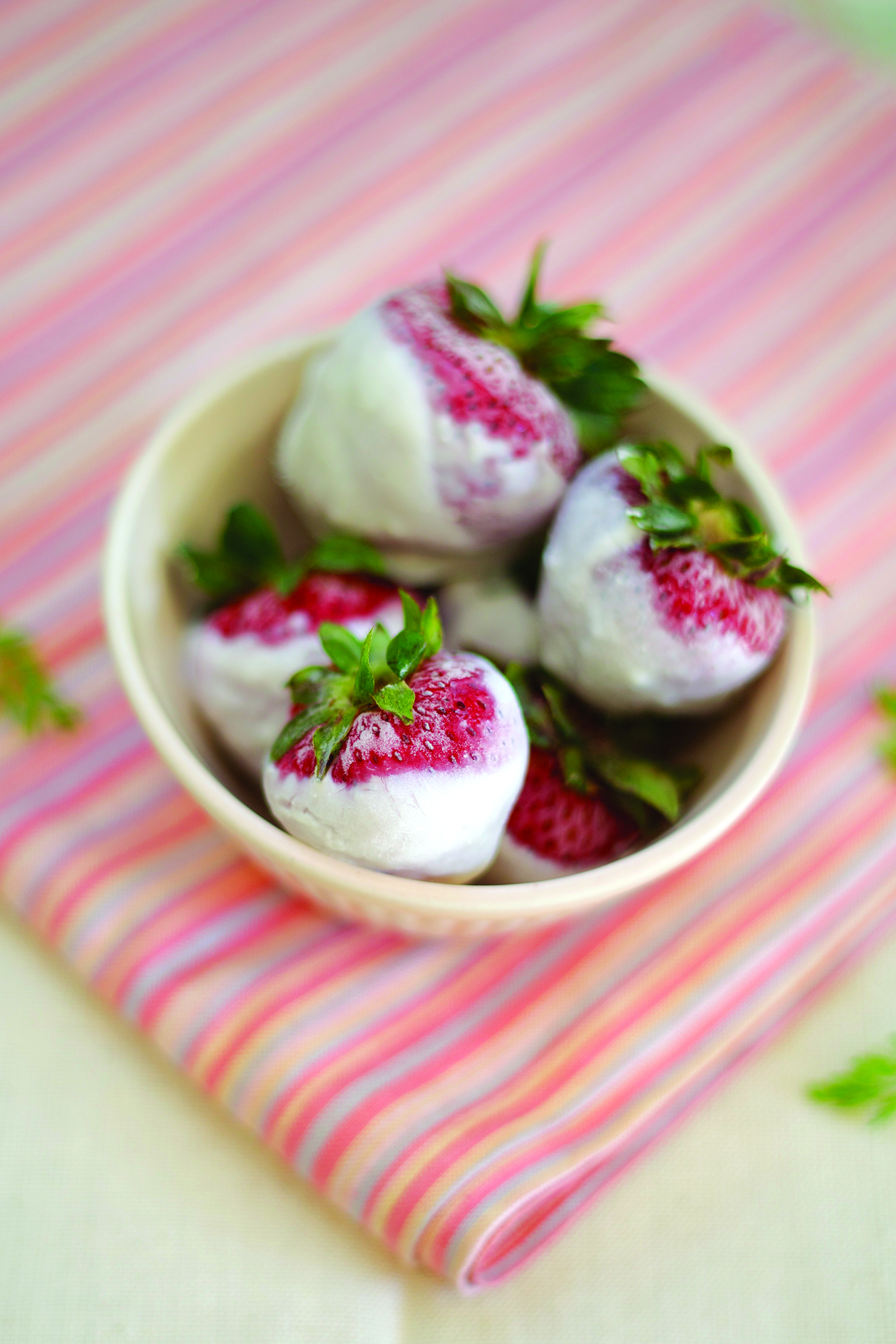 Ingredients
1 1/2 cups plain whole-milk Greek yogurt
2 tablespoons honey
24 whole fresh strawberries with stems, washed
1 wooden skewer
Directions
Line a baking sheet with parchment paper. In a mixing bowl, combine the honey and yogurt. Stick the skewer through the stem end of the strawberry, dip and spin the strawberry in the yogurt mixture to coat, then gently lay onto the prepared baking sheet. Remove the skewer and repeat with remaining strawberries.
Freeze for 1 hour for the best consistency. Slice in half or eat whole.
Raspberry Guacamole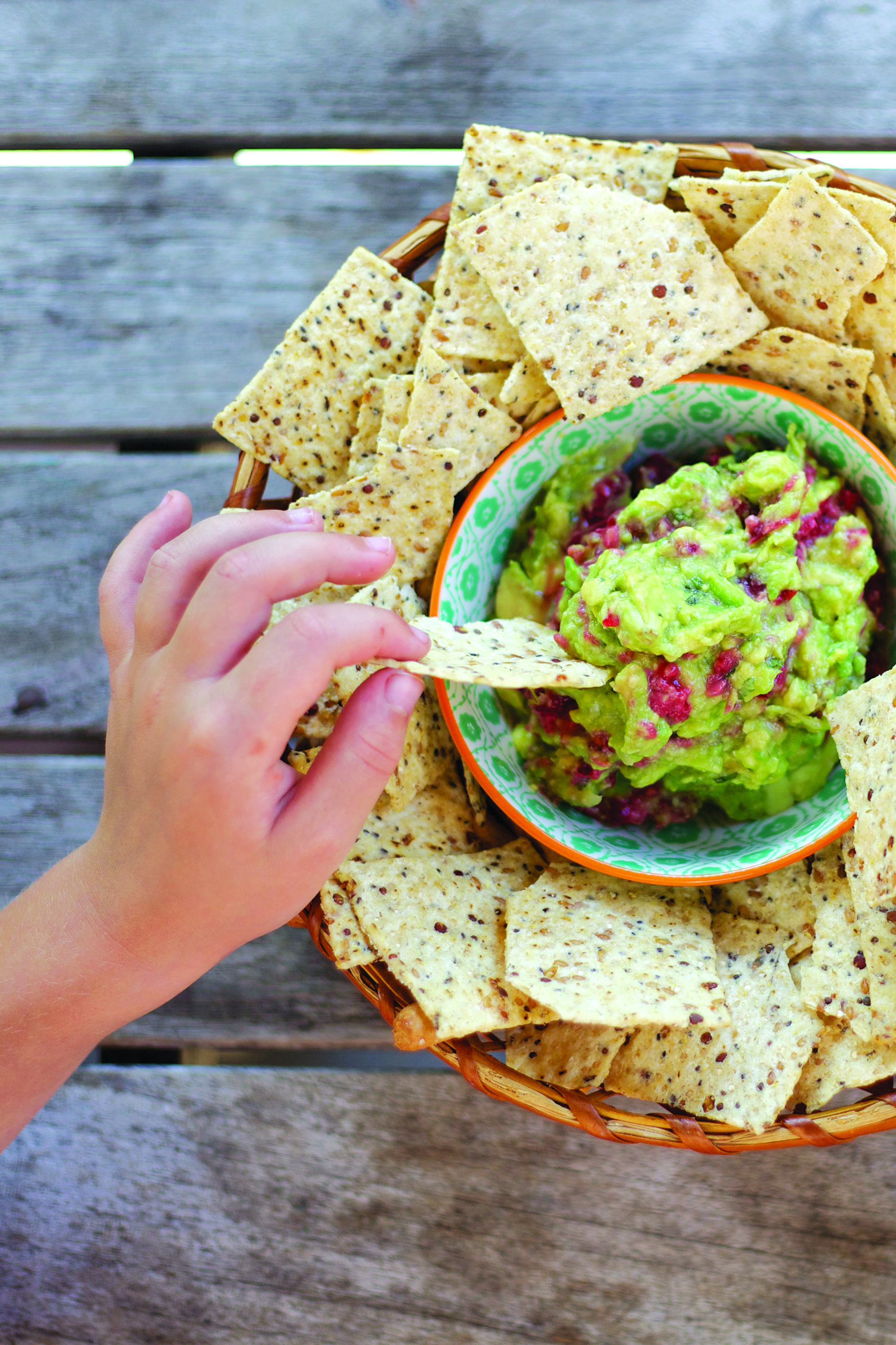 Ingredients
3 ripe avocados
1 teaspoon kosher salt
juice of 1 lime
1/4 cup finely chopped fresh cilantro
1/4 cup grated onion
1/2 cup rasperries
tortilla chips, to serve
Directions
In a large bowl, mash the avocados and salt together with a potato masher or large fork until creamy and lump free. Stir in the lime juice, cilantro, and grated onion.
In a separate small bowl, press the raspberries with the back of a fork so the fruit is broken down slightly and the juices begin to release. Fold the raspberries into the avocado mixture and serve with tortilla chips.
Zucchini and Squash Wheels with Marinara Dipping Sauce

Ingredients
1 tablespoon extra virgin olive oil
1 zucchini
1 summer squash
1 teaspoon kosher salt
1 cup unbleached all-purpose flour
1 cup panko bread crumbs
1 cup freshly grated parmesan cheese
3 eggs
1 cup marinara sauce (your favorite), for dipping
Directions
Preheat the oven to 425 degrees F. Brush a wire rack with some of the olive oil and place it on a baking sheet.
Trim the ends of the zucchini and summer squash and slice into 1/8-inch wheels. Put slices in a sieve, sprinkle with the sat, and toss with the flour, shaking off excess.
In a shallow bowl, combine the bread crumbs and parmesan cheese. Whisk the eggs in another shallow bowl. One by one, dip the wheels first into the egg wash and then into the bread crumb mixture, patting it on so it sticks. Arrange the wheels on the oiled rack in a single layer. Brush the tops with olive oil. Bake for 20-30 minutes, until the bread crumbs are golden. Meanwhile, warm up the marinara sauce. Serve the squash wheels with a cup of warm marinara sauce for dipping.
Lemon-Glazed Blueberry Donuts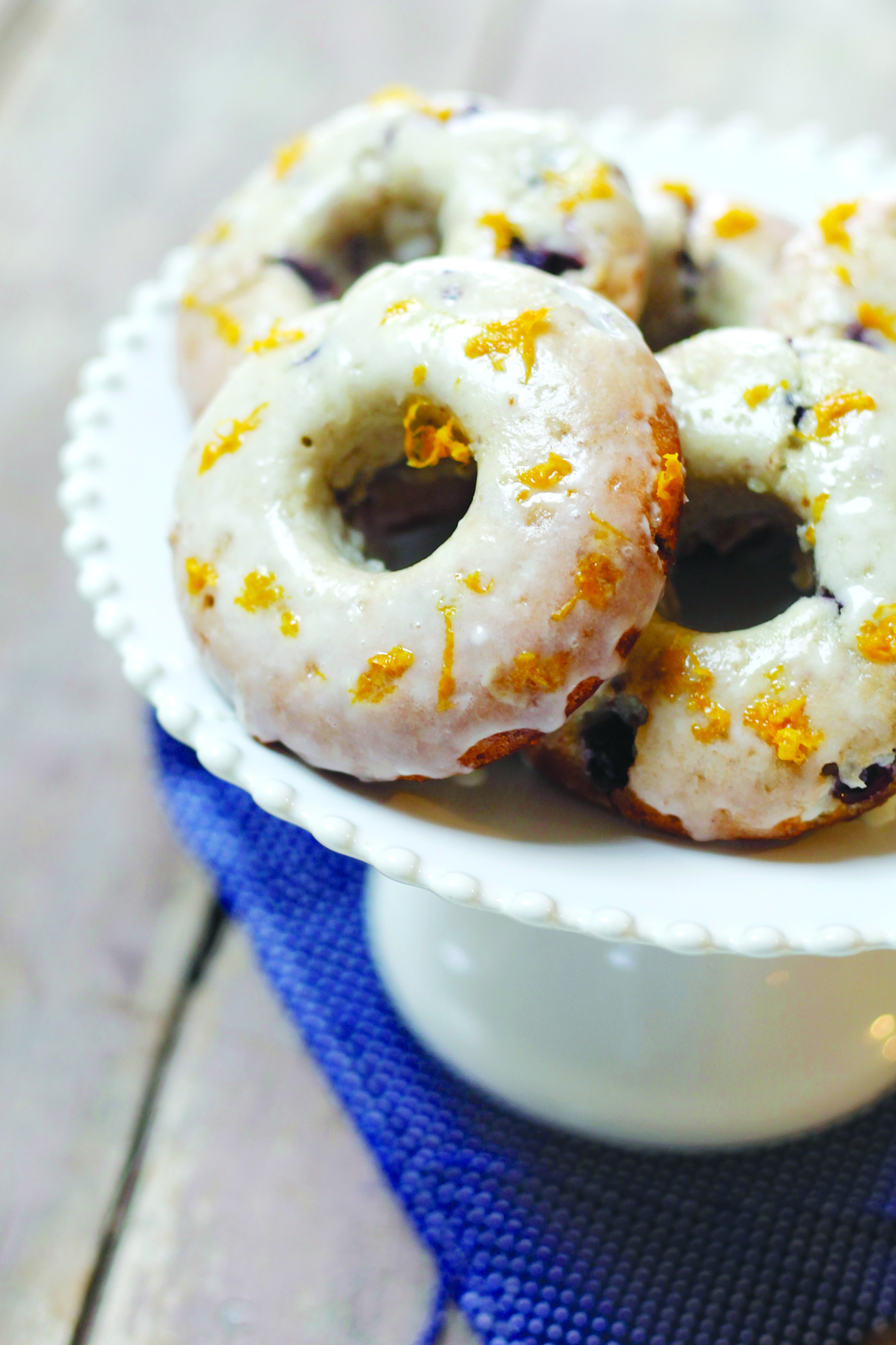 Ingredients (For the Donuts)
1 cup unbleached all-purpose flour
1/3 cup pure cane sugar
1/4 cup almond meal
1 teaspoon baking powder
1/2 teaspoon kosher salt
2 eggs
1/4 cup plus 3 tablespoons buttermilk
3 tablespoons unsweetened applesauce
2 tablespoons extra virgin coconut oil, melted
2 teaspoons pure vanilla extract
1/3 cup fresh blueberries
Ingredients (For the Glaze)
1 cup powdered sugar
3 tablespoons heavy cream
3 tablespoons freshly squeezed lemon juice
Directions
Preheat the oven to 350 degrees F. if your donut pan in not nonstick, grease the surface with a bit of canola oil or melted coconut oil.
To make the donuts, whisk together the flour, sugar, almond meal, baking powder, and salt in a medium bowl. (If you can't find prepared almond meal, simply whiz raw almonds in a food processor until they reach a sandy consistency.) In a large bowl, whisk together eggs, buttermilk, applesauce, coconut oil, and vanilla, then stir in blueberries, Add the flour mixture to the blueberry mixture and stir gently until just combined.
Pour the batter into the donut pan, filling each mold to the top, and bake for 20 minutes, until the center is set and the edge are just beginning to brown. Let the donuts cool in the pan for 5 minutes, then transfer to a wire rack to finish cooling.
While the donuts bake, make the glaze: Whisk together the sugar, cream, and lemon juice. Don't overwhisk the glaze or it will become too thick. (If this happens, don't panic – you can always thin it out with extra cream and lemon juice.)
Place a wire rack on a baking sheet to catch drips Dip one side of each cooled donut into the glaze, rotating to coat the top, then lay, glazed side up, on the wire rack. Repeat until all the donuts have been glazed. Allow the glaze to set. Prepared donuts will keep wrapped in parchment paper or beeswax on the countertop for up to 3 days.
From Little Bites by Christine Chitnis and Sarah Waldman, © 2015 by Christine Chitnis and Sarah Waldman. Reprinted by arrangement with Roost Books, an imprint of Shambhala Publications, Inc. Boulder, CO