An invasive crab becomes a main ingredient.
By Maggie Sullivan
For New Englanders, who both survive and thrive on the region's abundant seacoast, the harmful effects of climate change are a mounting concern. But the region has never lacked for problem-solving pioneers—like the trailblazers now upending the seacoast-terrorizing green crab challenge—and pivoting to turn it into an economic and culinary opportunity.
Their motto:  Eat the Problem
The area's ever-warmer winters have unleashed untold swarms of the olive green-speckled crabs, who threaten the ecosystem by gobbling up valued ocean, river, and marsh species.
"It's not a secret they've been incredibly destructive. One green crab can eat 20 juvenile clams or oysters in a day," says Alisha Lumea, director of marketing and communications at Wulf's Fish in Boston's Seaport District, the only regional distributor of the crabs.
Wulf's began selling green crabs to both chefs and home cooks in 2022, working with the non-profit GreenCrab.org to connect with area harvesters interested in building a market for green crabs and inspiring chefs to feature them on their menus.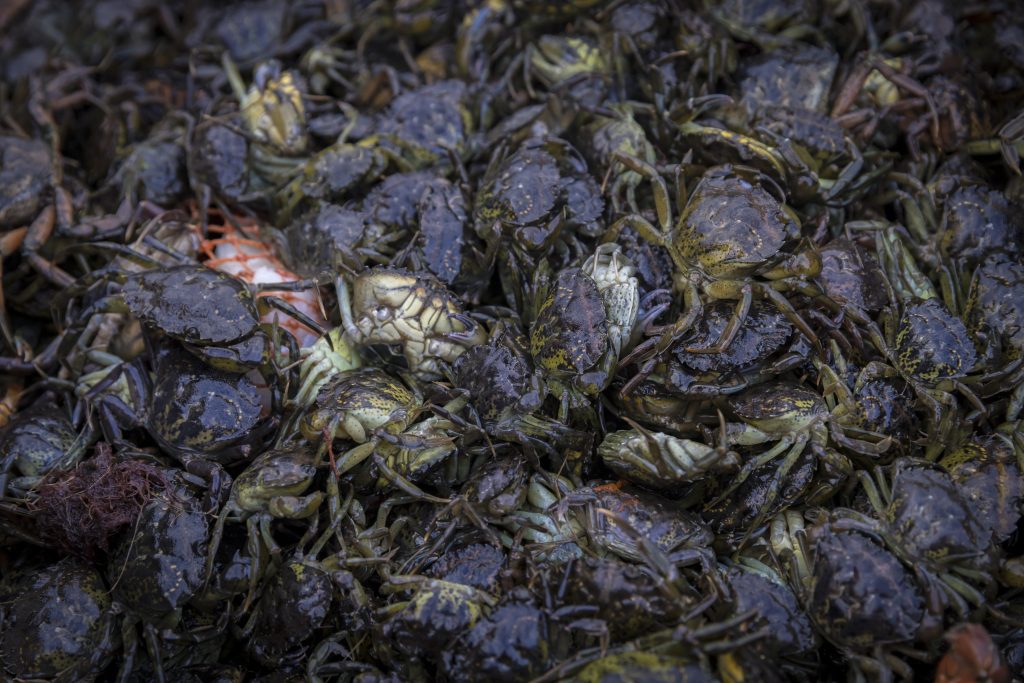 "They are absolutely delicious," Lumea said. "Chefs are really excited about the flavor and just beginning to explore the culinary possibilities with the crab." From bisques and infused butters to puddings, custards, ragus, and even green crab whiskey and Jell-O's, the potential of the crustacean looms large.
The crabs first invaded New England waters in the 19th century, arriving in the ballasts of ships, says Mary Parks, founder of GreenCrab.org, which is aimed at building awareness of the crustacean's invasiveness and developing culinary markets. Parks points out that New England has the largest green crab population in the country and their tiny size—with some only as big as a thumb—belies their power.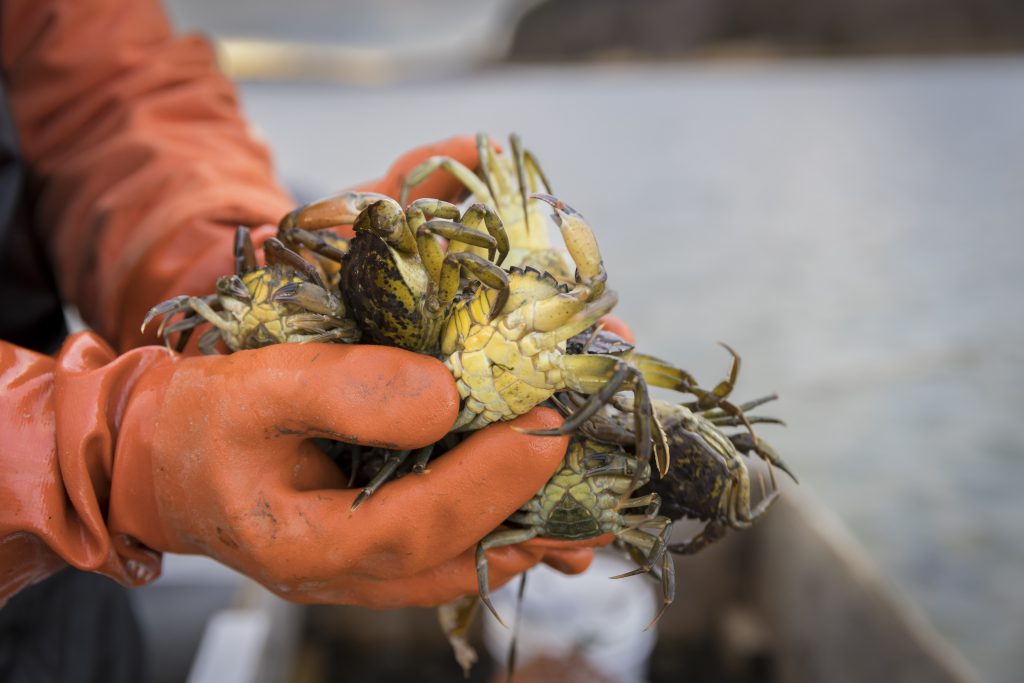 "They turn the marsh into Swiss cheese," says Essex fisherman Zack Appeltofft."They're small and aggressive and very self-aware. They can see you from a mile away, and they run and hide."
"Green crabs, though lacking much meat, can produce 185,000 eggs a year and are here to stay," says Appeltofft. "They eat clam seeds, so they could wipe out future generations of clams. You could never kill them all, because there are so many of them."
While it is difficult to pinpoint how many harvesters are catching green crabs in New England, there has been an "absolute uptick" in the number connecting with chefs, Parks says. "Harvesters are now active in every coastal New England state."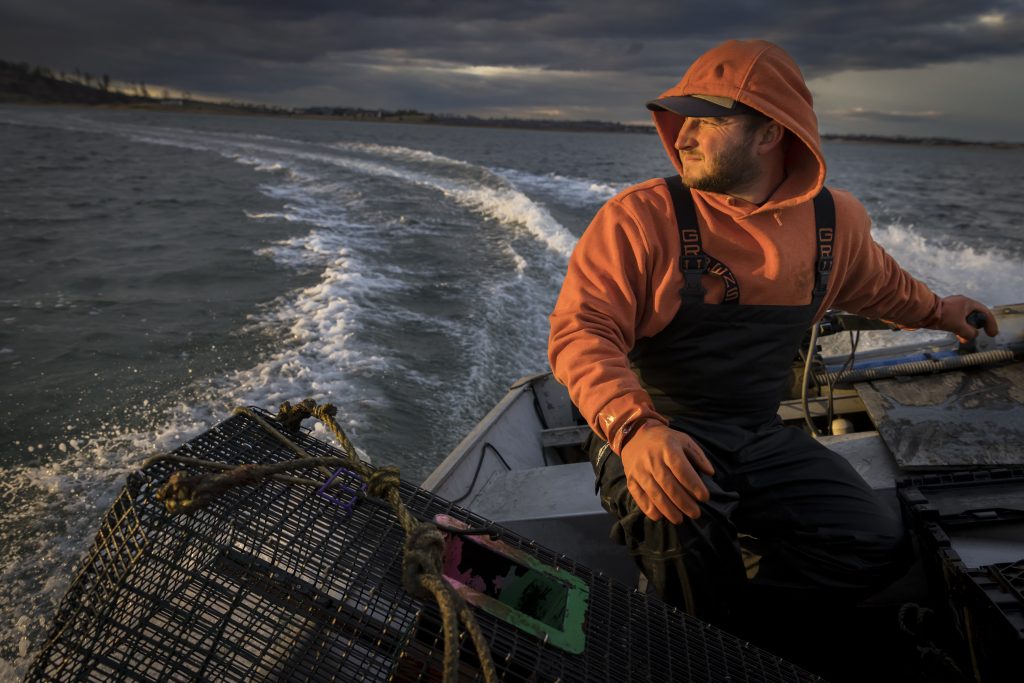 For years, some regional harvesters rid themselves of the crabs that scuttled into their shellfish traps by selling them as bait. But, according to Parks, reframing the green crab challenge from a predatory problem to an alluring culinary delicacy is turning the tide. "Green crabs are rich in flavor with a hint of sweetness," she says. "They pack a punch."
"I never saw them as food," says Appeltofft, who has been catching the crabs on the Essex River since childhood and is pleasantly surprised at the growing culinary market. "They are like a diamond in the mud."
Charles Draghi, the new chef at Belmont's Il Casale, is one of the region's green crab culinary pioneers, creating a sumptuous bisque when he cooked at his former restaurant, Alcove, in Boston. The crab is native to Spain, Italy, and France, and a staple of Venetian cuisine, something Draghi understands well.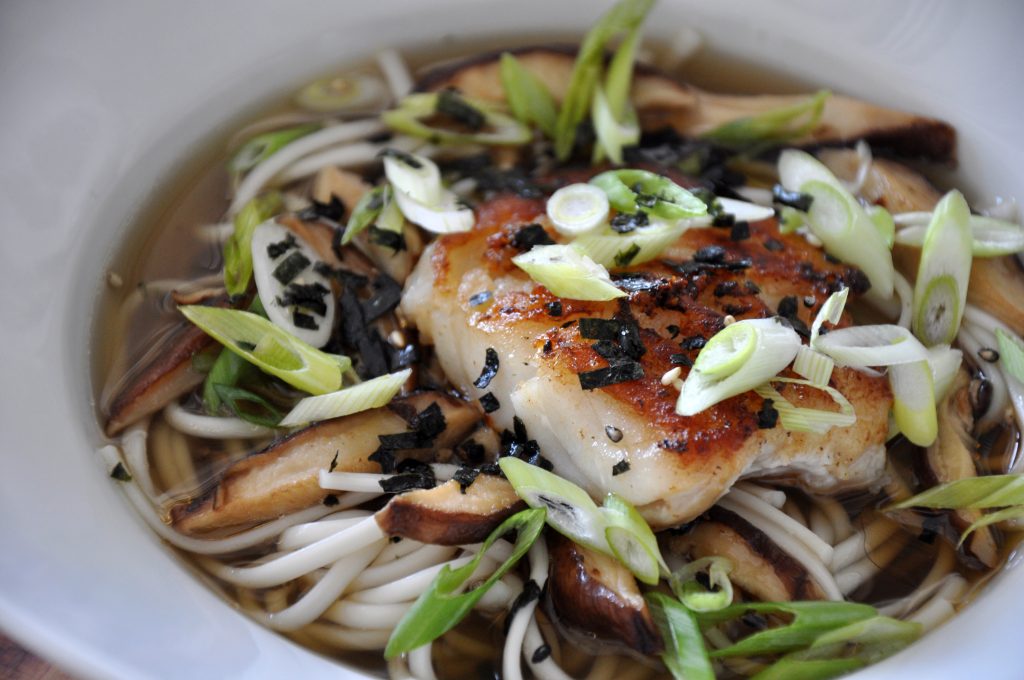 "I'm Italian. Whatever anyone else uses for bait, we use for dinner," he says. "But green crabs are so powerful, so loaded with flavor. My whole focus of cooking is on flavors that haunt." Draghi cooks the crabs in olive oil until they caramelize, regularly scraping up the brown bits with a wooden spoon to enhance the flavor. A combination of spices and vegetables completes the pungent bisque.
"It's a deep, dark, rich, oceany flavor. I just want to dive into the bowl and not come up," says the chef."You taste the ocean in the crab. You taste the vegetables, the saffron, the fennel. All the other ingredients come out to play."
Draghi has also created a green crab vinaigrette for fish and has future plans at Il Casale to create a rich, green crab winter minestrone. He credits commercial fisherman Michael Furlong, who died at sea in 2021, with luring him to put the green crab onto his menu. Furlong, says Draghi, was intent on encouraging other fishermen to think of the crab differently.
More than a dozen other regional restaurants now feature a green crab item, including Faccia a Faccia in Boston's Back Bay. In April, the restaurant's executive chef, Brian Rae, began roasting the crabs, cooking them down with onions, carrots, celery, brandy, tomato paste, and lots of herbs to make an infused butter that he drizzles on razor clams. "It was a home run," Rae says. Using green crabs is also economical, as they can cost half the price of other crab species, another draw for chefs. "They are very, very accessible to chefs and less expensive than a lot of other crabs," Rae contends.
Park hopes to see more green crab items on restaurant menus and kitchen tables in the future. One key is working with wholesalers who can distribute green crabs. Developing a way to market them as softshell crabs is another plan and shucking plump roe from female green crabs is also providing new options for menu items. Parks observes, "The roe is a gorgeous bright orange, laced with fat."
For adventurous home chefs, the Wulf's Fish website includes green crab recipes and the opportunity to order them for delivery.
While New England moves steadily to build a culinary market for the crustacean, other states are grappling with them as a menace. Detected this year in Alaska for the first time, green crabs have the potential, if their population grows, to eviscerate the seacoast. In Washington state, where the species was first spotted in 2016, harvesters are banned from selling them, and in Oregon, their numbers are swelling.
Green crab acceptance is a more sensible approach, Parks says. "We will never be able to get rid of green crabs by harvesting them," Parks said. "We can only make a dent in their population."
For Chef Rae, the pesky crustaceans offer a culinary opportunity to impact the community. "As long as they are around, and I feel like I am doing something good for the environment and for New England, I will keep using them."