New England's bounty of cozy watering holes makes our long, grey winters tolerable. From historic taverns where our forefathers dined to modern destinations celebrating locally sourced food and drinks, here are seven cozy restaurants for our region's chilliest days (and nights).
A legendary haunt with the title of America's oldest tavern, the White Horse could easily rest on its nearly 350-year history, but this Newport gem truly earns its acclaim. It has retained its authenticity in one of New England's most charming historic cities, while the everyday dining experience is a contemporary pleasure. Original details reveal the building's past as a cozy family home: wide-plank floorboards, a narrow staircase, and deep fireplaces warming every room. After becoming a tavern in 1673, the White Horse catered to an accomplished clientele, hosting Rhode Island Colony's General Assembly and other prominent meetings. Today, all visitors feel like VIPs as they tuck into refined dishes like pan-seared scallops with corn purée and fingerlings, or a show-stopping beef Wellington.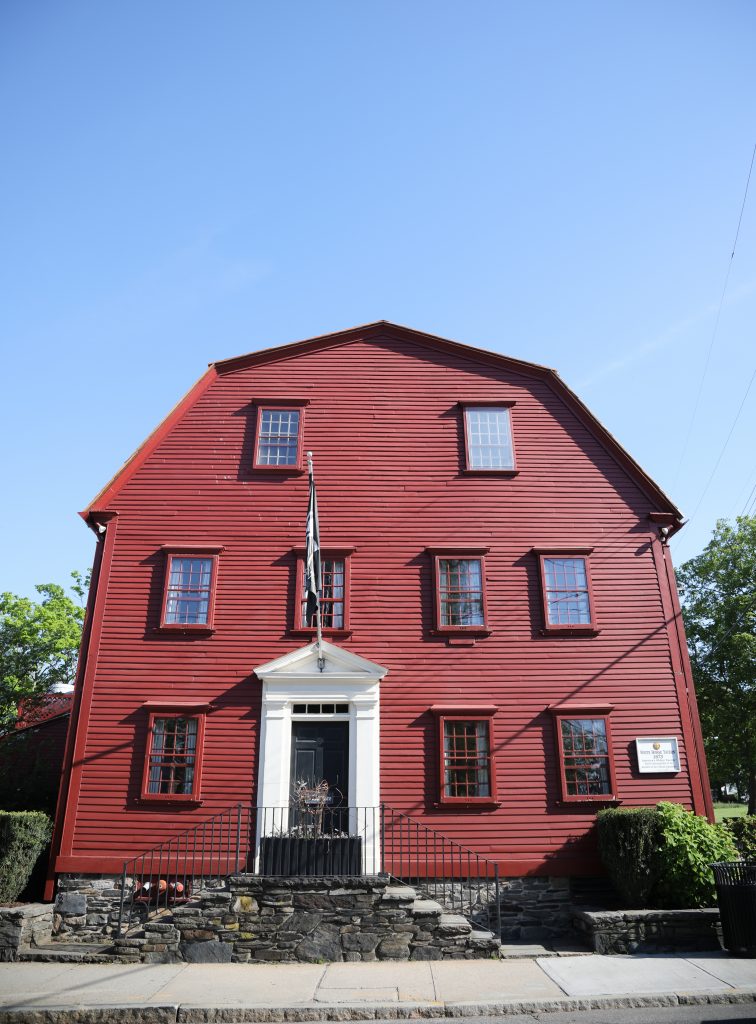 Warren Tavern
Charlestown, Massachusetts
Take a seat in this post-and-beam pub, circa 1780, and imagine pulling up next to Paul Revere or George Washington. These patriots were regulars at Warren Tavern, one of the first new structures built after the British burned Charlestown during the American Revolution. It's named for Dr. Joseph Warren, an American hero who died during the battle for Bunker Hill. (Dr. Warren advocated for inoculation, among other forward-thinking ideas, before becoming a key player leading up to the war.) These days, the tavern's history only enhances the appeal of the Federal-style building, where patrons enjoy a bevy of New England craft beer on tap and one of the best cups of chowder in Greater Boston.
With a roaring fireplace, lively atmosphere, and solid selection of beer and spirits, the 220-year-old Tap Room at the Griswold Inn remains as comfortable a place as ever for hungry seafarers. The structure once served as the first schoolhouse in Essex and was moved by a team of oxen to its current location in 1801. Its hull-like vaulted ceiling sets the scene: the pub is part of a salty spot along the Connecticut River first established to serve Revolutionary-era shipbuilders. Illuminated year-round by a festive tree, the bar is also decked out in maritime art—part of the inn's collection, said to be the largest in private hands today. Besides the fresh popcorn produced by an old-school machine, menu favorites include a sausage sampler to start, fish and chips, and the pub's own "Revolutionary Ale." Sea shanties are a Monday night tradition and have added to the maritime merriment for almost 50 years.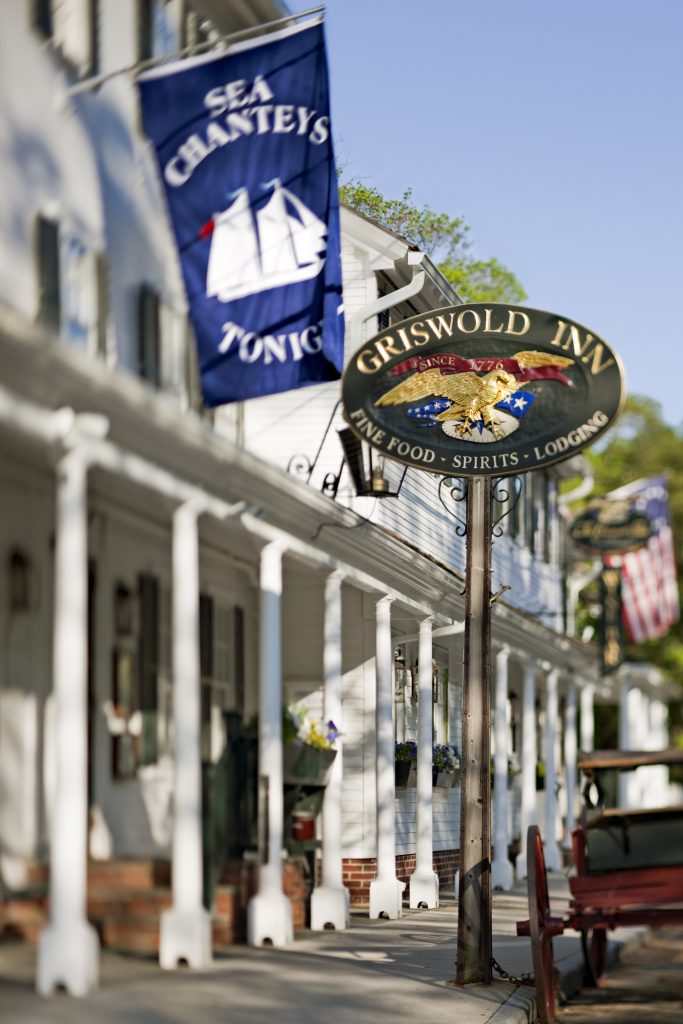 The Harp and Hound has the look of a proper Irish dive, right down to the frothy pint of stout they'll pass you over the bar. It has the right feel, too. Friendly and comfortable, it's a pub you feel lucky to have stumbled into. Located in one of the oldest buildings in the seaport village of Mystic, this homey locale has been a portal to Ireland for the past 20 years, thanks to its large stone fireplace tacked with signs from the Emerald Isle. The menu isn't limited to bangers, mash, and Guinness stew, however apt it is to order these classics. It spans a huge selection of sandwiches, tacos, and more along with the standard pub repertoire. But a visitor can't go wrong with the fish and chips: crispy and light with sharable fries, the Harp's version is as satisfying on a blustery fall day as it is on the patio.
As you relax into the buttery-leather bench seat and the lights twinkle warmly around the room, the well-crafted old fashioned in your hand almost becomes an afterthought—almost. Because the only thing that surpasses the rustically romantic setting of Hen of the Wood is the exquisite food and drink served here. When this restaurant, situated next to a picturesque waterfall, debuted in 2005, it reimagined the time-honored New England tavern as a destination dedicated to the region's food producers. Perfectly plump Parker House rolls and all, that vision is realized night after night with a style of service that makes every diner feel at ease. With topnotch cocktails and seasonal dishes like roasted beets flecked with salty Vermont bleu cheese, or braised rabbit with mushrooms and goat's milk dumplings, this gem is a modern classic.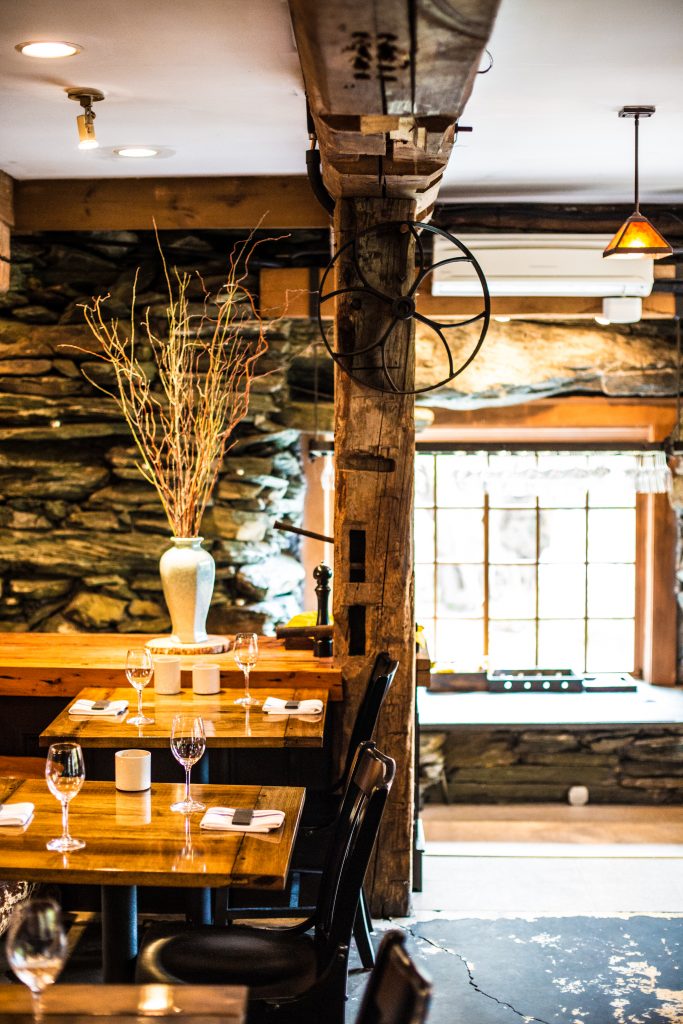 The Foundry
Manchester, New Hampshire
Picture red brick walls, soaring ceilings with original timber beams, wrought iron light fixtures, historic artifacts from Manchester's industrial past, and large windows with views of the Merrimack River just outside. Once a factory, The Foundry is now a refined industrial space filled with sumptuous leather dining chairs, bar stools, and cushy booths. Its certified farm-to-table menu tempts from start to finish with dishes like 18-hour pork ribs, oysters on the half shell, beefy burgers and thick-cut fries, creamy herbed risotto dotted with foraged New Hampshire mushrooms, and grilled bone-in ribeye. Also, don't miss the restaurant's themed nights: burgers and beer on Mondays, prime rib on Thursdays, and a popular all-you-can-eat buffet brunch on Sundays.
Raw fish crudo may not be the dish that comes to mind when you're thinking cozy, but Central Provisions is one of the coziest restaurants around, and we're definitely ordering up some crudo next time we get a seat at its chef's counter. Well-balanced bites of sliced seafood are a main attraction at this wharf-side spot, such as bluefin tuna adorned with radishes, mustard, and crispy shallots. The small plates menu features a bounty of vegetables, fruits, and herbs arranged in inviting ways; rich cheeses; and meaty morsels like suckling pig with apple butter. The downstairs bar—shelves stocked with spirits, reminiscent of the building's history as a storehouse—is one of the coolest places in the Old Port to while away a wait for a table. Meanwhile, the dining room is a testament to the owners' dedication to honoring the history of the building. Stools and chairs made by a local blacksmith and table and bar tops handcrafted out of reclaimed heart pine are just the beginning of the interior's rustic-elegant ambience.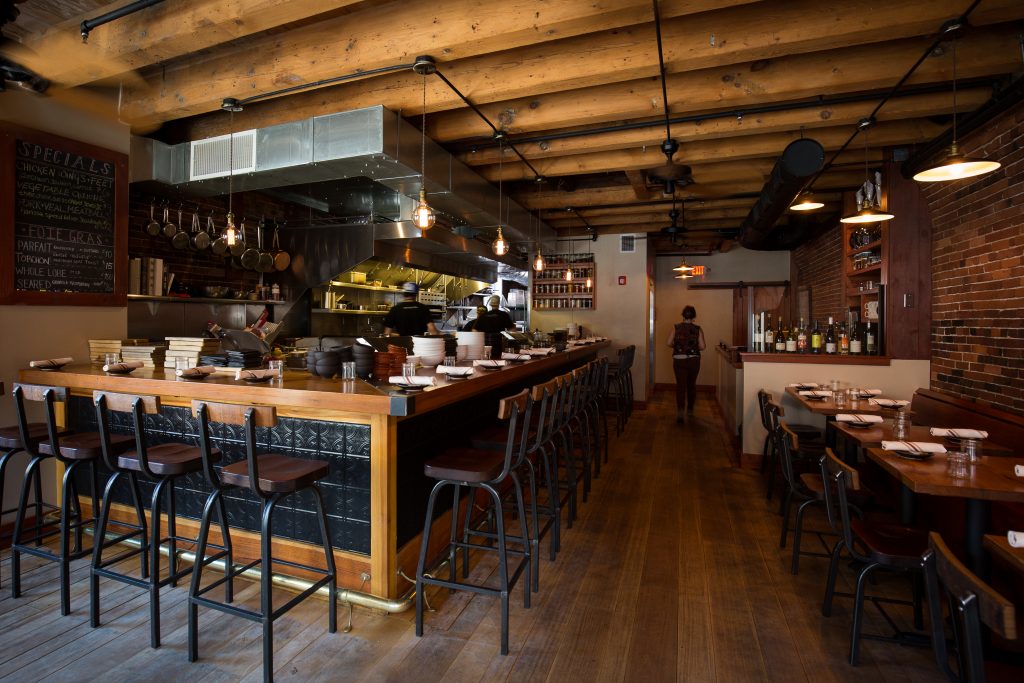 Written by Jacqueline Cain 
Photography by Keri Heren & Robert Benson Photography