Follow the Maine Oyster Trail to Connect with Farmers, Chefs, and Outdoor Adventure this Fall
By Danna Lorch     Photos by Joseph Conroy III for the Maine Aquaculture Association
There's nothing quite like journeying to Maine for fresh oysters, shucked in front of your eyes and served on the half shell with a simple squeeze of lemon and dramatic views of rugged coastline on the side.
Pack a sweater because fall is peak oyster season, and the newly unveiled Maine Oyster Trail makes it possible to visit hot spots and charming holes in the wall like a local long after the summer tourist buzz has quieted down. The interactive online trail invites visitors to get off the beaten path for bespoke oyster farm tours, kayak and boat experiences, and detours to pop up "shuck trucks," raw bars, and rural roadside stands.
Afton Vigue, who developed the Maine Oyster Trail through her work at the Maine Aquaculture Association, says that most oyster farmers harvest from April through December. She explains that oysters grown in Maine are all from the same species, but each brand has its own identity. Similar to wine, the environment influences the taste of the product.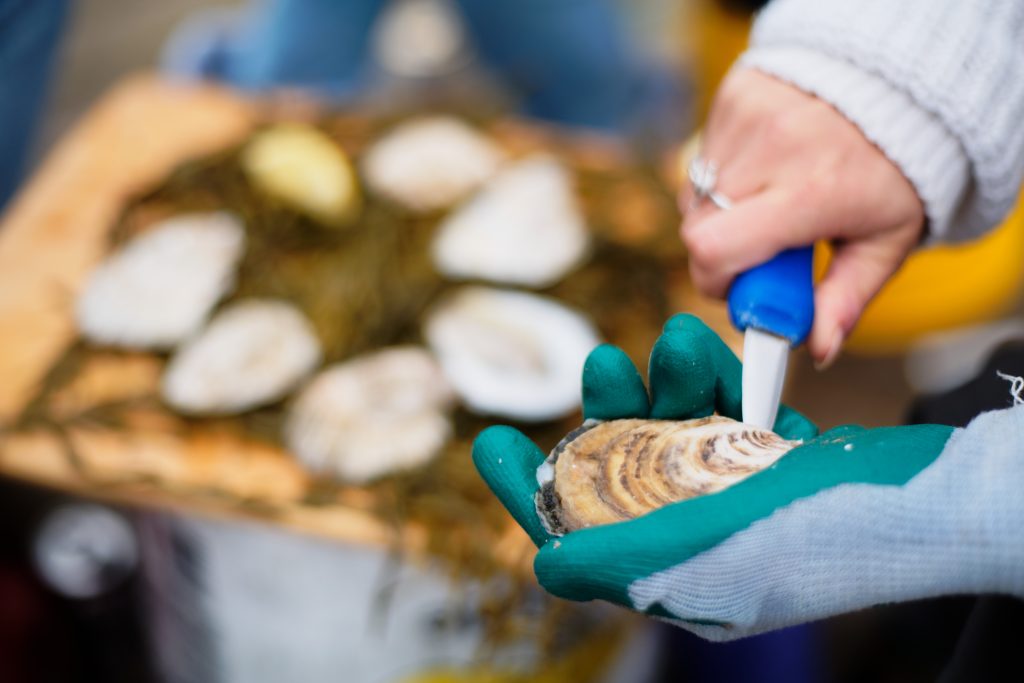 "With wine, that effect is known as the terroir, but with oysters, we refer to it as the merroir," says Vigue. "Each farm has a different locale, and factors like the salinity, turbidity, and whether the oysters are grown on the water's surface or on the bottom influence the ultimate flavor, color, and texture of the oysters." Luckily, it is possible to experience the full range of tastes–from briny to buttery smooth–by engaging with more than 80 locally owned businesses sprinkled along the Maine Oyster Trail.
A completely digital customizable trip planner assists with choosing stops and mapping a journey across the state's four oyster regions. These are DownEast and Acadia, where oysters grow between the Atlantic's salty crests; the Maine Beaches, where exceptional raw bars beckon; the Midcoast and Islands, offering access to the oldest operating farms in the state; and Greater Portland and Casco Bay, a foodie's paradise thanks to a new generation of young entrepreneurs. Trail-goers collect points in a mobile Maine Oyster Passport at every oyster adventure along the way by checking in and entering a dedicated four-digit code. Points can be redeemed toward free swag, including a hat and tote bag, and, with 50 check-ins, a top-secret grand prize for a "Maine Oyster Connoisseur."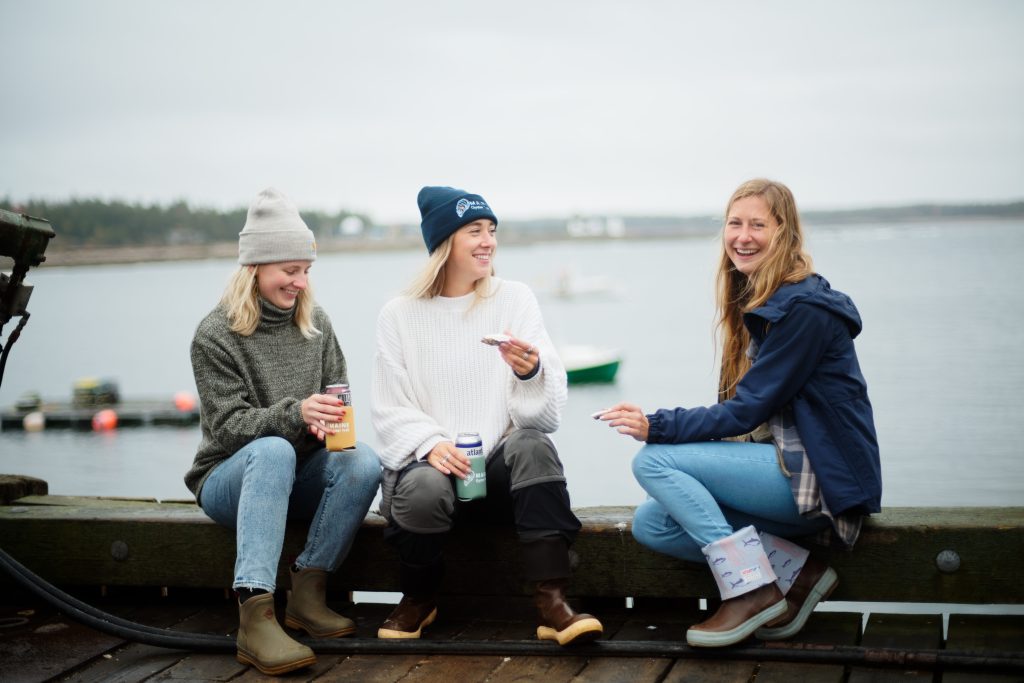 One stop along the trail includes a shucking class to learn how to open and serve oysters and a visit to a pop-up oyster bar dreamed up by Libby Davis, a Maine native and the founder of Lady Shuckers. Davis operates a food truck that serves locally sourced bivalves raw on the half shell, fried and tucked into a Po'Gal sandwich, or with a side of spicy, effervescent Sea-Chi, a riff on Korean kimchee, using sugar kelp grown by Maine lobstermen and brought to market by Atlantic Sea Farms.
"Just keep shuckin'" is Davis's motto. Her menu is built on partnering with other local, BIPOC, and woman-led businesses and supporting sustainable aquaculture along the way. In addition to happily serving a fresh food product that "tastes like no other," Davis also supports the Maine oyster industry because she cares about environmental sustainability. "Oysters are incredibly healthy for humans," says Davis. "They are low in fat and high in protein. They are also rich in zinc. In addition, they are filter feeders and literally clean our oceans."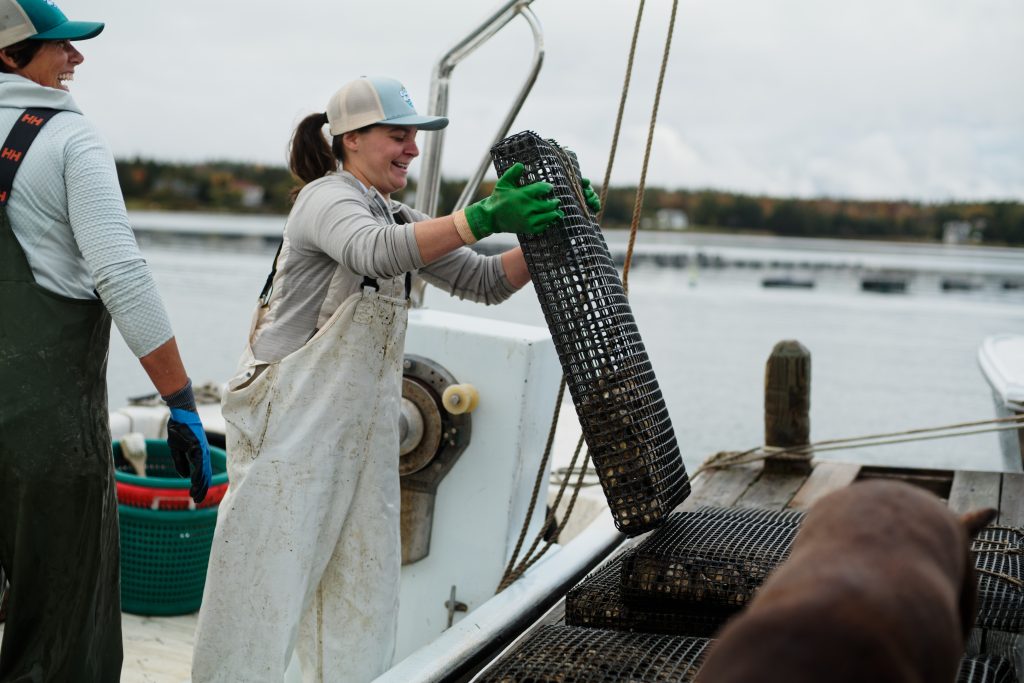 Davis is back in her native Maine after a Peace Corps stint in agriculture development in Madagascar. She learned the ropes of the oyster business and built relationships with local farmers while managing the raw bar at the Maine Oyster Company in Portland. In fact, a stop there for a meal at the bar and a visit to the company's basecamp lodge in Phippsburg for a private farm tour by skiff are some of her favorite recommendations for trail visitors.
While the culinary and interactive experiences on the Maine Oyster Trail change by the season, there are always opportunities to meet and support local farmers, chefs, and aquaculture entrepreneurs–and dive into some of the choicest oysters in New England.