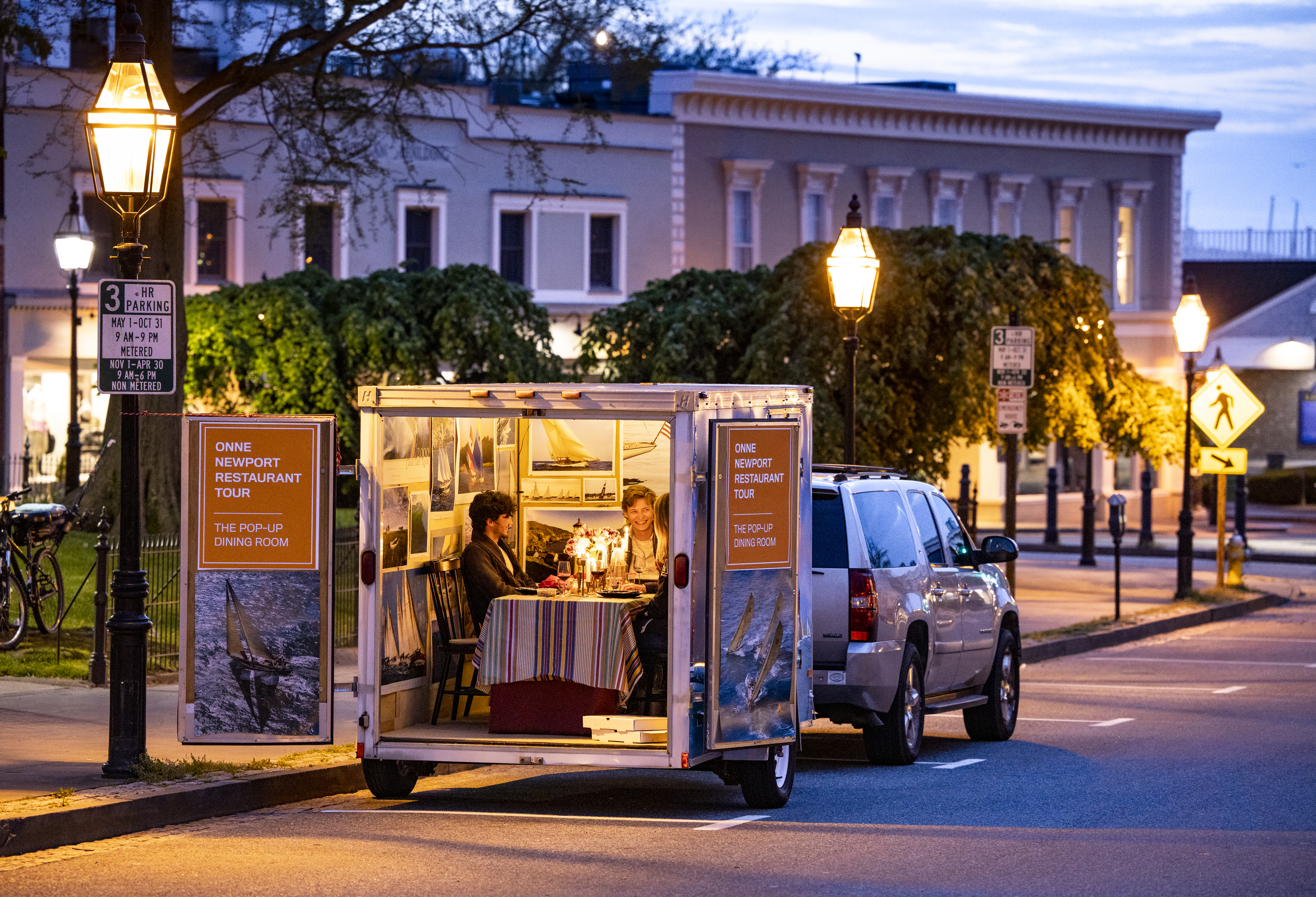 By Lisa Cavanaugh
After two months of staying at home due to the Covid-19 pandemic, celebrated Newport, Rhode Island-based marine photographer Onne van der Wal and his family were getting weary of cooking all their meals. "We were tired of doing dishes every night and we missed our favorite restaurants."
So van der Wal's wife Tenley suggested they repurpose a box trailer they had previously used to bring his photography artwork to boat and art shows. "We weren't going to the shows as regularly, and we were about to put the trailer up for sale before the pandemic hit," he says. "Tenley's idea was to take all the boat show material out and make it into a portable dining room!"
So van der Wal cleaned out the trailer and Tenley and their daughter Read, home from New York, outfitted it with twinkle lights, Onne's photos, and a complete dining tableau including table, chairs, plates, glasses, and a candelabra.
Then the whole family, (their college-aged son Adrian has been back in Rhode Island during the pandemic) brought the newly christened One Newport Restaurant Tour: Pop Up Dining Room to the Clark Cooke House on Bannister's Wharf, near where the van der Wal gallery is located. "Clark's owner is our landlord, so I called to ask if we could do this, and he said absolutely, park it right in front!"
Restaurant staff delivered the van der Wal's to-go bag order right to the Pop Up Dining room. "We sat down at our formal table setting and enjoyed a wonderful meal,"  says van der Wal. "Lots of people walked by and told us that they thought it was so cool."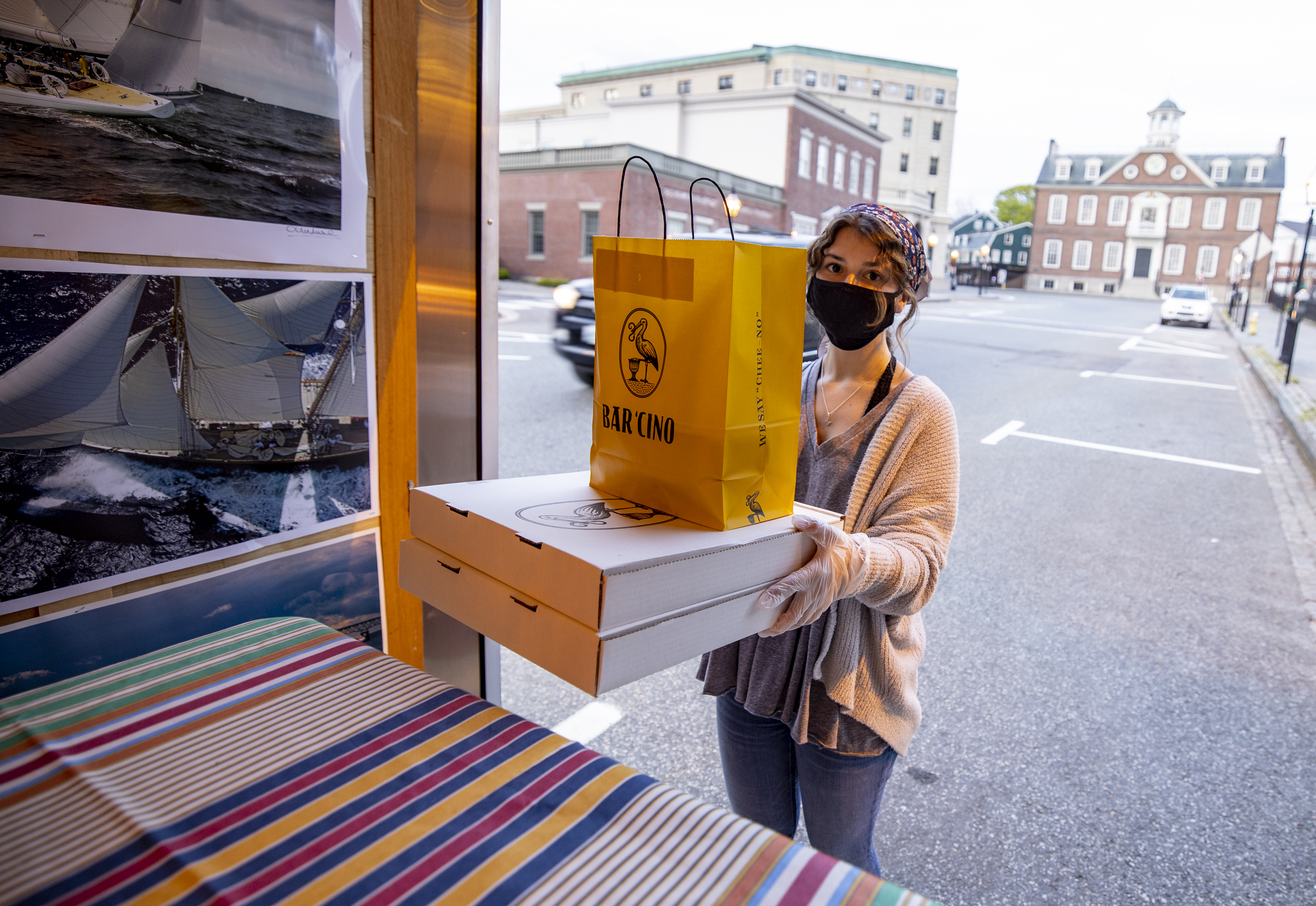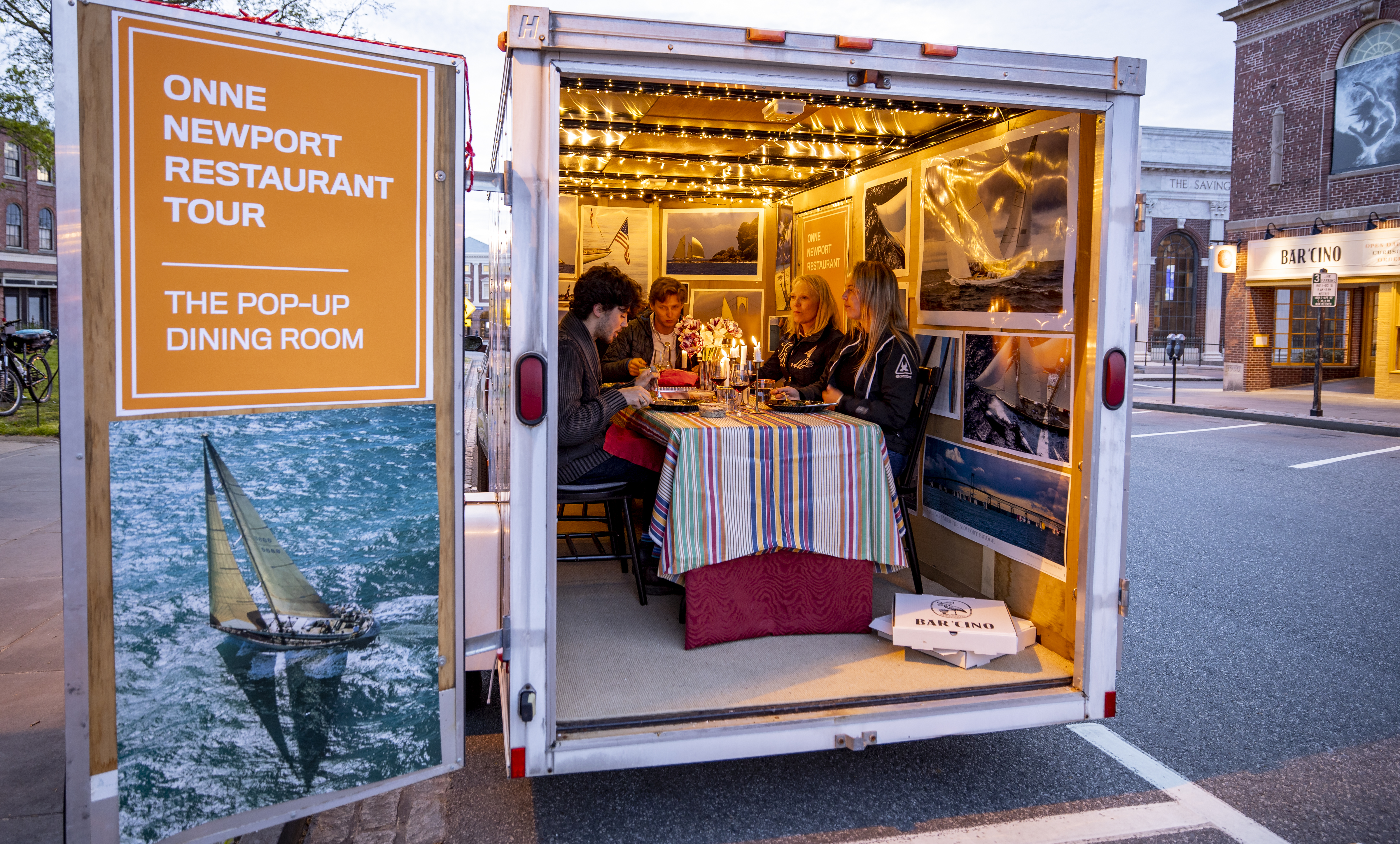 Escaping from the kitchen in a grand way was not the only motivation behind the unique mobile dining space. The family wanted to find an innovative way to support the amazing eateries in their city, which like all restaurants have had to suspend dine-in options. The Pop Up Dining Room has also made appearances at Bar 'Cino, Stoneacre Brasserie and Pasta Beach.
"It's been very well received," says van der Wal, who says they will continue going to the restaurants that cannot offer outside dining. "And once the beach is open we plan to pick up some burgers, and go park at sunset at Surfers Corner. "I think it will be a wonderful meal, with that nice light of the sun going down." vanderwal.com
Instagram:
@readvanderwal
@onnevanderwal