When you have a beautiful outdoor space, you want to maximize your time there. This is especially true here in New England, where long winters make outdoor entertaining time all the more precious.
    Outdoor kitchens have been popular for years now, but, like any design feature, they keep evolving. What once was mostly a grill set into stone has grown greatly in sophistication. Today, homeowners are replicating their indoor kitchen's style and functionality—sinks, cabinets, and appliances—outside. The goal? To spend as little time in that indoor kitchen as possible. 
For 66 years, Pappas Cabinetry has been designing kitchens of exceptional quality and building custom cabinets in its 30,000-square-foot Meriden, Connecticut, facility. "Clients come to us because of the quality of our work—it's my job to keep them from making any mistakes," explains owner Roy Pappas.   
    After completing a kitchen for a new construction home in Milford, Connecticut, Pappas was tasked with creating a multifunctional outdoor kitchen for the property, one that could handle hours of entertaining by the pool. "Since they have a gorgeous pool overlooking the ocean, these homeowners entertain a lot," says the kitchen designer. "They have a large family and this is their gathering spot in the summer. It's very gung-ho on the weekends."
    At the outset, the client knew she didn't want to be walking back and forth constantly from her indoor kitchen to the pool. "She wanted to set up her outdoor kitchen once, with all of her pots and pans and utensils stored for the summer, and not bring everything in until the season is over," recalls Pappas.
    As a result, the L-shaped outdoor kitchen is lined with cabinetry for storage and topped with sleek granite. It's also spacious: two to three people can work easily at the same time. "The cabinets are metal with stainless steel interiors, which have dividers and rollouts where needed. The five-piece metal doors look just like teak but can withstand the weather," describes Pappas.
    The design has two Sub-Zero refrigerator drawers and an ice maker on one end, so that guests can easily grab a drink or nibble from a platter and head straight back to the pool. On the other end is a 36-inch Wolf grill paired with another set of refrigerator drawers to hold steaks, hot dogs, hamburgers, and other food items.
    No detail in this outdoor kitchen was overlooked. Strategically placed outlets accommodate chargers and blenders for making smoothies or margaritas. Even the pergola above adjusts electronically to control shade. Says Pappas of the completed space: "Everything was designed to make cooking, dining, and relaxing as convenient and enjoyable as possible." sjpappas.com
PRO ADVICE
Planning an outdoor kitchen? Here are some considerations to take into account before you begin. – Roy Pappas, Pappas Cabinetry
Food preparation – If you prefer to prep your meals outdoors, you'll want a sink plus refrigeration for storing meats and vegetables. You might not meet your 10,000 step quota, but you will have fun cleaning and prepping vegetables to throw on the grill with your family and friends nearby.
Distance of outdoor and existing kitchens – You should plan on having enough cabinetry to store cooking utensils, serving trays, and a big pot for boiling those lobsters.
Entertaining – It's a bonus to add a refrigerator drawer to keep beverages cold and in close proximity to your guests. An ice maker is ideal as well.
Floorplan – An L-shaped outdoor kitchen functions best; it keeps the chef at one end and guests at the other.
Cleanup – Don't forget an area for trash.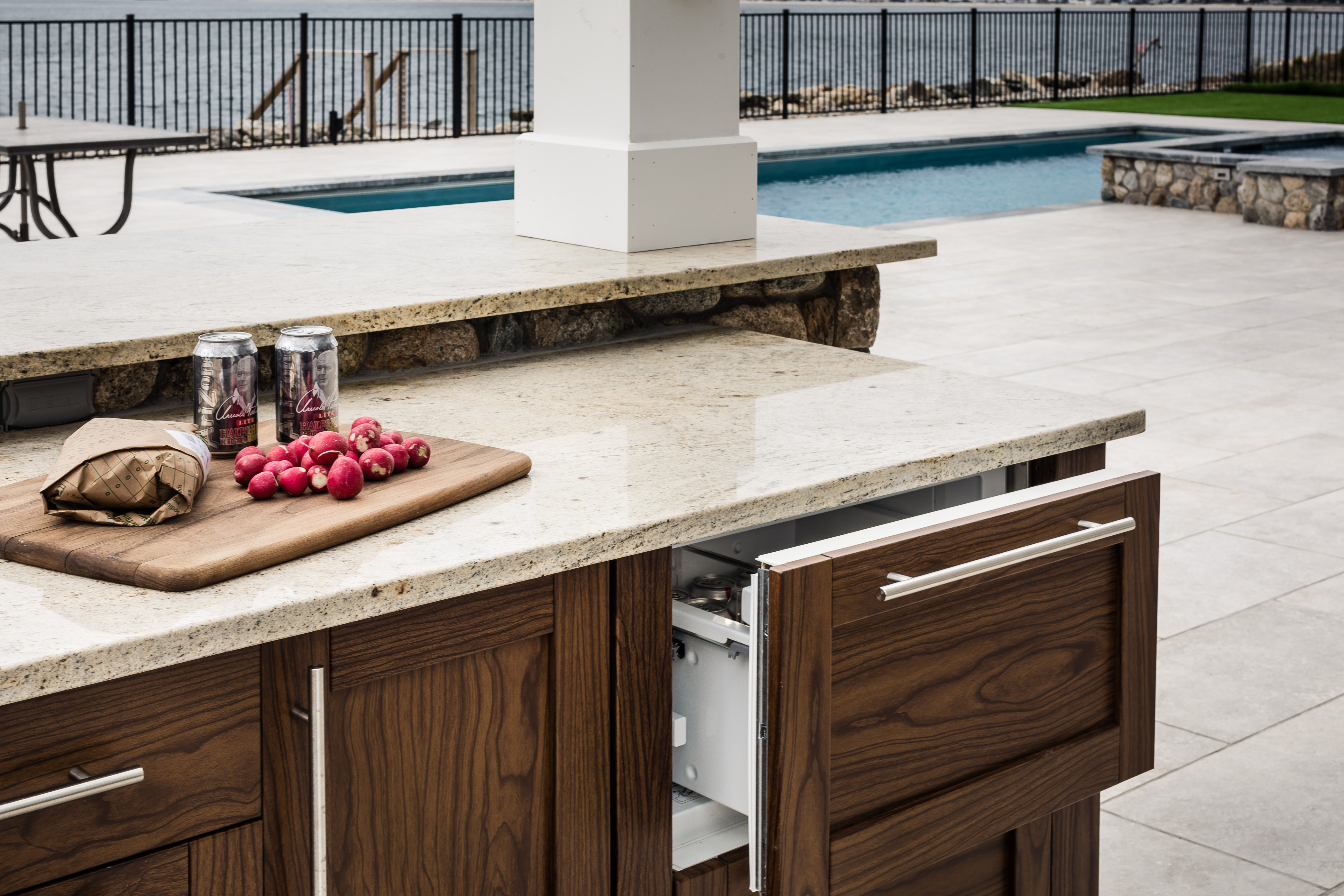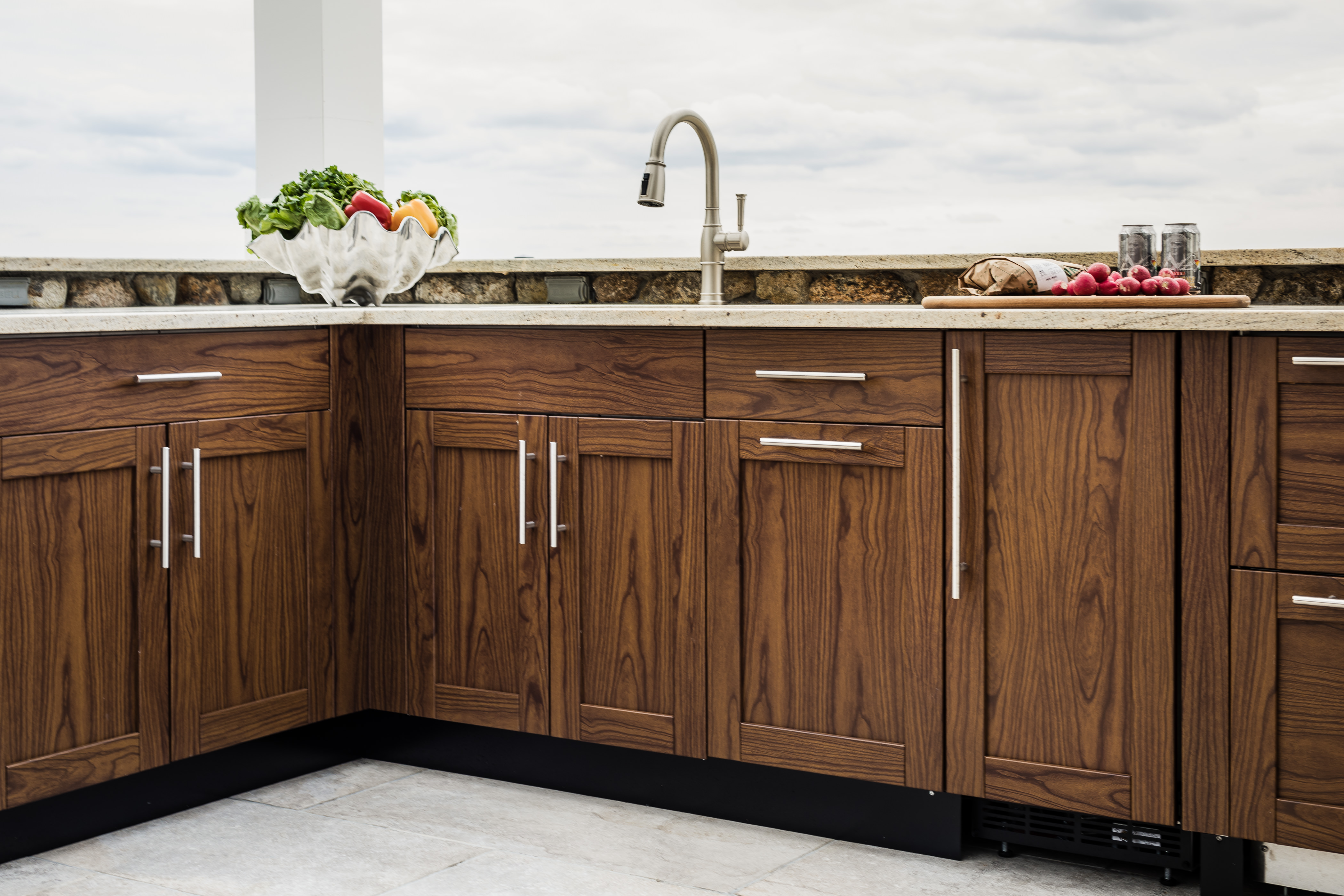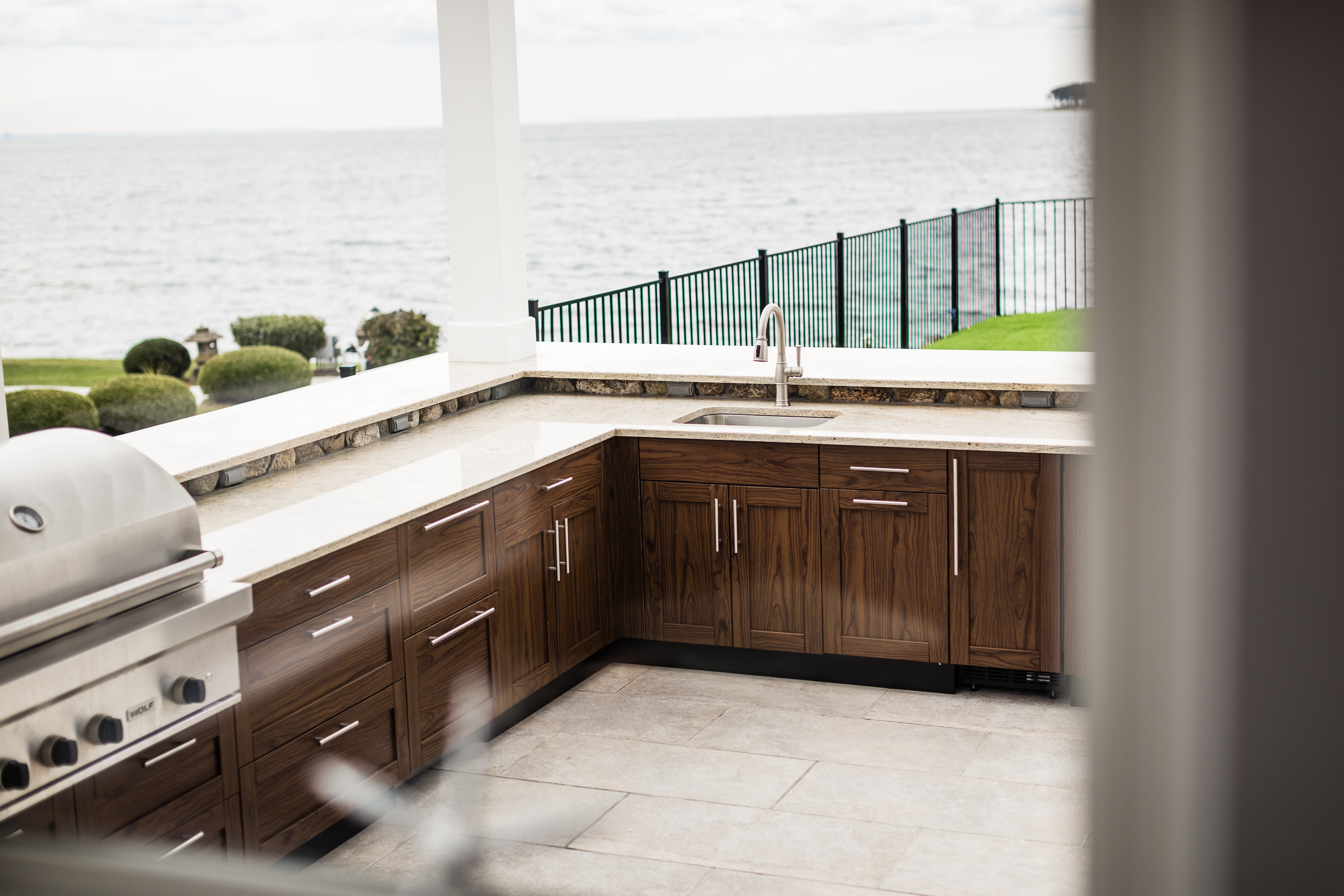 Glenn Meader, principal of Good Life New England, has noticed an evolution in outdoor kitchen designs. "The past approach was often limited to a grill surrounded by some counter space. But recently there's been a paradigm shift. Homeowners are wondering, Why can't I enjoy cooking and entertaining outside with all of the same features available inside?"
    Good Life New England, based in Norwell, Massachusetts, specializes in fine cabinetry and residential design. "While the majority of our work relates to interior space, we've seen an influx over the last several years of new and returning clients seeking our expertise for their outdoor living spaces," says Meader. One such client, living on the mid-Cape, who was thrilled with the transformation of her interior kitchen, contacted Good Life a year later to start designing her outdoor kitchen.
    "They entertain friends and family often and love having their college-age kids return home with their friends. When they host, everyone always congregates out back by the pool and fire pit," explains Meader. Since the pool is on the same level as the walkout basement, there's a pretty significant distance between it and the kitchen inside. "The client wanted to be able to set up and enjoy the day outside without any of the back and forth," he adds.
    Tucked beneath the deck overhang, the resulting outdoor kitchen provides plenty of storage cabinets and countertop space. On the end closest to the pool, an ice maker and two Sub-Zero refrigerator drawers allow guests to grab and go. Grouping the Wolf grill and a second Sub-Zero refrigerator on the opposite end separates the cooking from the bar seating. A vent hood combats the nuisance of smoke for guests using the deck above.   
    This kitchen's styling fits the Cape Cod setting, but more importantly its functionality fits the family's busy summer lifestyle. "Now they can fully enjoy their outdoor living without any back-and-forth hassle," summarizes Meader. 
PRO ADVICE
Here are three big-picture aspects we routinely work through with clients in our outdoor kitchen projects. – Glenn Meader, Good Life New England
Space Planning – Like our interior projects, exterior living space and especially outdoor kitchens require thoughtful space planning. Considerations like proximity to the house and exterior features like pools, outdoor dining, casual seating, and/or views are common starting points.
Appliances & Fixtures – While a built-in grill is common, so much more is now available. Refrigerator drawers and ice makers save repeat trips inside, warming drawers and burner units expand your entertaining capacity, and fully functional sinks and dishwashers handle cleanup. All of these inclusions extend your outdoor living time.
Style & Function – Traditional thoughts on outdoor kitchen style were once tethered to bulky masonry, cold stainless steel, or woods that naturally decay. Our ever-expanding styles and finishes include a unique cabinetry product that blends weatherproof construction with the look and storage capabilities of traditional wood cabinetry.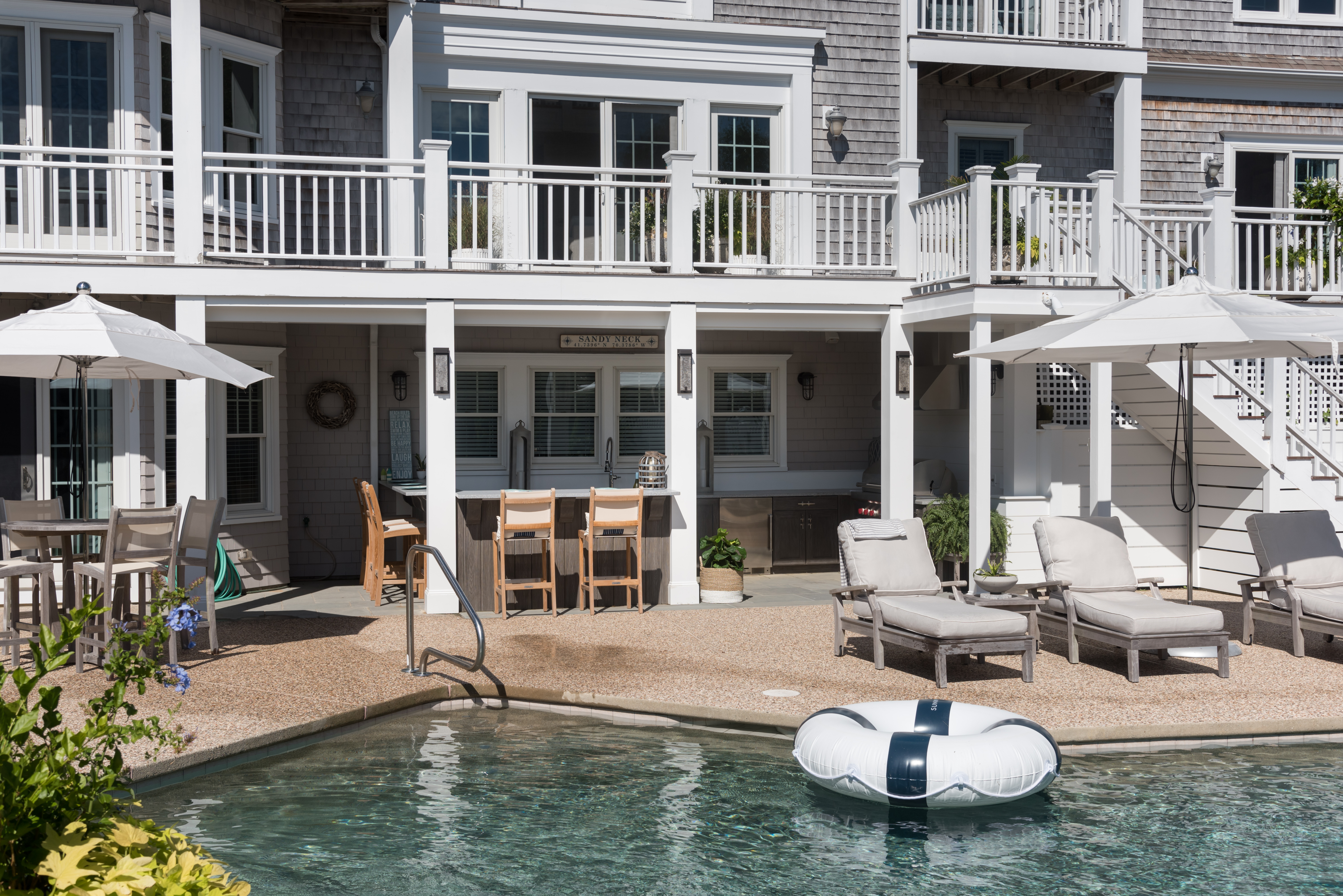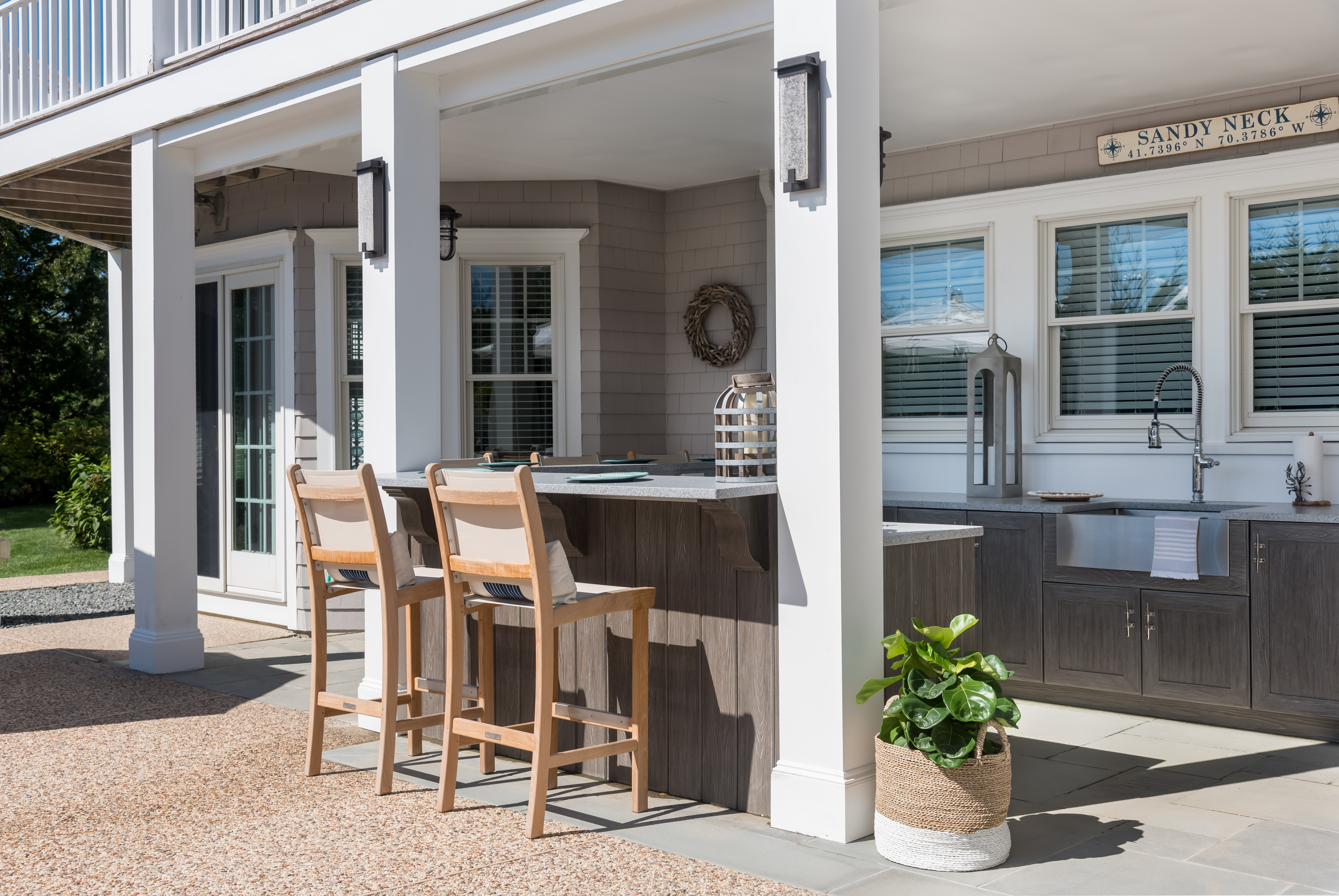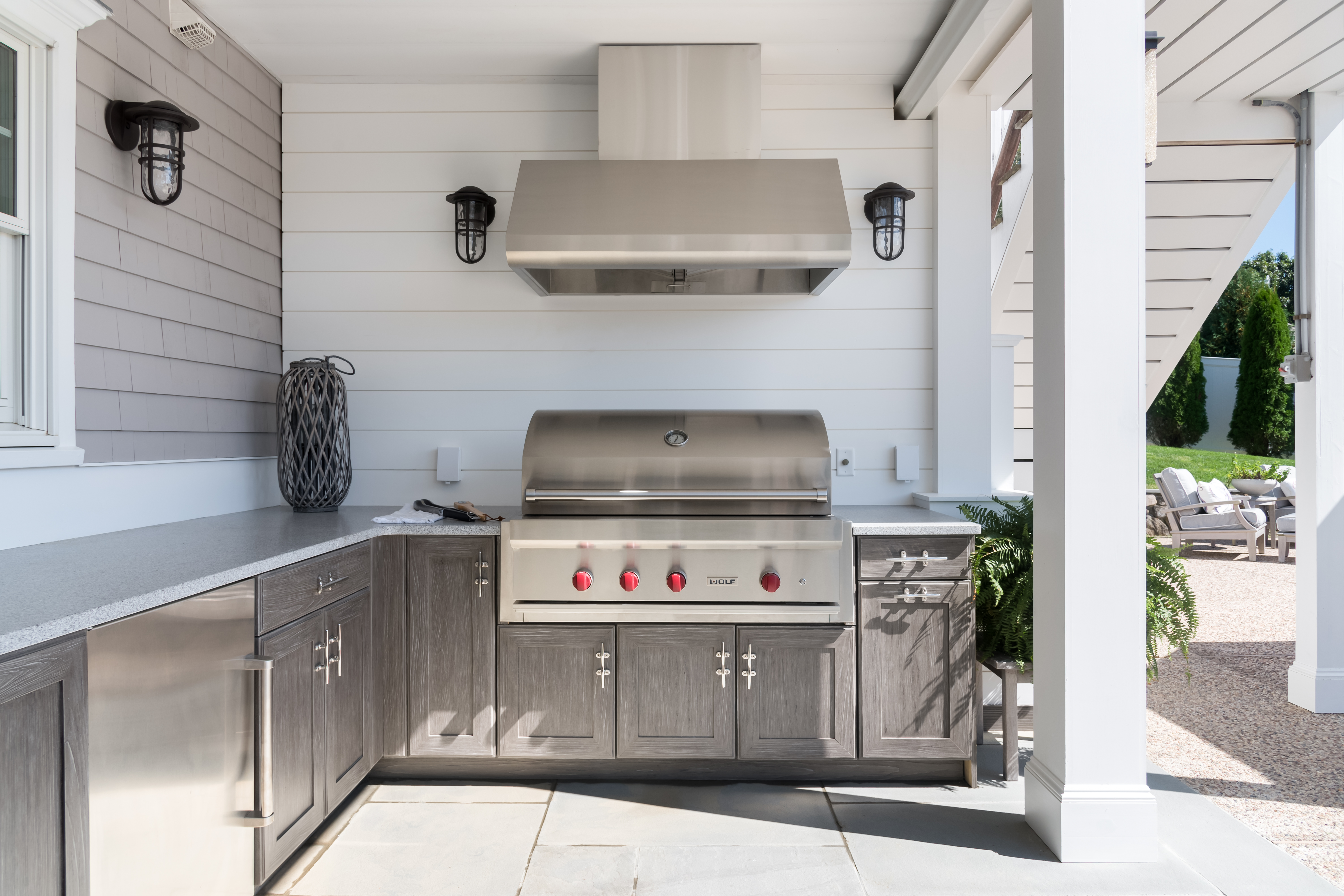 This Cape client approached Good Life New England about revamping their poolside amenities. "The property had the start of an outdoor kitchen, with a pergola, grill, and stone counter, but needed additional appliances and cabinetry storage," describes Meader. With quite a bit of distance between the indoor and outdoor kitchens, the owners wanted more functionality pool-side for summer entertaining.
    With a 54-inch Wolf grill as its centerpiece, the revamped space now includes an ice maker, sink, and two under-counter refrigerators. Its chic yet weather-resistant finishes include cement countertops and custom stone from Belgium lining the bar seating.goodlifenewengland.com