Reach new peaks in your workout regime with indoor rock climbing.
By Charlotte Roth | Photos Courtesy Rock Spot Climbing
---
For many, rock climbing conjures images of steep mountains and precarious ledges, complicated harnesses and frightening drops. In recent years, however, indoor rock climbing facilities have transformed climbing from a risky endeavor along the lines of skydiving or bungee-jumping into a fun, accessible sport that men, women and children of all ages can practice safely.
Southern New England facilities have been on the cutting edge of this trend for years. Carabiner's, an expansive facility in New Bedford founded in 2004 by veteran climber Steve Caton, boasts 35,000 square feet of climbing surfaces that stretch 65 feet into the air. Rock Spot Climbing, launched in 2002 by co-owners Lary Norin and Nadav Minkin, offers four state-of-the-art locations: two in Rhode Island (Lincoln and Peace Dale) and two in Mass. (Dedham and South Boston).
CLIMBING'S RISE
Steve Caton has observed the meteoric rise of indoor rock climbing from the start. "When I built Carabiner's, it was one of the only gyms in the area, and the largest," he explains. "I've seen so many new facilities open up and stay open—there's a ton of demand in the market."
Rock Spot Director of Marketing and Special Events Kat Waterhouse agrees: "When our Lincoln facility opened in 2002, there were just three or four climbing gyms in New England. Now there are at least six in the greater Boston area alone."
Waterhouse attributes the sharp spike in popularity to the sport's inclusive nature, as evidenced in Rock Spot's motto: "All ages, all abilities." She elaborates, "Indoor rock climbing is a fairly easy sport to get into. You don't need a ton of natural ability or even strength to start out."
GETTING STARTED
First-time visitors to Carabiner's and Rock Spot Climbing find friendly instructors, introductory courses and all the gear necessary for beginners to start their journey. Both gyms offer rentable basics like harnesses, ropes and climbing shoes.
After a brief orientation, which spans basic climbing techniques and safety rules, Rock Spot employees generally take a hands-off approach, although staff are always on hand to answer questions and ensure climbers' safety.
Carabiner's has an inventive methodology for a beginner's orientation. "Most people have a natural reluctance to heights at first," Caton explains. "Our protocol first intellectualizes the equipment, explains how and why it works. To start, people will climb just four or five feet and practice falling in a controlled way. When they feel comfortable, we progress to eight or ten feet. These incremental increases really help habituate new climbers."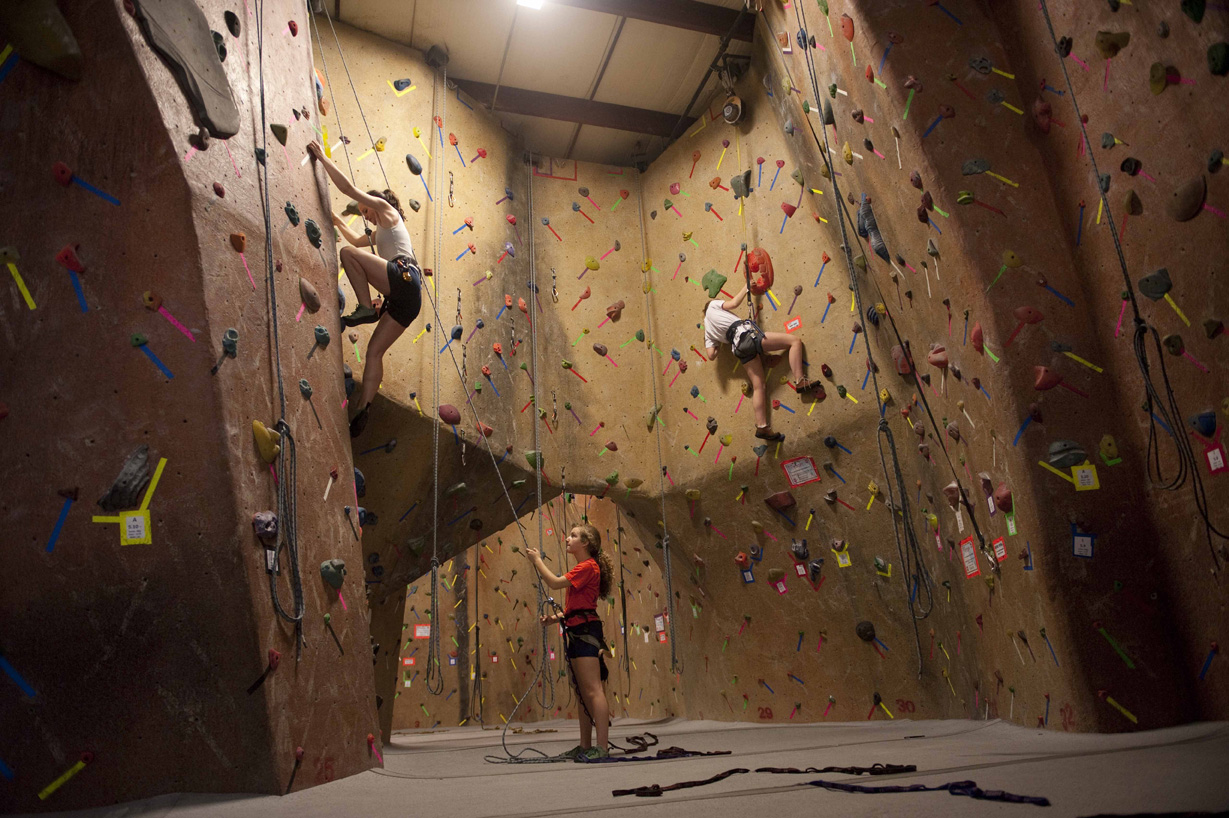 Waterhouse has observed that visitors to Rock Spot tend to fall into one of two categories: climbers and bucket listers. "Climbers are usually experienced members and climb several times a week. Bucket listers may come just once to check rock climbing off their to-do list," she explains. "However, I've seen so many people go from one-time bucket listers to habitual climbers—it's kind of our mission to make people fall in love with the sport."
BOULDERING AND TOP ROPING
Both Carabiner's and Rock Spot gyms offer the two primary types of indoor rock climbing: bouldering and top rope climbing. Bouldering involves climbing angled surfaces, lower to the ground and without a harness. Top rope climbing involves climbing a tall vertical wall with a harness whose rope runs up to an anchoring system at the top of the wall and down to a belayer on the floor.
Rock Spot gyms have between 20 and 50 top rope walls with countless routes varying widely in height and difficulty. At Carabiner's, 120 top rope opportunities dispersed throughout the large gym offer hundreds of potential routes for climbers. Both gyms vary their routes frequently—which is why expert route setters are integral to the quality of the indoor climbs.
"Route setters are like artists on the wall," says Waterhouse. "They conceive different patterns that force the body to work in different ways and develop different muscle groups."
INDIVIDUALS WELCOME
"Generally," says Waterhouse, "Climbing is not a team sport.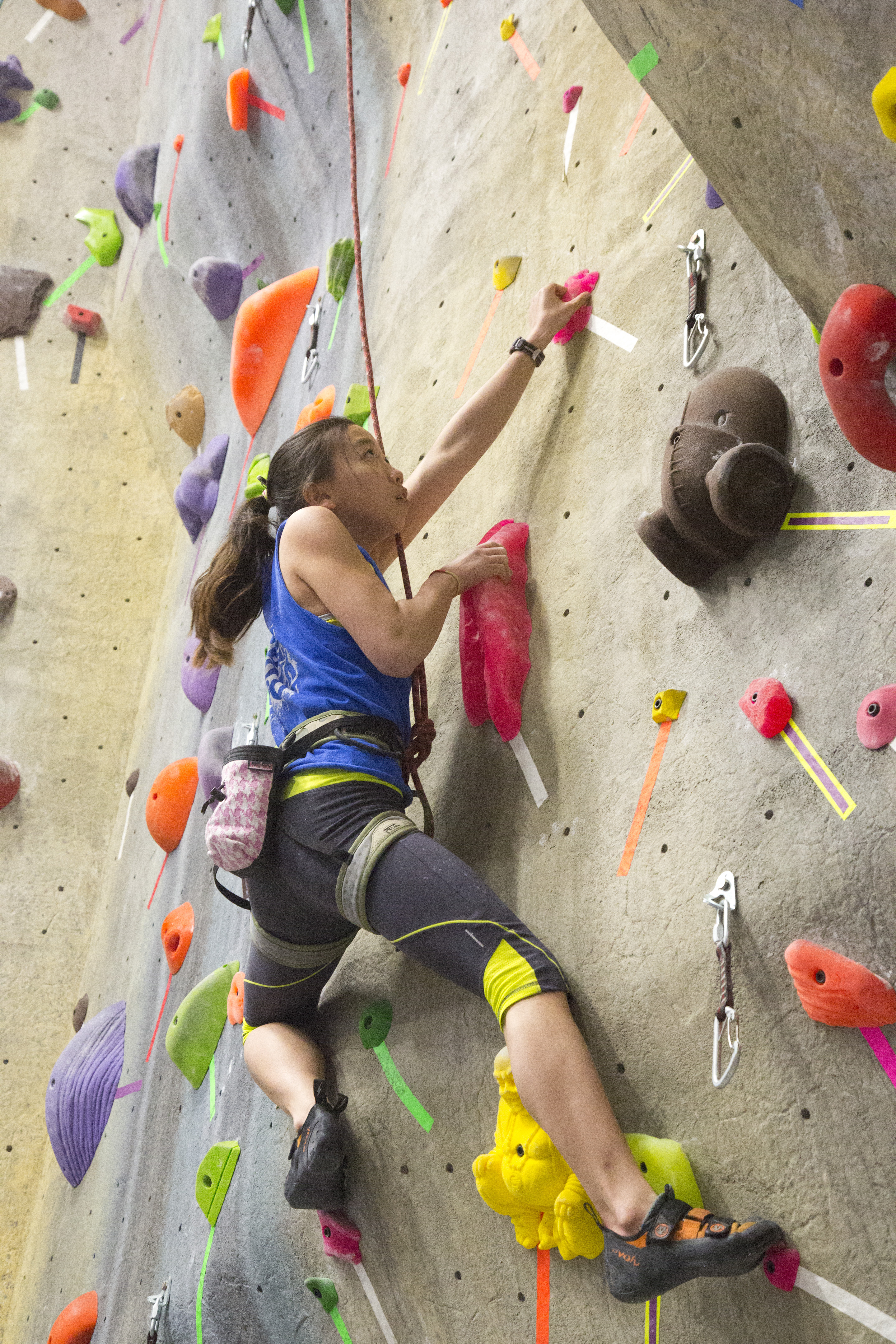 While many people climb together, when you're on the wall, it's an individual activity. It's your movements, your decisions, your strategy."
But there are ways in which indoor rock climbing can be highly collaborative. In top rope climbing, the relationship between climber and belayer is crucial to the safety and success of the climb. While the climber scales the wall, the belayer stays on the ground, maintains tension in the rope and lowers the climber gently in case of a fall. At most facilities, belayers must take a certification course or pass a test to prove they can belay safely.
Although solo climbers can use devices called auto belays or hire staff to belay them, Caton recommends that climbers learn to belay. "It's an immensely helpful skill that boosts confidence, responsibility and fosters a sense of teamwork, especially for young people," he explains, adding that the convivial nature of the sport has a way of bringing people together. "I see people walk into the gym alone and within just a few minutes they've met another climber who can belay them and exchange advice."
FULL-BODY WORKOUT 
Climbing exercises the body and the mind, favoring precision and forethought over brute strength. Waterhouse laughingly likens climbing to "a giant living video game," adding, "The mental game is all about problem solving." Caton agrees: "It's about the journey and how you flow on the wall, not just getting to the top."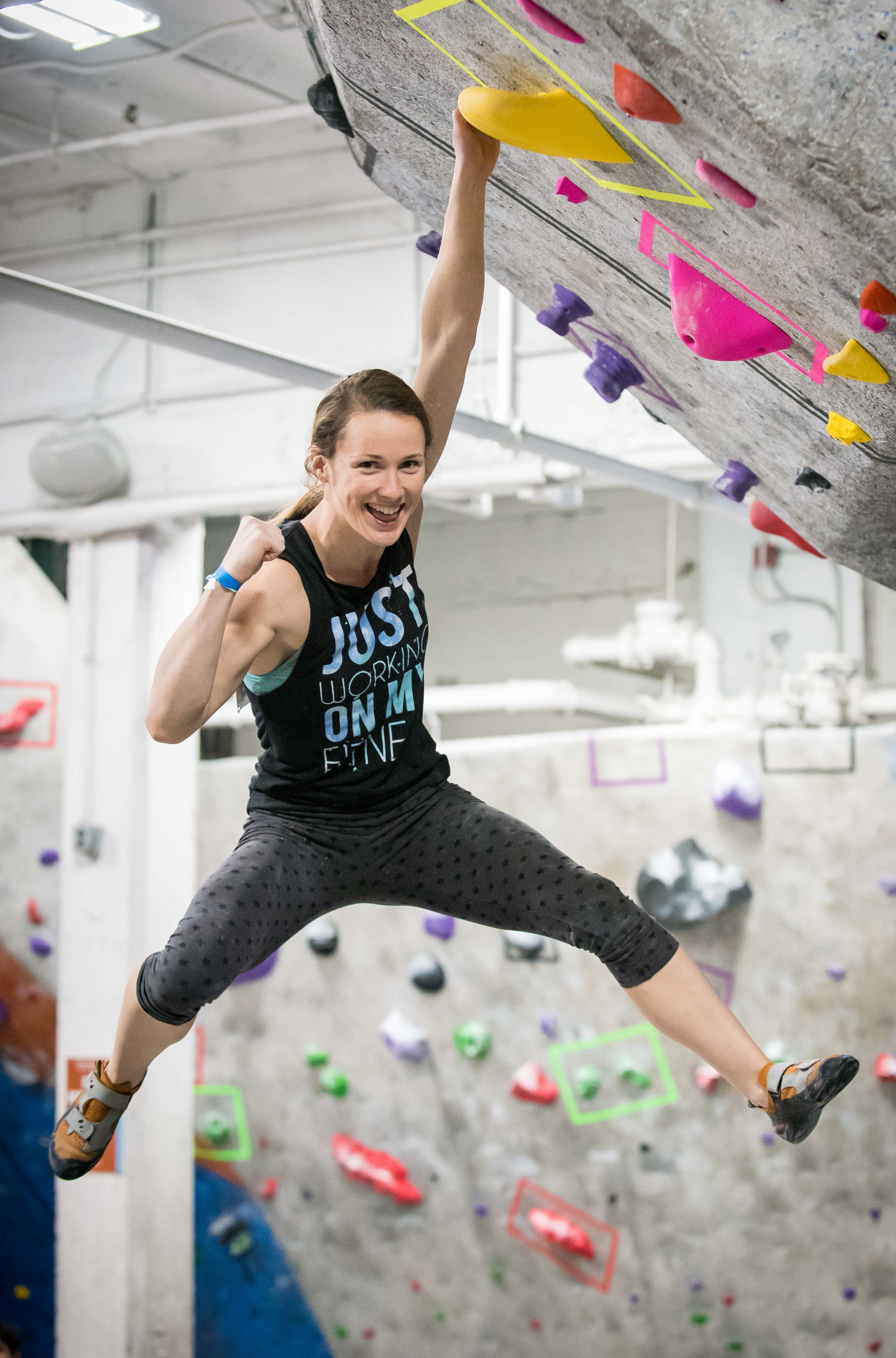 Many would-be climbers are put off by the idea that climbing requires super-human upper body strength. Both Waterhouse and Caton insist that's not the case. "Climbing is actually much more about technique and strength in the legs and feet," Caton explains. "Climbers tend to be well-rounded athletes with speed, skill and coordination." Waterhouse stresses the full-body nature of the workout: "You'll absolutely be sore the next day. Climbing engages your legs, core, flexibility and your sense of balance."
IN OR OUT
While some indoor climbers may have outdoor climbing aspirations, "Indoor rock climbing is really a sport in its own right," says Waterhouse. "Most of our members are indoor-only climbers, although we do offer tools to make the transition from indoors to out." Rock Spot gyms provides outdoor gear rentals and occasional excursions to climbing sites, like the Quincy Quarries in Mass.
Caton, who began his own climbing career outdoors 35 years ago, is living proof that indoor and outdoor climbing can work in harmony: "Indoor climbing absolutely prepares you for outdoor, and vice versa," he contends.