Travelers wanting to experience the quintessential Maine coast need look no further than the city of South Portland. Situated across the harbor from Portland, its busy neighbor to the north, South Portland has much to offer those willing to explore before heading across the Casco Bay Bridge.
Spring Point Ledge & Portland Breakwater Lighthouses
Known officially as "Vacationland", Maine could justifiably be called "Land of Lighthouses".  Two of Maine's most picturesque lighthouses, Spring Point Ledge and Portland Breakwater, are found in South Portland.  Adjacent to the Southern Maine Community College campus, Spring Point Ledge Lighthouse is the perfect place to enjoy a picnic lunch as you spend the afternoon boat gazing or fishing alongside the locals.  Or head to the South Portland Greenbelt Walkway and visit Portland Breakwater Lighthouse, affectionately known as "Pug Light".  Enjoy nearly 9 acres of green space and the views of Portland across the harbor.
Portland Breakwater Light, South Portland Greenbelt Walkway, South Portland; Spring Point Ledge Light, Fort Rd, South Portland
Scratch Baking Company: 416 Preble Street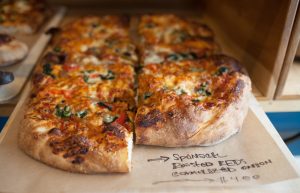 One taste of the heavenly breads and bagels from Scratch Baking Company and you'll be thanking Lulu.  No, Lulu isn't Scratch's owner or baker but the name of their sourdough starter, lovingly fed and tended to produce many of the bakery's signature breads.  In addition to baked goods, Scratch offers seasonal soups, salads, sandwiches and sweets. Come for the hot, fresh bagels, stay for the toast bar.  That's right: toast bar. If you've ever imagined uttering the phrase, "Bartender, give me a slice of sourdough and make it a double", then Scratch will make your dreams come true.
The South Portland Land Trust connects some of Maine's most beautiful urban hiking and bicycling trails.  The "Tour des Beaches" cycling loop spans 16.2 miles and includes four lighthouses and four beaches.  Residents and visitors alike enjoy the Greenbelt Walkway, which gives walkers, runners and cyclists stunning views of three different waterfront vistas.  The Greenbelt Walkway is part of the East Coast Greenway, a trail that will eventually span over 3000 miles from Calais, Maine to Key West, Florida.
Willard Beach: 6 Beach Street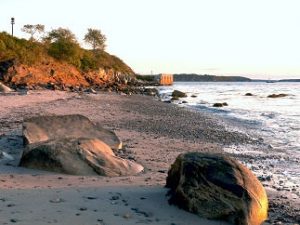 Just four acres in size, this sand and pebble beach is tucked between Fisherman's Point and the campus of Southern Maine Community College.  Relax to the dulcet tones of buoys clanging in the distance as you take in the views of Cushing Island and Casco Bay.  Dig your toes into the sand or brave the brisk waters of the North Atlantic if you dare.  The bathhouse is open during the summer and has restrooms, a snack bar and showers.  Bring a chair, a book and a bottle of sunscreen and stay the entire day.
Old Port Shopping: Portland
Head across the harbor to Portland's Old Port district to peruse one-of-a-kind boutiques featuring goods from Maine and beyond. Stroll the cobblestone streets, browse the eclectic mix of shops or drop into one of the galleries located within the district's revitalized warehouses.  Looking to bring home a small piece of Maine?  Stop by Lisa-Marie's Made in Maine shop on Exchange Street and shop her collection of jewelry, home furnishings and specialty foods created by Maine artisans and craftsmen.  Old Port is brimming with unique finds just waiting to be discovered.
David's 388 Restaurant: 388 Cottage Road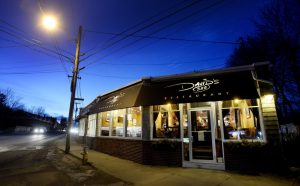 This intimate neighborhood restaurant has created a loyal local following by providing friendly service and a menu that blends creative fare with more traditional offerings.  One of several Southern Maine restaurants created by Chef David Turin, David's 388 features smaller portions for smaller prices, with seasonally changing menus and delicious daily specials.  David's 388 is open daily from 5pm and recommends reservations.
Watch the South Portland, ME episode of New England Living TV on Sunday, June 4th at 11:30 a.m. on WBZ | CBS Boston.
Top photo by Jeremy D'Entremont.