Level up your powder room with fun, fearless design.
By Jennifer Sperry
It's one of the hardest-working rooms in your house, used by your family and guests throughout the day. Unlike a primary bathroom hidden away in a suite, the powder room is seen by virtually everyone experiencing your house, so why not make it a showpiece with features that are a bit funky or fancy?
"What I love about powder rooms is they are an excellent opportunity to do something more on trend, something you might be nervous about green-lighting in a larger space," says Elena Mancini, a designer at Kohler Signature Store in Burlington, Massachusetts. "Because a powder room has less square footage, you can choose a higher-end stone tile or faucet or vanity and still stay within budget. It's the perfect place to spend a little extra for maximum impact."
Mancini, a six-year Kohler veteran with a bachelor's degree in interior design, brings both a designer's eye and technical knowledge to every project she tackles. Here is her advice on adding flavor to this utilitarian space.
COLOR "Don't be afraid to go dark, like partnering a dramatic wall color with a complementary geometric floor tile. And don't forget the ceiling, which is a great opportunity to employ a bold color or wallpaper. Wallpaper has made a comeback in recent years—so many interesting patterns to choose from."
TILE "The unique, well-curated collections of Ann Sacks tile, applied on an entire wall or the floor, can speak volumes without breaking the budget. I like tiling walls at least halfway up for ease of cleaning but also for another layer of texture, which makes a room feel more well-designed."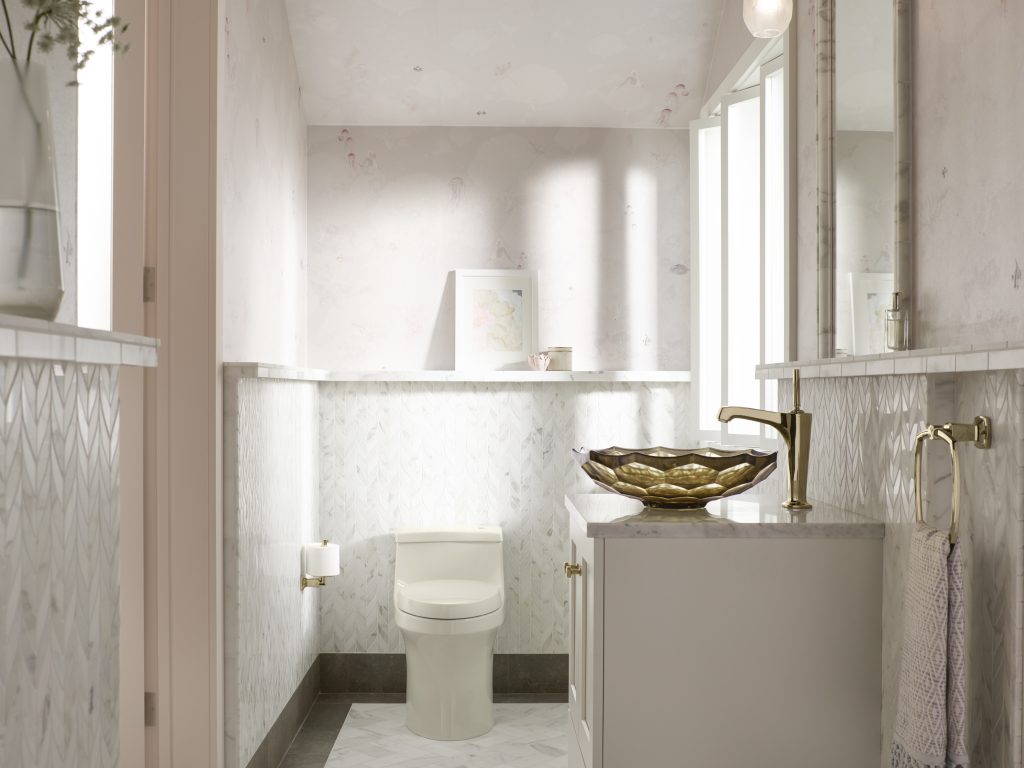 TOILET "I always recommend Kohler's intelligent toilet for the primary bathroom but also for the powder room. This toilet opens, closes, and flushes automatically plus pampers with a heated seat, water cleansing, and air drying."
FIXTURES "Try an eye-catching metal, like Kohler's modern brushed brass that presents as a very saturated gold. We can even match your toilet's trip lever to your faucet. Mixing metals, like brushed brass with polished nickel, or matte black with chrome, is a big trend right now. When done right, the effect can be stunning."
SINKS "Our Artist Editions bathroom sinks offer high-end, artistic designs that are perfect for powder rooms. When the primary use is hand washing, you don't need a full-size sink."
ACCESSORIES "Kohler's Essentials line boasts mirrors with unique shapes and intriguing frames. Consider pendant lights or even a statement chandelier instead of flush mounts for extra glam and visual interest."