Artist Karen Murphy grew up on a family farm in Plympton on the South Shore of Massachusetts. She remembers riding her horse everywhere, including the Burger King drive-thru. The fast-food trip was just for fun, but her love for the outdoors was serious. "Ever since I was a little kid I liked to hike and be outdoors, and that was my thing," says Murphy, who now lives in Riverside, Rhode Island.
As enduring as her passion for nature is Murphy's affinity for painting. In fact, she can't recall a time when she wasn't doing artwork, and recently her mother found a piece of hers from when she was 5. Even in that child's rendering of, Murphy notes, traces of her signature tonalism—the  moody, misty style she'd later study—are evident.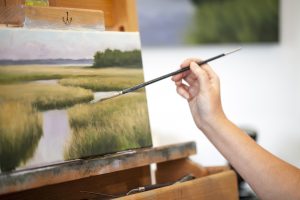 You can't miss the artist's studio: the painting nailed to the siding is a dead giveaway. Inside, space is limited; color, too, except for the oil landscapes adding drama to the white walls. In one scene, a river carries the sky's reflection as it winds through green marshes, and in another, a wave rolls gently onto the beach. Each image is an invitation  into a serene, natural world of Murphy's design.
For inspiration, Murphy ventures to local parks and waterways, where she makes sketches and collects information on how the scene affects her mood. Then she brings her research back to her studio and begins to paint.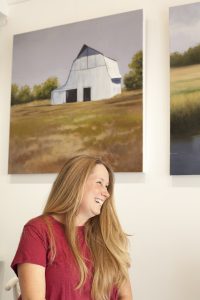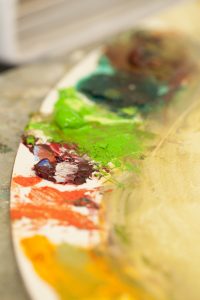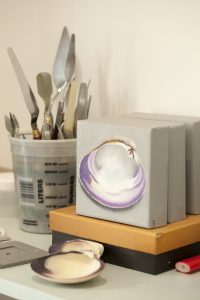 Her sumptuous renderings are never an exact translation of what she saw, but rather pieces of separate scenes stitched together. Part of the reward for Murphy is to see a viewer have a memory of their own emerge from her work. "I've had people cry in front of me because something just resonates with them so much," she says. "It's a great honor when someone feels that way about your work."