New England's rich history encompasses far more than the Pilgrims at Plymouth Rock. The region is home to important cultural landmarks, including many famous play and movie houses. From the days of vaudeville, to the films of Hollywood's Golden Age, to modern musical performances, these venues have made important contributions to New England's heritage.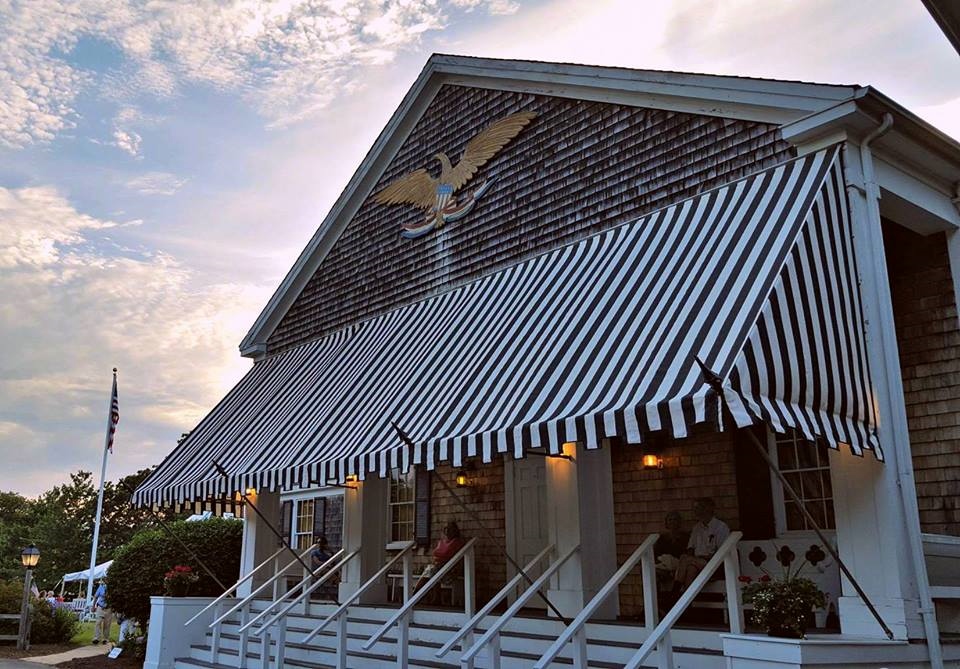 The Cape Playhouse's past performers include Ginger Rogers, Bette Davis, and Humphrey Bogart, and Actors' Equity has dubbed the space "America's oldest professional summer theatre." Founder Raymond Moore wanted to build a venue that could serve communities on Cape Cod, and stars fleeing New York City's hot summers have been gracing the stage here since 1927. The nearby Cape Cinema, which opened in 1930, has a church-inspired exterior with art deco interior design. In 1939, the cinema hosted the world premiere of a little-known film called "The Wizard of Oz."
Built in 1914 by Joseph Hobbs, Davis Square's Somerville Theatre is part of the larger Hobbs Building, which originally featured a bowling alley, billiards hall, café, several storefronts, and the second-floor Hobbs Crystal Ballroom. The theatre was designed for opera performances, stage shows, vaudeville acts, and early motion pictures. The Somerville Theatre Players began weekly play performances in 1915. Past performers include Tallulah Bankhead and Ray Bolger. Busby Berkeley also directed here.

Currently undergoing restorations, the Newport Opera House Theater is scheduled to reopen in the summer of 2018, during the year of its 150th anniversary. The theater was designed by architect James Rudolph as a post-Civil War addition to the Newport scene. Originally hosting plays and other performances, it was converted to a movie palace in the 1920s; films played here until its closure in 2010. Past performers include Harriet Beecher Stowe, Douglas Fairbanks, Mary Pickford, and Duke Ellington.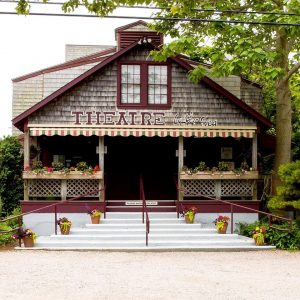 South Kingstown's Theatre by the Sea started as a girls camp, run by Alice Jaynes Tyler in a shingled barn on the property of her summer home, from 1928 to 1933. The Depression caused her to convert the barn into a 300-seat theatre, which underwent several renovations and saw Golden Age performers including Mae West, Marlon Brando, Carol Channing, and Groucho Marx. After a slow decline, the theatre was saved from demolition by a matter of hours by producer Tommy Brent. This historic playhouse provides "Broadway in a Barn" to this day.
Rutland's Paramount Theatre was built by George T. Chaffee and opened in 1914. Known back then as the Playhouse Theatre, the building featured an interior inspired by Victorian opera houses, complete with velour hangings and gold leaf ceiling decorations. Past performers include Harry Houdini, Ethel Barrymore, and Sarah Bernhardt. Transforming into a movie house, the Playhouse was renamed the Paramount Theatre in 1931.
The Chandler Music Hall was built on the site of one of two churches in Randolph, and completed in 1907. For the next 25 years, it was an important community center, hosting plays, concerts, silent films, operas, and lectures. In 1927, the combination of the Great Depression and a damaging flood began a period of decline for the space. A 1971 run of Brigadoon sparked a long restoration, and today, the music hall is a major performance space once more.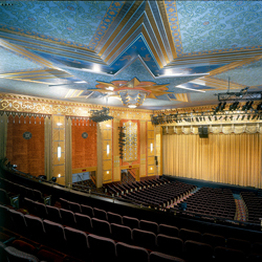 The Warner Theatre was built by Warner Brothers Studios, opening as a grand, art deco movie palace in 1931. Fifty years later, the theatre was saved from foreclosure, thanks to fundraising by the Northwest Connecticut Association for the Arts. It re-opened as a performing arts center in 1983. Today, more than 160 performances take place each year at the Warner, and education programs help more than 8,000 Connecticut children engage with the arts.
Now home to the Penebscot Theatre Company, the Bangor Opera House was originally a Romanesque-style building designed by architect Arthur H. Vinal. It burned and had to be demolished in 1914, but was redesigned by architect Edward J. Bolen shortly after, in a combination of art deco and art nouveau styles. In 1966, the building became the Bangor Cinema, showing films and hosting performances by the Bangor Symphony Orchestra. The Penebscot Theatre Company took over in 1997 and oversaw major restorations, preserving the space's historic beauty.
The Criterion Theatre was founded by George McKay and opened in 1932. It is one of only two surviving art deco theatres in Maine, with a striking and gorgeous interior. Having gone dark for many years, the theatre was saved by generous donations, and it has been almost completely restored to its original beauty. The Criterion currently shows films and stages a variety of live performances.
Designed based on the New York theatre of the same name, Manchester's Palace Theatre was built by Greek immigrant Victor Charas and opened in 1915. The space was technically air-conditioned, with fans that blew air over huge blocks of ice beneath the stage. The Marx Brothers, Bob Hope, and Jimmy Durante all performed here during the theatre's heyday. Primarily a movie house from the 1930s through the 1960s, the Palace went dark for a period until it was restored and re-opened in 1974.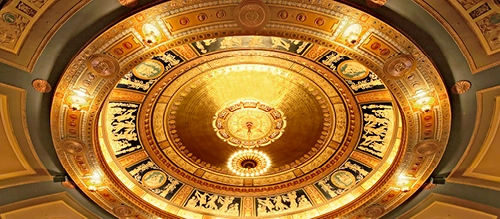 Opened in 1922, the Palace Theater was designed by architect Thomas Lamb. Its Second Renaissance Revival Style combines Roman, Greek, and Arabic designs. The Palace was originally a movie and vaudeville house, but it also hosted Big Band performances, rock concerts and more until it went dark in 1987. Since it re-opened in 2005, the Palace has become an impressive performance complex, putting on Broadway tours and a variety of other programs.
The Music Hall was built on the site of The Temple, one of Portsmouth's historic meeting houses, in 1878, complete with a classic proscenium arch and an elegant upper lobby. Despite falling victim to several fires over the years, the Music Hall brought vaudeville, opera, dance, and drama performances to Portsmouth. Buffalo Bill Cody performed his Wild West show here, and Pirates of Penzance graced the stage within weeks of its premiere. After operating as a movie palace, the space was saved from demolition in 1987, and functions today as a non-profit arts center.
Top photo: Criterion Theatre in Bar Harbor, ME.